Previewing the 2022-23 Oklahoma City Thunder
September 7th, 2022
By Alan Lu
The Oklahoma City Thunder have been in rebuilding mode for the past two seasons, and with their prized rookie big man Chet Holmgren out for the season due to a foot injury, they will most likely continue to march onwards with their rebuilding process.
They have a lot of young, inexperienced players on their roster, but they are led by a very talented group of perimeter players in Shai Gilgeous-Alexander, an athletic slashing scoring guard that provides them with a great deal of versatility, Josh Giddey, a tall point forward that is a strong playmaker and can notch triple-doubles, and Lu Dort, an elite defensive specialist in this league.
They won't likely win many games, but they have a crew of talented young players that will get their fanbase excited for the future.
Star Players:
Shai-Gilgeous Alexander is a young, scoring guard that excels as an athletic, aggressive slasher, and he also can shoot it from deep.  He is a versatile player that does everything for his team, and he is a solid playmaker that will continue to put up strong numbers for the Thunder this season.
Additions:
Chet Holmgren, Jalen Williams, Jaylin Williams, and Ousmane Dieng
Chet Holmgren had a really good Summer League, and he appeared poised for a strong rookie season before injuring his foot at the CrawsOver Pro-Am in an unfortunate incident that will cause him to miss the entire year. Jalen Williams is a tall, very athletic swingman that can shoot and score the basketball, and he was a very good scorer off of backdoor cuts, and he is a player that flashed star potential over the summer.  Ousmane Dieng is a very athletic combo forward with upside, and Jaylin Williams is a low post scorer that will draw charges defensively, but neither Dieng nor Jaylin Williams stood out this past summer.
Subtractions:
The Thunder surprisingly waived Isaiah Roby, an athletic, energetic defensive specialist that provided good minutes for his team last year, but they did so in a numbers crunch, as there will be a lot of players that will be going with them to training camp.  While Roby could've helped their team and possibly could've made their rotation, the Thunder have a lot of young players already, and Roby could get more minutes on San Antonio for the upcoming season.
Rookies:
Chet Holmgren, Jalen Williams, Jaylin Williams, and Ousmane Dieng
With Holmgren being out for the season, Jalen Williams is expected to get ample playing time this season, and he could be due for even more minutes than anticipated.  Dieng and Jaylin Williams might not get much playing time early, but as their team is expected to lose a lot of games, there will be evaluation games where they will get a chance to play for the Thunder later this season.
Expected Rotation:
Projected Starting Lineup:
F Lu Dort
Key Bench Players: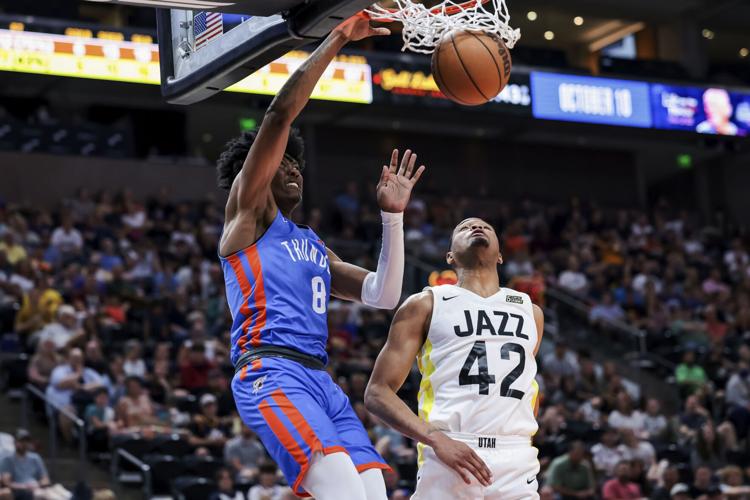 G-F Jalen Williams
G-F Aaron Wiggins
G Tre Mann
The Rest of the Roster (projected to make the team):
F-C Chet Holmgren* (injured, out for the season)
F-C Mike Muscala
G-F Vit Krejci
G-F Lindy Waters III (Two-Way)
F Eugene Omoruyi (Two-Way)
*The Thunder have applied for a disabled player exception as a result of Chet Holmgren's injury status, which could allow them to add a 16th player on a standard contract to their roster if the NBA approves. 
Therefore, in my projection, I project the NBA to give them the go ahead to get the disabled player exception, which would allow them to keep one extra player than other teams, so that may enable them to keep Vit Krejci on the roster.
Others in Camp:
F-C Sacha Killeya-Jones (Exhibit 10)
Head Coach:
2021-22 (OKC): 24-58, missed the playoffs
Career: 46-108, 0-0 in the NBA Playoffs
Mark Daigneault is a third-year head coach that has won just 46 games over the first two NBA seasons as a head coach for the Thunder.  The Thunder were a respectable defensive team last year, as they were 18th in team defensive rating, but they were a woeful offensive team last season.  He'll need to find ways to get more offense and output out of his team, but in the meantime, they will continue to build for the long haul.
Outlook:
With Chet Holmgren out for the season, the Thunder will most likely finish near or at the bottom of the standings in the West and in the NBA this season.  That said, they still have a crew of exciting young players to watch, and they have an intriguing group of perimeter players that have considerable upside.  The Thunder fans will watch to see how well Gilgeous-Alexander, Giddey, and Dort play this season and for the long haul.  While the Thunder may not win many games this season, they have a crew of very talented young players and a treasure chest of draft picks, and the Thunder has a very bright future ahead of them.
Projected 2022-23 Win-Loss Record and Finish:
Projected Regular Season Finish: 25-57, 14th in the Western Conference
Expected Playoff Finish: Projected to miss the playoffs
I went to Basketball-Reference and Spotrac to look up some information for this write-up.  It will be an exciting basketball season this year, and the NBA season will start on October 18th.  Thank you for reading my write-up of the 2023 Oklahoma City Thunder.