A Preview of the 2022-23 San Antonio Spurs
September 8th, 2022
By Alan Lu Last year, the San Antonio Spurs had a banner year from star guard Dejounte Murray, who reached his first NBA All-Star team.  The Spurs didn't quite make the playoffs, but they remained competitive throughout the season under legendary head coach Gregg Popovich, and they won a respectable 34 games. 
They traded Dejounte Murray in the offseason, which signals their quest for a rebuild, so it can be expected that they will play lots of young players while veteran forward Keldon Johnson and starting center Jakob Poeltl lead the way for their team.  The Spurs may not win a lot of games this year, but with Popovich returning at the helm, they could prove to be much more competitive than expected, just like last year.
Star Players:
None
The Spurs don't have any star players for the upcoming season, as they had just traded Dejounte Murray to Atlanta.  That said, they have a fairly solid group of returning starters in Keldon Johnson, Jakob Poeltl, and Devin Vassell, and Vassell made big strides in his second season by improving his shooting and scoring skills immensely in the league last year.
Additions:
Jeremy Sochan, Malaki Branham, Isaiah Roby, Gorgui Dieng, and Blake Wesley
Jeremy Sochan is an athletic, energetic big man that plays with great energy, and he is a hustle player that plays very good defense.  He's a solid playmaker and defender that should thrive in the Spurs' team system, but he will need to be a more consistent shooter on the floor.
Malaki Branham is an athletic combo guard that can shoot and pass the basketball, and he played very well over the summer.  He's a versatile player that can play multiple positions, and with uncertainty at the point this year, he could even contend for the starting point guard job this year as a rookie.
Isaiah Roby was claimed off waivers, and he is a very athletic, energetic combo forward that has solid defensive skills.  He has improved his outside shot, but he's mostly faced against second unit and benchwarmers, and he only was able to get considerable playing time for the Thunder late in the season.
Gorgui Dieng is a skilled big man that can shoot the basketball and block shots, but he is also a journeyman center that tends to be waived or at the end of various teams' rosters.  He is a floor spacer who added a three-point shot to diversify his game on offense.  Despite being the anchor of a 2014 Louisville team that won the National Championship, he actually hasn't been a very good defender in the NBA, and his lack of discipline on the defensive end could prevent him from getting more or substantial playing time this season.
Blake Wesley is a very athletic swingman that plays with great energy, and he is an aggressive slasher that will make hustle plays to help his team defensively.  However, he will really need to improve his jump shot, and he can tend to take questionable shots that can hurt his shooting percentages, so he will need to work with the Spurs' coaching staff to help improve his overall game.
Subtractions:
Dejounte Murray, Lonnie Walker IV, Jock Landale, and Devontae Cacok
Among the players that they lost due to trades and free agency, losing Dejounte Murray will hurt the most for the Spurs.  Murray was clearly their best player, and he is a rising star that was a triple-double threat on a nightly basis.  He's a very athletic scoring guard that also can run the point, and the Spurs will sorely miss him, at least in the short term.
They also lost other bench players, as Walker and Landale provided some floor spacing and scoring, and Cacok is a fringe roster player that has excelled as a per-minute big man off the bench despite being undersized, and he has won with the 2020 Los Angeles Lakers.
Rookies:
Jeremy Sochan, Malaki Branham, Blake Wesley, Jordan Hall, and Dominick Barlow
With much uncertainty involving the make up of their roster, it's conceivable that all three of the Spurs' first round rookies could get ample playing time. 
It's not certain as to who would start at the point, but for now, it looks like a two way competition between incumbent point guard Tre Jones and their newly acquired draft pick, Malaki Branham.  Blake Wesley showed flashes in the summer league due to his vast athleticism and high-motor playing style, but he's struggled considerably with his jump shot, so he may be more likely to come off the bench this year.
Jordan Hall is a skilled point forward that has good court vision, and he should fit the Spurs' system very well, but he has struggled with his jump shot considerably at virtually all levels, so he's more likely to be a long-term project to start off with.
Dominick Barlow is an unproven rookie that played for the Overtime Elite last year, but he played surprisingly well both at the Draft Combine and in the Las Vegas Summer League, and he could surprise as an athletic, defensive-minded big man that plays with energy.
Expected Rotation:
Projected Starting Lineup:
Key Bench Players:
F-C Jeremy Sochan
F-C Zach Collins
G-F Joshua Primo
The Rest of the Roster (projected to make the team):
G-F Blake Wesley
G-F Joe Wieskamp
G-F Jordan Hall (Two-Way)
F Dominick Barlow (Two-Way)
Others in Camp:
F Alize Johnson (Exhibit 10)
G Tommy Kuhse (Exhibit 10)
Head Coach:
Gregg Popovich
2021-22 (SAS): 34-48, missed the playoffs
Career: 1344-701, 170-114 in the NBA Playoffs, 5 NBA titles as a head coach
Gregg Popovich is a legendary head coach that has helped the San Antonio Spurs win 5 NBA titles in his tenure, and he has coached some of the very best players in the game, such as Tim Duncan, Kawhi Leonard, Manu Ginobili, and Tony Parker.  Unfortunately, the Spurs haven't made the playoffs in the last three seasons, but he's helped manage some undermanned teams to stay competitive recently.
Outlook: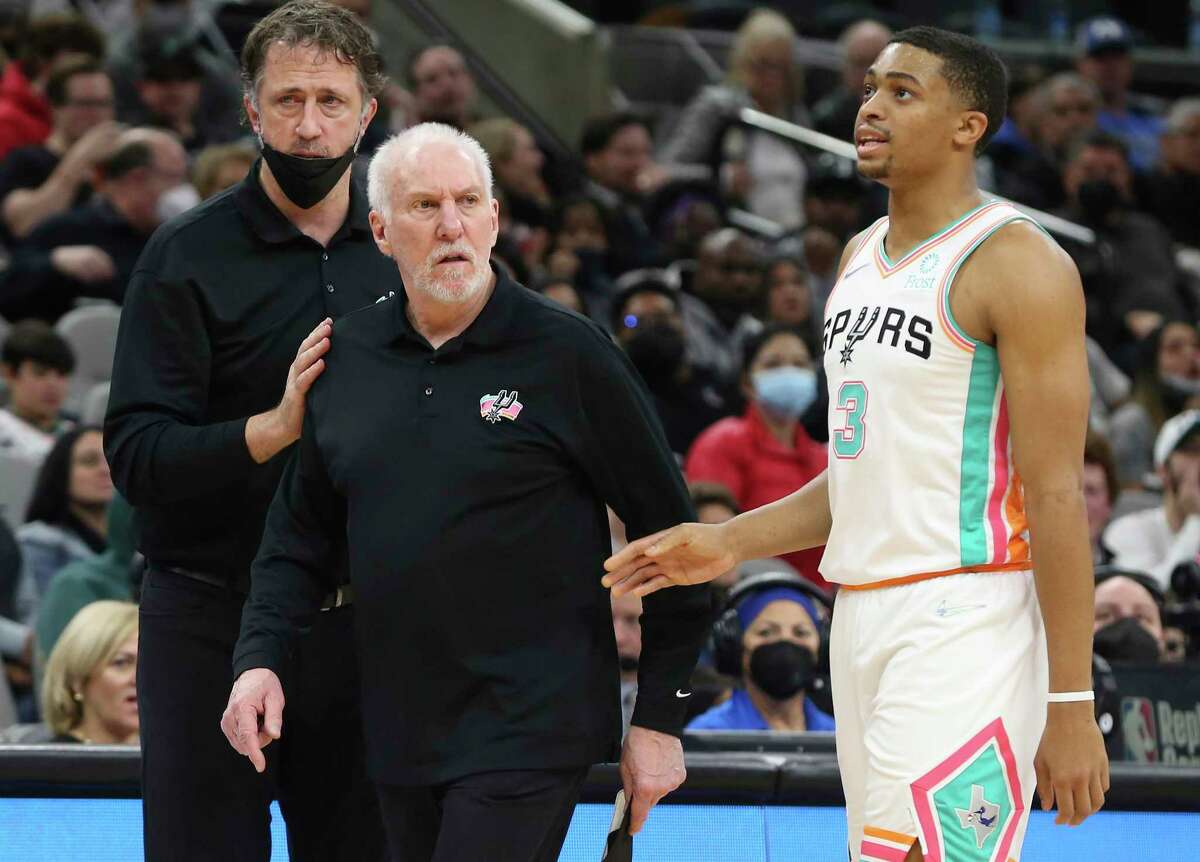 The San Antonio Spurs are in a transition period, and they will take this time to develop their players while also being in the running for the Victor Wembanyama sweepstakes.  In the meantime, Popovich will coach his team to remain competitive throughout the season, and while the 2023 San Antonio Spurs are undermanned and will most likely miss the playoffs, Popovich will ensure that they will stay in games and will most likely maximize the most of what he has out of this roster.
Projected 2022-23 Win-Loss Record and Finish:
Projected Regular Season Finish: 31-51, 13th in the Western Conference
Expected Playoff Finish: Projected to Miss the Playoffs
I went to Basketball-Reference and Spotrac to look up some information for this write-up.  It will be an exciting basketball season this year, and the NBA season will start on October 18th.  Thank you for reading my write-up of the 2023 San Antonio Spurs.