Assessing Jay Scrubb
April 7th, 2020
by Alan Lu
Recently, there have been many prospect declarations for the 2020 NBA Draft, and it is hard to cover all of them at once. So some players will be covered faster than others, as there has been an avalanche of declarations from players recently. One player that has fascinated me is John A. Logan College's 6-6 sophomore swingman, Jay Scrubb, who was projected as a possible first round pick by some draft sites across the web to start the season. While there have been successful NBA players that have played in junior college such as Jimmy Butler, Jae Crowder, Shawn Marion, and Larry Johnson, whom also played in NCAA college basketball, it doesn't seem as if the draft record of prospects going directly from junior college to the NBA has gone nearly as well.
When I think of junior college players that went directly to the NBA while bypassing NCAA college basketball, the players that come to mind would be former first round picks such as Qyntel Woods, Aleksandar Radojevic, and Kedrick Brown, who had short NBA careers, and others such as Donta Smith, Martin Lewis, Corey Hightower, Ernest Brown, and Keith Brumbaugh also either had short NBA careers or didn't make it to the league. On the other hand, former Golden State Warriors' forward, Stephen Jackson had a solid career in the league, and he went from Butler County Community College to the NBA.  Former Seattle SuperSonics' great, Shawn Kemp also went to Trinity Valley Community College prior to the NBA, but it has been said that he did not play a basketball game for Trinity Valley.
Alas, the debate rages on.  The list of junior college prospects directly to the NBA didn't seem to be especially great, albeit there are always a few exceptions that can be made, so I was a little leery on the idea of Scrubb bypassing Louisville to go directly from John A. Logan College to the NBA, even if he was drawing strong positive word of mouth.
I decided though, that it would be in my best interest to see a full game for myself to judge if Scrubb was making the right decision, and if he could be a solid player in the NBA. I took the time to watch him play against Rend Lake in a January 8th basketball game, as I saw this with thanks to YouTube via Rend Lake College. I came away impressed with his athleticism, versatility, and potential, and I think if the right NBA team can harness his skills, Scrubb definitely could succeed in the association, though NBA teams will certainly ask questions about his level of competition and whether or not if he will be able to fit into more of a supporting role on offense at higher levels.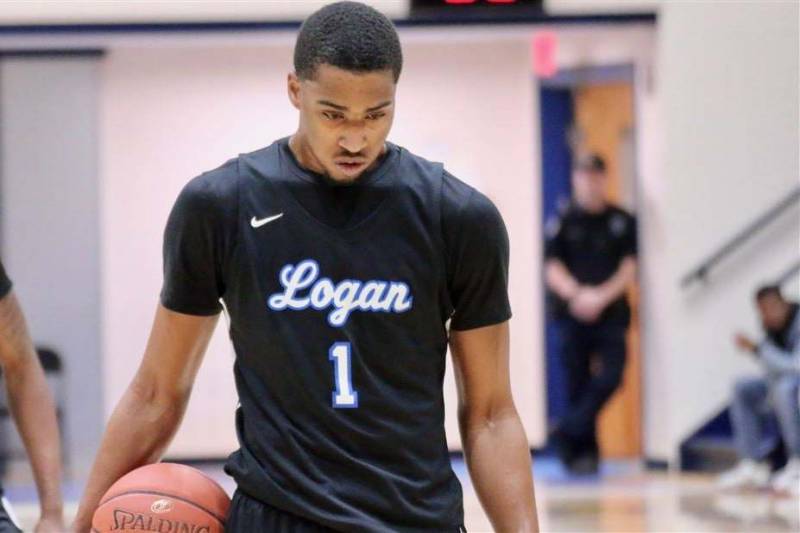 Jay Scrubb is a very athletic swingman that can really sprint down court, and he excels at scoring on hustle plays. He will often beat his man down court, and he can catch long passes and lobs, which enables him to score on high-flying dunks and on layups on the break. He also ran towards the hoop to score on a tip-in after swooping in to grab an offensive rebound at the rim. He also was able to use a seamless behind the back dribble move on a speedy, left-handed drive on the break, and he is a good ball handler, especially in the open court.
He also did a decent job of scoring on drives to the hoop. Scrubb tends to favor going to his left to score on isolation plays, and he has a good first step off the dribble, and he can draw plenty of fouls upon his defenders. Sometimes though, he may not always have his balance, and he can sometimes go in a bit too out of control, which can lead to misses.
He also possesses an adequate ability to knock down jumpers. Scrubb can make deep threes off the catch and dribble, and he was able to bring the ball up to make a pull-up three late in this game. He can be quite streaky with his outside shot though, as he also had plenty of misses from long-range early on.
Scrubb is an adequate playmaker that can pass and handle the basketball. He is an unselfish player that can find teammates on the break to set up scoring chances for them, and he also can throw crisp lob passes and no-look passes to shooters to get his teammates the ball. He is a good ball handler that will sometimes bring the ball up to run the point. On the downside, he can be quite turnover prone on offense. Scrubb sometimes can be prone to throwing inaccurate passes that can sail out of bounds. Other times, he may be a bit too careless with the ball in his hands. On one play, he ran the floor, but fell upon catching the basketball, and then threw a hasty pass that was picked off. Another time, he brought the ball up, but had it poked away before getting tied up by a defender to commit a turnover, as he had dribbled the ball too far out in front of him.
He also was able to get his fair share of rebounds in this game. Scrubb was able to leap up to get an offensive board, and he also managed to collect a handful of defensive boards as well. Sometimes he would tip balls to a teammate to help his team get additional rebounds. Late in the game though, he didn't box out his man, and his team ended up allowing a put back score as a result.
From what I saw, Scrubb has the ability to be a decent defender in the NBA.  I had trouble getting a good read for his defensive skills, as he was often put on a non-scorer that couldn't really do much offensively, and they didn't seem to challenge him a whole lot in this game, as the other team also lost by 45. From what I saw, he seems to be more of a help defender than a position defender, though he can be a solid defender when he is focused. He was able to jump on a loose ball to help his team get a steal, and he will look to play passing lanes. He also managed to successfully draw a charge when defending an opponent off the dribble, and he also was able to contest shots out on the perimeter as well as in the post to force misses.
Sometimes though, he wouldn't quite fight through screens quickly enough, which can lead him to trail on plays that can lead his team to commit fouls and allow scores. Other times, he may fail to cut off penetration when defending drives or in transition, and there are some plays where it seems as if he's not giving great effort on the defensive end.
Overall, Jay Scrubb is a very athletic swingman that could excel on both ends of the floor at the next level. He will need to make more jump shots consistently, and show that he can guard upper-echelon players on a nightly basis. Right now, he could be worth a gamble for an NBA team in the second round of the 2020 draft. On one hand, it may be a risk considering that he's making a big jump from junior college to the NBA, and he'll likely be asked to play in a role where he may get significantly less touches on offense.
On the other hand, he's a very talented player that can really get down court to score in the open floor, and he has a knack for being able to take the ball to the rim to get scores. He is a player that has elite physical tools, and he could end up being a solid pick for an NBA team if they can lay out a careful development plan to hone his overall game.
If you were wondering about why there was such a long introduction, it is because there are valid points that can be made on both sides of the spectrum about whether or not an NBA team should take a player directly from junior college in this draft. On one hand, good players can come from anywhere, but it also seems that based on the available information, it seems that players from junior colleges that go directly to the NBA may struggle to make the jump on average. So, therefore this article seems to be more like the beginning of a research piece than a typical game write-up.
As for why I chose this game specifically, I wanted to get a feel for how he would normally perform on average in junior college this season. Scrubb did score 36 points in his team's championship game win over Vincennes, and he can clearly play well in the clutch, but I wanted to get a sense of skills without skewing too favorably or unfavorably.  So in all, it probably would've helped Scrubb if he had decided to play a year in NCAA division I college basketball, but regardless, he is a talented prospect that could be worth a pick for an NBA team in the second round. Though it may be risky to take a draftable-player that is going directly from junior college to the NBA, he may be a high upside prospect due to his intriguing blend of skills, physical tools, and versatility. Scrubb could potentially be a solid selection for a team as high as in the early second round range, and an NBA team should consider taking him in the mid to late second round range of the draft if he is still on the board.
Other Notes:
In other news, here were other players who caught my eye in this game.
John A. Logan College's 7-2 freshman center, Jamarion Sharp is a very athletic big man that can score on rolls to the rim, and he is a terrific finisher that can score on powerful dunks above the rim. He also is a good shot blocker that can direct those shots to his teammates. He struggled more to score in the post, especially when he was being tightly guarded, though.
John A. Logan College's 6-8 freshman forward, Sydney Curry is a very athletic big man that excelled at scoring on hustle plays, and he would often score on powerful dunks around the basket. He also used a spin move to score on a two-handed jam in the post. To me, both Sharp and Curry are players that could succeed for an NCAA division I college basketball team, and John A. Logan College had a lot of talented, athletic players that excelled at finishing plays at the rim, scoring off the dribble, and defending. They also had several guards that excelled at knocking down jump shots from beyond the arc. John A. Logan College looked to be a very good junior college team, and they were dominant in their win over Rend Lake College on this day.