Evaluating Tadas Sedekerskis and Gytis Masiulis
April 4th, 2020
by Alan Lu
This time around, I decided to watch Neptunas' draft-eligible forward prospects, Tadas Sedekerskis and Gytis Masiulis play in a January 7th, Basketball Champions League game against PAOK, as I was able to see this with thanks to YouTube via Basketball Champions League. Both players had been getting solid playing time in high-level international basketball, so I wanted to take some time to watch them play to get a better feel for their respective games. Here are my thoughts on how both players fared, as well as how their games may translate to the NBA.
Neptunas' forward, Tadas Sedekerskis is an athletic, versatile player that can excel on both ends of the floor. He is a good cutter that can score on off-ball motion plays, and he also can knock down spot-up threes off the catch. He also ran the floor, as he managed to catch a long pass to score on a two-handed dunk on the break.
Plus, he would quickly move to the post to draw fouls upon his defenders. However, he struggled to score on the block, as he would miss on tough, contested jumpers in the paint. Sedekerskis didn't take many shots, and he also struggled to make long-range jumpers in this game. He did make one corner three, but it was waved off as his teammate had committed a foul earlier on that possession.
He also displayed adequate playmaking skills. Sedekerskis was able to push the pace after getting a steal, and he was able to find an open teammate ahead on the break to set up a scoring chance for him. He's also an unselfish player that will make the extra pass to keep the ball moving, and he did not commit one turnover in this game.
Though he didn't get many rebounds in this game, Sedekerskis was able to leap up to get several defensive boards when he was on the court. However, he also tended to miss out on rebounds in his area, as sometimes balls would bounce off his hands to go to opponents, and other times he would get outmuscled on rebounding attempts. He also was called for a foul by pushing an opponent in the back another time when pursuing a defensive board once.
He also played solid defense. Sedekerskis is an active, help defender that has good length, timing, and recovery speed to block shots off of drives after guarding opponents out on the perimeter, and he also caught an errant pass that was thrown right to him to get a steal. He also will actively contest mid-range jumpers and shots in the post to force misses. On the downside, there was one play where he was caught ball watching as he helped off of his man, which led him to allow an open three-point basket to an opponent. On another play, he got beat off the dribble, and he rotated just in time to commit a foul on a different opponent's dunk that also led him to allow the basket.
In general, Tadas Sedekerskis is an athletic, skilled combo forward that can score the basketball in a variety of ways, and he also could project to be an above average defender at the next level. He doesn't shoot the ball enough and can struggle to create his own shot off the dribble, but his ability to make shots efficiently and defend could enable him to be a reliable role player in the NBA, and in a favorable scenario, he could end up being a similar player to Dallas Mavericks' forward, Dorian Finney-Smith in the association.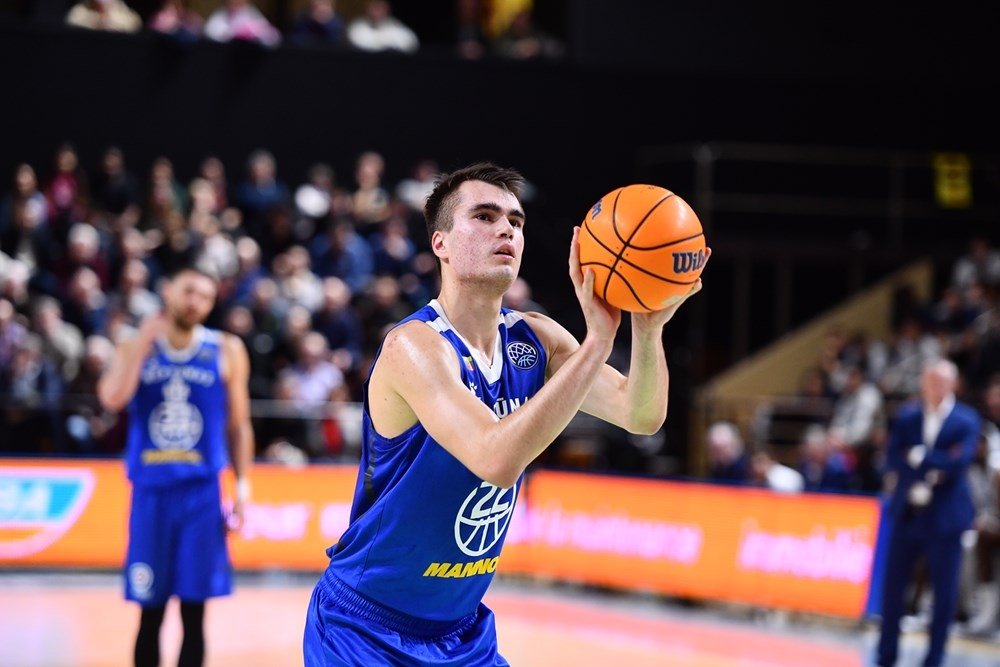 Neptunas' 6-9 forward, Gytis Masiulis is an athletic, energetic player that excels at attacking the basket to garner scores, and he is also a good rebounder that can grab many boards to help his team on the glass.
Masiulis did a good job of scoring on strong drives to the basket. He can finish plays using either hand, and he also can finish plays above the rim. He has a good first step off the dribble, and he can quickly get past his man. He also did a decent job of scoring in the post, as he can ball fakes to score on jump hooks, and he will also draw plenty of fouls upon his defenders.
He also will actively look to score on hustle plays. Masiulis was able to score on an acrobatic, reverse layup off of a roll to the rim. However, he may sometimes rush his shots, which can lead to misses, as he missed on a wild tip-in attempt once, and he also had his shot blocked when looking to score in transition another time.
Also, he struggled to consistently knock down jumpers in this game. On one good play, Masiulis managed to run off the ball to make an open, mid-range jumper from the baseline. However, he had trouble making three-point shots as he was unable to connect from long-distance, and he didn't seem to get a great feel for his outside shot from beyond the arc.
He also displayed fairly average playmaking skills. Masiulis is a good ball handler that can limit his turnovers on offense, and he will also set screens for his teammates. He also would sometimes look to find the open man, and he can also pass out of the post. He did not collect an assist in this game, but he did not turn the ball over, either.
Plus, Masiulis did a very good job of rebounding the basketball. He would chase down balls to get boards on both ends of the floor, and he would leap up to get tough offensive rebounds in traffic. He also managed to push the ball up the court off of one defensive board early in this match.
He also played adequate defense in this game. Masiulis was able to tip a deflected pass to a teammate to help his team get a steal, and he also would stay in front of opposing ball handlers to force opponents to miss mid-range jumpers. He also held his ground when defending in the post to force a miss another time.
However, sometimes he will gamble too much on defense. He gambled wildly for a steal in the backcourt and missed badly, which caused a scramble situation that led his team to allow an opponent to score on an open corner three. He also over-hedged and over-pursued an opposing ball handler off of a screen, which led to another scrambling situation in which his team allowed a put back score. Other times, he may not always run back hard on defense, which can lead his team to allow scores on fast breaks.
In summary, Gytis Masiulis is an athletic, combo forward that does a good job of getting to the rim to score the basketball, but he's been inconsistent with his long-range shot over the years, and he will need to be a more focused, on-ball defender in games. Right now, he projects to be a borderline second round candidate for the upcoming draft, but if he can consistently knock down outside shots, he could end up being an effective role player similar to former Utah Jazz forward, David Benoit in the NBA.
Other Notes:
I also took the time to watch Neptunas' 6-8, 1998-born forward, Dziugas Slavinskas play in this game. He didn't see much playing time, but he showed some skills that suggest he might be a player worth keeping tabs on in the future.
On offense, he is a solid playmaker that can pass and handle the basketball. He can deftly handle the ball up court, and he was able to kick a ball out to an open corner shooter off the dribble to set up a scoring chance for him. Slavinskas is an above average athlete that handles the ball well and has good court vision, and he is a skilled point forward that is comfortable having the ball in his hands.
He didn't take many shots, though. He missed on a quick open three from beyond the arc, but Slavinskas managed to score on a backdoor cut late in this game. Though he did not grab a rebound, Slavinskas was able to leap up to tip a ball to a teammate to help his team get a defensive board early in this game.
Defensively, he seemed to be perhaps above average. He was able to contest a pull-up three to force a miss, and he also hustled back to successfully defend a drive in transition. On the downside, he can sometimes gamble too much defensively, and there was one play where he whiffed on a bad steal attempt, which lead him to get beat on a drive on the break that led his team to allow the score that time. Slavinskas tended to defend well when he is in position, and he is a tenacious player that will actively look to challenge shots. He didn't show great lateral quickness, but he was able to get stops when he would not gamble for steals.
Overall, Dziugas Slavinskas seems to be an unlikely bet to be drafted, as he did not see much playing time this year in either Lithuania's top league, the LKL, or in the Basketball Champions League. He may be a long shot to make it to the NBA, but his motor and ability to make plays on both ends of the floor could allow him to thrive and carve out a long career in professional basketball.