Observing Josh Hall
April 12th, 2020
by Alan Lu
Recently, Moravian Prep Academy's 6-8 high school senior forward, Josh Hall decided to declare to enter the 2020 NBA Draft, as he also announced his intentions to bypass the college he had committed to, NC State.  Hall has not gained much traction on the draft boards, but Rivals listed him as a 5-star prospect, so I figured that I should take some time to scout him to see if he has what it takes to make the jump to the NBA.  I was able to see him play in a March 7th game against Combine Academy, as I saw this with thanks to YouTube via HoopStateNetwork. Here are my thoughts on how he fared and his game may translate to the association, as well as thoughts on who else impressed me in the game I saw on this day.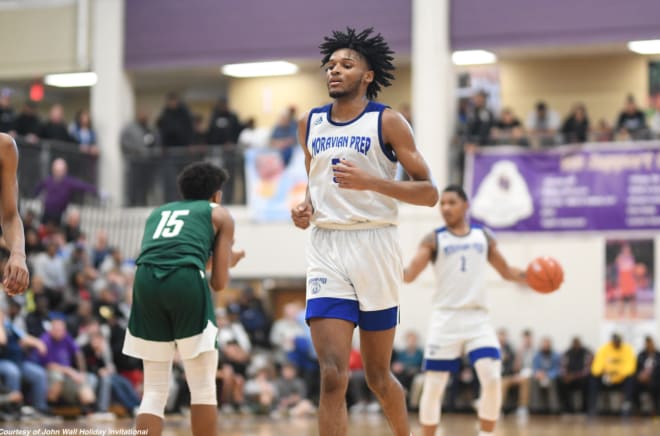 Josh Hall is an athletic, energetic combo forward that can score on aggressive drives to the hoop. He possesses a decent ability to get scores off the dribble. He has good foot-speed to get to the basket, and there was one play where he weaved right around a defender before crossing back over to his left to score on a drive in transition while getting an extra free throw. Hall also can make floaters when going to his right, and he will also draw plenty of fouls upon his defenders when he takes the ball to the rim. On the downside, he can tend to rush his shots in traffic, and sometimes he may not always get enough touch on his shots, which can lead to misses.
He also can score on hustle plays. Hall was able to score on a tip-in off of his own miss late in this game. On the downside, he also missed on a roll to the rim early on, as he didn't catch the ball cleanly, and ended up leaving it short. He also missed on an awkward turnaround jumper when looking to score from the high post, and sometimes Hall can be prone to taking questionable shots in games.
Hall also flashed the ability to knock down jumpers. He used a pump fake move to make a step-back three early on. However, he can be quite inconsistent in making his jump shots. He ended up missing threes on two other occasions, and he also missed on an off-balanced, mid-range jumper from the baseline another time. While Hall drew plenty of free throws in this game, he did not make a high percentage of them when he was at the foul line.
He was also quite turnover prone in this game. On the plus side, Hall will look to handle the ball on the break, and he can do so in the open floor. He had one nice assist early in this game, as he brought the ball up before throwing a sharp interior pass to set up a score for a teammate in transition. On the downside, he didn't look to pass the ball that much, and he was prone to committing ball-handling turnovers. Hall was called for a traveling violation out of the post, and he then committed a charging foul later on a drive to the hoop. Hall also had a ball poked away shortly after coming down with a defensive board. Late in this match, he collided into a defender on a reckless drive to the hoop, which caused him to lose the basketball that time.
In addition, Hall did a good job of rebounding the basketball. He showed a knack for leaping up to collect boards in this game, as he was especially active on the defensive glass, and sometimes he would bring the ball up or push the pace to help create early offense for his team. Sometimes though he may allow boards in his area, and there was one play where he didn't secure a ball and had it get poked away by a defender.
Also, Hall will need to improve his defense. For the positives, he has the ability to be a solid help defender, and he can effectively guard his man when he is dialed in. Hall was able to get back on defense to block a shot off of a drive to a teammate due to possessing good length, athleticism, and timing. He also managed to rotate to contest a three o force a miss, and he also was able to contest a shot off of a drive in transition to get another stop for his team.
Sometimes though, he can tend to be unfocused defensively. There would be times where he wouldn't hustle back on defense, as his team would give up scores to the opposition on fast breaks. There were a couple of times where he wouldn't contest shots when defending in the paint, which would lead his team to allow scores. He also struggled to guard players out on the perimeter. He would give up too much space to shooters, and other times he would struggle to stay in front of opponents when defending them off the dribble.
Overall, Josh Hall is an athletic, young combo forward that has declared to enter the 2020 NBA Draft, but he might want to re-think that if his goal is to be in the NBA next season. He's not a polished prospect by any means, but it seems that he may be pretty far away from accomplishing that goal. He will need to add strength, and he especially seemed to struggle to score in traffic when he wouldn't get foul calls, and he will also need to improve his jump shot. He'll also need to improve his playmaking and defensive skills, and there would be times where he would lose the basketball, or let someone score that shouldn't have. The main issue may be the jump in competition from going from high school to the NBA, but he could perhaps make that leap if a team is patient enough to help him develop as an overall player.
Right now, my recommendation for him would be to either to rescind his declaration and go to NC State, or to instead go to the G-League or overseas to start his professional basketball career early. To me, Hall would be a solid college basketball prospect, but it's uncertain, and perhaps unlikely if any of his skills would translate to the NBA right away. In the long term, Hall could end up being a versatile scorer that could be an effective role player for an NBA team down the road. In a favorable scenario, if he can continue to hone his game, maybe Josh Hall ends up battling his way to be an effective role player in the association similar to Los Angeles Clippers' forward, JaMychal Green in the NBA.
Other Notes:
There were other players that impressed me in this game, and specifically, NC State's incoming freshman point guard, Shakeel Moore stood out as an impact player in this game for Moravian Prep due to his tremendous athleticism combined with his solid scoring, playmaking, and defensive skills. Moore showed a knack for scoring on high-flying dunks on the break, and he also excelled at scoring on hustle plays. He also managed to catch a lob pass to score on an alley-oop dunk, and he is a speedy, fleet-footed player that can really get up to get scores above the rim.
He also excelled at collecting steals, and he also drew a charge when defending a drive. As a playmaker, he looked to be above average. He can throw solid passes off the dribble and in transition, but sometimes he would throw careless, inaccurate passes that would get intercepted, and he also was called for a traveling call another time.
In general, Shakeel Moore looked to be the most impressive player to me in this game, and he could be a highly underrated prospect coming in to the 2021 draft. He is a tremendously athletic point guard that can make eye-popping plays on both ends of the floor, and to me, he could be a potential first round pick if he has a good freshman season next year.
UNC Wilmington's incoming freshman guard, Jamahri Harvey also played well for Moravian Prep, and he is an athletic player that can shoot and score the basketball. He excelled at making jumpers off the catch and dribble to provide floor spacing for his team, and he also scored on strong drives to the basket. He also managed to score on an emphatic, two-handed jam off of a drive. Plus, he also excelled at getting steals, and he also was able to quickly block a three-point shot hard out of bounds.
Overall, Harvey played very well as he excelled as a scorer and defender in his team's double-digit win over Combine Academy. He was a very good get for UNC Wilmington, and he is a high-major talent. While NBA teams may want to know if he can run the point at that level, he did threw an accurate lob pass to set up a score for a teammate in transition, and while he largely played off the ball, it seems that he may have the skills to play at that position if asked to do so. Harvey is a talented player that may likely have a good freshman season at UNC Wilmington, and he could be a prospect to keep tabs on in the future.
Combine Academy's point guard, Robert Dillingham excelled as a shooter from beyond the arc, and he also scored on a quick floater off the dribble another time. He has a knack for making threes to space the floor for his team, and he also drew three free throws on a pull-up three. He is a good shooter that may end up being a solid collegiate player one day, and if he keeps progressing as an overall player, he could project to be a shooting specialist in the NBA.