A Preview of the 2022-23 Utah Jazz
September 9th, 2022
By Alan Lu
The Utah Jazz essentially pulled the plug on the Donovan Mitchell and Rudy Gobert experiment, as they had continually reached the playoffs, but had fallen short of the Western Conference Finals or the NBA championship each time under then head coach Quin Snyder.  Now with all three of them having departed the organization, the Utah Jazz have signaled to go full steam ahead into rebuilding mode.
They will certainly miss the presence of Mitchell and Gobert, but they have mainstays from last year's team such as Mike Conley, Jordan Clarkson, and Bojan Bogdanovic, and they will also be getting numerous players, one of whom will be Collin Sexton, a speedy scoring combo guard that they landed in a trade from Cleveland that could be Utah's newest rising star.
Star Players:
None
With the Utah Jazz having traded both Donovan Mitchell and Rudy Gobert respectively to Cleveland and Minnesota, the Utah Jazz are opting for a full scale rebuild. 
That said, they still do have a good set of role players in which they dealt for guard Collin Sexton who will provide most of the scoring, they also have a veteran playmaking point guard in Mike Conley, who has made one NBA All-Star team, and Jordan Clarkson is a former Sixth Man of the Year award winner.
Additions:
G Collin Sexton, F Lauri Markkanen, F Jarred Vanderbilt, C Walker Kessler, G-F Ochai Agbaji, G Malik Beasley, G Talen Horton-Tucker, F Stanley Johnson, F Simone Fontecchio, and G-F Leandro Bolmaro
The Utah Jazz were able to get numerous players through trades, the draft, and free agent signings, but landing Collin Sexton in a sign-and-trade may be the biggest one.  They finally were able to get him out of the purgatory that was restricted free agency, and after having traded for him, signed him to a 4-year, $72-million deal, so they were able to get a key player for their future.
Subtractions:
G Donovan Mitchell, C Rudy Gobert, G-F Danuel House Jr., C Hassan Whiteside, F Eric Paschall, and G Trent Forrest
Obviously, losing Mitchell and Gobert will hurt their team a lot, especially in the short term, and it's expected that trading them away will effectively take the Jazz out of playoff contention.  What's surprising though, is that no team has signed free agent center Hassan Whiteside, whose shot blocking skills and efficient scoring has made him a mainstay in the NBA in previous years.
Rookies:
C Walker Kessler, G-F Ochai Agbaji, F Simone Fontecchio, and G-F Johnny Juzang
Walker Kessler is a strong, energetic rim-protecting center that has great shot blocking skills, and he will give them great size and will provide an interior presence to help the Jazz right away. He may be one of the most polished players in the draft, and he could be an immediate contributor for them this year. Also, he was named the 2021-22 Naismith Defensive Player of the Year last season in college basketball.
Ochai Agbaji is an athletic, skilled sharpshooting swingman that can shoot and score the basketball. He is a very good spot-up shooter that can also get out on the break to score, and he could be a solid role player for the Jazz both this season and for the long haul. He helped Kansas win the 2022 NCAA Tournament, and he was named the Most Outstanding Player of the tournament.
Simone Fontecchio is a sharpshooting forward that can knock down threes and can throw down dunks above the rim, but he will need to prove that he can shoot and defend at the NBA level to be able to regularly see the floor this season.
Johnny Juzang is an athletic, skilled swingman that also can shoot and score the basketball. He wasn't drafted, but he helped UCLA reach the Final Four in 2021, and he may be a very underrated acquisition for this squad.
Expected Rotation:
Projected Starting Lineup:
Key Bench Players: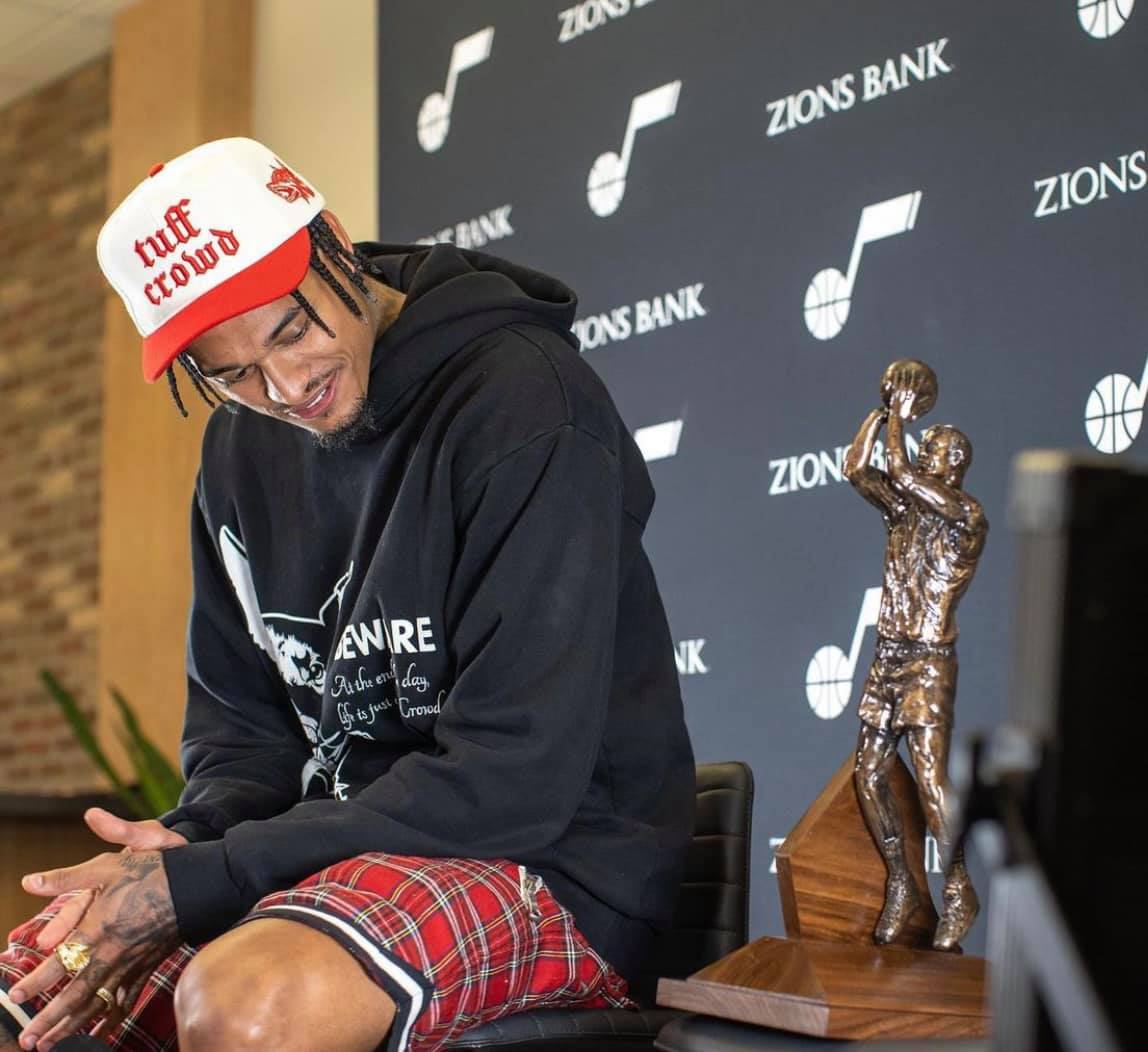 G-F Ochai Agbaji
F Rudy Gay
The Rest of the Roster (projected to make the team):
G-F Johnny Juzang (Two-Way)
G-F Xavier Sneed (Two-Way)
Others in Camp:
G-F Leandro Bolmaro
Head Coach:
Will Hardy (2 stars, 3.5 stars potential)
2021-22 (BOS): Was an assistant coach for the Boston Celtics
Career: 0-0, 0-0 in the NBA Playoffs
Will Hardy is a rookie head coach that will be in his first-year in leading the Utah Jazz for the upcoming season.  He is a well-schooled and well-traveled coach that worked under head coach Gregg Popovich and he also worked with Ime Udoka as an assistant coach with the Boston Celtics that made it to the NBA Finals last year.  He brings a great resume and a welcome basketball mind, and he could develop into a very good NBA head coach in the future.
Outlook:
The Utah Jazz may not likely win many games this year, but they still have talented players to work with, and they have a slew of players that could give their fans a reason to watch their team this season.  Conley and Clarkson are well-accomplished veteran guards, and Collin Sexton will join their talented backcourt for the upcoming season.  The Jazz are in a very tough and competitive Western Conference, so they won't likely make the playoffs, but working towards a rebuilding process may suggest that they could move in that direction in the future.
Projected 2022-23 Win-Loss Record and Finish:
Projected Regular Season Finish: 36-46, 12th in the Western Conference
Expected Playoff Finish: Projected to miss the playoffs
I went to Basketball-Reference and Spotrac to look up some information for this write-up.  It will be an exciting basketball season this year, and the NBA season will start on October 18th.  Thank you for reading my write-up of the 2023 Utah Jazz.