Thoughts on Miami Heat's Game 3 Win, and the Los Angeles Lakers' Game 4 Victory
October 6th, 2020
by Alan Lu
Game 4 Thoughts: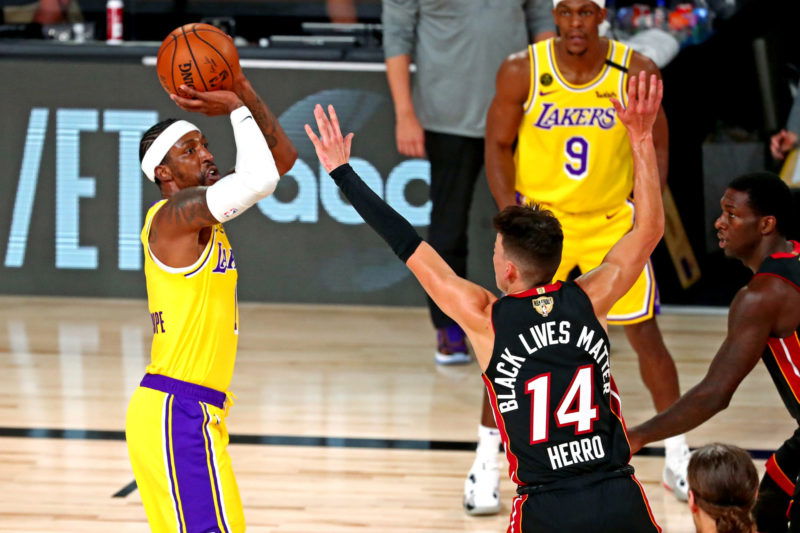 The Los Angles Lakers rallied to win Game 4 against the Miami Heat to go up 3-1 in the 2020 NBA Finals, but it was no easy feat for them. Los Angeles Lakers' veteran guard, Kentavious Caldwell-Pope was very effective throughout the game.  He scored early on, and he did a very good job of shooting and scoring the basketball.  He made timely, clutch shots, and he also played solid defense.
In the first half, Miami Heat's superstar forward, Jimmy Butler had a very good scoring half, because the Miami Heat could try to get him on switches against some of the other Lakers' players.  In the second half, Los Angeles Lakers' superstar big man Anthony Davis mostly guarded him, which made it tougher for Butler to score on offense.
The Lakers also did a better job of closing off the paint.  In addition, they could help off Bam Adebayo, which would wall off the Heat from being able to get easy driving lanes, and it forced the Heat's shooters to take tougher shots against the shot clock. 
Unfortunately for the Heat, their shooters didn't quite play very well late in the game in their game 4 loss to the Lakers. Tyler Herro made shots early as he scored 21 points overall in this game, but he was not at all effective down the stretch, as he also missed plenty of jumpers and he really struggled defensively. Herro has taken a lot of shots in volume in this series, but he has not made them nearly as efficiently as he did against Boston, and has been prone to chucking up wild, contested jump shots all too often that would lead to misses. Duncan Robinson has shot the ball better in games 3 and 4, but he has really struggled to guard opponents on the defensive end in this series. In addition, Kelly Olynyk was not very effective in this game either, and he picked up several bad fouls, as his tendency to bite on pump fakes would cause him to put his opponents on the free throw line.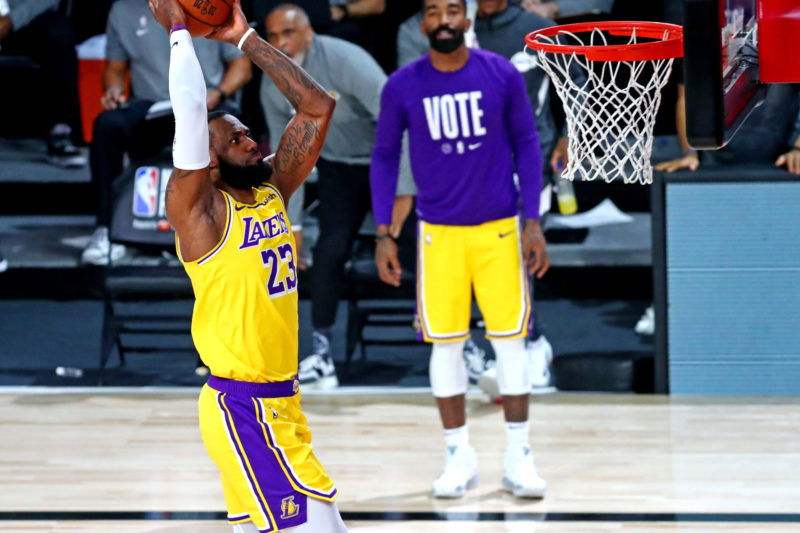 Los Angeles Lakers' superstar forward, LeBron James played better as the game wore on, and he scored 28 points, and had 12 rebounds and 8 assists to get his team the victory. He played very well in Game 4, as he excelled at making plays on both ends of the floor, and he also threw down a vicious dunk on Tyler Herro in this game. He did have his struggles early on though, as he was committing turnovers and missed shots in the first half.  He picked it up later on, as he started to knock down jumpers, which forced Miami to guard him more honestly.  That opened up the floor for the rest of his teammates, which allowed the Lakers to really get going in the fourth quarter.
Bam Adebayo bolstered the Heat with his scoring and playmaking ability, but it wasn't enough to help his team get the win.  The trade-off was that the Heat didn't have a whole lot of extra spacing on the floor, and they had trouble knocking down jumpers late in the game.
Anthony Davis continued to play very well, as he was everywhere defensively, and he also made a clutch three and block late in this game to help seal the Game 4 win for the Lakers. Meanwhile, Rajon Rondo passed and defended well, and he scored on a timely drive to the hoop late in this game to help his team.
The Los Angeles Lakers are now up 3-1 in the 2020 NBA Finals, and they are now one game away from winning the championship, and they look like a team that could be on their way to close it out in either 5 or 6 games to do so.
Game 3 Thoughts:
The Miami Heat got off to a fast start early on, and they were able to get out to a sizable lead against the Los Angeles Lakers in the first quarter.  The Lakers turned the ball over a lot, and Anthony Davis was in foul trouble for most of the game.  With one of their best players sidelined due to foul trouble, it paved the way for the Heat to really get going on both ends of the floor.
Jimmy Butler was tremendous in Game 3, and he helped carry the Heat for most of the night, as he ended up having a 40-point, triple-double.   He would attack the rim ruthlessly, so it hindered the Lakers' ability to guard pick and rolls.  He played a terrific all-around game, and his magnificent play helped get the Miami Heat a surprising game 3 win over the Lakers, as this also increases his team's hopes to make this series more competitive.
Butler's terrific ability to score and make plays in game 3 opened shots for his teammates, namely for Kelly Olynyk, Duncan Robinson, and Tyler Herro.   This allowed Miami to generate offense for most of the night, and Butler was able to both score at will, and make a living at the free throw line, as his bowling ball-driving style would often get the Lakers to commit fouls on him.  In addition, Miami Heat center, Meyers Leonard provided solid energy as well as a three-point threat that opened up floor spacing for his team, and it made Anthony Davis have to guard 25-feet away from the basket.  Leonard also set solid screens, and he was a solid finisher around the basket.
The moment of the night definitely belonged to Tyler Herro, as he made a tough shot on Rajon Rondo while drawing an extra free throw on the play, and he promptly made a baby snarl expression after he scored the basket. He is a sharpshooting rookie that oozes with confidence, and whether or not he's shooting the ball really well or poorly, he definitely plays like a superstar when he's on the court.
For the Lakers, because Anthony Davis was in foul trouble, he couldn't get a rhythm, so he was quite for most of the night, and he didn't really make an impact defensively.  In the fourth quarter, he didn't get touches for long stretches of the game, and his teammates were busy clanking jumpers on offense. 
Tactically, Miami played more man-to-man defense and minimized the use of zone defenses as Jimmy Butler guarded LeBron James pretty much the whole game, and the Heat did not switch often, which would force LeBron to go up against a very tough defender.  With Miami's tremendous and resilient Game 3 victory over the Lakers even without Bam Adebayo or Goran Dragic on the floor, if they can keep playing this well, they could make the 2020 NBA Finals a longer series than expected, and they had a terrific win over the Lakers on this day.
Other Notes:
Congratulations to the Seattle Storm for winning the 2020 WNBA title.  They played very well against the Las Vegas Aces, and Breanna Stewart and Sue Bird played excellent basketball to help their team win the championship.