The Los Angeles Lakers Are Your 2020 NBA Champions, Thoughts on Games 5 and 6 of the 2020 NBA Finals
October 11th, 2020
By Alan Lu
Game 6 Thoughts:
Right out of the gates to start game 6, the Los Angeles Lakers jumped out to a big lead, as they received a performance for the ages from LeBron James, Rajon Rondo was scoring baskets at will, KCP and Danny Green were knocking down shots, and Anthony Davis played very good defense, as the Lakers led by 28 at the half. In this game, the Lakers got contributions from many different players to win Game 6, but most notably, LeBron was dominant as he put on a thoroughly impressive performance to lead the Lakers to a double-digit win over the Miami Heat.
The Lakers had made the adjustment to go small as they started Alex Caruso instead of Dwight Howard to begin Game 6, and this tactic made them a lot quicker, and their extra floor spacing made them a lot tougher for Miami to play against.  The Heat had to really exert a lot of energy on both ends, so that they could not generate enough offense or defend for 48 minutes.
Goran Dragic played today, and while he made some solid plays on offense every once in a while, it was clear that he was not 100 percent.  For most of the night, Miami really struggled to make shots.  Jimmy Butler seemed to be worn out from having played so much in Game 5 and from basically carrying his team to that victory, and Miami's shooters struggled to make shots off the catch or dribble.  Tyler Herro especially struggled to get going, and he was just not the same player who had dominated Boston, as he had trouble consistently making shots against the Lakers.
Bam Adebayo didn't have much of an impact in the first half, but when the game was already out of hand, he started to consistently make plays on both ends of the floor.  At the end of the game, Adebayo had a terrific stat line of having posted 25 points, 10 rebounds, and 5 assists. Kelly Olynyk was effective as a scorer off the bench late in the game to try to help his team rally back. Miami almost was able to make the game competitive in the fourth quarter, but they were so far in a hole that they couldn't quite climb out of it.
Overall, the Los Angeles Lakers had gotten off to such a strong start, and LeBron James basically willed his team to win this game, as he had a terrific showing by notching another playoff triple-double to lead the Lakers to the victory.  LeBron had 28 points, 14 rebounds, and 10 assists, and he also made a terrific 13 of 20 shots from the field.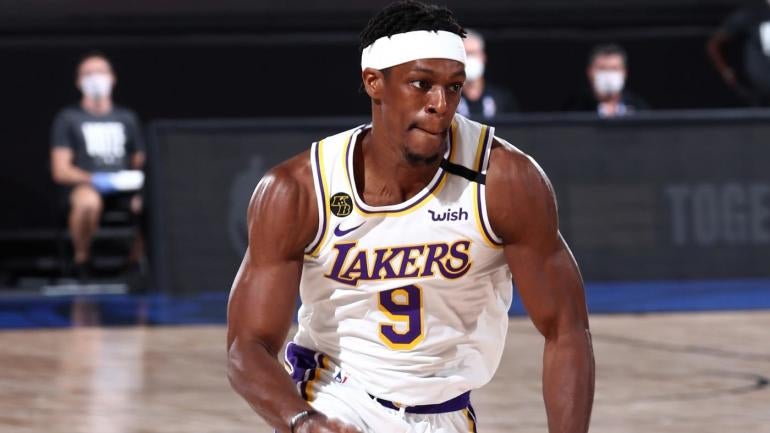 Rajon Rondo played very well, and he scored 19 points and made 8 of 11 shots off the bench.  He was unguardable tonight, he drove to the hoop at will, he crashed the glass and played solid defense, and Rondo also excelled as a three-point shooter to help his team in this game.
The Lakers had five different players in double figures, and they really clamped down on defense to prevent the Heat from getting much of a rhythm in this game.  By the time the Heat had found their rhythm, it was too little, too late for them, and the Lakers were able to win the game, series, and the championship today.
Game 5 Thoughts:
The Miami Heat won a really important game in game 5 of the 2020 NBA Finals to stave off elimination, and they were able to get past the Los Angeles Lakers to keep on playing.  They received tremendous all-around play from Jimmy Butler, terrific shooting from Duncan Robinson, and other role players such as Jae Crowder and Kendrick Nunn also provided solid scoring to help their team. The Heat collectively played one of their best basketball games of the year to get the Game 5 win, as they had managed to be able to continue competing in the bubble for another game.
For Miami, they largely played a pretty clean game, and they didn't make many mistakes.  They stayed within the system and shortened their rotation to seven players.  Early on, they got some production from Kendrick Nunn, who was making timely shots for Miami.  They also kept the ball moving, and out of that, Duncan Robinson was able to get some looks, and he did a terrific job of knocking down three-point shots to space the floor for his team.
The Los Angeles Lakers were close all night, as they received strong performances from LeBron James and Anthony Davis, and they were almost able to rally for a comeback win.  They got some timely buckets from Kentavious Caldwell-Pope, who excelled as a shooter and scorer for them.   LeBron James really excelled as a scorer and facilitator, and Anthony Davis knocked down outside shots and threw down some terrific dunks to help the Lakers early on.
Jimmy Butler had dominated for most of the game, as he was driving to the hoop at will to score, was knocking down jumpers, and he also passed and defended well.  He also was able to get some key blocks and steals to help his team on the defensive end.  Bam Adebayo had a presence inside, he was there to help slow down Anthony Davis, and he was another defender that could switch on pick and rolls.   Jae Crowder and Duncan Robinson made some big shots, as they were both able to draw extra free throws after making spot-up threes in the middle of this game.
Down the stretch, LeBron James started to take over as Jimmy Butler was beginning to run on fumes, and LeBron made some terrific shots.  As we got to the final minute, LeBron and Jimmy Butler began trading baskets.  Jimmy Butler drew a foul against Anthony Davis to get two free throws to put his team ahead. 
The Lakers had one last possession to try to win the game, but Duncan Robinson and Jimmy Butler doubled LeBron.  They forced LeBron to kick it out to an open Danny Green, but Green missed the three.  The Lakers grabbed the rebound as the ball went out to Markieff Morris, but Morris threw the ball away, as he threw an inaccurate high pass that sailed out of bounds.  The Lakers could not recover from this costly turnover, as they fouled Tyler Herro on the very next possession, who then sealed the game by making two clutch free throws.
In summary, Jimmy Butler pretty much carried the Heat to get their second win of the series, and he notched another triple-double by scoring 35 points, and he also had 12 rebounds and 11 assists, and he also collected 5 steals to get his team the Game 5 win.  That said, the Los Angeles Lakers still had the 3-2 series lead in the 2020 NBA Finals.  Anthony Davis had appeared to injure his foot multiple times in this game, which seemed to have hampered his mobility a little bit down the stretch, as this seemed to have limited his effectiveness in Game 5.
Online, the Los Angeles Lakers were getting a lot of flack for coming up short in Game 5, and to be honest, I thought it was too much.  The Miami Heat played a very good game, and the defenders collapsed on LeBron James, as they had designed their defense on that play to get the ball out of his hands.
I feel like too much was made over the Lakers not being able to close out Game 5, and there was too much internet fury over what had happened in that game down the stretch. I thought it was especially unfair that Danny Green got the brunt of the criticism.  LeBron was basically triple-teamed by defenders, so he made a good basketball play to find an open shooter, and sometimes shots miss.  Danny Green is a proven winner that has won multiple titles in the NBA with the Spurs, Raptors, and now the Lakers, and he also won in college with North Carolina. He's a career 40% three-point shooter in the NBA, which is a really good mark. It's just….sometimes shots miss.
The Lakers came up with the offensive rebound anyways.  As for Markieff Morris passing turnover, well…that's old news, now.  Turnovers happen, but the key would be to see how well the Lakers would adjust the next game. The Lakers had lost game 5, but after that, the Miami Heat were gassed after having played one of their best and toughest basketball games of the year.  Jimmy Butler had played 47 of 48 minutes, and would not have nearly enough energy to play in Game 6, and the Lakers had a 3-2 series lead anyways.  Sometimes it takes one game to motivate a team to play to their fullest capabilities, and boy, did the Lakers show up in Game 6.
Anyways, Game 6 was a good way to wrap up the 2019-20 NBA season.  In a year marked with tragedy, the Los Angeles Lakers managed to win the title for Kobe and Gianna Bryant, and LeBron James and Anthony Davis teamed up to play terrific basketball to lead the 2020 Los Angeles Lakers to win the championship this year.  It was a lot of fun to watch NBA basketball games play in the Orlando bubble, and it'll be an exciting offseason to see who gets drafted and signed, and which trades get made.  Thank you for reading.