The 2022-23 Portland Trail Blazers' Season Preview
September 10th, 2022
By Alan Lu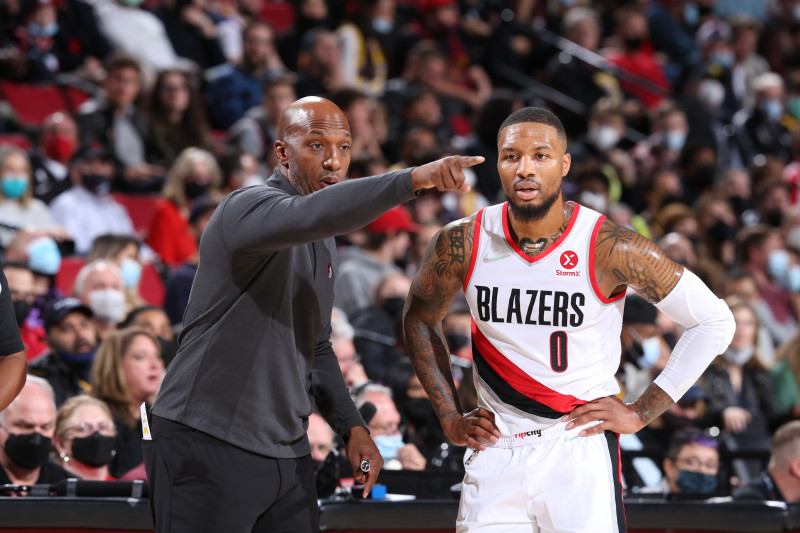 The Portland Trail Blazers got off to a woeful start last year as superstar point guard Damian Lillard really struggled to shoot the basketball early on.  He then got hurt and went down for the season, and they later traded away C.J. McCollum to New Orleans to throw in the towel on their season last year.
They didn't opt to go to a full rebuild, and instead, the Blazers have retooled their roster to try to get back to playoff contention for the upcoming season.  They traded to get Jerami Grant in a blockbuster trade from Detroit, as they got a versatile combo forward that can score and defend.  They also signed Gary Payton II away from the defending NBA champions Golden State Warriors, and the Blazers immediately boosted their defense and bench with their latest signing.  Whether if this is enough to get them back to the playoffs, nevertheless these moves have the Blazers' fans excited for the new season.
Star Players:
Damian Lillard is a superstar point guard that can make shots from anywhere on the floor, and he is a very agile, shifty playmaker that has strong offensive skills.  But last year, he didn't seem to show it while he was on the floor very much last year, and he got off to an atrocious start last year before getting hurt, which caused him to miss the rest of the season.  The Blazers will need the Lillard that he used to be that helped get them to the playoffs before, and not the Lillard that disappointed and struggled to stay on the flor last season.
Additions:
F Jerami Grant, G Gary Payton II, G-F Shaedon Sharpe, F Jabari Walker, and C Drew Eubanks
The Blazers made many additions, but the biggest names they added were Jerami Grant and Gary Payton II.  Grant gives the Blazers an athletic, versatile forward that will provide them with another scorer and a defender that can guard multiple positions.  Payton is a very athletic combo guard that can reliably run the point and he is a strong defender.  They also selected Shaedon Sharpe and Jabari Walker in the draft, and Walker had a strong Summer League that suggests that he could be ready to step in right away.
Subtractions:
F Joe Ingles, G-F Ben McLemore, G-F C.J. Elleby, and G-F Elijah Hughes
Joe Ingles never played a single game for the Blazers, so Blazers' fans might not really feel the impact here because he was injured when they acquired him during the middle of the season last year.  That said, he is a very skilled point forward that shoots and passes the ball very well, and he would have helped the Blazers significantly if they were able to re-sign him.  As for the other players, they are fringe roster players that project into 3 and D roles at the NBA level.
Rookies:
G-F Shaedon Sharpe and F Jabari Walker
Shaedon Sharpe is a very athletic, energetic swingman that hasn't played much basketball recently, and he played only 5 ½ minutes in the Las Vegas Summer League before injuring his shoulder and missing the rest of the action.  He's not expected to contribute right away, but he is a high upside prospect that has star potential.
Jabari Walker is an athletic, skilled combo forward that had a strong Las Vegas Summer League, and he is a very good rebounder that could project into a 3 and D role off the bench in the NBA.  There'll be some competition for minutes, but Walker is a talented player that has a fair chance to crack the rotation this year.
Expected Rotation:
Projected Starting Lineup:
Key Bench Players:
G-F Nassir Little
The Rest of the Roster (projected to make the team):
G-F Shaedon Sharpe
G Brandon Williams (Two-Way)
F Devontae Cacok (Exhibit 10)
Others in Camp:
F-C Olivier Sarr (Exhibit 10)
G-F Jared Rhoden (Exhibit 10)
G Isaiah Miller (Exhibit 10)
Head Coach:
Chauncey Billups
2021-22 (POR): 27-55, missed the playoffs
Career: 27-55, 0-0 in the NBA Playoffs
Chauncey Billups had a difficult rookie season as a head coach last year.  Superstar point guard Damian Lillard got off to a terrible start in which he really struggled to make threes early on before getting injured, which caused him to miss the rest of the season.  Management then decided to trade C.J. McCollum to New Orleans in their lost season, but Billups kept marching on to keep their team competitive. 
He was a very accomplished NBA player that made All-Star teams and won with the 2004 Detroit Pistons, but he's still unproven as a head coach, and has his work cut out for him.  Blazers' fans will be expecting their team to reach the playoffs, or at least to get to the play-in tournament, and anything that falls short of both of those goals will leave them extremely unsatisfied. 
Even more, it's uncertain if Lillard can return to being the tremendously skilled player he was before, and he's already slowed down due to aging and injuries, so combined with competing in a very difficult Western Conference, Billups may be facing an uphill battle to try to get his team to the playoffs in 2023.
Outlook:
The Portland Trail Blazers come in revamped and with a new attitude, but it will mostly depend on Damian Lillard to help do the heavy lifting.  If he can return to top form, the Blazers should compete for a playoff spot and maybe earn a spot on the way in.  In addition, Jerami Grant will provide versatility, Anfernee Simons is a very athletic scoring point guard, Nurkic will provide a low post presence, and Josh Hart is a 3 and D player that has been solid in his role in the NBA.
However, if they're getting last year's Damian Lillard that struggled to shoot nearly as well or to stay healthy, the Blazers could be wildly disappointing for the upcoming season.  They are in a very tough Western Conference, and aside from adding Jerami Grant and Gary Payton II, the Blazers still may not have made enough upgrades and they still don't have a deep enough bench.  Unfortunately, I think they'll be on the outside looking in at the end of the season, and they may likely wind up missing the playoffs.
Projected 2022-23 Win-Loss Record and Finish:
Projected Regular Season Finish: 36-44, 11th in the Western Conference
Expected Playoff Finish: Projected to miss the playoffs
I went to Basketball-Reference and Spotrac to look up some information for this write-up.  It will be an exciting basketball season this year, and the NBA season will start on October 18th.  Thank you for reading my write-up of the 2023 Portland Trail Blazers.