The 2022-23 Orlando Magic's Season Preview
September 14th, 2022
By Alan Lu
Orlando Magic fans have a lot to be excited about, and they will begin Year 1 of the Paolo Banchero era for their franchise.  They are still in rebuilding mode so they aren't in a rush to make it to the playoffs, but they have a slew of talented young players that could grow and develop to become future stars of tomorrow. 
As for right now, they were the worst offensive team in the league as they were 30th in Team Offensive Rating, and their lack of experience or proven leadership will likely take them out of the running to compete for a playoff spot.  Still, they could surprise people and perhaps win a few more games than expected, and their talented front-court combined with Cole Anthony getting another season as the starting point guard under his belt could bode well for their future.
Star Players:
None
The Orlando Magic don't have any established star players right now, but they have a crew of talented young players that should excite their fanbase.  Second-year forward Franz Wagner had a tremendous rookie season, and he's a skilled all-around forward whose versatility makes him able to fit any role he's asked to play. 
They drafted Paolo Banchero first overall, and he is a super skilled, scoring forward that certainly can put the ball in the hoop, and he is their franchise player that also is an underrated playmaker.  They also have Cole Anthony, an athletic score-first point guard that can sometimes take over games, as well as a slew of big men that can score and grab rebounds in the paint.  On top of that, they also have other talented young players that could make considerable gains for the upcoming season.
Additions:
F Paolo Banchero and F Caleb Houstan
Drafting Banchero was huge for their team, and he could be a definite superstar for the Orlando Magic in the future.  It will be imperative for the Magic to build around Banchero and Franz Wagner, and they also have a slew of interesting players to surround them with.  Caleb Houstan had an up and down freshman season, but he is a rhythm shooter that could project well into a 3 and D role in the NBA, especially if he can consistently knock down his jump shots in games.
Subtractions:
C Robin Lopez
The Magic are still in their rebuilding phase, so they may not miss Robin Lopez too much because they are looking to give playing time to younger players.  That said, Lopez is an energetic rotational center that can provide solid minutes as an interior player when he is on the floor.
Rookies:
F Paolo Banchero, F Caleb Houstan, and G-F Kevon Harris
There will be ample playing time for Paolo Banchero, and the Magic will likely ensure that he will strongly contend for the Rookie of the Year award for the upcoming season.  It's less certain as to how many minutes the other rookies will get, but if they do get some run, they will most likely project into 3 and D roles in the NBA.
Expected Rotation: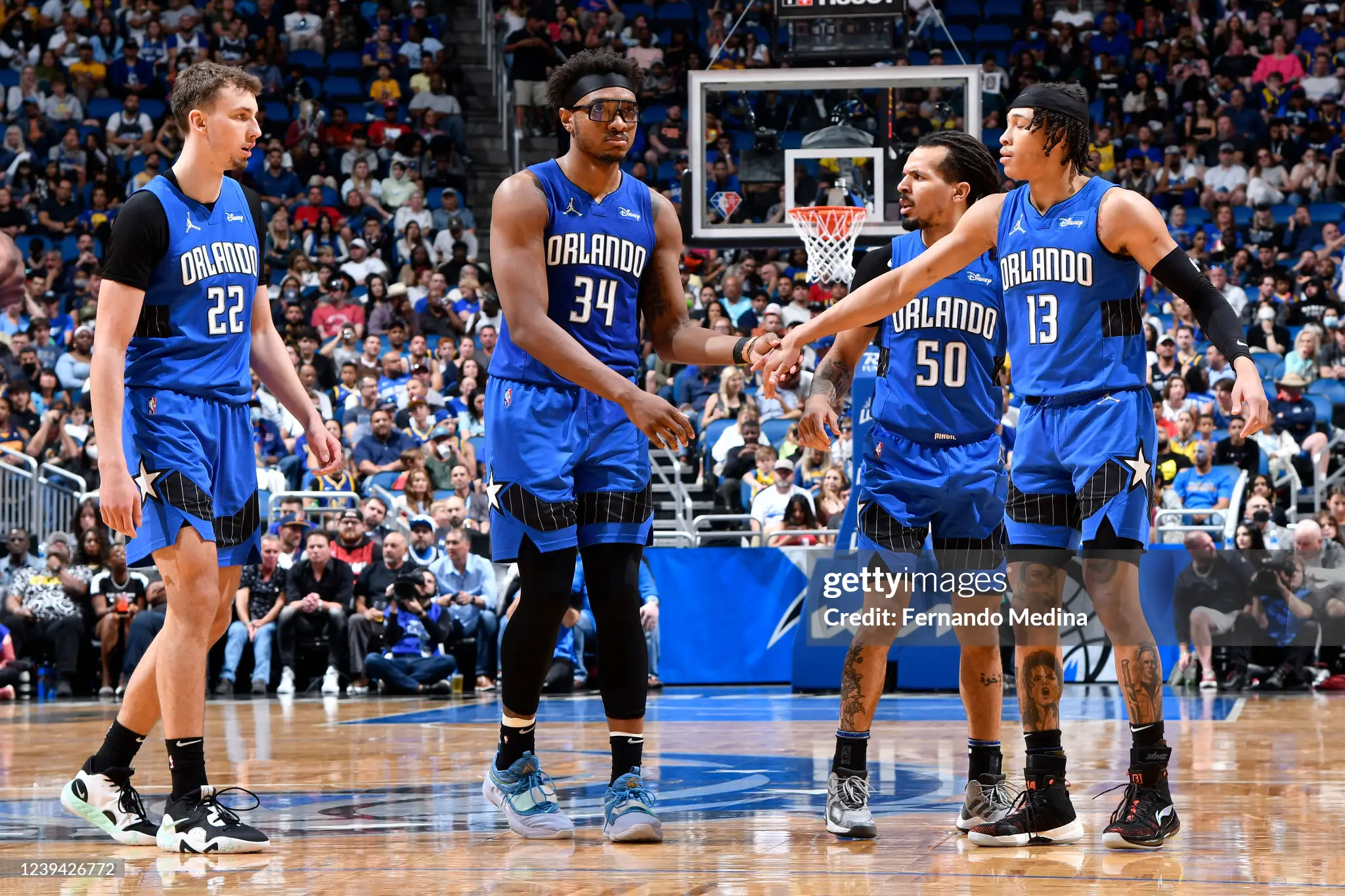 Projected Starting Lineup:
Key Bench Players:
C Mo Bamba
G-F Terrence Ross
The Rest of the Roster (projected to make the team):
G Gary Harris* (injured, out for the season)
F-C Bol Bol
F Admiral Schofield (Two-Way)
G-F Kevon Harris (Two-Way)
Others in Camp:
G-F Joel Ayayi
G-F Drake Jeffries (Exhibit 10)
Head Coach:
Jamahl Mosley
2021-22 (ORL): 22-60, missed the playoffs
Career: 22-60, 0-0 in the NBA Playoffs
The Magic were a better defensive team than anticipated last year, although they were still around the middle of the pack, but it was better than most could hope for.  However, they were a very bad offensive team last year, and they will certainly need to improve upon that.  This time around, the Magic finally get to add a potentially elite shot creator to the mix, though it was thought that they had brought in guards to fill that role in previous seasons.  It will be interesting to see how well Mosley does in Year 2 as the head coach of the Orlando Magic.
Outlook: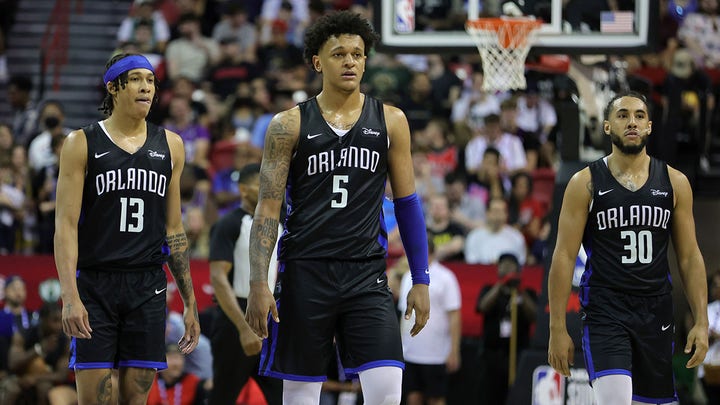 The Orlando Magic have a talented, but young and inexperienced group of players that are still learning and developing on the fly, which is a very difficult thing to do in the NBA.  That said, Paolo Banchero had a great summer, and he will likely pair well with other front-court members such as Franz Wagner, Wendell Carter Jr., and Mo Bamba to make his team more competitive in the short term, and really fun to watch for the long haul.  The Magic may not win many games this year, but they have a group of very good young players that have star potential, which gives them a bright future ahead of them.
Projected 2022-23 Win-Loss Record and Finish:
Projected Regular Season Finish: 26-56, 15th in the Eastern Conference
Expected Playoff Finish: Projected to miss the playoffs
I went to Basketball-Reference and Spotrac to look up some information for this write-up.  It will be an exciting basketball season this year, and the NBA season will start on October 18th.  Thank you for reading my write-up of the 2023 Orlando Magic.