A Preview of the 2022-23 New Orleans Pelicans
September 13th, 2022
By Alan Lu
The Pelicans will be looking to build from their last year's playoff bid for the upcoming season. Last year, the Pelicans were able to turn their season around after getting off to a very slow start.  They had strong rookie seasons from Herbert Jones and Jose Alvarado, Jonas Valanciunas added a reliable three-point to his arsenal, and they swung a big trade to get C.J. McCollum around the trade deadline, which helped get them a string of victories.
They later had a tremendous play-in tournament that enabled them to get to the 2022 playoffs due to the strong play of Brandon Ingram, C.J. McCollum, and coaching from new head coach Willie Green, and they were able to defeat the Clippers to get into the postseason.  They also were able to take the first-seeded Phoenix Suns to 6 games before losing to them in the first round.
This year, they'll get a fully healthy Zion Williamson to add to their team, and the Pelicans could be poised to win even more games this year.  They'll face stiff competition out in the West now that the Clippers and Lakers will also be healthy, but there is plenty of optimism in New Orleans for the upcoming season.
Star Players:
F Zion Williamson, F Brandon Ingram, G C.J. McCollum, and C Jonas Valančiūnas
Zion Williamson is a tremendously athletic forward that really excels at taking the ball to the rim to score, and he is also a rangy defender that can make a slew of plays to help his team in games.  He's a terrific player when healthy, and has made 1 NBA All-Star team.  He'll need to improve his jump shot and stay healthy, but he could make the Pelicans an even better and more dynamic team this season.
Brandon Ingram is a tall, athletic and skilled forward that can shoot and score the basketball, and he was instrumental in helping to lead the Pelicans to a crucial play-in tournament win over the Clippers to get his team to the 2022 playoffs.  He's been streaky with his jump shot at times, but he is a very talented player that can take over games.
C.J. McCollum is an agile, skilled veteran combo guard that can shoot and score the basketball, and he was vital to help get the Pelicans to the playoffs.  He is also a very good playmaker that can play either backcourt position.  On the other hand, opposing teams can target their team defensively as his lack of size makes it difficult for him and his team to guard taller players, but McCollum's strong offensive skills instantly makes the Pelicans a playoff contender once again this season.
Jonas Valanciunas is a tall, skilled center whose versatile scoring skills have significantly aided New Orleans.  He is a skilled low post scorer that also can score on hustle plays, is a good passing big man, and he also added a very good three-point shot to his arsenal, all of which makes him a very good offensive player in this league.  He's also a very good rebounder.  While his athletic limitations may make it difficult for him to guard quicker players defensively, his strong offensive and rebounding skills make him a valuable complementary player in this league.
Additions:
G-F Dyson Daniels
Dyson Daniels is an athletic, skilled point forward that can play multiple positions, and his versatility could help the Pelicans both this year and in the future.  He will need to improve his jump shot, but his court vision and solid defensive skills should enable him to be a solid role player in the NBA.
Subtractions:
G-F Tony Snell
Snell is a low volume sharpshooter that played a 3 and D role, but while he was let go, the Pelicans have a slew of talented players off the bench that can step up to provide solid minutes for their team this year.
Rookies:
G-F Dyson Daniels, G-F Dereon Seabron
There may not be a whole lot of minutes for Daniels or Seabron in the early going, but if Daniels plays well enough, he could force his way into the rotation or prompt management to trade someone else such as Graham later on.  Daniels is a talented point forward that could definitely work his way into the rotation. Seabron isn't likely to get many minutes this year, but he is a very athletic point forward whose ability to score, rebound, and make plays could enable him to get minutes late in the season.
As for their other rookies that they drafted or played for their summer league team this year, Karlo Matkovic will be staying overseas this year, and he is an athletic big man that can score in the post and pass the basketball. E.J. Liddell went down to an unfortunate knee injury, so he has been unsigned and will miss the entire season this year. John Butler was said to be on a two-way contract by a Sports Illustrated article that was written by Chris Dodson, but I couldn't find another source that confirmed this. Regardless, he's probably going to spend most or all of his time in the NBA G-League for the upcoming season, as he's a very tall, but very skinny big man that can shoot and defend, but people will want to know how well he holds up at higher levels. They also recently signed Daeqwon Plowden to an Exhibit 10, and he is an athletic swingman that could project into a 3 and D role off the bench.
Expected Rotation: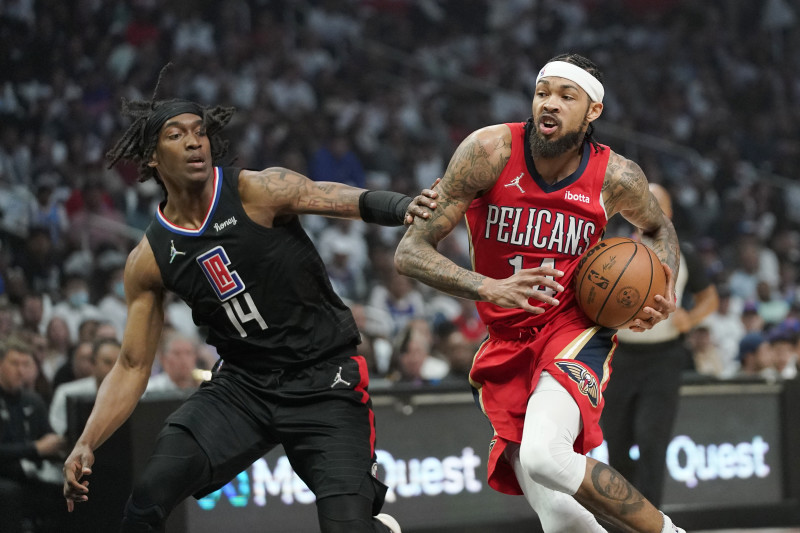 Projected Starting Lineup:
Key Bench Players:
F-C Trey Murphy III
The Rest of the Roster (projected to make the team):
G-F Garrett Temple
G-F Dyson Daniels
G-F Naji Marshall
G-F Dereon Seabron (Two-Way)
G Izaiah Brockington (Two-Way)
Others in Camp:
G-F Daeqwon Plowden (Exhibit 10)
G-F John Petty (Exhibit 10)
Head Coach:
Willie Green
2021-22 (NOP): 36-46, 2-4 in the playoffs
Career: 36-46, 2-4 in the NBA Playoffs
Willie Green had a very good rookie season in which he helped the Pelicans win both of their play-in tournament games in absence of Zion Williamson, who was out due to a foot injury to help his team get to the playoffs.  Green had a strong motivational speech in the second half against the Clippers to lead his team to a win over them to get into the postseason.  He was able to get a lot out of his team last year, and he has a bright coaching future ahead of him.
Outlook: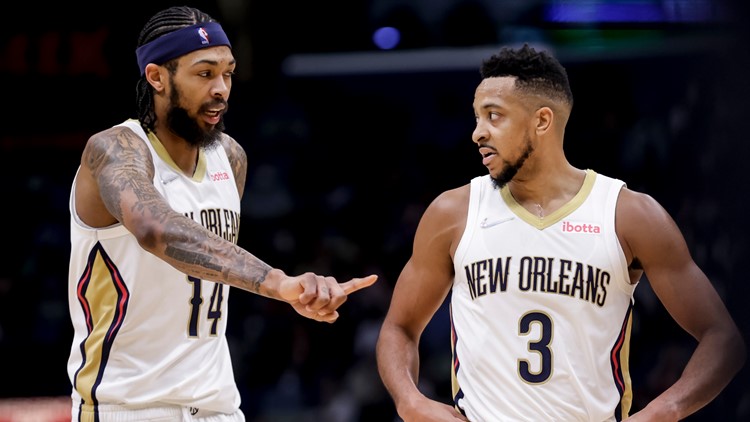 The New Orleans Pelicans are going to be the wildcard team of the upcoming season.  Despite having a few key players miss time due to injuries, they were able to rally back to get into the playoffs last season. 
Now, they'll have to prove that they can make it back in the very tough Western Conference that features the defending champions in the Golden State Warriors, a tough Phoenix Suns' squad that won 64 games in the regular season, a Ja Morant-led Memphis Grizzlies' team that won 56 games in the regular season, a couple of teams that have some of the very best players in the NBA in Nikola Jokic and Luka Doncic, an upstart Timberwolves' team that made the playoffs last year and added three-time DPOY award winner in Rudy Gobert, as well as two Los Angeles teams that have proven their mettle in the playoffs when healthy. Unfortunately out in the West, one good NBA team will be left out of the playoffs in 2023.
This season, the Pelicans will have a healthy Zion Williamson, but they'll face even stiffer competition, as Kawhi Leonard will finally be healthy for the Clippers, and the Lakers swung a major trade to land Patrick Beverley to pair him up with LeBron James.  Therefore, the Pelicans could be poised to win more games in the regular season this year, but they may end up in the play-in tournament and could fall just short of a playoff bid in 2023.
Projected 2022-23 Win-Loss Record and Finish:
Projected Regular Season Finish: 43-39, 7th in the Western Conference
Expected Playoff Finish: Projected to lose both games to the LA Clippers and the LA Lakers in the 2023 Play-In Tournament, projected to miss the playoffs
I went to Basketball-Reference and Spotrac to look up some information for this write-up.  It will be an exciting basketball season this year, and the NBA season will start on October 18th.  Thank you for reading my write-up of the 2023 New Orleans Pelicans.