The 2022-23 Indiana Pacers' Season Preview
September 17th, 2022
By Alan Lu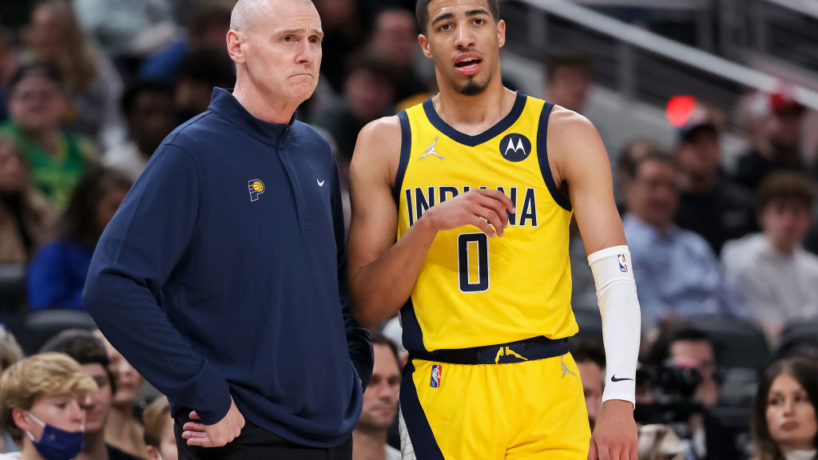 The Indiana Pacers were able to get a key player in a midseason trade, as they were able to get skilled, playmaking guard Tyrese Haliburton from the Sacramento Kings, and they also acquired a microwave scorer in Buddy Hield to bolster their bench.  They traded away Domantas Sabonis to get him and later dealt away Malcolm Brogdon, so the Pacers will still likely be in rebuilding mode, but with a crew of fairly solid role players around Haliburton, they will likely be competitive and could win more games than expected, even if they are still a long shot for the playoffs this season.
Star Players:
Tyrese Haliburton is a smart, skilled do-it-all guard that can do a little bit of everything for his team, and he also shoots and passes the ball well.  He is a tall facilitator that can comfortably run the point or play off the ball, and he could be in the running to make the All-Star team in 2023.
Additions:
G-F Bennedict Mathurin, F-C Daniel Theis, G-F Aaron Nesmith, and G Andrew Nembhard
The Pacers made significant upgrades to bolster their team, and two of the biggest additions to their team are rookie swingman Bennedict Mathurin, who is a very athletic, energetic player that can shoot, score, and defend, and Daniel Theis, a floor-spacing big man that can help lock down the paint.  They also added Aaron Nesmith and Andrew Nembhard to provide depth to their team, and they could help the Pacers sometime in the future.
Subtractions:
G Malcolm Brogdon, F T.J. Warren, G Ricky Rubio, and G Lance Stephenson
The biggest loss of their team will be the absence of Malcolm Brogdon, as they traded him to the Boston Celtics in the offseason.  The Pacers will miss his strong production when healthy, but they will turn over the keys to Tyrese Haliburton to run their offense this year.
Rookies:
G-F Bennedict Mathurin and G Andrew Nembhard
As the Pacers are still in rebuilding mode, there will likely be ample playing time for Bennedict Mathurin, who was one of the standouts in the Las Vegas Summer League this year.  Mathurin is a sleeper contender for the Rookie of the Year award, and he could even crack the starting lineup this year.  Nembhard didn't play nearly as well in the Summer League, and he'll face much tougher competition for minutes, though he may be able to get some run late in the season.
Expected Rotation:
Projected Starting Lineup:
Key Bench Players:
F-C Isaiah Jackson
The Rest of the Roster (projected to make the team):
G-F Terry Taylor
G-F Aaron Nesmith
F James Johnson (Exhibit 10)
F Kendall Brown (Two-Way)
Others in Camp:
F Deividas Sirvydis (Exhibit 10)
F-C Bennie Boatwright (Exhibit 10)
G David Stockton (Exhibit 10)
G Gabe York (Exhibit 10)
Head Coach:
Rick Carlisle
2021-22 (IND): 25-57, missed the playoffs
Career: 861-746, 63-70 in the NBA Playoffs, has won 1 NBA title in his coaching career
Rick Carlisle is a well-accomplished head coach that won with the 2011 Dallas Mavericks, and he helped future Hall of Famers Dirk Nowitzki and Jason Kidd, as well as former All-Star forward Shawn Marion win the title over LeBron and Dwyane Wade's Miami Heat back then.  He's also coached Luka Doncic.
Unfortunately, his Pacers' team last year won just 25 games, and the Pacers were one of the worst defensive teams in the league.  Myles Turner also missed some time due to a foot injury, but it seems that Carlisle hasn't been at the peak or height of his game for a while.  He's known to help make teams better offensively, and he will lead the Pacers into the upcoming NBA season.
Outlook:
The Pacers made some trades and deals, and as they have traded away Malcolm Brogdon over the summer, they are in the midst of a rebuilding mode, so they aren't in any hurry to contend for a title right now.  That said, they do have some solid players.  Tyrese Haliburton and Myles Turner will keep their team competitive as long as they're healthy, and there's always a chance that Carlisle can get much more out of the Pacers, as long as they stay healthy and in tact.  They'll be facing an uphill battle out in the East, but their current core of Haliburton, Turner, and Carlisle will give them a puncher's chance for the playoffs, even if they may presently be a long shot.
Projected 2022-23 Win-Loss Record and Finish:
Projected Regular Season Finish: 37-45, 12th in the Eastern Conference
Expected Playoff Finish: Projected to miss the playoffs
I went to Basketball-Reference and Spotrac to look up some information for this write-up.  It will be an exciting basketball season this year, and the NBA season will start on October 18th.  Thank you for reading my write-up of the 2023 Indiana Pacers.