Previewing the 2022-23 Washington Wizards
September 18th, 2022
By Alan Lu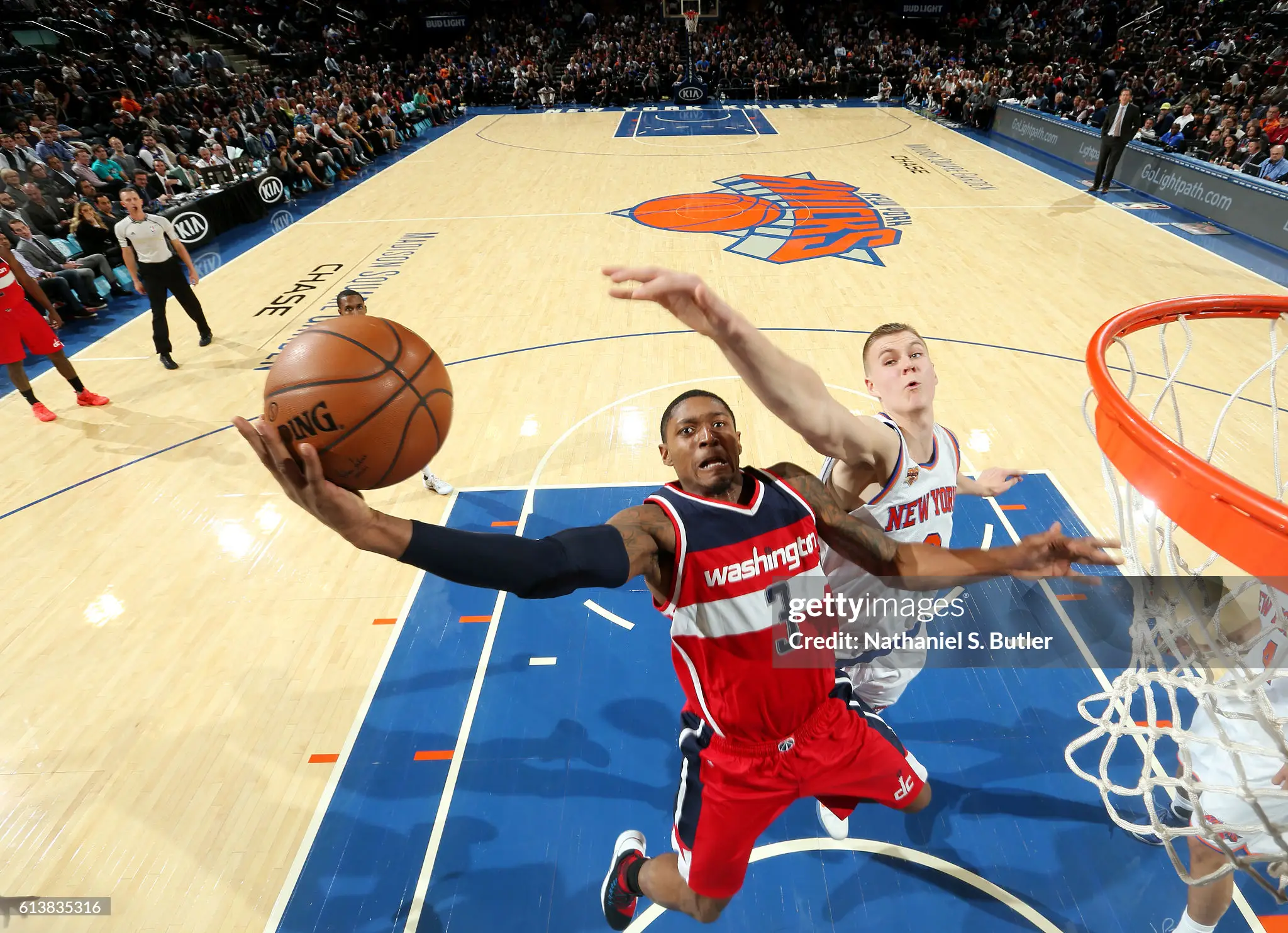 The Washington Wizards were able to trade for Kristaps Porzingis in a blockbuster trade around the deadline last year.  However, Bradley Beal was injured, and so Beal and Porzingis weren't actually able to play together, and the Wizards ended up missing the playoffs.
This time around, the Wizards will finally be able to pair Beal up with Porzingis on the floor, which will excite their fanbase greatly.  Beal will have to shoot better than he did last year, and they will both need to stay healthy, but as long as both of them are healthy, the Wizards could contend for the playoffs.  They also swung a trade to land Will Barton and Monte Morris, though they also dealt Kentavious Caldwell-Pope away, and they also drafted Johnny Davis.  There's a lot of competition out in the East, but there is now cautious optimism amongst Wizards' nation.
Star Players:
G Bradley Beal and C Kristaps Porziņģis
Bradley Beal is a very skilled guard that has strong offensive skills.  He is a very good scorer that can do so in many ways, and he also is a very good playmaker.  He struggled with his three-point shot last year and was injury prone, but he has proven to be an All-Star caliber player when healthy.
Kristaps Porzingis is a very tall, skilled center that has versatile scoring skills and also excels at blocking shots.  He's struggled to stay healthy, but he's proven to be a solid player when healthy in this league.
Additions:
G-F Will Barton, G Monte Morris, G Delon Wright, G Johnny Davis, and C Taj Gibson
The Wizards added a group of solid 3 and D wing players in Will Barton and Delon Wright, and Monte Morris is a reliable, game managing point guard that can shoot, pass, and run the team.  Taj Gibson is a veteran big man that has added a three-point shot to his arsenal.  Johnny Davis is an athletic wing player that has a fairly solid mid-range game, and is an aggressive defender that can rebound and block shots, but he didn't shoot or play very well at the Las Vegas Summer League.
Subtractions:
G Kentavious Caldwell-Pope, C Thomas Bryant, G Tomáš Satoranský, and G Raul Neto
The Wizards lost several notable players in the offseason, but their biggest losses were arguably Caldwell-Pope and Bryant.  Bryant is a skilled, offensive minded big man that can score inside and out when healthy, and Caldwell-Pope is a veteran, 3 and D wing player that won with the 2020 Los Angeles Lakers.  Satoransky is an athletic swingman that also can comfortably run the point, and Raul Neto is a game managing, backup point guard.
Rookies:
Johnny Davis had a very good sophomore season, and he is an old-school guard that can score, especially from the mid-range, as well as rebound, and defend, but there are concerns about his inconsistent three-point shot and mediocre playmaking skills, and he didn't play very well in Summer League.  The Wizards have a fairly deep bench, so it may be tough for him to get minutes right away, but over time he may see some playing time late in the season.
Expected Rotation:
Projected Starting Lineup:
Key Bench Players:
The Rest of the Roster (projected to make the team):
F-C Taj Gibson
F-C Isaiah Todd
G-F Jordan Schakel (Two-Way)
Others in Camp:
F-C Makur Maker
Head Coach:
Wes Unseld Jr.
2021-22 (WAS): 35-47, missed the playoffs
Career: 35-47, 0-0 in the NBA Playoffs
Wes Unseld Jr. was a former assistant with the Denver Nuggets, and he helped the Nuggets get to the 2020 Western Conference Finals.  In his first season as a head coach with the Wizards, he led his team to get 35 wins despite his star players missing time due to injuries.  On the other hand, they were not a very good defensive team, as they were 25th in team defensive rating last year.  It will be interesting to see how the Wizards will do this season with everyone being healthy to play to start the year.
Outlook: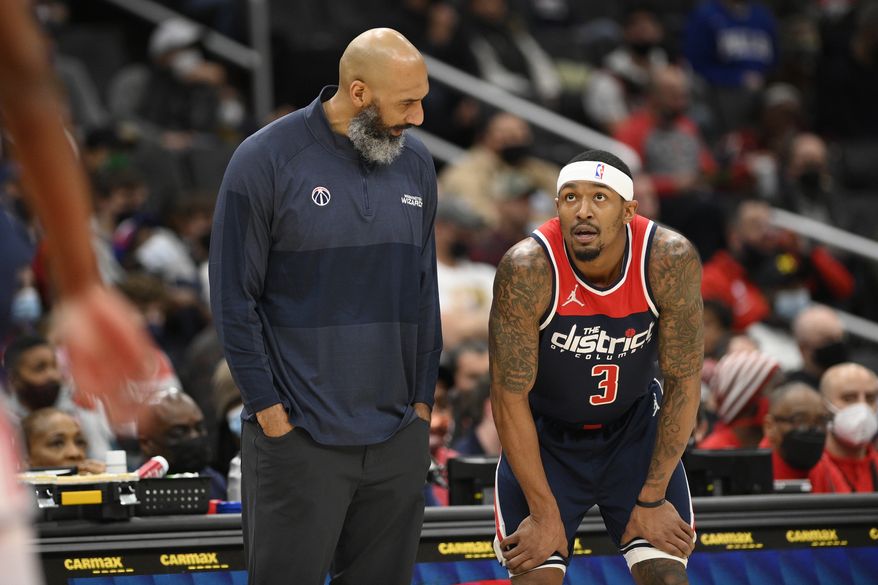 The Washington Wizards will be a competitive team in the East this year, but they'll need Bradley Beal to shoot better than he did last season, and they will need Porzingis to return to top form and be the dynamic scorer that he used to be.  Beal and Porzingis haven't actually played together, and they've struggled to stay healthy over the years. 
On the plus side, they have a fairly solid set of forwards to complement them.  Kyle Kuzma is a former NBA champion that can score the basketball, Corey Kispert and Rui Hachimura can shoot and score in complementary roles, and Deni Avdija has improved significantly defensively.  The Wizards will be battling for a playoff spot, but they'll need more overall production and to defend better, or they could be on the outside looking in at the end of this season.
Projected 2022-23 Win-Loss Record and Finish:
Projected Regular Season Finish: 38-44, 11th in the Eastern Conference
Expected Playoff Finish: Projected to miss the playoffs
I went to Basketball-Reference and Spotrac to look up some information for this write-up.  It will be an exciting basketball season this year, and the NBA season will start on October 18th.  Thank you for reading my write-up of the 2023 Washington Wizards.