Previewing the 2023-24 Oklahoma City Thunder
September 15th, 2023
by Alan Lu
The Oklahoma City Thunder took strides to slowly build themselves into a competitive NBA basketball team that may be on the verge of making the playoffs.  The Thunder surprised a lot of people by winning as many games as they did, and Shai Gilgeous-Alexander has turned himself into an NBA superstar that put up a near-MVP caliber season.  
Shai Gilgeous-Alexander and Josh Giddey are two exciting players that will look to help the Thunder make their playoff push for the upcoming season.
(Photo: Sarah Phipps/The Oklahoman)
They also have a lot of young talent to work with.  Josh Giddey and Jalen Williams had solid seasons, and both are solid playmaking wing players that excel on the offensive end.  Lu Dort has continued to be a solid defensive player for the Thunder.  Even better, they'll finally get a healthy Chet Holmgren, who wowed NBA scouts, teams, and fans alike with his impressive play in the NBA summer leagues before getting injured late in the summer.  The Thunder have slowly built themselves to be a solid team, and they have plenty of assets and draft capital that could make them even better next season.
Star Players:
Shai Gilgeous-Alexander really burst onto the scene last year to have a fantastic season. He is a tremendously skilled guard that operates well at the point and off the ball, and he did a great job of scoring and playing a strong all-around game. He made his first NBA All-Star team, and he could end up making many more in the futuer.
Additions:
G Cason Wallace, F Dāvis Bertāns, G-F Victor Oladipo, G Vasilije Micić, G-F Keyontae Johnson, and F Jack White
The Thunder added a lot of rotation-caliber players and other players that could help them in the future, but they have a limited amount of roster spots, so not all of them may make their squad this year. They acquired 2023 lottery pick Cason Wallace through the draft, and he is a defensive-minded point guard that could help them right away.
Subtractions:
F Dario Šarić and G-F Lindy Waters III
The Thunder lost a skilled playmaking big man in Saric, as they lose a tall passer that moves the ball well, and they also lost a sharpshooter in Waters in free agency. However, with the depth and talent they have, the players they lost may not factor too much for them onto the upcoming season.
Rookies:
F-C Chet Holmgren, G Cason Wallace, and G-F Keyontae Johnson
Chet Holmgren is a very talented, skilled big man that boasts having tremendous defensive skills, and he also handles the ball well, especially for a player his size. He missed all of last season due to a foot injury, but if he stays healthy, he could be a likely contender for the Rookie of the Year award in 2024.
Cason Wallace is a pesky, defensive-minded point guard that could earn some playing time this year, and Keyontae Johnson was a productive scorer at the collegiate level. Johnson had a scary moment at Florida when he collapsed on the court, but he has since recovered and was able to have a terrific season at Kansas State, which allowed him to wind up being a second round pick this year. He is a fairly polished prospect that could project to be a solid rotation player in a 3 and D type of role in this league.
Expected Rotation: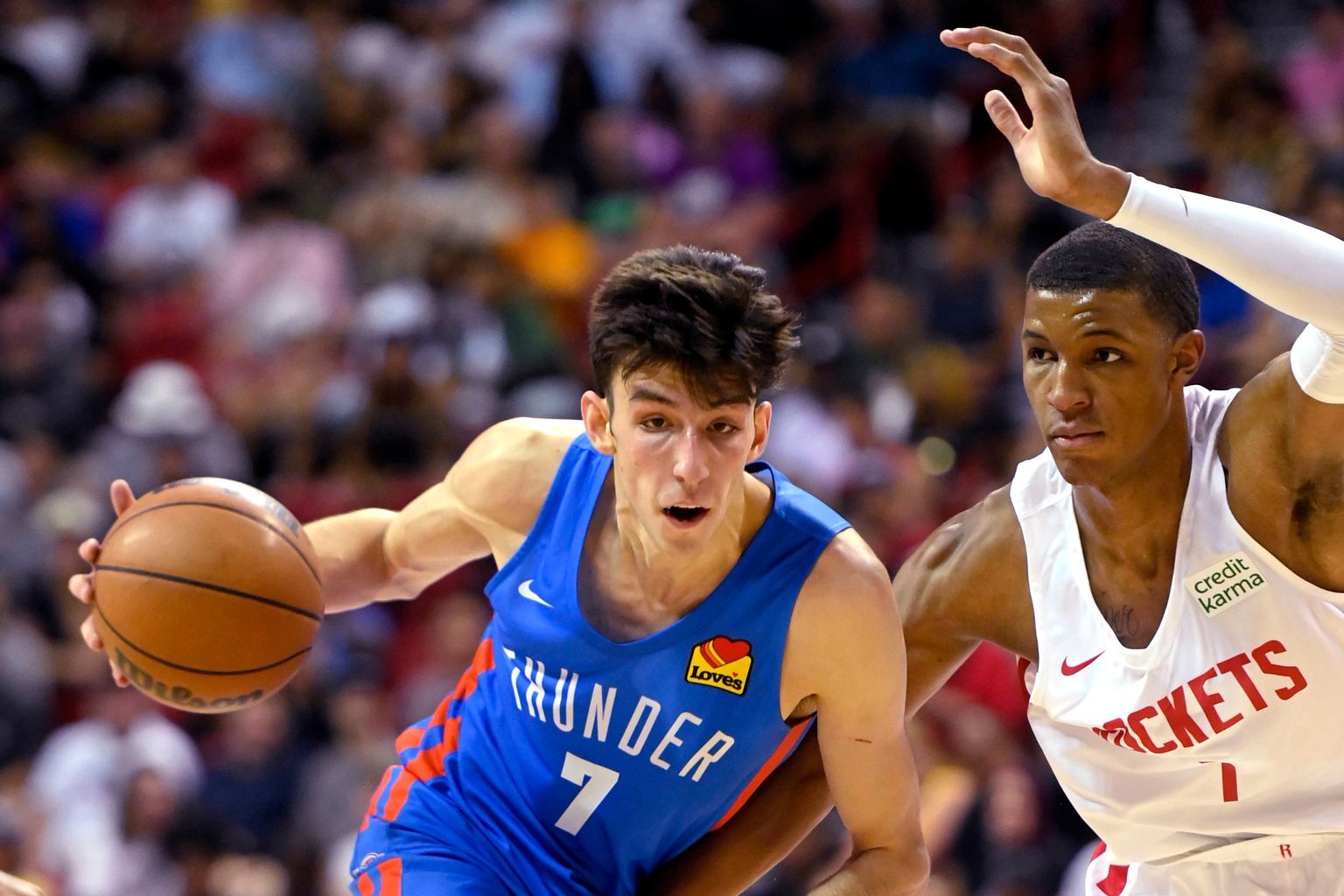 Chet Holmgren will be healthy for the 2023-24 NBA season, and he is a contender for the Rookie of the Year award.
(Photo: David Becker/Associated Press, via The Seattle Times)
Projected Starting Lineup:
The Thunder have a very talented, but still relatively inexperienced starting squad that is led by one of the best players in the NBA in Shai-Gilgeous Alexander. They will still need time to grow and develop, but they will be getting a super talented rookie big man in Chet Holmgren, so it will be exciting for NBA fans to watch them play and develop in the league.
F Lu Dort
Key Bench Players:
Isaiah Joe had a breakout season with the Oklahoma City Thunder, and the Philadelphia 76ers' decision to let him go before the start of last season is probably one that they are regretting.
(Photo: Kevin Jairaj/USA Today Sports, via SB Nation's Welcome to Loud City)
The Thunder were able to get a tremendous bargain by adding Isaiah Joe from the scrap heap after he was unceremoniously waived by Philadelphia last year, and Joe has proven to be an agile, sharpshooting guard that really was able to bolster their offense. Pokusevski got hurt last year, but when healthy, he's proved that he is an athletic, skilled big man that can provide some playmaking and fortify their defense. They also had a group of big men that held down the fort while Chet Holmgren was sidelined due to injury, and Jaylin Williams and Robinson-Earl could be even more effective in their new roles for next season.
G-F Aaron Wiggins
The Rest of the Roster:
There will be a lot of competition for roster spots on the Thunder, and they have a lot of players that are rotation-caliber players on their team. Among the players listed for the rest of the roster, Kenrich Williams and Vasilije Micic could be the most likely to earn significant playing time, as their experience and roles could allow them to do so.
G Tre Mann
G-F Keyontae Johnson (Two-Way)
Others in Camp:
The Thunder were very busy in the offseason, and they added a lot of players for training camp, but they may have added too many players. They are well over the limit of having 15 standard contracts, so they will have to trade or release some talented players that may be rotation-caliber players if they were on other teams.
The question is would the Thunder package some of their back-end players and make a move to acquire a really solid rotation player, or would they end up releasing some of the players they acquired in the offseason? They already had started that process of releasing some talented players due to the roster crunch, as they recently have waived Usman Garuba and TyTy Washington, and Washington was later able to join Milwaukee on a two-way contract.
The Thunder has questions to answer about who makes their team for the regular season, as they could opt to keep some of the more polished players such as Victor Oladipo and Davis Bertans, or they could opt to keep some of their younger players that may be less polished but may arguably have more upside, such as 2022 lottery pick, Ousmane Dieng.
C KJ Williams (Exhibit 10)
G-F Caleb McConnell (Exhibit 10)
Head Coach:
Mark Daigneault led his team further than expected last year, and they will look to exceed expectations once again.
(Photo: Sue Ogrocki/Associated Press, via Inquirer Sports – Inquirer.Net)
Mark Daigneault
2022-23 (OKC): 40-42, Missed the Playoffs
Coaching Career: 86-150, 0-0 in the NBA Playoffs
Daigneault is a young head coach that has helped the Thunder win far more games than anticipated last season, and he's helped several of his players grow into becoming promising future stars of tomorrow. He helped lead the Thunder to the play-in tournament last season, and he will get an opportunity to coach Chet Holmgren this season.
Outlook:
Chet Holmgren will finally be healthy to play for the Thunder for their upcoming regular season, but it's uncertain if they will be able to make the playoffs in 2024.
(Photo: Stephen R. Sylvanie/USA Today Sports, via Fansided's Hoops Habit)
Thunder fans will have plenty to cheer for, as star guard Shai Gilgeous-Alexander returns, and he is one of the game's best, as he's coming off of a dominant, All-Star season. They'll finally get a healthy Chet Holmgren, who is a very skilled big man that will be a contender for the Rookie of the Year award.
The question is if they will be ready to make the leap to make the playoffs this year, but they may need to see some more continued growth from their younger players. The Thunder might not make the playoffs this season, but they have a bright future, and they could be contenders down the road.
Projected 2023-24 Finish:
Projected Regular Season Finish: 11th in the Western Conference
Expected Playoff Finish: Projected to miss the playoffs
2023-24 Preseason NBA Power Ranking: 19
I went to Basketball-Reference and No-Trade Clause to look up some information for this write-up. It will be an exciting basketball season this year, and I'm looking forward to seeing the in-season tournament to see how that will unfold. Anyways, that is my write-up on my preview of the 2023-24 Oklahoma City Thunder. Thanks for reading.