Previewing the 2023-24 Chicago Bulls
September 14th, 2023
By Alan Lu
Last year, the Bulls had a relatively disappointing season, even though they got solid seasons from their stars, Zach LaVine and DeMar DeRozan.  After all, they missed the playoffs despite having made it to the play-in tournament in 2023. This season, they re-tooled their roster as they added Jevon Carter and Torrey Craig to the mix, but lost Patrick Beverley, so they're hoping to make the playoffs this season.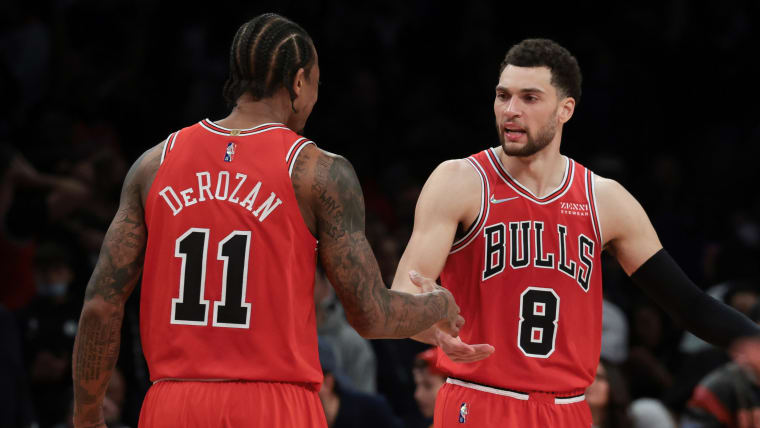 The Chicago Bulls have had a roller coaster ride of a time in recent years, but DeMar DeRozan and Zach LaVine are star players that will keep their team competitive this season.
(Photo: Vincent Carchietta/USA Today Sports, via Sports Illustrated)
However, Lonzo Ball has been injured and missed multiple years. He will also miss this upcoming season, as his NBA career is in jeopardy because of a knee injury.  The Bulls have struggled to generate a consistent, fluid offense in the wake of his absence.  They're a solid defensive team, but they'll need more ball movers and shooters to create more flow in their offense.
Star Players:
G Zach LaVine and G-F DeMar DeRozan
Zach LaVine is a tremendously athletic combo guard that can score at all three levels and make plays with the ball in his hands. DeMar DeRozan is a proven veteran that knows how to score, and is one of the best mid-range shooters in the game. Together, they will make the Bulls an entertaining team to watch in the East. The issue is that their styles may clash and there may be as much flow in the offense as they may need, but they have been Chicago's two best players for awhile.
Additions:
G Jevon Carter, G-F Torrey Craig, and F Julian Phillips
The Bulls added grit and toughness by signing two solid role players that will give their defense a boost, and both players can shoot the basketball. Carter will be a steady playmaker in his role, and Craig will be an athletic, 3 and D glue guy for his team.
Subtractions:
G Patrick Beverley, F Derrick Jones Jr., G Javonte Green, and C Marko Simonovic
The Bulls ended up allowing several key role players leave to other teams, and they also lost some tough, hard-nosed players along the way. Beverley probably is the biggest name amongst those they lost to other NBA teams, and the Bulls lost gritty, defensive-minded players that helped to fortify their rotation.
Rookies:
F Julian Phillips, G-F Onuralp Bitim, C Adama Sanogo, and F Justin Lewis
Julian Phillips is a very athletic combo forward that plays with a lot of energy, but he'll need to significantly improve his jump shot and playmaking skills. Bitim is a skilled, Turkish forward that fits into a 3 and D role, can finish plays above the rim, and could make an immediate impact when he steps onto the floor. Sanogo is a strong, skilled big man that can make shots, and is an underrated passer and defender that helped his team win the National Championship in 2023. Justin Lewis missed the entire 2022-23 season due to injury, but he is an athletic, combo forward that could project to be a solid role player in the league.
Expected Rotation:
The very athletic, but injury-prone forward, Patrick Williams has shown flashes of his potential, and he is a skilled 3 and D role player that could be due for a breakout season this year.
(Photo: The Associated Press, via The Daily Herald)
Projected Starting Lineup:
The Bulls have three talented offensive players in LaVine, DeRozan, and Vucevic, but they may not fully fit together, because they mainly tend to play in a stilted, turn-based offense, and so their offense is not fully optimized. Patrick Williams is an athletic 3 and D forward, but his progress as an NBA player has sort of been halted as he has pretty much stayed in his role. Alex Caruso is a low usage playmaker that will reliably run the team and play tough, pesky defense to help his team on the floor.
Key Bench Players: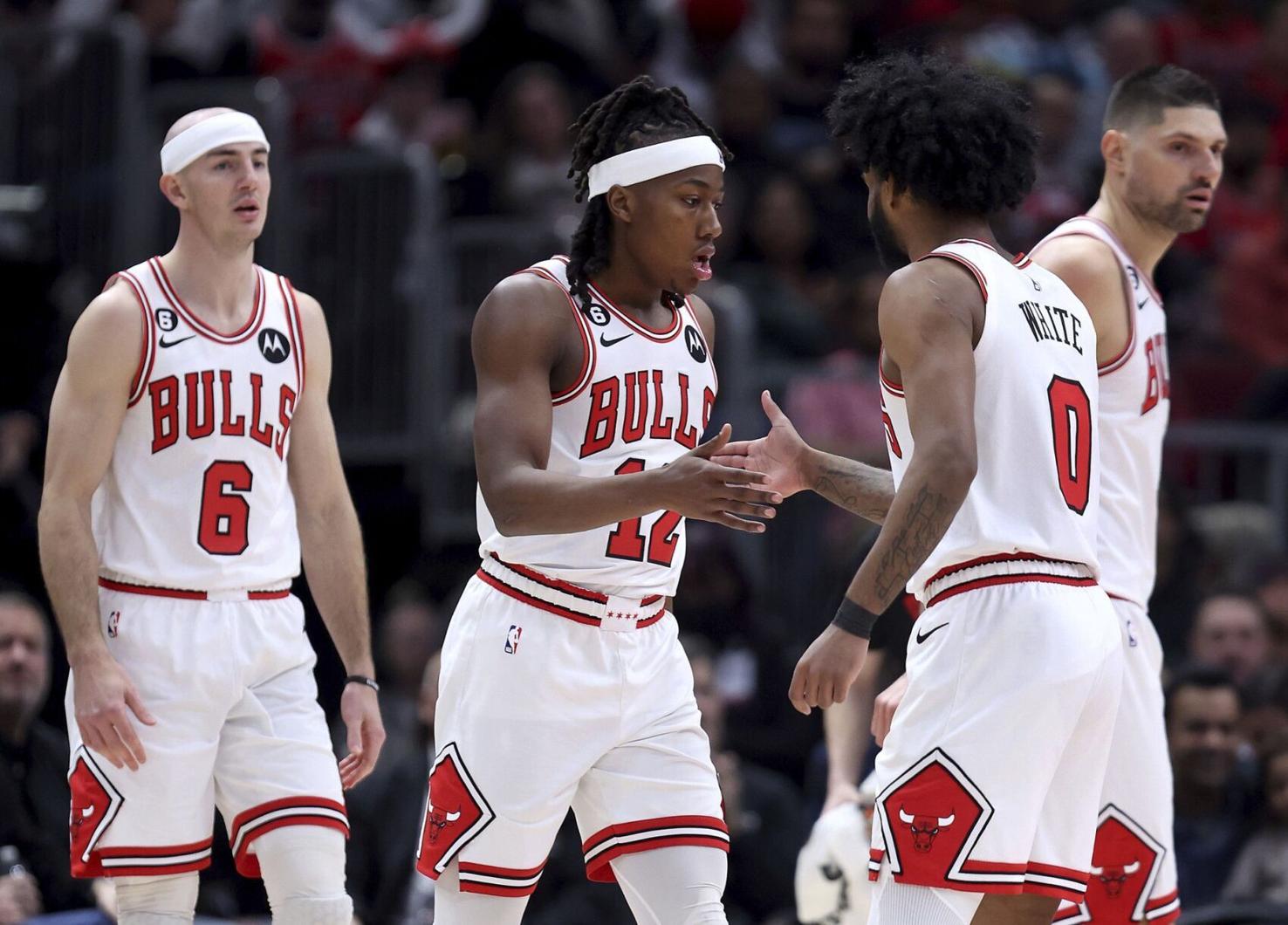 The Chicago Bulls have a slew of solid role players, and Ayo Dosunmu (middle) and Coby White (right) will most likely play pivotal roles for them off the bench this season.
(Photo: Chris Sweda/Chicago-Tribune, via News-Gazette)
The Bulls have a lot of defensive-minded players that will come off the bench. Aside from Coby White, they may not have a whole lot of scoring punch, and even Dosunmu regressed offensively in his second season. There is a concern if the Bulls can score well enough to be able to make the playoffs, but their bench will play hard and compete on a nightly basis.
G-F Torrey Craig
The Rest of the Roster:
G Lonzo Ball (injured, out for the season)
G-F Onuralp Bitim (Two-Way)
G-F Dalen Terry
C Adama Sanogo (Two-Way)
FJustin Lewis (Two-Way)
Head Coach:
After the Chicago Bulls had a surprisingly solid 2022 season, things crashed back down for them in 2023, as they wound up missing the playoffs.
(Photo: Kamil Krzaczynski/USA Today Sports, via Fansided's Pippen Ain't Easy)
Billy Donovan
2022-23 (CHI): 40-42, Missed the Playoffs
Coaching Career: 360-276, 19-27 in the NBA Playoffs
He's a good defensive coach, but he hasn't been able to get the most out of his players on offense, despite having a couple of standout, star players. After having a fairly successful 2022 season, they regressed and missed the playoffs in 2023. They haven't won nearly as many games ever since Lonzo Ball got hurt, and Donovan will need to find a way to get his team back to the postseason.
Outlook:
The Chicago Bulls will be looking to get to the playoffs in 2024, but they will face stiff competition from the other teams in the Eastern Conference.
(Photo: Charles Rex Arbogast/The Associated Press, via WSLS 10)
The Chicago Bulls have a talented team that doesn't really fit well together, and they haven't played in a smooth, flowing offense, so they haven't been able to get the most out of their players. That said, they have consistently competed and defended well, but in an increasingly competitive Eastern Conference, the Bulls could end up in the play-in tournament once again and they may wind up missing the playoffs.
Projected 2023-24 Finish:
Projected Regular Season Finish: 9th in the Eastern Conference
Expected Playoff Finish: Projected to lose in the play-in tournament and miss the playoffs
2023-24 Preseason NBA Power Ranking: 20
I went to Basketball-Reference and No-Trade Clause to look up some information for this write-up. It will be an exciting basketball season this year, and I'm looking forward to seeing the in-season tournament to see how that will unfold. Anyways, that is my write-up on my preview of the 2023-24 Chicago Bulls. Thanks for reading.