Previewing the 2023-24 Atlanta Hawks
September 16th, 2023
by Alan Lu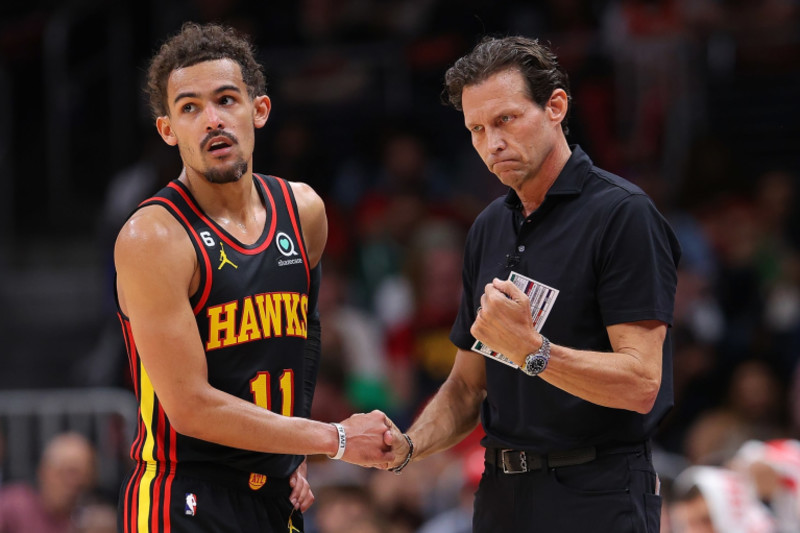 The Atlanta Hawks were heading to what seemed like would be a disastrous 2023 season, when they made the surprising decision to fire Nate McMillan, and wound up hiring Quin Snyder days later. They ended up making the playoffs, but lost in the first round to Boston. What will 2024 have in store for them?
(Photo: Kevin C. Cox/Getty Images, via Bleacher Report)
Last year, the Atlanta Hawks swung a big move in the offseason and traded to get Dejounte Murray to pair him with Trae Young, and they also were able to get AJ Griffin in the 2022 draft, who fell to them at 16.  This was supposed to have moved the needle to make them contenders in a major way, but they didn't get off to a great start, and they ended up firing their previous coach Nate McMillan and replaced him with Quin Snyder.  The Hawks made the playoffs, but ended up losing in their first round series to Boston.
This season, the Hawks selected Kobe Bufkin with their 15th pick in the draft, and they get a very athletic, scoring guard that has some playmaking chops.  John Collins didn't shoot the ball very well last year, and he also was reported to be dealing with a finger injury that affected his shooting, and the Hawks dealt him away in the offseason and got very little in return.  The Hawks will return for another season with Trae Young and Dejounte Murray in their backcourt, but it'll be up to Snyder and their team to help them get further than how they've finished in previous years.
Star Players:
G Trae Young and G Dejounte Murray
Trae Young and Dejounte Murray lead a star-studded backcourt tandem, and Trae Young is a very skilled point guard that can shoot from anywhere, and is gifted at making plays with the ball in his hands. Murray is a gifted scorer that has solid playmaking and defensive skills. Now that they will play a second season together, they will be expected to help the Hawks make the leap to get further in the playoffs this season.
Additions:
G-F Wesley Matthews, G Patty Mills, G Kobe Bufkin, C Mouhamed Gueye, and G-F Seth Lundy
Wes Matthews is a 3 and D role player that has been a reliable role player in this league, but has been in steady decline as his shooting percentages have decreased over the years. Patty Mills is a scoring point guard that can provide some scoring punch off the bench. The Hawks were able to get three rookies in the draft, and they may be able to earn some minutes this season.
Subtractions:
F-C John Collins and G Aaron Holiday
John Collins is an offensively skilled big man that had been one of the best Atlanta Hawks' players for years prior to last season, but a lingering finger injury hampered his ability to shoot, so he was not nearly as productive during the 2022-23 season. They didn't get much return on their trade, but he did also make a lot of money, so that may explain why they got so little back. Aaron Holiday is a backup point guard that has been able to reliably run the point and can defend, and while they lost him due to free agency, the Hawks have players that could easily make back his level of production.
Rookies:
G Kobe Bufkin, C Mouhamed Gueye, and G-F Seth Lundy
Bufkin is a very athletic, scoring combo guard that shined at the point during his sophomore season, and he is an aggressive playmaker that could give them a big boost down the road. Gueye is an athletic big man that has flashed a variety of skills, but he will need to put his skills all together, but he could project to be a stretch big and rim protector in the future. Seth Lundy is a fairly polished prospect, as he is a sharpshooter that can provide floor spacing for his team on offense.
Expected Rotation:
Dejounte Murray is a very talented guard that has made an All-Star team, and he's teamed up with Trae Young to form a formidable starting backcourt tandem.
(Photo: John Bazemore/The Associated Press, via Atlanta News First)
Projected Starting Lineup:
The Atlanta Hawks have a great backcourt, but they have some question marks regarding their wings. Clint Capela has been solid, but their offense doesn't flow together, also because they are very heliocentric, as they play in a turn-based offense, and Young has been said to be reluctant to play off the ball. On defense, they are average because they don't have a whole lot of versatility, as they have two small guards in the backcourt and a traditional big man, so they have had trouble defending pick and rolls. The Hawks will have a talented group of starters, but will need to find a way to take the leap to help their team ascend to the next level.
Key Bench Players:
Second-year swingman, AJ Griffin had a solid rookie season for the Hawks last year, and he will look to build off of that for the upcoming season.
(Photo: Rick Osentoski/Getty Images, via The Rookie Wire – USA Today)
The Atlanta Hawks have a fairly solid group of role players that can help them off the bench. Bogdanovic and Griffin are sharpshooting swingman that can provide a big boost for them off the bench, and Okongwu is an athletic rim protector that can shore up their interior defense. Jalen Johnson improved considerably in his second season and is an athletic combo forward that plays with energy. Wes Matthews is an experienced veteran that will largely factor into a 3 and D role for them this year.
G-F AJ Griffin
G-F Wesley Matthews
The Rest of the Roster:
G-F Seth Lundy (Two-Way)
F Miles Norris (Two-Way)
G Trent Forrest (Two-Way)
Others in Camp:
G Jarkel Joiner (Exhibit 10)
G David Singleton (Exhibit 10)
Head Coach:
Quin Snyder was hired to be the Atlanta Hawks midway through last season, and he helped them win a couple of games in the playoffs against the Boston Celtics before losing to them in six games in their first round series.
(Photo: John Bazemore/The Associated Press, via via The Salt Lake Tribune)
Quin Snyder
2022-23 (ATL): 10-11, 2-4 in the playoffs
Coaching Career: 382-275, 23-34 in the NBA Playoffs
After re-signing from his Utah Jazz post at the end of the 2021-22 season, Quin Snyder had planned to take the year off. But the Atlanta Hawks struggled to meet expectations for most of last season, and they ended up firing Nate McMillan, which allowed a head coach opening, so they hired Snyder to finish the rest of the year and to lead them in the playoffs. There, the Snyder did a valiant job, as he led the overmatched Hawks to face off against first seeded Boston Celtics, where they were able to win a couple of games before losing in six games in their first round series.
Snyder has generally been a good regular season head coach, but has tended to struggle to lead teams far in the playoffs. If anything, the Hawks could use his coaching expertise to at least get them a higher playoff seed, and it will be up to him and his coaching staff to figure out how to do so.
Outlook:
Trae Young and the Atlanta Hawks will lead their team in the upcoming season, but it's uncertain if they'll go far in the playoffs in 2024.
(Photo: Todd Kirkland/Getty Images, via Fansided's Soaring Down South)
Back in 2021, the Atlanta Hawks had pulled off the unthinkable, which was to defeat Joel Embiid and the Philadelphia 76ers in a playoff series that sent them to the Eastern Conference Finals under star point guard Trae Young and then head coach, Nate McMillan. Two plus years later, Nate McMillan was fired and is no longer on their team, and the Hawks haven't made it out of the first round since.
It will be up to head coach Quin Snyder to help lead this team to a further playoff run, and they are looking for expected gains from their younger bench players, AJ Griffin and Jalen Johnson. On the other hand, they will have to implement more flow into their offense, and they will need Young and Murray to gel better than how they did last year. Otherwise, in a tough Eastern Conference, if things don't change, they could end up running in place and being a quick out in the postseason once again.
Projected 2023-24 Finish:
Projected Regular Season Finish: 8th in the Eastern Conference
Expected Playoff Finish: Projected to lose in the 1st Round
2023-24 Preseason NBA Power Ranking: 18
I went to Basketball-Reference and No-Trade Clause to look up some information for this write-up. It will be an exciting basketball season this year, and I'm looking forward to seeing the in-season tournament to see how that will unfold. Anyways, that is my write-up on my preview of the 2023-24 Atlanta Hawks. Thanks for reading.