Previewing the 2023-24 Brooklyn Nets
September 17th, 2023
by Alan Lu
Last year, the Brooklyn Nets had decided to end their super team experiment when they traded away Kyrie Irving and Kevin Durant to the Dallas Mavericks and Phoenix Suns respectively, and they had surprised traded both of them, which netted them quite a haul of players and picks. In return, they were able to land star swingman Mikal Bridges, along with a slew of solid role players such as Spencer Dinwiddie and Dorian Finney-Smith, amid others. The Nets surprisingly still made the playoffs due to the solid coaching of head coach Jacque Vaughn, and they also had a very good season from Nic Claxton, but they ended up getting swept by the Philadelphia 76ers in their first round series.
This season, they have a lot of solid role players, but it's uncertain if they have the upper-end talent to compete with the upper-echelon teams in the East. Still, the Nets have proven that they can still make the playoffs despite having trading away their superstars, Durant and Kyrie, and they could be a playoff team again in 2024.
Brooklyn Nets' swingman, Mikal Bridges played really well for his new team last year, and he could be due for his first All-Star appearance in 2024.
(Photo: Mitchell Leff/Getty Images, via FiveThirtyEight)
Star Players:
G-F Mikal Bridges and C Nic Claxton
Mikal Bridges was the best player that they acquired via trades at the midseason point, and he was really able to bring in some sterling, breakout performances as the Nets' new primary, go-to scorer for their team. He has quickly emerged as one of the best players in the East, and he could be set to make his first All-Star team in 2024.
Nic Claxton is an athletic, high-motor big man that was a standout defender last year, and he has emerged to be the defensive anchor of a solid playoff team for the Nets. He has developed into being one of the best defensive big men in the NBA, and he will be a solid starting center in this league once again.
Additions:
G Lonnie Walker IV, F Darius Bazley, G-F Dariq Whitehead, F Trendon Watford, G Dennis Smith Jr., F Jalen Wilson, and F-C Noah Clowney
The Nets were busy making moves to retool their bench, and they were able to add some talented players that could end up in the rotation. Walker is a shot-maker that helped the Lakers win Game 4 against the Warriors in the second round, and Bazley and Watford are athletic, skilled forwards whose versatility could make them an asset to the Nets' rotation this year. In addition, Dennis Smith Jr. Is an athletic faciltator that will compete for the backup point guard spot, but will need to improve his jump shot, and the rookies will compete for playing time.
Subtractions:
G-F Joe Harris, F Yuta Watanabe, G Seth Curry, G Patty Mills, and G Edmond Sumner
The Nets lost some key role players, as they lost a group of players that could shoot well off the bench. While it may be surprising that they let these players go, especially since they were solid contributors for them last year, they still have enough talent and depth to be able to compete for and land a playoff spot in the East.
Rookies:
G-F Dariq Whitehead, F-C Noah Clowney, and F Jalen Wilson
Neither of the rookies likely will factor to get much playing time, but Whitehead could prove to be the best amongst the rookies they acquired in the 2023 draft. Though Dariq Whitehead has been injury prone, he's an athletic sharpshooter that projects into a 3 and D role, and he may have some untapped shot creation skills that could help him in this league.
Noah Clowney is a promising, athletic big man that has floor spacing and defensive capabilities, but he's unpolished, as he's not really a good shooter at this stage, and doesn't have a clear specialty on the offensive end yet. Jalen Wilson played very well for Kansas last season, and he is an athletic, high-motor forward that can score off the dribble and make hustle plays, but he will need to be a more reliable outside shooter.
Expected Rotation:
Brooklyn Nets' fifth-year center, Nic Claxton showed off impressive defensive skills last season to help his team get to the playoffs.
(Photo: Noah K. Murray/The Associated Press, via amNewYork)
The Nets have a good defensive lineup led by Claxton, as they can switch and cause problems for opponents. Bridges played very well for them after they acquired him at the midseason point, and he could be a rising star in this league. On the other hand, the Nets may still lack elite talent compared to the other top teams in their conference, and they may have some issues scoring on offense.
Projected Starting Lineup:
Key Bench Players:
Cam Thomas (on the right) put his scoring prowess on display at times, and he is a talented player that could be due for an even better season this year.
(Photo: Brad Penner/USA Today Sports, via Bally Sports)
The Nets added a couple of more shutdown defenders and will look to have a healthy Simmons and O'Neale for the upcoming season, so that could help them have more defensive versatility and depth. Cam Thomas will add offensive firepower off the bench, but he will need to be a more consistent scorer in order to take his game to the next level.
G-F Royce O'Neale
The Rest of the Roster:
G-F Dariq Whitehead
F Jalen Wilson (Two-Way)
F-C Noah Clowney
G Armoni Brooks (Two-Way)
Others in Camp:
C Patrick Gardner (Exhibit 10)
Head Coach: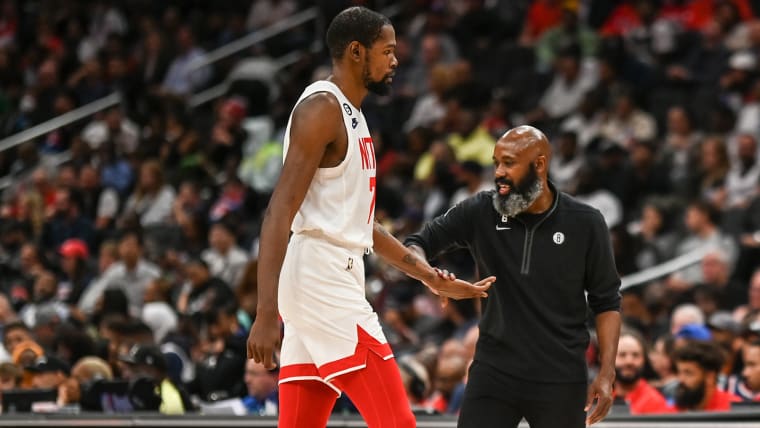 After the Brooklyn Nets got off to a disastrous start, Vaughn (on the right) was hired early on to be their head coach, and he did a good job by leading them to the playoffs, even after they decided to trade away their superstars in the process.
(Photo: Tommy Gilligan/USA Today Sports, via Sports Illustrated)
Jacque Vaughn
2022-23 (BRK): 43-32, 0-4 in the playoffs
Coaching Career: 108-193, 0-8 in the NBA Playoffs
After their previous head coach Steve Nash was fired seven games into the season, it was up to newly appointed head coach Jacque Vaughn to get the Durant and Kyrie-led Nets to be a cohesive, functional team that would be up and running to win games. Vaughn did just that, and the Nets were meeting expectations once again. The Nets then dealt Irving and Durant shortly after Irving's alleged trade request, but he continued to help his team win games even despite of that. Despite getting swept by the 76ers in the playoffs, the Nets managed to exceed expectations under Vaughn after opening the season 2-5, and they ended up finishing with a winning regular season record despite finishing the year with zero healthy All-Stars on the roster.
Outlook:
Head coach Jacque Vaughn and guard Spencer Dinwiddie look to be poised to get their team back to the NBA playoffs in 2024.
(Photo: Mary Altaffer/The Associated Press, via amNewYork)
The Brooklyn Nets will have a deep and talented roster, which will give head coach Jacque Vaughn plenty to work with for the upcoming season. Mikal Bridges could be set to potentially make his first NBA All-Star team, and he played really well in the second half of last season. On the other hand, they may still not have enough elite talent to compete with the top teams in the East, but the Nets will likely be a solid, mid to lower tier playoff team in the NBA this season.
Projected 2023-24 Finish:
Projected Regular Season Finish: 7th in the Eastern Conference
Expected Playoff Finish: Projected to lose in the 1st Round
2023-24 Preseason NBA Power Ranking: 17
I went to Basketball-Reference and No-Trade Clause to look up some information for this write-up. It will be an exciting basketball season this year, and I'm looking forward to seeing the in-season tournament to see how that will unfold. Anyways, that is my write-up on my preview of the 2023-24 Brooklyn Nets. Thanks for reading.