Previewing the 2022-23 Chicago Bulls
September 18th, 2022
By Alan Lu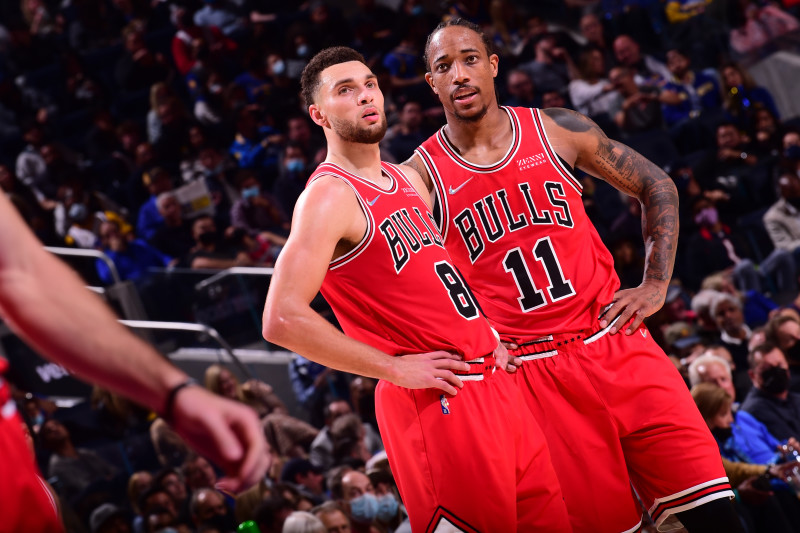 The Chicago Bulls had a very good season last year, as they were able to make it to the playoffs before losing to the Milwaukee Bucks in the first round.  They had strong seasons out of Zach LaVine and DeMar DeRozan.  DeRozan scored 41 points to get Chicago their lone playoff win in Game 2 of their first round series against Milwaukee, and they also signed LaVine to a max contract in the offseason.  They also drafted Dalen Terry this summer.  While the Eastern Conference has been getting increasingly more competitive, there's hope amongst Bulls' fans that they could make a trip back to the playoffs.
Star Players:
G Zach LaVine and G-F DeMar DeRozan
Zach LaVine is a very athletic combo guard that has strong offensive skills, and he recently signed a max contract to stay with the Bulls in the offseason.  DeMar DeRozan is a very skilled combo forward that has strong scoring skills as well as a very good mid-range game, and he scored 41 points in Game 2 to get Chicago their lone playoff win in their first round series loss to Milwaukee.
Additions:
G-F Dalen Terry, C Andre Drummond, and G Goran Dragić
Dalen Terry is an athletic, energetic swingman that played very well at the Las Vegas Summer League, and he is an athletic slasher that showed off solid defensive skills as well as an improved outside shot.  Andre Drummond has been a fairly solid rim protector for various NBA teams.  Goran Dragic is an agile, shot-making combo guard that is a former All-Star, but is coming off his worst season yet, as he struggled to shoot well last year.
Subtractions:
C Tristan Thompson, G-F Troy Brown Jr., and G Matt Thomas
They lost three role players, all of whom are replaceable, so the Bulls may not miss them that much.  They replaced Thompson with Andre Drummond, Troy Brown's role was essentially filled by Dalen Terry, and Matt Thomas was an end of the bench shooting combo guard, so they could give his minutes to Ayo Dosunmu, Alex Caruso, and Coby White.

Rookies:
G-F Dalen Terry and F Justin Lewis
Minutes may be hard to come by early on for Dalen Terry, but he is a talented rookie that could crack the Bulls' rotation, especially since he had a strong summer this year.  He is an athletic swingman that defends very well, and he also showed the ability to thrive in a complementary role on offense, as he's shown improved shooting and scoring skills.
Expected Rotation:
Projected Starting Lineup:
Key Bench Players:
The Rest of the Roster (projected to make the team):
G-F Javonte Green
G-F Dalen Terry
F Malcolm Hill (Two-Way)
F Justin Lewis* (Two-Way) (injured, out for the season)
Others in Camp:
F Kostas Antetokounmpo (Exhibit 10)
G Carlik Jones (Exhibit 10)
G Javon Freeman-Liberty (Exhibit 10)
Head Coach:
Billy Donovan
2021-22 (CHI): 46-36, 1-4 in the playoffs
Career: 320-234, 19-27 in the NBA Playoffs
Billy Donovan is a veteran head coach that helped lead his team to get to the first round of the playoffs, and he also helped lead his team to have an above average offense last year.  He has his work cut out for him this year, but he is a former college champion as a head coach at Florida, and he will ensure the Bulls to be competitive, as they will compete for a playoff spot in 2023.
Outlook: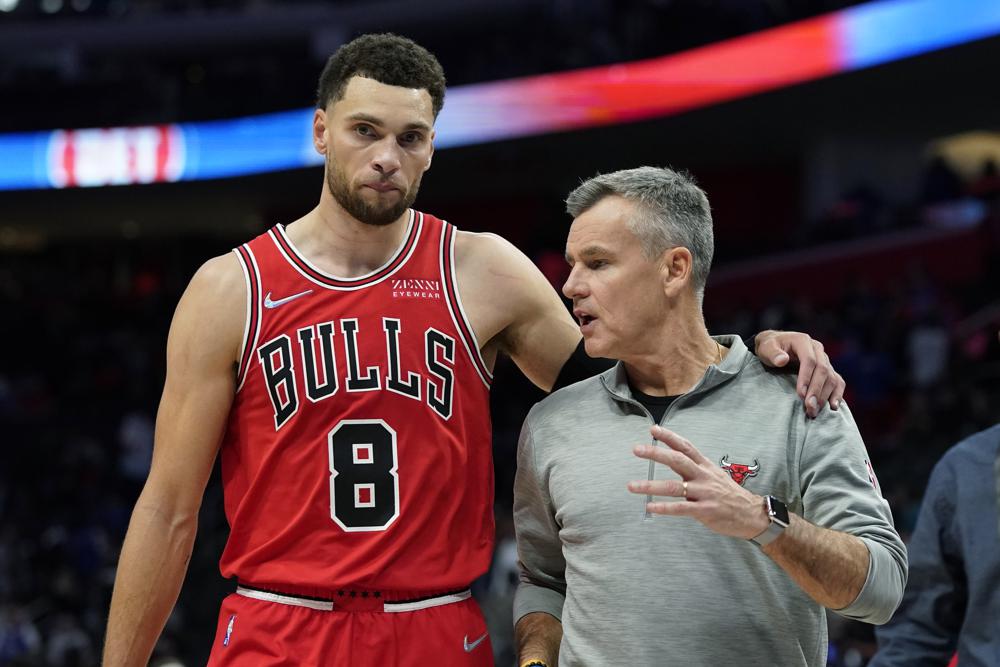 Last year, the Chicago Bulls surprised people by winning 46 games in the regular season and by making it into the playoffs, and they even won a game against the Milwaukee Bucks before losing their first-round series to them in five games.
This time around, it'll be tougher for them, and they won't be able to easily sneak up on teams like they did last season.  They'll have a healthy Patrick Williams for a full season, who will provide sound 3 and D skills for them, Lonzo Ball will be a solid ball mover and defender when healthy, and Nikola Vucevic will provide points and rebounds for them in the paint.  On the other hand, there is still a lot of competition out in the East. Even more, Lonzo Ball has had a lingering knee injury that may cause him to miss the early part of the season, and he played a vital role last year, as they were 22-13 with him, and 24-23 without him during the regular season. Either way, the Bulls will need a healthy Lonzo Ball, and they will need to defend better and show that they are a strong enough team to be able to make it back to the postseason.
Projected 2022-23 Win-Loss Record and Finish:
Projected Regular Season Finish: 43-39, 9th in the Eastern Conference
Expected Playoff Finish: Projected to lose in the play-in tournament, projected to miss the playoffs
I went to Basketball-Reference and Spotrac to look up some information for this write-up.  It will be an exciting basketball season this year, and the NBA season will start on October 18th.  Thank you for reading my write-up of the 2023 Chicago Bulls.