Previewing the 2021 NBA Finals
July 5th, 2021
By Alan Lu
With the 2021 NBA Finals quickly approaching, as it will begin tomorrow, it is time to look at the two teams that will play against each other, the Milwaukee Bucks and the Phoenix Suns.  We've got two superstars on each side between the two teams. It's uncertain when Giannis will be ready to play, but hopefully soon, and Khris Middleton has been tremendous in the playoffs for Milwaukee. For Phoenix, Chris Paul has been stellar for them, and Devin Booker has turned in some big games in the playoffs as well.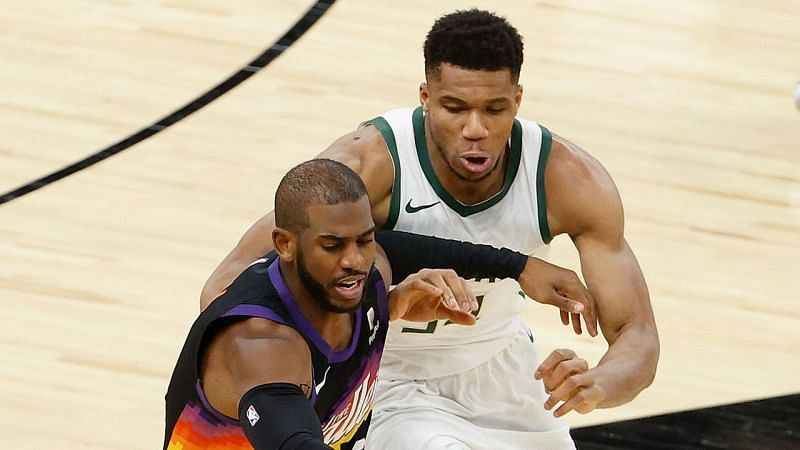 In their season series, the Phoenix Suns won both games, but Jrue Holiday was injured in the first game and Torrey Craig played for Milwaukee, so that game really didn't count, because Jrue Holiday is one of Milwaukee's best players, and Craig is now on Phoenix.  In their second meeting that took place in mid-April, Phoenix barely won by 1 in overtime against Milwaukee, but Donte DiVincenzo started, and DiVincenzo is out for the season.  With neither game really being a solid representative of both teams in terms of how they are playing right now in the postseason, let's just throw out the head-to-head matchups in the regular season.
Phoenix played against the Los Angeles Lakers, the Denver Nuggets, and the Los Angeles Clippers, and they won all of those series, as they went 12-4 in those games. They largely ran their offense through three players: Devin Booker, Chris Paul, and Deandre Ayton.  Booker scored a lot of points in volume, as he can pour on the points especially when he gets into a rhythm, and he also was effective as a facilitator and rebounder, but he's also been turnover prone, and he's tended to struggle with his jump shot at times. 
Chris Paul has played very well as he's coming off of a terrific, 41-point game in his team's Game 6 win over the Clippers in the Western Conference Finals.  He's excelled as a shooter, facilitator, and defender, and he's consistently played well in the playoffs.  Deandre Ayton has been a strong inside presence for his team, as he's really excelled as a scorer and rebounder, and he is an athletic, energetic big man that has been fairly solid defensively.
The Suns have also gotten solid contributions from Mikal Bridges, Jae Crowder, Cameron Payne, and Cameron Johnson, and their role players generally provide shooting and defense for their team.  Dario Šarić and Torrey Craig also have provided contributions off the bench, with Saric being a versatile offensive big man, and Craig as a very athletic 3 and D role player that can also finish plays above the rim.
The Milwaukee Bucks also largely run their offense around three players: Giannis Antetokounmpo (when healthy), Khris Middleton, and Jrue Holiday.  Giannis and Khris Middleton both have played well, as they really have excelled at attacking the basket to score, and both have excelled as facilitators, rebounders, and defenders in this series.  Middleton has been a bit streaky with his outside shot, but he can really knock down jump shots when he gets into a rhythm.
Jrue Holiday has been very effective as a facilitator, rebounder, and defender, but he's been up and down with his shooting and scoring in the playoffs.  Brook Lopez and Bobby Portis started the playoffs slowly, but they have really turned up their games several notches, as both have excelled as shooters and scorers lately, and both have played fairly solid defense.
Also, the Bucks rely on Bryn Forbes, Pat Connaughton, and P.J. Tucker for shooting and defense.  Former All-Star Jeff Teague didn't play well for most of the playoffs, but he had an excellent Game 6 in his team's win over the Atlanta Hawks in the Eastern Conference Finals, as he excelled as a shooter, scorer, and playmaker in that match, and it was like he went into a time machine to play like his old, All-Star self.
Both head coaches, Mike Budenholzer and Monty Williams have coached their teams very well for the Milwaukee Bucks and Phoenix Suns, respectively.  Milwaukee has absolutely been a formidable team at home, as they are 7-1 in the 2021 NBA playoffs when they are at home.  They have also been a respectable, 5-4 on the road in away games in the playoffs this year.  The Phoenix Suns have been a solid, 6-2 at home in the playoffs this year, and they have also been 6-2 on the road in away games in the 2021 NBA playoffs. 
The Phoenix Suns will have home court advantage, as they will be at home in the first two games of the 2021 NBA Finals.  Giannis sat out the last two games of the Eastern Conference Finals, but he'll likely be ready to play in the 2021 NBA Finals, and he'll likely be fully healthy by Game 3.
Giannis and Chris Paul are great players, and it'll be tough to have to pick one of them to lead their teams to win the NBA title this year.  Khris Middleton is playing terrific basketball lately, but Devin Booker is also capable of playing tremendous basketball, as he also has scored 40 points in a Conference Finals game this year.
Both of the NBA teams have great players, but the Milwaukee Bucks have five players that made All-Star teams (Giannis, Khris Middleton, Jrue Holiday, Brook Lopez, and Jeff Teague), while the Phoenix Suns only have two players that have made All-Star teams (Chris Paul and Devin Booker).
Both Milwaukee and Phoenix are very good NBA teams that are very talented and are well balanced up and down their roster, which makes this a tough series to pick.  Without further ado, here is my pick.
My Prediction: The Milwaukee Bucks will defeat the Phoenix Suns in 7 games.
It will be interesting to see how it all plays out, and it's been fun watching the 2021 NBA Playoffs.
Here is my current round-by-round predictions record so far:
First Round: 6-2
Second Round: 1-3
Conference Finals: 1-1
2021 NBA Finals: TBD
Current 2021 NBA Playoff Series' Prediction Record: 8-6
Career NBA Playoff Series' Prediction Record: 18-11
Time will tell to see which team will win, if it will be Milwaukee or Phoenix that goes all the way to win the NBA championship this year.   The first game starts on Tuesday, July 6th, and Game 7 (if there is one) of the 2021 NBA Finals would be slated to be on July 22nd.  Thanks for reading.