Thoughts on the Western Conference Finals, the Draft Lottery, and Eastern Conference Finals Predictions
June 23rd, 2021
By Alan Lu
There were many interesting events that unfolded over the past couple of days. The Detroit Pistons won the lottery as they received the first overall pick of the 2021 NBA Draft, DeAndre Ayton scored on a game-winning, alley-oop dunk to help the Phoenix Suns go up 2-0 in the Western Conference Finals, and the Atlanta Hawks defeated the Philadelphia 76ers in Game 7 of the Eastern Conference Finals. Here are my thoughts on how those events went down, and I wrote a preview and made my predictions on the Eastern Conference Finals, as that will be later on in this article.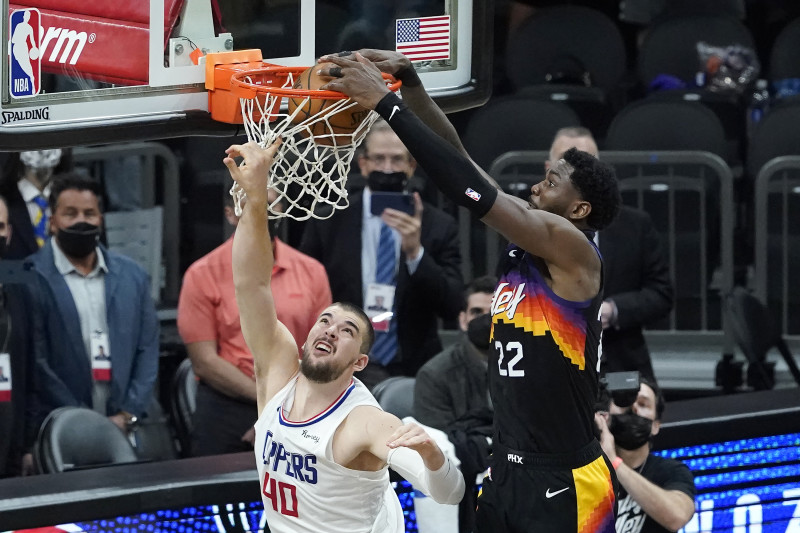 Thoughts on the First 2 Games of the Phoenix Suns-Los Angeles Clippers' Western Conference Finals' Series:
In the first game, Devin Booker did a tremendous job of shooting and scoring the basketball to help lead his team to a convincing win over the Los Angeles Clippers.  In the second game, Booker struggled more, as he was bothered by the pesky defense and the physicality of Pat Beverley, and both Booker and Beverley took a lot of shots physically in this game.
While Booker struggled, other players stepped up to pick up the slack for the Suns to help them get a thrilling Game 2 win to go up 2-0 in this series over the Clippers.  DeAndre Ayton was impressive in Game 2, as he excelled at scoring off of rolls, in the post, and on mid-range jumpers, and he also defended well.  He made a lot of solid athletic plays, and his energy on defense helped the Suns.  The Suns also got big contributions from Cameron Payne and Cam Johnson, as both of them made big shots routinely in this game.
The Clippers have been down for most of this series, but they have battled to keep both games close.  Paul George had a good first game, but he struggled a bit in the second game.  He hit a few key shots late, but he missed two critical free throws late in this match.
Terance Mann has slowed down, but Reggie Jackson has continued to play well, and Jackson has shined as an aggressive, scoring point guard that can also facilitate and defend. Also, the Clippers received some contributions from Rajon Rondo and other role players.  Luke Kennard had a good fourth quarter in Game 2.  There hasn't been enough Nic Batum in this series.  Batum hasn't played much, but it seems that the Clippers' defense appears to be better when he is in there, and their generally seems to be more motion and ball movement when he plays in games. Meanwhile, Ivica Zubac has not been bad in this series, and he's been a decent player whose provided some inside scoring and active interior defense, but the Clippers seem to be going away from what's worked for them in the previous series.
The last few minutes of Game 2 of the Suns-Clippers' series was wild to watch, and it seemed like it took an eternity for the referees to decide the fate of plays that were held up on review, and this game seemed to be really physically, especially between Devin Booker and Pat Beverley. 
Late in this game, the Suns drew up a really nice inbounds play, as Jae Crowder threw a lob pass to DeAndre Ayton, who ran off of a screen to catch it to score on a game-winning, alley-oop dunk.  The Suns managed to get a hard-fought win over the pesky Clippers, as the Clippers had tried to rally back, but the Suns held them off to go up 2-0 in this series.  The Suns won the first two games of this series, and it will be interesting to see how the Los Angeles Clippers will respond in the next few games of the 2021 Western Conference Finals.
Thoughts on the 2021 NBA Draft Lottery:
It was really interesting to see how the events of the lottery would unfold.  A couple of teams lost their picks, and Houston managed to keep theirs.  There weren't a ton of surprises, and as I had read that Minnesota essentially had a 28% chance to keep their pick, the likelihood of them losing their pick to Golden State was high, and they ended up their pick. 
The Detroit Pistons ended up getting the top pick of the 2021 NBA Draft, and the player they will select will likely be a key cornerstone player for their franchise.  This puts them in the frontrunner for the Cade Cunningham sweepstakes, and I'm sure they will be very happy to have the first pick of this year's draft.
One surprise was that the Toronto Raptors jumped up into the top 4 of the 2021 NBA Draft, which slid Minnesota and Chicago out of the range, and caused the two latter teams to lose their picks, to Golden State and Orlando respectively.
In thinking about how the picks will likely go, if Cunningham and Evan Mobley go 1 and 2 as expected, then it could be very interesting to see who the Cleveland Cavaliers might take at 3.  The Cavs have a small, undersized team, and while there are talented guards that would be available with the third pick, it would be interesting to see they would take one, considering they've already invested two lottery picks in Collin Sexton and Darius Garland.
Thoughts on the Atlanta Hawks-Philadelphia 76ers' Game 7:
It was a fairly low scoring affair, and it was surprising that Atlanta Hawks' Trae Young had an off shooting night, as he really struggled to make shots early on.  However, the Hawks stayed in it even despite his shooting woes, as they received help from the other players.  Kevin Huerter played very well as he showed off his sharpshooting prowess.  They also received a strong performance from Clint Capela, who was both effective as a scorer in the paint, and as a rim protector for their team.
Philadelphia's offense really bogged down, as there was very little ball movement in their offense, as they struggled, especially late in this game.  Ben Simmons didn't shoot the ball nearly enough.  He would pass up wide open layups at the rim, and his tentativeness really made it so that defenders didn't really have to guard him.
Joel Embiid was effective as a scorer, but he really struggled to pass or handle the basketball, and he committed eight turnovers in this game, as he committed far too many turnovers on offense.  Philly also had defensive breakdowns late in this game.  Simmons struggled to stay in front in front of Trae Young on the defensive end late in the game.  Matisse Thybulle made the boneheaded decision to foul Kevin Huerter on a three-point shot, as he tried unsuccessfully to try to block the shot, but he ended up giving Huerter three free throws, which seemed to put the final nail in the 76ers' coffin, as it basically eliminated any hopes for Philly to stay alive this season.
The Atlanta Hawks played very well to defeat the Philadelphia 76ers in this series, and head coach Nate McMillan did a great job of coaching his team to get the second round series victory.  The 76ers will need to figure out a way to win with Ben Simmons and Joel Embiid, if they can, and it is concerning that head coach Doc Rivers has lost yet another playoff series that his team was favored in.
Most likely, the easiest solution for the 76ers would be to try to fix Ben Simmons' jump shot and get him to shoot far more.  Simmons has been reticent to do so, and if he's not open to suggestions, then the 76ers will likely have to trade him.  They'll need to figure out if they can win an NBA championship with a low post scoring center as the team's best player in the modern era. 
If so and if they plan to keep Embiid both now and for the foreseeable future, then the simplest solution could be to trade Simmons for an agile, skilled point guard that can shoot and create shots at will, with Trail Blazers' guard Damian Lillard serving as the template and basis for the type of player Philly would need to build around Embiid.  The 76ers may also need to consider replacing their head coach, as Doc Rivers has failed to make the necessary adjustments to get this team, or last year's Clippers team to win, and his teams have tend to been getting bounced earlier than expected in the playoffs, which is an alarming trend for him.
Previewing the 2021 Eastern Conference Finals:
Make no mistake about it, the Atlanta Hawks have been a juggernaut in the Eastern Conference of the 2021 NBA Playoffs.  It seems just about everyone has underestimated them, especially prior to the start of the season, and the Hawks are a very talented team that is peaking at the right time, right now.  I'll admit, I underestimated them in the playoffs, and I'll be sure to not make that same mistake again.   Atlanta Hawks' head coach, Nate McMillan has won 70% of his games this year both in the regular season and playoffs combined as he's 27-11 in the regular season and 8-4 in the playoffs, and he's won more than any other coach in the East since he's been hired to be the Hawks' head coach.  Right now, Nate McMillan might be the best coach in the Eastern Conference.
In analyzing the Hawks and Bucks' regular season series against each other, it's important to separate out the Lloyd Pierce parts of the Hawks' team from the Nate McMillan's Atlanta Hawks, as McMillan's Hawks have been the superior version of the 2020-21 Atlanta Hawks this season.  Therefore, I will throw out the first game that the Hawks played against the Bucks, because their loss to Milwaukee early in the year was essentially meaningless because Atlanta was led by a coach (Pierce) that went 14-20, as where McMillan went 27-11 in the regular season and has since gone 8-4 and won two series in the playoffs.
In the two games Atlanta has played against Milwaukee in the regular season with Nate McMillan as the head coach, they played at home both times, and they split by winning one and losing a game against the Bucks.  The Hawks averaged a point margin of -2.0 in two games against the Bucks in the regular season with McMillan at the helm.
The oddity in all of this was that the Hawks lost by 11 with Trae Young against Milwaukee, as he had shot the ball really poorly that game, but all five of the Hawks' starters scored in double figures, and Solomon Hill made a whopping 6 three-pointers in their loss to the Bucks.
Days later, the Hawks ended up winning by 7 without Trae Young, as they defeated Milwaukee when the Bucks were almost at full strength (but were without P.J. Tucker).  Atlanta had received a 32-point performance from Bogdan Bogdanovic to propel them to get the win, and they also received strong performances from John Collins, Kevin Huerter, Danilo Gallinari, and Lou Williams.
What makes the Atlanta Hawks secretly a much more dangerous team than initially thought is that, they not only have a superstar point guard that can shoot and score at will when he's on his game in Trae Young, but they have many different players that can provide strong scoring, and they have tall shooters in Danilo Gallinari and John Collins that can create mismatches that swing in their favor. 
On top of that, the Hawks have a strong bench, as they have a lethal second unit that may be arguably more or equally as talented than most teams' starting lineups, with Lou Williams having won the Sixth Man of the Year award years ago, and with Danilo Gallinari being the ultimate offensive weapon off the bench.  Atlanta is a strong offensive team whose defense was especially bolstered by the strong interior defense and rim protection of defensive ace and center, Clint Capela, which makes the Hawks a much tougher team to face than expected.
Milwaukee won one game and lost one game with Nate McMillan as Atlanta's head coach in the regular season.  They won by 11 late in the regular season when the Hawks had Trae Young healthy and ready to play.  That game, the Bucks had 7 different players score in double figures.  Giannis played fairly well, but he didn't dominate as he scored 15 points, but the Bucks received a lot of solid performances, most notably from Jrue Holiday and Brook Lopez.  From their bench, they received solid performances from Bobby Portis, Jeff Teague, and Pat Connaughton, though Teague hasn't played much in the playoffs this year.  P.J. Tucker also had played well off the bench, as he was effective on both ends of the floor even though he didn't shoot the ball that much.
The really strange aspect was that the Bucks lost with a fully healthy Giannis and when they were almost at full strength late in the regular season to the Hawks without Trae Young out on the court.  Giannis scored 31 points in this game, and Khris Middleton and Jrue Holiday both played well, as they provided scoring, playmaking, and rebounding. 
However, Donte DiVincenzo didn't play very well in the starting lineup, and Brook Lopez didn't seem to defend well that day, based on plus-minus.  The Bucks didn't get much bench help aside from a strong shooting performance from Bobby Portis, and it didn't help that P.J. Tucker wasn't healthy enough to play in this game, either.
This is a tough series to call, but I think maybe the Atlanta Hawks have flown under the radar for too long, and they are a much more formidable team than expected.  The Milwaukee Bucks have two really good players in Giannis and Khris Middleton, and Giannis is a great player that can dominate the game.
On the other hand, Trae Young is a superb shooter that can score and make plays at will, and he's been terrific in the playoffs.  Clint Capela has been a shutdown defender, and he's made a big impact when he's been on the floor.  John Collins, Bogdan Bogdanovic, and Kevin Huerter are all solid, skilled players that really complement Trae Young well.  Atlanta's bench looks to be the strongest in the East, and there's no shortage of offensive firepower that the Hawks have in their arsenal.  On top of that, Nate McMillan has done a tremendous coaching job this year and he has inspired confidence in his players, and it seems that he could be on his way to being rewarded with a trip to the NBA Finals soon.
The Bucks do have the best player in the Eastern Conference right now, but the Atlanta Hawks might have the more well-rounded team whose high offensive skill level and versatility could make them well equipped to go to the 2021 NBA Finals this year.
Prediction: The Atlanta Hawks over the Milwaukee Bucks in 7 games.
Also, if you have read my earlier post, I have picked the Phoenix Suns to defeat the Los Angeles Clippers in 7 games, and I will stick to that prediction.
First Round Predictions' Record: 6-2
Second Round Predictions Record: 1-3
It's been fun to watch the NBA playoffs, and it'll be interesting to see how it all unfolds.  There will be more NBA playoff basketball games to watch.  Thank you for reading.