Notable Performances of Sunday's 2nd Round Games in the 2022 NCAA Tournament
March 22nd, 2022
By Alan Lu
On Sunday, some of the prospects turned in strong performances, and others didn't fare so well in the last day of the 2nd Round games of the 2022 NCAA Tournament.  Here are my thoughts on how some of the top prospects fared on that day, and what it may mean for their draft stock.
Top Performances on Sunday: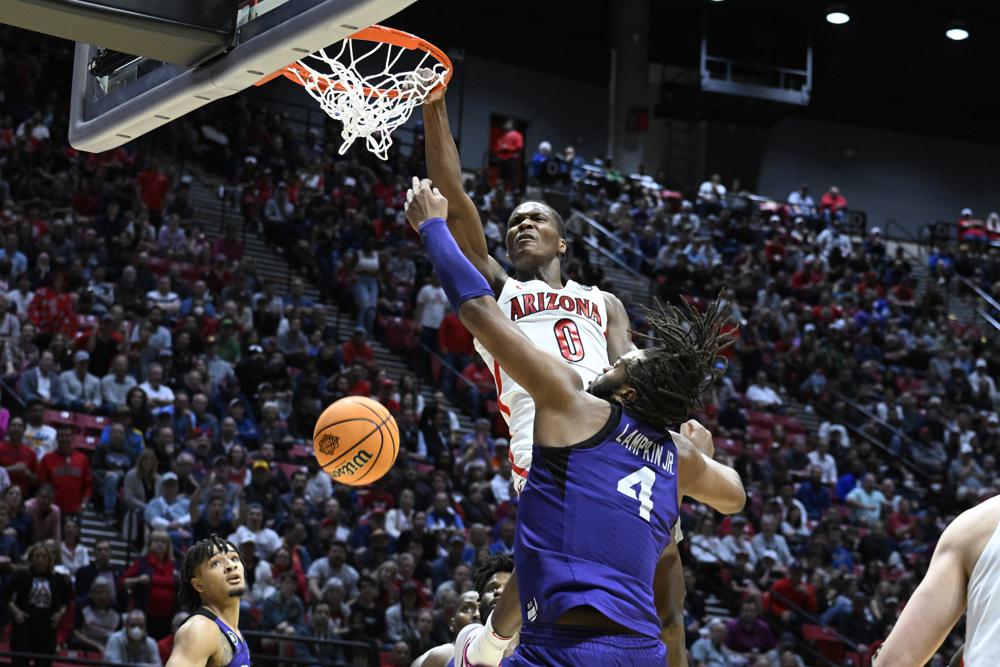 Bennedict Mathurin, Arizona
He had a tremendous performance in his team's OT win over TCU.  He had a slow start early on, but he finished strong, and that's what matters in the end. Mathurin was able to get some of his outside shots to fall, and he was really able to get into a groove in the second half.  He did a tremendous job of scoring on backdoor cuts and off put backs, and he is a vastly athletic specimen that can throw down thunderous dunks, and he can outmuscle opponents to score in traffic. 
He was grabbing rebounds in crowds, he passed the ball well, and he was using crafty, side step moves to score on pull-up threes.  He scored 30 point, 8 rebounds, and 4 assists to lead his team to get the win and to the Sweet 16.  Mathurin played with poise, and he's making a strong case to be a top 5 pick of the 2022 draft, as he may have as much upside as any one in this draft.
Christian Koloko, Arizona
Arizona's junior center, Christian Koloko also played very well in his team's win over TCU.  He's a vastly athletic big man that thrived as a finisher around the basket, and he would score on thunderous dunks, hustle plays, and make shots in the post to help his team around the basket.  He made key plays on both ends of the floor, and his strong blend of size, athleticism, and interior skills could make him a likely bet to go in the first round of the 2022 draft.
Eddie Lampkin Jr. played very well for TCU in his team's loss to Arizona.  He is a strong, physical big man that played with a great motor, and he would outmuscle and outwork his opponents to score and rebound in the post.  He had 20 points and 14 rebounds, and the 6-11 sophomore center could be a second round prospect for the 2023 draft.
Former USC guard, and TCU's 6-6 senior swingman, Chuck O'Bannon Jr. turned in a strong performance in his final game of his collegiate career.  He did a great job of knocking down jump shots, especially from beyond the arc, and he also managed to rack up 4 steals.  Though he had a slow start to his collegiate career, he quietly had a solid senior season in his role at TCU.  He's building a case to be considered to be drafted this year, and he could project well into a 3 and D role in the NBA.
Lackluster Performances:
Auburn's Top Prospects, Jabari Smith and Walker Kessler
Jabari Smith and Walker Kessler turned in really abysmal performances in their team's stunning loss to Miami.  While the Miami Hurricanes have been surging in the tournament, and more games will be needed to watch them play, Smith and Kessler were shut down in this game.  They combined for 12 points on 3 of 22 shooting, and they committed 6 fouls between the two of them.  Smith was 3 for 16 from the field, and Kessler did not make a field goal. 
Though both of them have played very well this season, this is not the way to end the season, and Smith may have just played his way out of the number one pick overall conversation.  Both have some questions heading into the draft.  Smith has struggled more in SEC play, and there are questions about his playmaking skills and his ability to read defenses, which may make him ill suited to be the lead, go-to scorer in the NBA.  Kessler, despite playing with a great motor, isn't overly athletic, and his average athletic gifts may put a ceiling on how far he can go at the next level. 
Still, Jabari Smith is still a likely lock to be a top 3 pick, and he could be a future All-Star similar to former Seattle SuperSonics' forward Rashard Lewis. Meanwhile, Walker Kessler's strong production will probably make him a first round pick in 2022, as he could be a solid rotational center similar to current Orlando Magic center, Robin Lopez in the NBA.
Wisconsin's Johnny Davis
Johnny Davis played poorly in his team's surprising loss to Iowa State.  Gabe Kalscheur did put on a shooting clinic by making one mid-range jumper after another, and freshman point guard Tyrese Hunter played well in the first round by making an abundance of threes, and by racking up quick assists and steals to see a spike up in his draft stock, but Davis is projected to be a lottery pick, so he was supposed to play better.
Instead, Davis went 4 for 16 and missed all 7 of his three-pointers.  He still scored 17 points, but on 16 shots.  While he did get many rebounds, steals, and blocks, he only dished out 1 assist, and committed 4 turnovers.  His over-reliance on his dribble game and attacking the basket could hurt him at the next level, especially since he's not overly explosive, so he will need to be a better three-point shooter.  He's been a good, but not great prospect, and he's been steady up until his team's loss to Iowa State.   While he might not be the three-point shooter NBA teams may want him to be any time soon, Davis plays hard, and his ability to make plays elsewhere could enable him to be like a rich man's Gerald Henderson in the NBA. Those are my thoughts for today.  Thanks for reading.