Evaluating Kerr Kriisa in a 2022 EuroBasket Game Against Italy
September 4th, 2022
By Alan Lu
Recently, Arizona's junior guard, Kerr Kriisa played in a 2022 EuroBasket game against Italy that was played on September 2nd, and this game also featured current Utah Jazz forward, Simone Fontecchio, as well as former NBA players such as Nico Mannion and Nicolo Melli.  Kriisa has been getting mentions lately for his strong play overseas, and he thrived as a shooter and offensive player in this game.  Here are my thoughts on how well he fared, as well as how his game may currently stack up as a prospect for the NBA. Also, for those that are interested in the box score of this game, here is the link.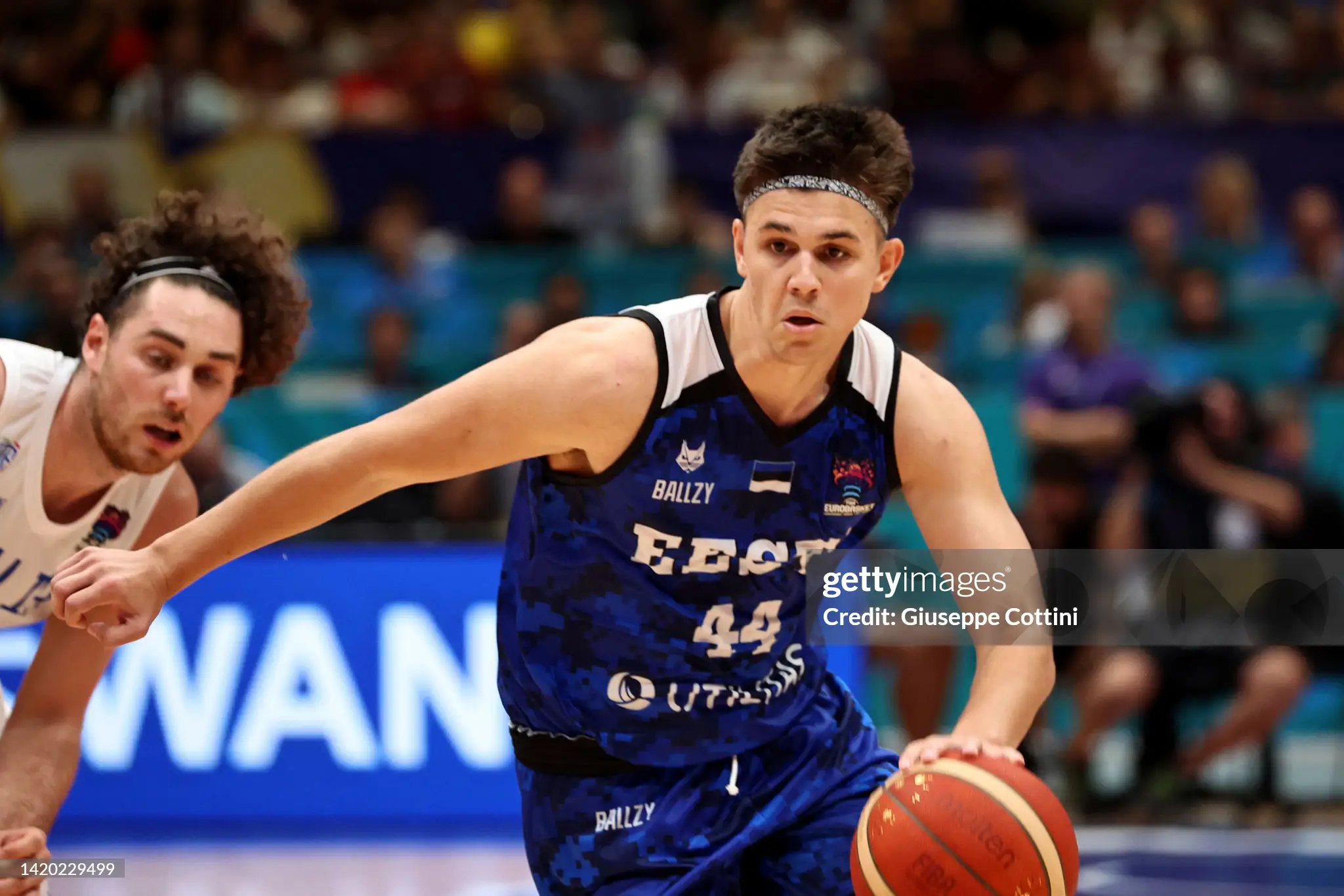 Kerr Kriisa is an agile, gritty combo guard that excelled as a shooter and scorer on the floor.  He did a very good job of making quick, spot-up threes off the catch.  He has a quick release that enables him to easily get his shot off, was able to make one from way out to showcase his range, and he also was able to run off the ball to be able to knock down his three-point shots. 
Plus, he also did a great job of dribbling to various spots on the floor to make pull-up, mid-range jumpers, and he has good footwork and shooting touch to be able to do so.  He also was able to drive quickly to the hoop, and he used a stutter step, hesitation move to score early on.  He has been streaky as a shooter at the collegiate level, but he is a rhythm shooter that did a great job of making shots both off the catch and dribble in this game.
Also, Kriisa showcased adequate playmaking skills.  He is an unselfish player that would consistently look to find the open man, and he would make timely passes to get the ball to shooters and to find open teammates on the break.  He also made a really nice pass under pressure, and calmly managed to get the ball to a roll man to notch an assist late in this match. 
On the downside, he would tend to rush his moves, which also led him to be turnover prone.  He would tend to force quick passes into traffic, and he threw several of them that got intercepted.  When pressured another time, the ball slipped out of his hands right as he was going to pass it, and he recovered the ball only to throw a pass from the ground that later got intercepted.  When dribbling off of a screen another time, he threw an inaccurate pass that sailed out of bounds.  Though he showed great willingness to move the ball and some court vision, he struggled to pass on the move at times, and he also didn't do a great job of taking care of the ball in this match.
While he didn't get many rebounds in this game, Kriisa was able to get a defensive board when he was on the floor.  He also played adequate defense.  Kriisa was able to jump on a loose ball to get a steal.  He also got himself into position to successfully draw a charge when defending a drive to the hoop.  He also was able to contest a couple of jumpers to force misses.  On the downside, he had trouble defending in the post, which would lead him to commit fouls and allow scores.  There was also another time where he sagged too far off of a shooter, and allowed his man to score on a deep three-point shot.
Overall, Kerr Kriisa is an agile, skilled playmaker that excelled as a shooter and scorer in this game, and he also was able to make some good passes on offense.  On the other hand, he will need to take better care of the basketball, and he will also need to continue to work on his defense.  It also may be fairly uncertain as to how well this well his strong EuroBasket performance may translate over to the American game. 
On one hand, Kriisa is playing against grown men that are currently playing in professional basketball, some of whom are either in or have played in the NBA, which is an advantage that works in his favor.  On the other hand, the overall athleticism level of players in this game didn't seem to be especially high, as the most athletic players on the floor seemed to be Simone Fontecchio and Nicolo Melli, both of whom are above average athletes, but may not come close to the athleticism level of someone such as Ja Morant or LeBron James. 
Kriisa didn't have a particularly great sophomore season at Arizona, and his shooting percentages have historically been very down.  The jury is out on if he could carry his strong Eurobasket performance to help him have a strong season at Arizona and if he can be a solid role player at the NBA level, but I think he at least could have a successful playing career in international basketball if he doesn't reach the NBA.  If he does make it to the NBA, he could end up being a solid game manager that could provide some shooting, playmaking skills, and intensity, similar to former Cleveland Cavaliers' guard, Matthew Dellavedova in the association.
Other Notes:
I also had the opportunity to watch Utah Jazz's rookie forward, Simone Fontecchio play in this game.  I think they acquired someone that could be a fairly solid rotation player for them this year.  Fontecchio did a great job of shooting the basketball, and he is a very good spot-up shooter that showed a knack for making quick threes off the catch.  He didn't seem to stand out that much elsewhere, but he did have a nice baseline drive to the hoop when he threw down a powerful dunk to score midway through this contest.
With the Jazz having traded Donovan Mitchell after they traded Rudy Gobert earlier in the offseason, they'll probably be headed towards rebuilding mode.  Therefore, it may be reasonable to expect Fontecchio to get some minutes and a fair chance to crack the end of the rotation.  If so, I think he could develop into a solid shooting specialist off the bench, and he could be a fairly solid contributor for the Jazz both this season and in the future.