Assessing Patrick Baldwin Jr. in the Milwaukee-Robert Morris Game
December 5th, 2021
By Alan Lu
Yesterday, I decided to take the time to watch Milwaukee's 6-9 freshman forward, Patrick Baldwin Jr. play against Robert Morris in an early season college basketball game.  I wanted to get a feel for what his good game looks like so that I can clearly establish what his upside looks like as a prospect for the NBA.  He shot the ball really well, and he scored 26 points and made all 6 of his three-pointers to help his team get the win.  Here are my thoughts on how he fared, as well as where his game may stack up for the next level.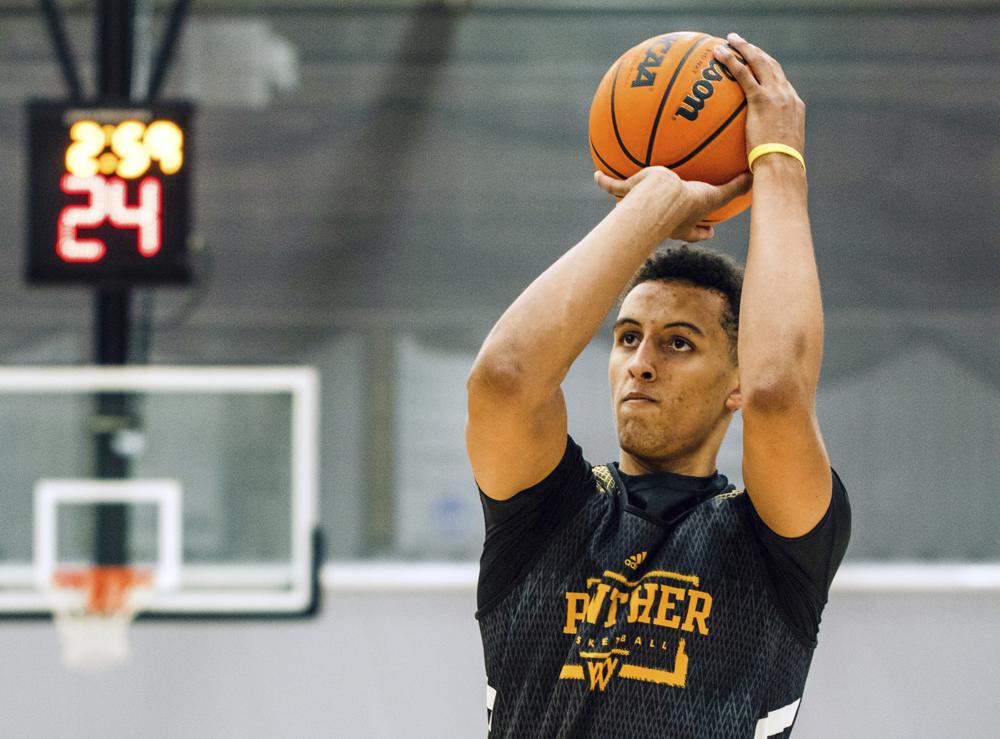 Patrick Baldwin Jr. had a great showing in his team's win over Robert Morris.  He did a tremendous job of shooting and scoring the basketball, and he showed off a good basketball IQ in this game.  He also looked to be fairly active as a rebounder and defender, and he was able to make some solid defensive plays at times to help his team when he was on the floor.
Baldwin did a terrific job of knocking down threes to provide floor spacing for his team on offense.  He has a quick trigger that allows him to instantly get his shot off, and he would often make deep threes from way out.  He also would sneak in and move into the open areas of the floor, and he was able to knock down a couple of open, corner threes.  He has great size, a quick release, and a smooth shooting stroke that enabled him to make threes constantly, and he was able to make them from well beyond the arc.
He also excelled at knocking down mid-range jumpers.  Baldwin would move off the ball and quickly score on floaters and quick turnaround jumpers off the catch, and he was very comfortable at making them quickly from the elbows.  On the downside, sometimes he would rush himself and take shots too quickly, and he had more time to set himself, as he would miss on quick turnaround jumpers on occasion.  He also dribbled in and missed on an off-balanced, right-handed floater from just inside the arc, and he took a questionable shot due to overtly trying the force the issue that time.  Also, Baldwin was able to draw free throws on a dunk attempt when he received the ball on a backdoor cut to the hoop.
He struggled more to score when he would look to go all the way to the hoop to score in half-court sets.  Specifically, he has a tendency to play too hyper on offense at times.  On one good play, Baldwin was patient in looking to score on a left-handed drive, and he was able to make a strong move to get a foul call.  On another play though, he drove towards the baseline and attempted a switch-of-hands floater, but it missed as it rattled in and out.  He had the right idea to take the shot, but he couldn't quite get enough touch to get it to go down.  He also posted up once, but he rushed himself and missed too quickly off the glass, and he had more time to make moves on that possession.
 Also, Baldwin displayed solid playmaking skills in this game.  He is an unselfish player that tended to make good reads, and he has good court vision and passing skills.  He would often get the ball in the high post, and he would quickly pass it out to open shooters to set up scores for them.  He also would throw sharp interior passes to get the ball to big men, and he also would find his teammates on the move.  He also showed a knack for throwing good skip passes, and he also passes the ball well in transition.  He also can handle the ball in the open floor, as he was able to push the ball up and get the ball to an open shooter once.  He did commit one turnover though, as he had a ball ripped away from him on an offensive rebound and he then lost the ball that time.
He also showed a solid ability to rebound the basketball.  Baldwin was able to leap up to get boards on both ends of the floor, and he was able to push the ball up quickly off of a defensive rebound once.  Sometimes, he would show good technique by boxing out his opponents, and he was able to help his teammate get a defensive board late in this game.  On one play though, he didn't box out, and he allowed an opponent to get an offensive rebound in his area.  Midway through the second half, he tried to chase down an offensive rebound, but he didn't secure the ball, as the other team ended up getting a defensive board.
Plus, he also played adequate defense in this game.  Baldwin did a good job of blocking shots to help his team protect the paint, due to possessing solid length and timing.  He rotated to swat a shot hard off of a cut out of bounds.  He also recovered on a drive to block a shot off the glass to himself.  Baldwin also was able to jump on a loose ball to help his team get a steal, and he also deflected a pass another time.  He has solid footwork and length that allowed him to ably defend pick-and-roll ball handlers out on the perimeter, as he would cut off penetration.  In addition, he would use his length to stay in front of opponents and then close out on shooters to force them to miss three-point shots.
On the downside, his tendency to be very laid back on the defensive end can sometimes get him into trouble.  On defense, he doesn't always react quickly to plays, and he doesn't seem to have a natural defensive disposition.  Sometimes he would back way too far off of shooters, and it would lead him to be late on his rotations and to not being able to contest shots in a timely manner.  Other times, he wouldn't hustle back very hard on defense, and it would lead his team to end up in scramble situations when defending in transition.  He also would occasionally trail his man when defending opponents off the dribble as a result of not having elite lateral quickness or acceleration, so opponents can get by him, which can lead him to commit fouls and allow scores.
Overall, Patrick Baldwin Jr. had a much better showing in his team's win over Robert Morris, and his strong performance in this game may be an indicator that he may have a good deal of upside as a prospect for the NBA.  He is a skilled, versatile forward that has a good set of skills, especially on offense, and his size, athleticism, and shooting ability would make him a highly coveted prospect for the next level.  He is a gifted shooter that can create favorable mismatches that can swing in his team's favor, and he also showed the potential to excel as a perimeter defender.  He is a very skilled player that showed off a good feel for the game. He also plays so effortlessly, which suggests that he may have untapped potential and could be much better, especially on the defensive end, if he can stay focused throughout the game. Baldwin will need to be more focused defender on a consistent basis, but it's clear that the skills and the upside are there.  He could be a good pick for an NBA team in the lottery, and he could end up being a solid player similar to Sacramento Kings' forward, Harrison Barnes in the association.