A Preview of the 2022-23 Miami Heat
September 29th, 2022
By Alan Lu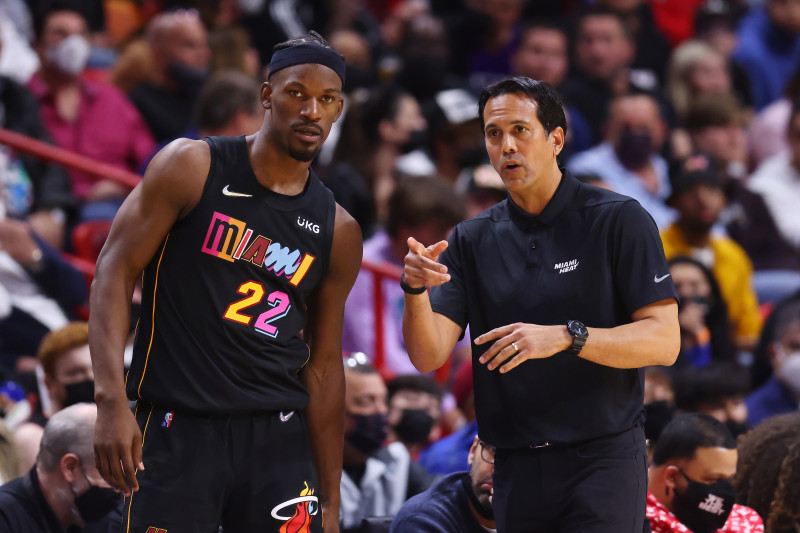 The Miami Heat had a very good season last year. Back in 2021, the Heat were swept in the first round by the eventual champions Milwaukee Bucks after having made the NBA Finals in 2020, so last year they felt they needed to make some changes to help them make a deep playoff run. 
Last year, they traded to get Kyle Lowry, and they received tremendous seasons out of Jimmy Butler and Tyler Herro, the latter whom won the Sixth Man of the Year award.  They also got strong performances from numerous bench players, and the Heat have gotten a lot out of unheralded sources.  They were able to take the Boston Celtics to seven games before losing in the Eastern Conference Finals, and the Heat are expected to have a strong season this year.  The Heat lost P.J. Tucker in the offseason, but selected Nikola Jovic in the draft, and they have a strong duo in Butler and Adebayo that makes them a formidable team in the East.
Star Players:
G-F Jimmy Butler, F-C Bam Adebayo, G-F Tyler Herro, and G Kyle Lowry
Jimmy Butler is a very athletic, skilled swingman that can really score, pass the ball, and defend when he is on the floor.  He is a versatile player that can take over games and is a strong defender. Last year, Butler put forth a memorable Game 6 of the Eastern Conference Finals, as he scored 47 points to get his team the win in that game against Boston. 
Bam Adebayo is a star center that has solid playmaking and defensive skills, and he is both a very good passer, and is a defensive anchor that will shore up his team's interior.  On the downside, he doesn't have much range on his jump shot, and he's not a great shot blocker due to his lack of size, so he had to rely much more position defense.  Still, he is a solid player that has played well for the Heat.
Tyler Herro is a skilled scoring guard that can shoot and score the basketball, and he can put up points in a hurry.  On the downside, he's not a very good defender, and he can be ineffective in the playoffs if he struggles to get his shot down.  He can start or come off the bench, and has been known to be an instant offense player.
Kyle Lowry is a hard-nosed, tough-as-nails, playmaking point guard that shoots, passes well, and is a solid defender on the court.  He's slowed down due to age and injuries recently, and he's struggled to be the scorer or defender that he used to be, but he's still a steady, reliable point guard that runs the team well.
Additions:
Nikola Jovic is an agile, skilled combo forward that can shoot and score the basketball, and he is a solid playmaker, especially for his size.  He'll need to get adjusted to the NBA three-point line and improve his defense, but he is a skilled offensive player that could help create mismatches that swing in his team's favor.
Subtractions:
G-F P.J. Tucker and F-C Markieff Morris
The Heat lost a couple of role players due to free agency, but of the two, losing Tucker will hurt the Heat more.  Tucker was a tough, 3 and D role player that provided toughness and played within the team's system, but the Heat could give more minutes to Butler and the other role players.  Morris is a skilled forward that can shoot and provided some toughness, but was injured for most of the season due to Nikola Jokic's deliberate push in the back.  Morris' role will be replaced by Dewayne Dedmon and Omer Yurtseven; both of whom were fairly effective in their roles as backup centers last season.
Rookies:
F Nikola Jović and F Darius Days
There may not be many minutes for either player in the early going, but both could see some playing time late in the season.  Days is a tough, athletic 3 and D forward that could play either forward position, and could be a rotation player for the Heat if he continues to develop in the future.
Expected Rotation:
Projected Starting Lineup:
Key Bench Players:
G-F Tyler Herro
G-F Caleb Martin
The Rest of the Roster (projected to make the team):
F Darius Days (Two-Way)
G Jamaree Bouyea (Exhibit 10)
G-F Marcus Garrett (Two-Way)
Others in Camp:
F-C Orlando Robinson (Exhibit 10)
G-F Jamal Cain (Exhibit 10)
G Dru Smith (Exhibit 10)
Roster Spots' Battles:
There's 14 players that are on guaranteed contracts, and both of their two-way spots are filled up, as they are occupied by Marcus Garrett and Darius Days.  Therefore, logically there may be one last roster spot available, which could come to a three-way battle between players that are currently on Exhibit 10 deals: Orlando Robinson, Jamaree Bouyea, and Jamal Cain.
Orlando Robinson is an athletic, very skilled center that can do a little bit of everything, and his ability to space the floor, pass and handle the basketball, and versatility makes him a player that has a promising future.
Jamaree Bouyea is an agile, skilled point guard that can shoot and score the basketball, and he can really fill up the nets, and he also is a solid defensive player.  Jamal Cain is an athletic forward that projects into a 3 and D role.  Unfortunately, there is only room for one of them, assuming that they will keep all of the players on guaranteed contracts. 
Robinson and Bouyea both impressed me before the draft, and both players are talented and could end up having long careers in the NBA.  Robinson played very well when I saw him play in The Basketball Classic's championship game against Coastal Carolina, but Bouyea also impressed me with his strong performance in the Las Vegas Summer League. 
This is a heads or tails decision, and I would much rather the Heat find a way to keep both of them, but if only one of them makes it, I think Bouyea has the grinder's mentality that could give him the edge over Robinson for the last roster spot, and he even could push for the backup point guard job, especially if Gabe Vincent falters and regresses this season. Even if Robinson doesn't get the last roster spot, I do think a team should claim him for a two-way roster spot if that comes available later on this season.
Head Coach:
Erik Spoelstra
2021-22 (MIA): 53-29, 11-7 in the playoffs
Career: 660-453, 96-65 in the NBA Playoffs, won 2 NBA titles as a head coach
Spoelstra is one of the best coaches in basketball.  He won two NBA titles with the Miami Heat, and he's helped his team get to two Eastern Conference Finals in the past three seasons.  They've been close but haven't quite won the title with Jimmy Butler yet, but that they've been able to get to two Eastern Conference Finals in the past three years is very impressive, especially considering that they are in a conference that also has Giannis, Joel Embiid, James Harden, Kevin Durant, and Jayson Tatum.
Outlook: The Miami Heat had a very good year last season, despite falling short to Boston in the Eastern Conference Finals, and they had a tremendous season from Jimmy Butler and their team.  That said, it's a wonder if they did enough in the offseason to make their team better, because Boston traded to get Malcolm Brogdon and Milwaukee will be getting a healthy Khris Middleton back, while Miami's only major move was to select Nikola Jovic in the draft, who might be more of a long-term play than someone who will help them reap immediate dividends. 
The Heat should still be a good team this year and they will win plenty of games in the regular season.  They are a tough, feisty collective bunch that plays together, which is admirable.  However, they don't seem to have enough elite or top-end talent, and it's hard to picture them getting past both Boston and Milwaukee to get to the NBA Finals, let alone win the championship in 2023.  Regardless, the Miami Heat should have a solid season, as they will at least be a very tough out in the playoffs.
Projected 2022-23 Win-Loss Record and Finish:
Projected Regular Season Finish: 48-34, 4th in the Eastern Conference
Expected Playoff Finish: Projected to lose in the 2nd Round to Philadelphia
I went to Basketball-Reference and Spotrac to look up some information for this write-up.  It will be an exciting basketball season this year, and the NBA season will start on October 18th.  Thank you for reading my write-up of the 2023 Miami Heat.