A Preview of the 2022-23 Boston Celtics
September 30th, 2022
By Alan Lu
Last year, the Boston Celtics had a really good postseason run that culminated with them making a trip to the NBA Finals.  Marcus Smart won the Defensive Player of the Year, their head coach Ime Udoka did a terrific job of coaching their team from the second half and onwards, and they received strong performances from their superstars Jayson Tatum and Jaylen Brown as well as their role players.  Al Horford shot the ball very well, and they received very good bench play from Grant Williams, Derrick White, and Payton Pritchard.
Plus, they also swung a major trade to add star guard Malcolm Brogdon from Indiana, and he is a savvy, veteran playmaker that has strong offensive skills and will strengthen their bench.  They also signed Danilo Gallinari in the offseason, but he injured his knee in EuroBasket, so it's questionable if he'll be able to play at all this season.  The Celtics made it to the NBA Finals last year, and have stockpiled talent and reloaded for the upcoming season, but Robert Williams' lingering knee injury and Ime Udoka's season-long suspension may be significant causes for concern, as those could present as obstacles and hurdles for the Celtics' title hopes in 2023.
Star Players:
G-F Jayson Tatum and G-F Jaylen Brown
Jayson Tatum is a tremendously skilled, all-around swingman that had a strong season last year.  He is a player that does everything well, and he is a complete player that can absolutely take over games.  He's a gifted scorer that shoots well, and he also is a strong playmaker and defender.  He's the best player on the Celtics' team, and he is currently one of the best players in the NBA.
Jaylen Brown is a very athletic, skilled swingman that also played very well last year.  He is a player that also does everything well, and he is a very good complementary player to Tatum.  He isn't quite the playmaker that Tatum, but Brown is a very good player that gives his team a dynamic duo, and both will lead their team to get many wins this season.
Additions:
G-F Malcolm Brogdon and F Danilo Gallinari
The Boston Celtics made a blockbuster trade to land a huge acquisition in acquiring Malcolm Brogdon.  Brogdon is a very skilled combo guard that shoots and passes the ball very well, and he is an All-Star caliber guard that consistently produces on the floor when healthy.
Danilo Gallinari is a very tall, versatile forward that can really space the floor, and he is very good at shooting and scoring the basketball.  However, he also may be on the decline as he is in his mid-30s, and he also injured his knee in an unfortunate incident during a 2022 EuroBasket game that could cause him to miss the entire NBA season.
Subtractions:
F-C Daniel Theis, G-F Aaron Nesmith, G Nik Stauskas, F Malik Fitts, and F Juwan Morgan
The Celtics traded a lot of players to get Malcolm Brogdon, but their biggest loss in the deal was trading away Theis to Indiana.  Theis was a reliable big man that could start or come off the bench, brought solid interior defense to the team, and had showed off a much improved outside shot. 
Meanwhile, Nesmith and Stauskas are floor spacing swingmen that haven't quite played up to their potential at the NBA level, and neither of the two are particularly good defenders.  Fitts and Morgan were end of the bench players that could play either forward position, and could provide a little bit of floor spacing and defense when they were on the floor.
Rookies:
Davison is a very athletic, playmaking point guard that has strong court vision, and he will look to set the table and run the team's offense.  He is an unselfish player that can rack up assists, and he also can score and defend well when he's engaged and focused.  He will need to improve his jump shot, but he is a talented rookie that could develop into a reliable role player in the NBA. 
As for right now, he's on a crowded roster and he'll be behind Smart, Pritchard, and Derrick White on the depth chart, so he'll likely spend most of his time in the G-League, and so he will probably not get much immediate playing time in the NBA, but with continued development, he could see some more playing time in the future.
Expected Rotation:
Projected Starting Lineup:
Key Bench Players: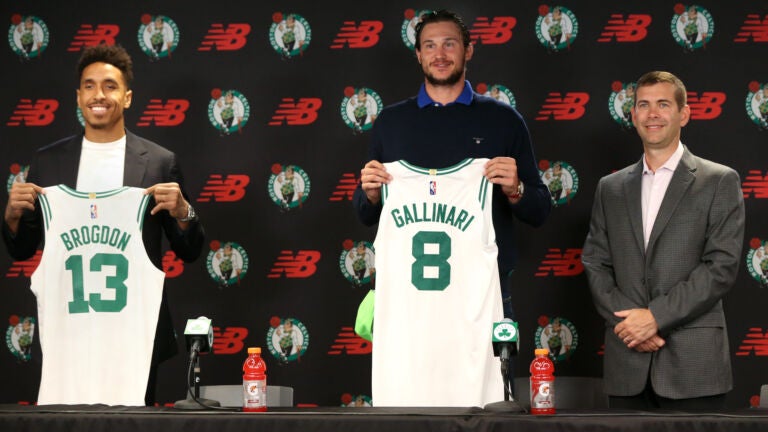 The Rest of the Roster (projected to make the team):
F Danilo Gallinari* (injured, out for the season)
G JD Davison (Two-Way)
F-C Mfiondu Kabengele (Two-Way)
F Justin Jackson (Exhibit 10)
G-F Brodric Thomas (Exhibit 10)
Others in Camp:
F-C Luka Samanic (Exhibit 10)
F-C Noah Vonleh (Exhibit 10)
F Jake Layman (Exhibit 10)
Head Coaches:
Ime Udoka* (unavailable to coach Boston this year, suspended for the season)
2021-22 (BOS): 51-31, 14-10 in the playoffs
Career: 51-31, 14-10 in the NBA Playoffs
Ime Udoka was able to turn his team around from a slow start to reeling off wins in the second half and onwards, and he helped shape up the Boston Celtics to get to the 2022 NBA Finals last year.  He helped his team reel off impressive series wins over Brooklyn, Milwaukee, and Miami, and the Celtics were able to take Golden State to six games before losing in the NBA Finals.
This year, Boston reloaded their team by getting a healthy Malcolm Brogdon, and the Celtics will be looking to make it back to the NBA Finals. Unfortunately for him though, it won't be with Udoka this season, as he was caught in a scandal in which he will be suspended for the entire season.
Joe Mazzulla
2021-22 (BOS): Assistant coach for the Boston Celtics
Career: N/A
Joe Mazzulla will take over as the interim head coach for the Boston Celtics while Udoka is suspended for the season. He was a solid college basketball player as a point guard at West Virginia, and he was the starting point guard of his team's Elite Eight upset win over John Wall and DeMarcus Cousins' Kentucky squad to get the Mountaineers to the Final Four. While Mazzulla had a bit of a history in getting into trouble himself, the Celtics believe those days are behind him, and they will rally around Mazzulla for the upcoming season.
Outlook:
The Boston Celtics had a very good season last year that culminated with them making a trip to the NBA Finals before losing to Golden State.  This year, they'll face a tough road, as they'll likely face a healthy Milwaukee team that will have Khris Middleton this time around to aid Giannis, Jrue Holiday, and company, which could prevent Boston from making a repeat trip to the NBA Finals.  Still, the Celtics are a very good basketball team that are title contenders, and they are definitely one of the best teams in the league right now.
Projected 2022-23 Win-Loss Record and Finish:
Projected Regular Season Finish: 48-34, 3rd in the Eastern Conference
Expected Playoff Finish: Projected to lose in the 2nd Round to Milwaukee
I went to Basketball-Reference and Spotrac to look up some information for this write-up.  It will be an exciting basketball season this year, and the NBA season will start on October 18th.  Thank you for reading my write-up of the 2023 Boston Celtics.