Thoughts on Zion Williamson's NBA Regular Season Debut
January 22nd, 2020
by Alan Lu
I decided to take the opportunity to watch New Orleans Pelicans' rookie big man, Zion Williamson make his debut against the San Antonio Spurs. Overall, I thought he played well, especially in the fourth quarter, and he showed a much better jump shot than he seemed to have in college.
I was excited, but also nervous to see Zion play in his first regular season game. It was thrilling, because the NBA would finally get to see a tremendously talented player take the court to make his debut.  I also wondered if he was truly healthy, and seeing him play would theoretically be the best way to tell if he's fully returned to top form. There have been fans and skeptics alike who were awaiting his first regular season game in the NBA, and the San Antonio Spurs led by 5-time NBA champion Gregg Popovich would be a great test for Zion Williamson.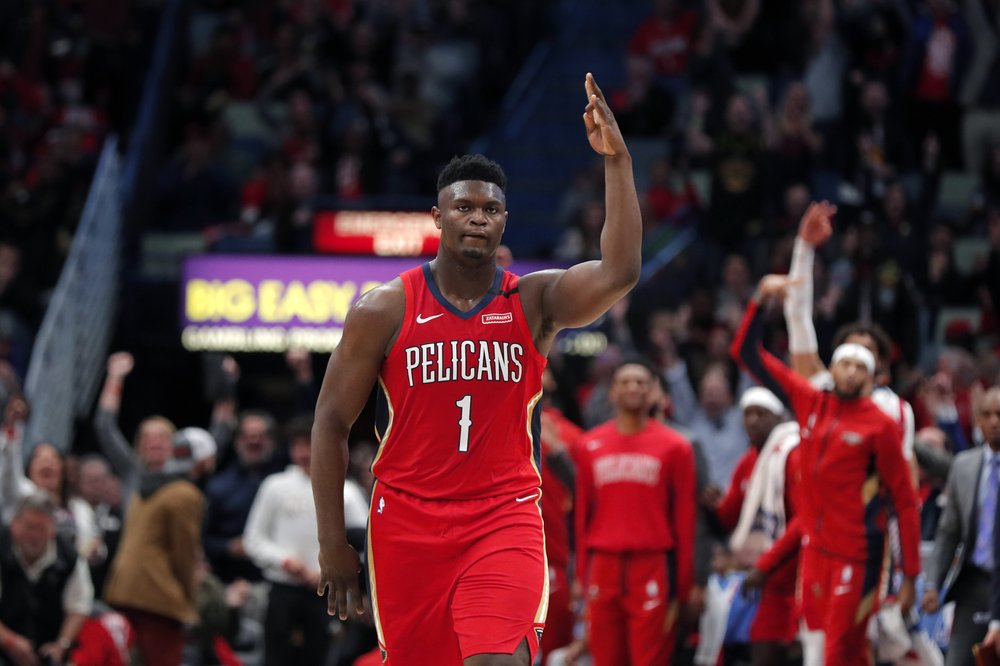 From here, I will attempt to go by a mostly quarter to quarter breakdown of what I saw.  Williamson would go on to have a very good game in his NBA regular season debut, but he initially looked to be a little rusty at the start of this match. Williamson was tentative, as he didn't look for his own shot much early on, and he didn't really look to take opponents off the dribble often in the first quarter. He did show fairly solid passing skills, as his court vision enabled him to pick up a quick assist when doubled.
For most of the first three quarters, the Pelicans paired him up with another big man, and the floor spacing seemed off. The San Antonio Spurs were able to collapse in the paint and cut off his driving lanes, and they would pack in the paint to make it difficult for him to get easy chances to score in the paint. Williamson did show some solid playmaking skills late in the first half, as he can zoom up the floor to handle the ball off of defensive rebounds, and he was able to kick it out to a shooter to set up a scoring opportunity for his teammate.
During the middle portions of this game, Williamson was able to score on a put back and on a backdoor cut after fumbling the pass, and he also drew free throws on a nice baseline drive another time.  However, he also missed some shots off the dribble in traffic, and he committed some ball handling turnovers, as there wasn't a whole lot of space to operate. Jakob Poeltl did a good job of staying in front of him and playing position defense when he was on him, and Williamson had some trouble in trying to protect the basketball.
Defensively, Williamson was okay, and he is an agile player that is rangy enough to play at least adequate help defense, but he had some defending on the perimeter, as guards would get by him, and other times he would over-rotate and leave his man open, which would allow the opposing guards to find open big men underneath the hoop to get scores.
What was notable about the first three quarters, was that Williamson would start each time, but he would only play about four minutes before heading back to the bench, and surely the Pelicans are probably load managing their rookie forward. It seemed that for most of this game, the Pelicans were trying to figure out exactly how to play with Williamson and how he should best be utilized on the court.
When the fourth quarter rolled around, Zion Williamson started getting into a groove. It also coincided that he received some much needed, extended playing time, as this was the only quarter in which he played more than four minutes on the floor.
Williamson made 4 threes, as he showed a really good jump shot, and the Pelicans made a strong comeback when they had him play the center position, rather than play him and Derrick Favors or Jaxson Hayes at the same time. Williamson also made a nice cut to the hoop to score on an alley-oop layup, and he also scored on another put back.   The most impressive thing was that Zion did a tremendous job of making three-point shots from beyond the arc, as he really showed some range in doing so, and the Pelicans were able to claw their way back to nearly beat the Spurs, even though they came up short. The fourth quarter was especially interesting, not only because he shot the ball really well, but he also played center on the floor. Williamson was especially effective in this stretch, as being the only big man would open up the driving lanes as there would be less people needing the paint to score, and he was much more aggressive in taking shots and jumpers on the floor, so a combination of those things enabled him to be a much more dynamic presence on offense.
With a little over five minutes left in the game, the Pelicans subbed out Williamson for Favors, and that was it for Zion. The Pelicans managed to get within three, as they trailed 111-108 when they made the substitution, but they were never overtake the Spurs. LaMarcus Aldridge absolutely dominated down the stretch, as he scored often in the post, as well as on a plethora of mid-range jumpers.  DeMar DeRozan also played well, as he also excelled at making mid-range jumpers.  Even though Brandon Ingram has been playing quite well this year, he struggled to consistently make his jump shots, and despite receiving a very good game from Lonzo Ball, the Pelicans came up short as they lost to the Spurs, 121-117.
Overall, Zion Williamson's debut was like a fun, roller coaster ride. It started out slow, and there were some bumps along the way, but he thoroughly dominated in the fourth quarter as he then poured on the points fast and furiously.  In general, Williamson had a solid game in his team's loss to the San Antonio Spurs.
For the Rookie of the Year race, it's more than likely that Memphis Grizzlies' star point guard, Ja Morant will win that award, as Morant has played like an All-Star this season, and Williamson will not have played enough games to make writers change their minds then.
Surely, Williamson has proven that he will certainly be fun to watch, and when healthy, he can be a tremendous player on the basketball court, and he had a solid debut in which he scored 22 points, made 4 threes, and notched 7 rebounds and 3 assists in this game.