Thoughts on Ziaire Williams' Triple-Double Performance Against Washington
January 8th, 2021
By Alan Lu
Yesterday, Stanford's freshman forward, Ziaire Williams put forth his best all-around performance to date, as he managed to collect a triple-double by scoring 12 points, 12 rebounds, and 10 assists, while also notching 2 steals and 2 blocks in his team's double-digit win over Washington.  He put forth an impressive performance and stat line, and it served as a very good response to how he would perform in the games following his team's loss to Oregon. 
I decided to take the time to see how he played yesterday, to observe how he was able to get his triple-double.  It was a combination of Williams having played well, combined with Washington frequently missing shots all on their own.  It's good to see Williams play well for a change, and hopefully this will be the performance that can help serve as a building block for Williams moving forward.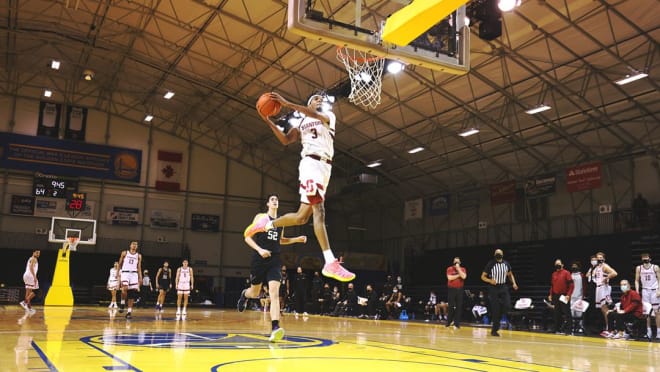 Ziaire Williams is an unselfish player that played with more patience and he showed a good understanding of how to attack Washington's defense.  He displayed solid playmaking skills, as he would consistently find open shooters to set up scores for them, and he also threw solid interior and outlet passes, as he can find cutters to get them the ball around the basket.  He did commit his fair share of turnovers, but most of his passing turnovers were due to miscommunication, because he would see the open areas of the defense, but his teammates would either move out of the way, or fail to catch the pass.  He did try to rush a crosscourt pass once when in transition as he didn't have numbers and it got intercepted, and that play was a result of him trying to rush his move instead.
He also played very good defense in this game.  Williams is a long, rangy defender that can cover a lot of ground, as he would run in to block shots, get steals, and stops for his team.  Williams was able to rotate to block a corner three to a teammate, and he would actively contest shots out on the perimeter and inside the paint to force plenty of misses.  He also ran in to take a ball away from an opponent to get a steal, and he has good hands, athleticism, and instincts that allow him to excel at forcing turnovers.  He also did a good job of staying in front of his opponents, as that would put him in position to successfully challenge shots and force turnovers on the defensive end.  However, there was one play where he didn't fight hard enough over a screen, which led him to allow his man to score on a corner three.  On another play, he got beat to his right as he gave his opponent that side of the floor to drive to the hoop, and though his opponent missed a layup short, he then ended up following another opponent on a put back attempt.
Also, Williams did a terrific job of rebounding the basketball.  He would often crash the glass to get boards on both ends of the floor, and he showed a knack for chasing down balls to get rebounds for his team.  Sometimes he would leap up to get defensive boards, and then immediately push the ball up the court afterwards to create transition scoring opportunities for himself and his team.  He also managed to tip a ball to a teammate to help his team get a defensive rebound another time.

Williams generally excelled at scoring on hustle plays.  He was able to run in to score on a tip-in after grabbing an offensive rebound.  He also scored on a quick floater off of a drive in transition, and he also drove in to score on a high-flying, windmill dunk on a breakaway.  He also was able to drive in and get fouled in transition to get to the free throw line.  There was one speedy drive in transition where he missed a layup due to rushing, but in this game, he did a better job of playing and moving off the ball energetically while still being able to use his athleticism and body control to score around the basket.
He also did an adequate job of knocking down jumpers to space the floor for his team on offense.  Williams made impressive use of being off the ball midway through the second half, as he ran off the ball to an open area to make a corner three off the catch.  On the downside, that was the only three-point shot he made, as he missed on a couple of other spot-up threes, and he also struggled to make mid-range shots, but Williams showed better shot selection, as he would shoot more when he was open, and he showed his potential to develop as a shooter by being able to quickly run into the open area to get the ball before knocking down a corner three off the catch.
Overall, Ziaire Williams played very well in his team's win over Washington.  This is a good sign, as this could mean that he may be turning the corner to progress as a prospect for the NBA.  He will still need to continue to play well down the stretch, but he did a better job of letting the game come to him, and he didn't overtly try to force the issue too much like he had against Oregon.  He might not be the elite shot creator or scorer that he seemed to be at the start of the season, but he's shown that he can excel as a playmaker, rebounder, and defender in games.  He is a very athletic, high-motor player that showed that he can also operate as an off-ball, point forward.  Right now, he is a candidate for the back half of the lottery, with his draft range likely being more in the mid first round, but Williams is an athletic, skilled swingman that definitely has the skills to thrive in the NBA, especially if he can continue to show good processes in how he plays the game.