Thoughts On Opening Night Of The New 2021-22 NBA Season
October 19th, 2021
By Alan Lu
Tonight, there were two NBA basketball games that played on TNT, and there were some interesting takeaways that we can have for tonight.  The Milwaukee Bucks walloped a Brooklyn Nets team that was without Kyrie Irving, but the Nets looked to be astonishingly bad on defense, and at times, they looked clueless on both sides of the ball, where they looked to be absolutely unwatchable.  The Los Angeles Lakers came on strong early, but the Golden State Warriors engineered a strong, vintage comeback to rally from behind to win, as they stunned the Lakers and their home crowd. 
The Milwaukee Bucks vs. the Brooklyn Nets
The Milwaukee Bucks were really good, and they were sharp in their home win over the Brooklyn Nets.  It was expected that they would do so, but they managed to blow out the Nets in a decidedly convincing fashion.  Giannis Antetokounmpo was unstoppable on offense, and he did a terrific job of scoring and defending, and he was absolutely unguardable in this game.  No one could stop him, not even Durant.  They also received strong performances from many of their other players, including from their bench players, Pat Connaughton and Jordan Nwora.   Nwora was impressive, as he provided the Bucks with an extra shot creator and shooter on offense, and it was refreshing to see him and Connaughton shoot and score often to continually fuel the Bucks. 
Khris Middleton and Jrue Holiday played well as usual, and Middleton legitimately looked to be in the elite status of NBA players, as he clearly outplayed James Harden on the floor.  Middleton made shots, he moved the ball well, and he played very good defense.  Jrue Holiday shined as a scorer, and he didn't have to play in the second half.
For the Nets, they looked just lost in this game.  It was really an odd choice that Brooklyn's head coach Steve Nash chose to start Kevin Durant alongside two other big men, Blake Griffin and Nic Claxton, which choked off their floor spacing, and Griffin and Claxton were also defensive liabilities, as they kept allowing opponents to drive right past them to score throughout the night. Joe Harris was ineffective overall, and he scored just 9 points on 3 of 9 shooting, despite making 3 threes, but he tended to run hot and cold, was too passive on offense, and didn't play very good defense in this game.
Kevin Durant was solid on offense, but he didn't shoot the ball nearly as well as expected, and he even had a shot blocked, which astonished me. It seemed much tougher for him and Harden to score, since the paint was often clogged due to the two big men often being down there.  Also, Kevin Durant and James Harden didn't seem to play well off of each other, as when Durant would make shots or look to score, Harden would then often times just stand around and do very little on offense.
For the Nets, Patty Mills excelled as a sharpshooter off the bench, and he made all 7 of his threes in this game, and he scored 21 points in total.  Even still, he didn't take nearly enough shots in the second half, and he played it too safe by often deferring rather than confidently trust himself to continue to score.  Curiously, defensive forward Bruce Brown (who played a lot and was relied heavily on defense last year) didn't play until late in the fourth quarter in mop-up duty, but questions about his jump shot and scoring ability may have had him stapled to the end of the bench.  However, given the way that the Nets were not playing any defense in this game, they could've at least either tried to incorporate Brown more, or choose to add more firepower by opting to play Cameron Thomas and Paul Millsap more instead.   Also, head coach Nash chose to play Jevon Carter and James Johnson plenty of minutes, and neither player added much offense nor showed that they should have been on the floor for long stretches in this game.
Instead, it was baffling that neither of those three got substantial playing time in this game, but in any case, it's clear that the Nets both missed Kyrie's presence on the floor, and that they clearly couldn't defend Giannis in the slightest.  Overall, the Nets looked woefully incapable of competing against the Bucks, and they have an oddly imbalanced roster where they didn't have enough shooters, defenders, wing players, or versatility to match up to the Bucks tonight. 
For the Nets moving forward, they'll need to find ways to open up the floor more for Durant and Harden, make better use of their bench players not named Patty Mills, and they'll need more offensive firepower to compete with the Bucks in the future. In any case, I'm concerned that about head coach Steve Nash's odd lineup usage and Brooklyn's startling lack of defense in their blowout loss to Milwaukee.  Also, the Nets' offense looked startlingly basic and predictable. The Nets were over-reliant on pick and rolls and isolations, and there was not enough motion that was used in this game.
I'm starting to wonder if it was a good idea for Kevin Durant to leave Stephen Curry and the Golden State Warriors, which had a really good offensive system that enhanced everything he did, just to team up with Kyrie Irving and join Brooklyn, and I'm beginning to have doubts on whether if Durant will lead the Nets to a championship after all. I firmly believe that Golden State's head coach Steve Kerr is a much smarter basketball mind and head coach than given credit for, that he is one of the best coaches in the game, and that Durant leaving Golden State could have been a sizable mistake and misstep in hindsight. I know it's one game and Milwaukee is especially great at home, but this is still concerning for Brooklyn, nonetheless.  James Harden didn't look to be anywhere near as good or dominant as he had been in the Houston Rockets years, and the Nets will need Durant and Harden to gel together.  Otherwise, the Nets could be in for yet another disappointing season, and I'm thinking that Giannis and the Milwaukee Bucks may actually be the favorites to win the 2022 NBA championship instead.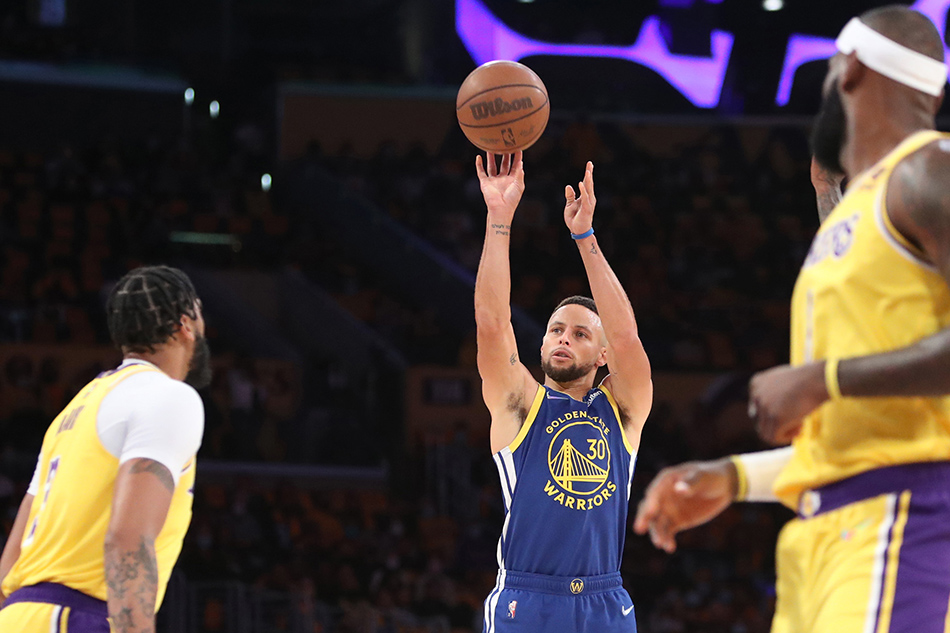 The Golden State Warriors vs. the Los Angeles Lakers
One of the most impressive aspects of the Warriors' win was much improved depth around Stephen Curry and Draymond Green, because the supporting cast really shined throughout this game.  Nemanja Bjelica was making threes, he moved the ball well, and he consistently took advantage of switches and made great decisions throughout the game.  This seemed to be the first time where he was on a legitimately good NBA team that fully optimized his talents on the floor.  Also, Jordan Poole did a great job of shooting the basketball, and he excelled as a sharpshooter and scorer on the floor.
For the Los Angeles Lakers, Anthony Davis was very impressive in the first half.  He dominated with his scoring skills early on, and he did a terrific job of blocking shots.  It was a great move by the Lakers to use Davis more at center, and from the look of how the first half had shaped up, it seemed as if the Lakers would go on to win this, even though they didn't.  LeBron James also played very well, and he was throwing down thunderous dunks. In addition, Avery Bradley did a very good job of spotting up to knock down corner threes, and he and Kent Bazemore hustled to provide, tough feisty defense when they were on the floor.
On the other hand, I didn't get a great feel for Russell Westbrook out there, and it didn't seem as if they had enough shooting or scoring on the floor.  Westbrook rarely was able to get out in transition, and he didn't shoot the ball very well.  Offensively, the Lakers struggled to get enough floor spacing or ball movement down the stretch, and they were unable to keep up with the tremendous shooting or scoring output from the Warriors in the fourth quarter. On defense, the Lakers also allowed a lot of open looks, and the Warriors were able to dominate late in this game to run away with a double-digit victory.
If this version of the Golden State Warriors are here to stay, than this could be a great season in the NBA.  I've been waiting for the Golden State Warriors to make a comeback to get back to the playoffs, and this definitely looks like it could be the year, especially if they can get Klay back and stay healthy.  The Warriors were really fun to watch, as they shot the ball well, did a great job of moving the basketball, and they played smart, creative basketball that shows why head coach Steve Kerr is still one of the best coaches in the NBA.  To me, the Lakers played well, but they were outplayed and outclassed by the Warriors tonight, and the Warriors were terrific in this game.  If the Warriors can keep playing this well, they could go very far in the playoffs, to the point where they could even be the sleeper team to come out of the West if they can keep up their strong play throughout the new NBA season.