Thoughts on Games 3 and 4 of the 2021 NBA Finals
July 16th, 2021
By Alan Lu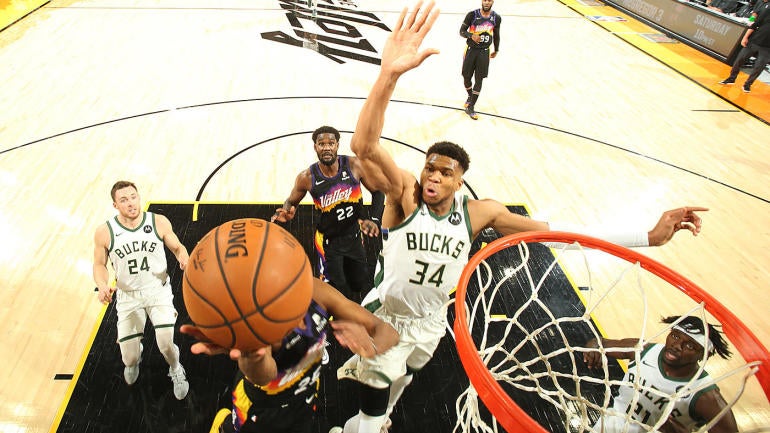 Everybody on the Milwaukee Bucks played much better when they went home. In Game 3, the Milwaukee Bucks had a great game all-around.  They got some energy from Bobby Portis.  Khris Middleton and Jrue Holiday played significantly better.  They were able to go on a big run at the end of the second quarter, as well as in the third quarter to blow out the Suns.
Most importantly, they were able to get a great game out of superstar forward, Giannis Antetokounmpo, and he had 41 points, 13 rebounds, and 6 assists.  He also enjoyed being at the soothing presence of his home court, which allowed him to make free throws at will.  Also, because Ayton was in foul trouble, Giannis was able to dominate, as he really took over the game.
Scott Foster was reffing Game 3, so DeAndre Ayton got into some foul trouble, Devin Booker didn't have a great shooting night.  Their role players aside from Cam Johnson and Jae Crowder generally didn't play well.  Jae Crowder was able to hit some threes, Cam Johnson had a monster dunk over P.J. Tucker, but the Suns did not defend well at all in this game.
The Milwaukee Bucks responded really well to playing at home in Game 3, and they were able to get the win.  The Phoenix Suns still have the series lead as they are up 2-1, but the Bucks have consistently shown that they will play very well on their home court.  This is shaping up to be a long series, and it could likely end up going 6 or 7 games.
Game 4 was a sloppy, grind-it-out kind of game early on.  In this game, both teams really struggled to make threes, and it was a defensive battle, especially in the first half.  Despite that, both teams showed a proficiency for knocking down mid-range jumpers, and this was pretty much like an old school basketball game.  In the end, the better team excelled at taking what the defenses were giving them, and the Milwaukee Bucks ended up making more plays than the Phoenix Suns to get the win.
The Suns were able to get a dominant performance from Devin Booker, but Chris Paul and DeAndre Ayton struggled.  Booker scored 42 points, but neither Paul nor Ayton shot the ball very well, and it was uncharacteristic for Paul and Ayton to shoot the ball as poorly as they did in this contest.  Paul had trouble knocking down jump shots, and Ayton was struggling to finish plays in the paint, especially in traffic.
For Milwaukee, Giannis was dominant in the paint, and Khris Middleton did a great a job of shooting and scoring the basketball, as he managed to score 40 points.  Though Jrue Holiday didn't have the best offensive game, he was pressuring Chris Paul all night to force his opponent to have an off night.
The Milwaukee Bucks made a lot of key plays down the stretch to pull out a close win.  On top of it, Devin Booker was in foul trouble, and there were a couple of times where he could have fouled out of the game. Milwaukee got some big stops, and Middleton was great down the stretch.  Giannis had a tremendous block on an alley-oop that was intended for Ayton, and that helped seal the win for the Bucks.
Overall, it wasn't at all a well-played game, but Milwaukee made clutch plays at the end to get the win, and to even the series at 2 apiece.  The Milwaukee Bucks have proved themselves to be a formidable opponent for the Phoenix Suns.  Khris Middleton has been tremendous for his team at home, and the Bucks' role players have really stepped up to make key shots and get key stops for their team.  The Bucks could win it all, especially if they win all the home games, and if they can win a game on the road.