Thoughts On Game 5 and Game 6 of the 2021 NBA Finals
July 20th, 2021
By Alan Lu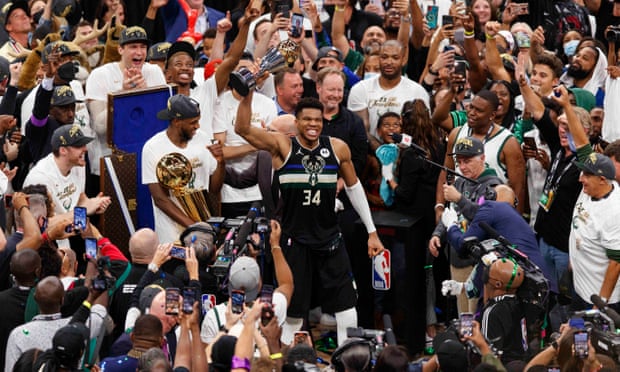 Congratulations to the Milwaukee Bucks for winning the 2021 NBA Finals! It was a hard fought series in which they won in 6 games against the Phoenix Suns, and it wasn't easy. Tonight, we were treated to a performance for the ages by Milwaukee's superstar forward, Giannis Antetokounmpo, as he scored 50 points, had 14 rebounds and 5 blocks in Game 6 tonight to lead his team to defeat the Suns, and Giannis also was named the 2021 NBA Finals MVP. Below I will write my thoughts for both Games 5 and 6 of the 2021 NBA Finals in this article.
Game 5 Thoughts:
The Milwaukee Bucks won Game 5, but it didn't always seem that way when the game was being played.  In the beginning, Phoenix came out smoking in the first quarter.  They came out strong, and my first impression was that they were going to run away with it.  They didn't though, and we as viewers were all the better for it, because we got treated to see a classic NBA Finals game.
Milwaukee started a run without Giannis in the second quarter, while Giannis was resting and they maintained it.  They were able to knock down threes and dominate inside and on the glass.  Khris Middleton had a slow start, but he started getting going later on.
In the third quarter, the Milwaukee Bucks pushed the lead to double digits.  The Phoenix Suns then started a furious comeback.  Devin Booker had another 40-point game.  Chris Paul though he struggled, made some shots to close the gap. 
Milwaukee's Jrue Holiday was great throughout on both ends of the floor.  He scored 18 points in the first half, and he scored 27 points and he played well throughout to help his team get the win. Late in this game, he made a key steal on Devin Booker, and he threw a nice pass to help Giannis score on an alley-oop dunk to basically seal the game.
Overall, Milwaukee got a strong performances from their three stars.  Their role players played well.  Pat Connaughton knocked down threes.  Bobby Portis gave good energy.  Brook Lopez chipped in key moments.
For Phoenix, their role players played well.  Mikal Bridges hit a lot of shots.  However, Chris Paul didn't play up to his normal level.  DeAndre Ayton started to wear down, because he's basically their only big man, and the lack of a decent backup (due to Dario Saric being injured due to tearing his ACL) and the responsibilities of guarding Giannis really has worn Ayton down this series.
Milwaukee is playing very well as they're up 3-2 in the 2021 NBA Finals against Phoenix, and they're looking like they can close out the Phoenix Suns in Game 6 on Tuesday.  Some people wonder if Chris Paul will get another shot at the NBA Finals, and some seem to be skeptical on that.  Game 6 will be very interesting, as it will be held in Milwaukee, and we'll be expecting a great game for what could be the final game of the 2020-21 NBA season.
Game 6 Thoughts:
Giannis Antetokounmpo put forth a performance for the ages. He scored 50 points to will his team to a Game 6 win and to become NBA champions this year. He was terrific at driving the ball to the basket to score at will, he made tough shots in the post, and he was also able to make mid-range jumpers.
Even more impressive, he shot the ball extremely well at the free throw line, which allowed him to use his aggressiveness to his advantage on offense. He also moved the ball well and excelled as a rebounder. He also played very well defensively, and he did a great job of blocking shots to make it difficult for his opponents to get their shots up. Giannis put his signature on the game, and this was truly a performance for the ages, and it will be a defining hallmark of his career.
In Game 6, the Milwaukee Bucks got off to a very good start.  They were up double digits after the first quarter due to the strong play of Giannis Antetokounmpo.  In the first half of the first quarter, both teams were relatively sluggish.  The Bucks pulled away to get a double-digit lead at the end of the first quarter, as Giannis was pouring on the points.
In the second quarter, the Bucks' offense started to slow down as they struggled to make shots, and the Phoenix Suns caught up.  Chris Paul and Devin Booker were making mid-range shots consistently at that time, and they also had some timely threes from Jae Crowder in this time span.
In the third quarter, Giannis really started becoming even more assertive, and he had 20 points in the third quarter alone.  He was really attacking the rim and his ability to draw fouls shifted the momentum back in Milwaukee's favor.
In the fourth quarter, the Milwaukee Bucks kept up the momentum.  Giannis was terrific in this game, as he ended up scoring 50 points, and they also received strong play from Khris Middleton and Bobby Portis.  Portis made clutch shots, and they also had solid defense from Jrue Holiday. 
Brook Lopez also played well, and he was able to throw down a powerful slam to really rev up the crowd. Meanwhile, Paul and Booker, and the Suns' role players faltered late, and the Suns really struggled to shoot or defend, and they were also prone to getting balls stolen away from them.  The Milwaukee Bucks were able to pull away from the Phoenix Suns by consistently making solid plays on both ends of the floor.
The Milwaukee Bucks were able to win Game 6 to close out the series, and to win the NBA championship over the Phoenix Suns in the 2021 NBA Finals.  Giannis Antetokounmpo had a legendary performance.  He scored 50 points, had 14 rebounds, and 5 blocks, and he did a tremendous job of making his free throws, and he and head coach Mike Budenholzer really had a dominant showing to help make this Bucks' team champions of this season.
Congrats to the Milwaukee Bucks for winning the NBA championship!  It was a terrific season, and here's to hoping that next year will be every bit as good as it was this past year.  Thanks for reading.