Thoughts From The First Two Games Of The 2021 NBA Finals
July 10th, 2021
By Alan Lu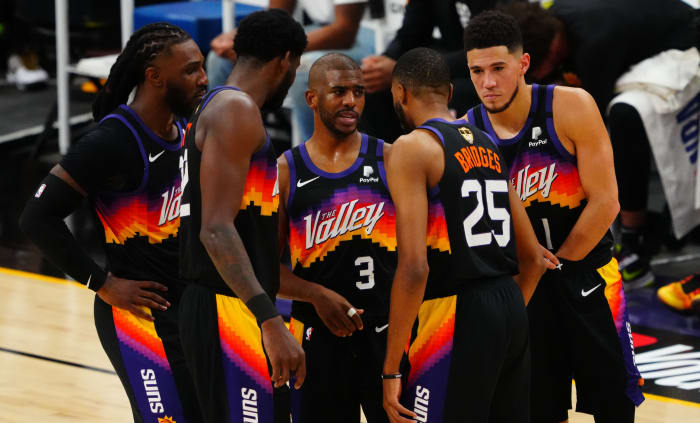 In Game 1 of the 2021 NBA Finals, The Milwaukee Bucks struggled to reintegrate Giannis into the lineup, as their team didn't really flow well together.  Everybody on offense wasn't as aggressive as they normally were.  The officiating was weird, because there was a huge free throw discrepancy in favor of Phoenix, in particular for Devin Booker and Chris Paul.
Milwaukee tried switching with Brook Lopez and their big men, but that didn't work because Chris Paul and their perimeter players could really hurt them with the mid-range game.  Also, Lopez was unable to close out effectively, because on one three-point shot he tried to contest, he was called for a Flagrant 1 when attempting to contest Chris Paul's three, due to a new rule the NBA set up to prevent players such as Zaza Pachulia from undercutting the feet of shooters.
The Milwaukee Bucks did find some success by going small, so that may be something they can build off of.  They were able to get a little bit of a rally in the fourth quarter.  Bryn Forbes was making shots, and Giannis started to get a feel for his game again.
Brook Lopez and Bobby Portis did not play well in Game 1, and Milwaukee will probably need them to bounce back if they hope to win Game 3.  Otherwise, the Bucks may have to go to smaller lineups, because they really struggled to guard Phoenix's perimeter players.  Booker and Chris Paul had their way, and both Cameron Payne and Cameron Johnson were extremely effective as shooters and scorers on the floor.
Phoenix Suns' star center, DeAndre Ayton was very effective as a rim runner and rebounder, and he really thrived in Game 1, as he scored 22 points, had 19 rebounds, and he also made 80% of his field goals. Dario Saric tore his ACL in Game 1, and he will miss the rest of the NBA Finals. In Game 2, Torrey Craig took a charge from Giannis at basically at full speed, and he got hurt, and he is now day-to-day, as it is uncertain when he will come back to play in the NBA Finals.
In Game 2, The Phoenix Suns shot the ball really well, and Chris Paul and Devin Booker were dominant.  Giannis played better in Game 2, but Khris Middleton and Jrue Holiday did not shoot the ball very well, so the Milwaukee Bucks fell short.  Therefore, the Phoenix Suns were able to take a 2-0 lead over the Milwaukee Bucks, and they have dominated so far in the 2021 NBA Finals.
It will be very interesting to see if the Bucks can fully reintegrate Giannis and their team back together, and they will need their role players to step up and play as well as they did against Atlanta.  The Phoenix Suns are quickly looking to be a tough matchup for the Milwaukee Bucks, especially if they keep getting a disparate number of foul calls thrown their way.  For the Bucks to get back in this series, we will need to see the Milwaukee team that adjusted so well without Giannis against Atlanta to merge back with playing with Giannis in order for them to have a good chance of bouncing back in this series.  Otherwise, this series could be shorter than expected, and the Phoenix Suns could emerge as the future 2021 NBA champions.