The 2023-24 Philadelphia 76ers' Season Preview
September 27th, 2023
by Alan Lu
Last year featured some very high highs, and some very low lows for the 76ers. They were very good in the regular season, which culminated in Joel Embiid winning the MVP.  However, after taking a lead in the second round, they lost Games 6 and 7 to Boston, and most disappointingly, neither Embiid or Harden played very well in their Game 7 loss to the Celtics. Questions remain about their long-term future, with Harden's willingness to come back in doubt.  They also fired their head coach Doc Rivers, and replaced him with Nick Nurse.
This season, disgruntled star James Harden went on a fiery rant on his former friend and current GM Daryl Morey in China, and while the 76ers plan to keep him, it puts into question if he even plans to suit up and give his full effort, and if he will play hard for new coach, Nick Nurse. If he does and buys in to Nurse's system, the 76ers could be title contenders for the 2023-24 season. Otherwise, they could end up having an earlier exit in the playoffs than anticipated.
Joel Embiid is the reigning MVP, but he will have to help his team make a deeper playoff run in 2024, with Harden being disgruntled complicating matters for the Philadelphia 76ers.
(Photo: Matt Slocum/The Associated Press, via Sportsnet)
Star Players:
C Joel Embiid and G James Harden
Joel Embiid is the reigning MVP, and he is a very skilled, superstar center that can dominate out of the post, and he also has built up a reliable jump shot over the years. James Harden has excelled as a tremendously skilled guard that can score and facilitate. However, both of them will need to play considerably better in the playoffs to give their team a real shot at winning the title in 2024.
Additions:
G Patrick Beverley, C Mo Bamba, C Filip Petrušev, G Terquavion Smith, G-F Ricky Council IV, and C Ąžuolas Tubelis
The 76ers made some moves to retool their roster, and their most notable additions were signing Patrick Beverley and Mo Bamba in the offseason. Patrick Beverley is a strong, tenacious defensive player that will give them quality minutes as the team's backup point guard (assuming Harden comes back), and Mo Bamba is an athletic, young big man that can stretch the floor and provide rim protection for their team. Petrusev is a skilled big man whose solid offensive skills will allow him to compete for playing time, and the 76ers also added a slew of talented rookies on two-way contracts that could help them in the future.
Subtractions:
F Georges Niang, G Shake Milton, F Jalen McDaniels, C Dewayne Dedmon, F Louis King, and G Mac McClung
The 76ers lost a slew of role players, and their depth may have taken a hit, but the 76ers will be leaning on their younger players to make back their bench production this season.
Rookies:
C Filip Petrušev, G Terquavion Smith, G-F Ricky Council IV, and C Ąžuolas Tubelis
The 76ers will be bringing in a slew of talented rookies to help them, and while there may not be many minutes to be had, depending if Harden returns or not, Petrusev and Smith are the most likely rookies to get some playing time this season.
Petrusev and Tubelis figure to be in the mix for a backup center spot, and while both could look to improve defensively, their offensive skills could allow them to be effective contributors this year. Smith is a speedy combo guard that could see some minutes, especially if Harden decides to hold out much in the same way that Ben Simmons did years ago. Council isn't likely going to play much this year as he'll probably spend most of his team in the G-League for the Delaware Blue Coats, but could project to be a solid bench player in the future.
Expected Rotation:
Tyrese Maxey is an up-and-comer that turned in some really good performances last season, but the question is if his role is large enough, or if the 76ers can allow both Harden and Maxey to flourish without alienating either of them for the upcoming season.
(Photo: Bill Streicher/USA Today Sports, via Liberty Ballers)
The 76ers have a solid group of starters that are built around the talents of their reigning MVP, Joel Embiid. They have been able to rack up wins in the regular season, but have struggled to translate that to the postseason.
They'll probably need James Harden to forgive his former friend and GM Daryl Morey if they wish to be contenders this season, or they may have to trade him elsewhere. They'll also need their top players to perform better in the postseason, and to improve defensively in the playoffs.
Projected Starting Lineup:
Key Bench Players:
Patrick Beverley signed with the 76ers in the offseason, and they're hoping that retooling their bench will give them a better team for both the upcoming season and the future.
(Photo: Jose F. Moreno/The Philadelphia Inquirer)
The 76ers have a solid backcourt off the bench, and Melton is a two-way guard that will consistently make solid plays on both ends of the floor. Patrick Beverley is an experienced point guard that will play terrific defense.
They made a bold move in using their resources to sign Paul Reed to a new three-year deal that would be almost eight figures annually, as he is an athletic, high-motor big man that played well in his role, especially towards the end of the season, but still has not played at least a thousand minutes in an NBA regular season yet. The 76ers also have a slew of talented, but unproven young players that will be competing for rotation spots, and they also were dealt with a blow when Montrezl Harrell went down to an ACL injury prior to the start of the season.
F-C Paul Reed
C Mo Bamba
G-F Kelly Oubre
The Rest of the Roster:
G-F Danuel House Jr.
G-F Danny Green
G-F Furkan Korkmaz
F-C Montrezl Harrell (injured, likely out for the season)
G Terquavion Smith (Two-Way)
G-F Ricky Council IV (Two-Way)
C Ąžuolas Tubelis (Two-Way)
Others in Camp:
G Javonte Smart (Exhibit 10)
G David Duke Jr. (Exhibit 10)
Head Coach: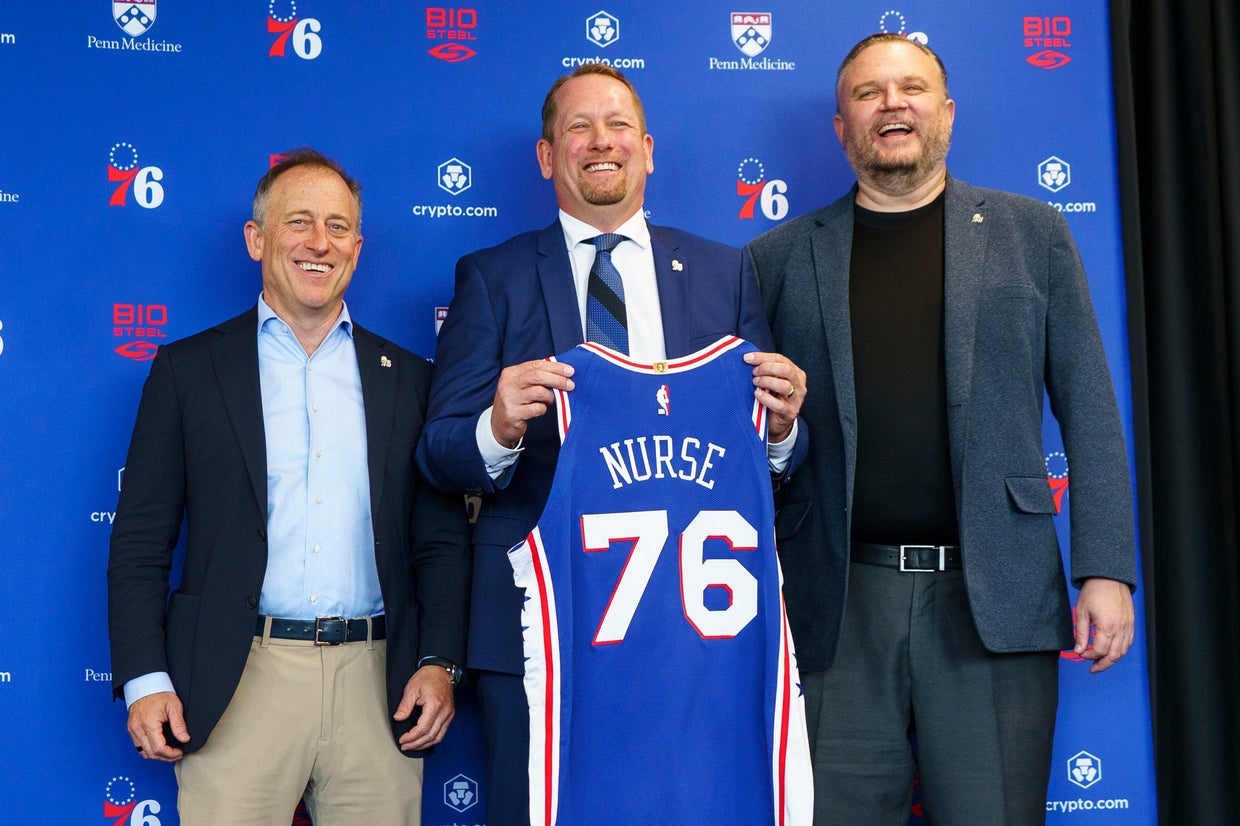 The 76ers hired Nick Nurse to be the head coach for the 2023-24 NBA season, and they're hoping that his creative offensive system will lead them to a deeper playoff run in 2024.
(Photo: Chris Szagola/The Associated Press, via CBS News)
The 76ers swapped out Doc Rivers for Nick Nurse, and like Doc, Nurse is a former NBA champion that has won in the 21st century. They are hoping that he will offer a creative, refreshing approach to help them get to the next level.
Nick Nurse
2022-23 (TOR): 41-41, missed the playoffs
Coaching Career: 227-163, 25-16 in the NBA Playoffs, won 1 NBA title with the 2019 Toronto Raptors
Nick Nurse helped the 2019 Toronto Raptors win the NBA championship in his first year as a head coach, and he's been known for his creativity and solid offensive schemes. It'll be really interesting to see how the 76ers operate with him in charge for the upcoming season, and if they can get Harden on board to play with him and understand his vision, that could be really good for the 76ers. The concern is that his players could tire of him like the Raptors did last year, but Nurse is a solid coach that could offer a fresh new approach for them this season.
Also, for those of you who are interested in hearing a clip of that James Harden's rant in China, here it is.
Outlook: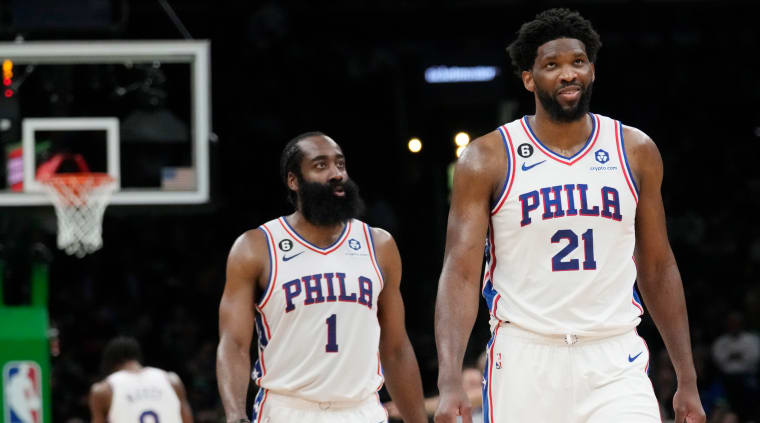 The future remains unclear for the Philadelphia 76ers in 2024. If they all decide that they want to come together, the 76ers could be a formidable team in the East and could contend for the title. Otherwise, if Harden still wants out or decides to show up out of shape at the start of the regular season, the 76ers could be in for a bumpy ride this season.
(Photo: The Associated Press, via Sports Illustrated)
The 76ers have been a solid, mid-tier playoff team for years, but right now, they may be at a crossroads. Though they have the reigning MVP in Joel Embiid, James Harden is disgruntled and seems to want out, and they have an aging core that has struggled to play well in the playoffs. They'll need Nick Nurse to help them figure out how to get the most out of their players in the postseason, and for Harden to come around and soften on his stance and try to make this work for all parties involved. Otherwise, they could be headed for another earlier than expected postseason exit once again.
Projected 2023-24 Finish:
Projected Regular Season Finish: 5th in the Eastern Conference
Expected Playoff Finish: Projected to lose in the 2nd Round
2023-24 Preseason NBA Power Ranking: 7
I went to Basketball-Reference and No-Trade Clause to look up some information for this write-up. It will be an exciting basketball season this year, and I'm looking forward to seeing the in-season tournament to see how that will unfold. Anyways, that is my write-up on my preview of the 2023-24 Philadelphia 76ers. Thanks for reading.