The 2022-23 Toronto Raptors' Season Preview
September 27th, 2022
By Alan Lu
The Toronto Raptors had a very good 2022 season, and they were able to exceed expectations and win 48 games in the regular season under head coach Nick Nurse, and they also won a couple of games against the Philadelphia 76ers before losing to them in their first round series in the playoffs last year.  The Raptors were able to get strong production from their star players, Pascal Siakam and first-time All-Star Fred VanVleet.  Also forward Scottie Barnes also played very well, as he was able to win the Rookie of the Year award last year.
The Raptors brought nearly everyone back, and they also signed veteran forward Otto Porter Jr. away from the defending champions, the Golden State Warriors in the offseason, while also selecting Christian Koloko in the draft to add more depth to their team.  There are a lot of good teams in the East, but the Raptors have a solid group of players to work with as well as a very good head coach, and their fanbase will be very excited for things to come both for this season and in the future.
Star Players:
F-C Pascal Siakam and G Fred VanVleet
Pascal Siakam is an athletic, very skilled big man that can score in a variety of ways, and he also is a solid playmaker and defender.  He passes the ball very well, and he is a strong offensive player.  He may not necessarily look to take over games, but Siakam is a solid all-around player that plays within the team system, and his skill set and versatility will help his team win plenty of games this season.
Fred VanVleet is an agile, skilled playmaker that made his first All-Star team.  He is a very good shooter that can score the basketball, and he is a sound playmaker that can play either backcourt position.  He is a smart, high IQ basketball player that defends well, and he does everything well for his team.  He is a bit undersized for his position, so he may struggle to guard taller opponents at times, but he is a fundamentally sound, skilled point guard whose strong skill set  will enable his team to play well this year.
In addition, the Raptors have a slew of very talented forwards in Scottie Barnes and OG Anunoby, who may not quite be stars yet, but their strong all-around skills combined with their upside make them rising stars that could definitely be stars of tomorrow.
Additions:
F Otto Porter Jr., F Juancho Hernangómez, and C Christian Koloko
The Raptors made a slew of moves in the offseason, but their biggest addition was to sign Otto Porter Jr. away from the Warriors.  Porter is a skilled, versatile combo forward that can do a little bit of everything, and his smarts, skill set, versatility, and championship experience should really strengthen the Raptors this year.
The Raptors also added a slew of veterans that will compete for back-end roster spots this year, one of whom being Juancho Hernangómez, who starred as Bo Cruz in the hit Netflix movie, Hustle that also featured famous actor and comedian, Adam Sandler. In addition, Hernangómez was superb in his team's 2022 EuroBasket finals to give Spain the championship and win over France in the title game, as he scored 27 points and made 7 three-pointers in that game.
The Raptors also drafted Koloko early in the second round with the 33rd pick in the 2022 draft and signed him fairly late in the offseason. Koloko is a very athletic, shot-blocking center that will provide rim protection, but still needs to improve and expand his game offensively. 
Subtractions:
F Yuta Watanabe, G-F Svi Mykhailiuk, and G-F Isaac Bonga
The Raptors lost a couple of players in the offseason, but it's doubtful if any of them would've been regular rotation players for the upcoming season, so they may not have lost any notable players this year.
Rookies:
C Christian Koloko and G-F Ron Harper Jr.
Koloko and Harper didn't particularly dominate in the Summer League, as both struggled offensively there, and they will be entering a crowded roster where minutes will be hard to come by.  They could see some minutes late in the season, but this year, they will likely spend a majority of their team shuttling back and forth between the NBA and the G-League.
Expected Rotation:
Projected Starting Lineup:
Key Bench Players: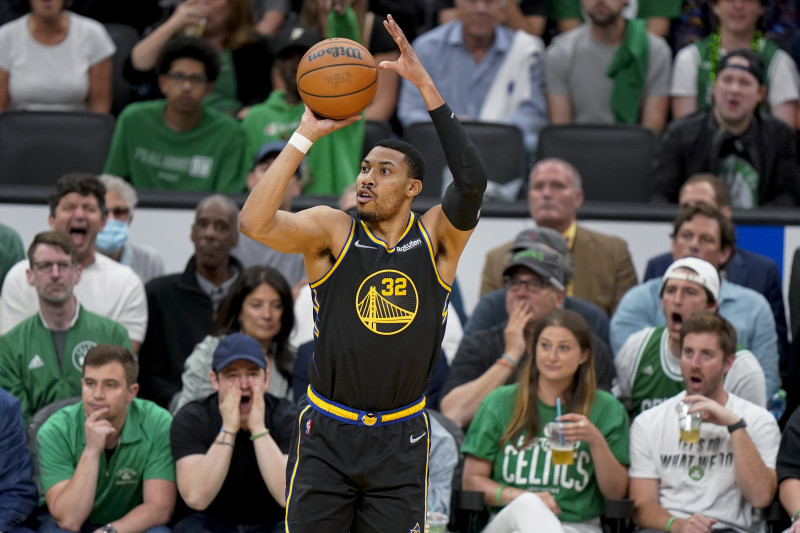 F-C Chris Boucher
F-C Precius Achiuwa
The Rest of the Roster (projected to make the team):
G-F Dalano Blanton
G Jeff Dowtin (Two-Way)
G-F Ron Harper Jr. (Two-Way)
Others in Camp:
F-C D.J. Wilson
G-F Gabe Brown (Exhibit 10)
Head Coach: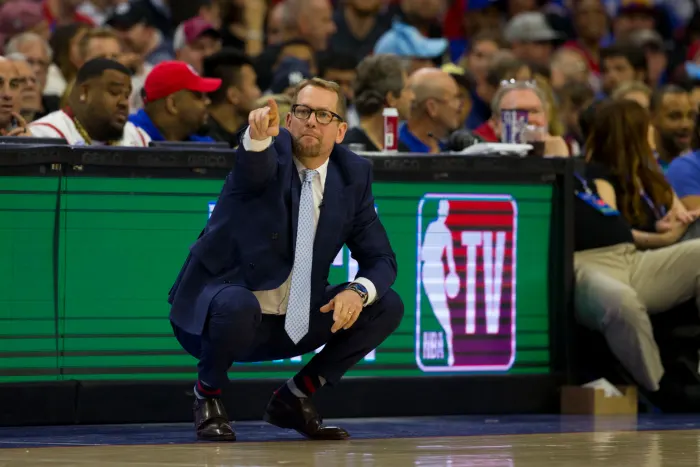 Nick Nurse
2021-22 (TOR): 48-34, 2-4 in the playoffs
Career: 186-122, 25-16 in the NBA Playoffs, won 1 NBA title as a head coach
Nick Nurse is one of the best coaches in the NBA, and he won as a rookie head coach with the 2019 Toronto Raptors.  After having his first losing season in 2021, Nurse really turned it around by helping his team win 48 games in the regular season to get them back to the playoffs. 
He is a very smart, creative coach that has implemented a strong system, structure, and culture for the Raptors, and he's been able to maximize the most of what he has to get his team to be competitive in the playoffs annually.  He helped the 2022 Raptors exceed expectations, and the Raptors are expected to be a solid playoff team for the upcoming season.
Outlook:
Last year, the Toronto Raptors exceeded expectations, and they were able to make it to the playoffs, had an All-Star season out of Fred VanVleet, and Scottie Barnes also won the Rookie of the Year award.  This season, they won't be able to sneak up on teams, but their strong group of players, team system, and coaching should help them get back to the playoffs. 

The Raptors are a very good team top to bottom, but their lack of elite front-end talent could make it difficult for them to make a deep playoff run, as they may run into tougher teams that have more superstar talent and firepower.  Still, the Raptors are a well-coached, deep and balanced team that at the very least will be a tough out in the playoffs.
Projected 2022-23 Win-Loss Record and Finish:
Projected Regular Season Finish: 46-36, 6th in the Eastern Conference
Expected Playoff Finish: Projected to lose in the 1st Round to Boston
I went to Basketball-Reference and Spotrac to look up some information for this write-up.  It will be an exciting basketball season this year, and the NBA season will start on October 18th.  Thank you for reading my write-up of the 2023 Toronto Raptors.