The 2022-23 Brooklyn Nets' Season Preview
September 21st, 2022
By Alan Lu
In 2021, the Brooklyn Nets had taken the eventual champions Milwaukee Bucks to seven games and into overtime before losing a close one despite receiving a tremendous, 48-point effort from Kevin Durant.  With Kyrie out due to injuries and having played James Harden who didn't appear to be at full strength, it was assumed that the Nets would be strong title contenders heading into the 2021-22 season, and they would become a popular preseason pick to win it all.
However, last year was a tremendous disappointment for the Nets.  Kyrie Irving missed a lot of time due to his unvaccinated status that clashed with New York's vaccine mandate, and his unwillingness to get vaccinated caused him to miss a lot of games, especially home games.  The Nets later allowed him to play road games, and then New York revised their mandate to allow athletes and entertainers to play regardless of vaccination status.  But as the season progressed, James Harden became increasingly disgruntled, and the Nets traded him to Philly for Ben Simmons, Seth Curry, and Andre Drummond.  Kevin Durant was asked to carry an injury-plagued and a distraction-prone team for most of the year, but the Nets only won 44 games in the regular season, and only managed to snag the 7th seed in the East.
Still, they were thought to be a sleeper pick by some, but they then got swept by the Boston Celtics in four games in their first round series of the 2022 playoffs.  Neither Durant nor Kyrie played particularly well, their team didn't defend well, and they didn't muster nearly enough from their bench.  The Nets will finally get a healthy Ben Simmons, who missed all of last season, but while Durant, Simmons, and Irving will play together for the first time, the optimism in Brooklyn has faded, with their hopes of title contention not looking to be nearly as great as it looked heading into last year.
Star Players:
F Kevin Durant, F Ben Simmons, and G Kyrie Irving
Kevin Durant is a superstar forward that has won two NBA championships with Golden State in 2017 and 2018, and he is a tremendously skilled scorer that shoots the ball very well and can make shots from anywhere on the floor.  He can play any position he wants on the floor, and he is a rangy defender that can lock down his man when dialed in.  He had an uncharacteristically subpar 2022 playoffs, but Durant is still a tremendous player that can help his team go on a deep playoff run.
Ben Simmons is a very tall, skilled point forward that has strong playmaking and defensive skills.  He has outstanding court vision that allows him to rack up assists at will, and he is a rangy defender that can play shutdown defense and has the capability of guarding any position on the floor.  He's not a great outside shooter and some lament that he is unselfish to a fault and his tendency to not take shots in the fourth quarter, but he could be a great set up man for the Nets this season.
Kyrie Irving is a very agile, talented point guard that can dominate and take over games when he wants to, but he is also a mercurial and unpredictable playmaker whose off-court behavior can sometimes draw unwarranted attention.  He's missed considerable time over the years due to injuries and off-court issues, and there are concerns that he can sometimes tend to be a ball-stopper and not always play team basketball.  When he does though, he can help teams win games, and he's last won an NBA championship in 2016 as a member of LeBron's Cleveland Cavaliers' team back then.
Additions:
G-F Royce O'Neale, F T.J. Warren, F Markieff Morris, G Edmond Sumner, and F Yuta Watanabe
The Nets lost out on Bruce Brown in free agency, but they replace him with another defensive specialist in Royce O'Neale.  O'Neale will make back the toughness and defense that Brown provided and may also provide a little more outside shooting. 
They also signed a skilled, but oft-injured scoring forward in TJ Warren, who scored 53 points against Philadelphia in the 2020 Orlando bubble, but also has played just 4 games in the past two seasons.  Markieff Morris is a skilled big man that can shoot the ball, but has missed time due to injuries. Edmond Sumner is an agile, big point guard that also missed the entire season due to injury, and he will look to try to crack the Nets' rotation.  Yuta Watanabe is a skilled combo forward that could project into a 3 and D role off the bench this year.
Subtractions:
G-F Bruce Brown, F Blake Griffin, C LaMarcus Aldridge, C Andre Drummond, G Goran Dragić
The Nets lost a lot of key role players, but their biggest loss was their defensive ace Bruce Brown, who was their stopper for last season.  Brown provided solid playmaking and defensive skills, and while he didn't have a great outside shot, he could operate as a roll man on offense despite being a bit undersized.  Griffin, Aldridge, and Drummond were big guys that could score, with Griffin and Aldridge being able to stretch the floor, and Drummond having provided some rim protection.  Goran Dragic was a former All-Star that used to be a very good point guard, especially on offense, but he's coming off his worst season in the NBA.

Rookies:
He is a skilled combo guard that has solid playmaking skills, and he also will make hustle plays to help his team on both ends of the floor.  He will need to improve his jump shot, but his size, playmaking skills, and basketball IQ could allow him to see the floor this year, especially late in the season.
Expected Rotation:
Projected Starting Lineup:
Key Bench Players:
G-F Royce O'Neale
The Rest of the Roster (projected to make the team):
F Yuta Watanabe (Exhibit 10)
G Chris Chiozza (Exhibit 10)
G Alondes Williams (Two-Way)
Head Coach:
Steve Nash
2021-22 (BRK): 44-38, 0-4 in the playoffs
Career: 92-62, 7-9 in the NBA Playoffs
After helping lead Brooklyn to win 48 games in a shortened 2021 season and almost getting them to the Eastern Conference Finals as a rookie head coach, Nash regressed considerably in his second year with the Nets.  They won just 44 games last year, and his team was swept by the 2nd seeded Boston Celtics in the first round of the playoffs. 
Even worse, his team really struggled to defend, and they couldn't close out their opponents any time the game would get close in the postseason.  There are concerns that they lost valuable coaches after his rookie season, and he got swept by his former assistant Ime Udoka in last year's playoffs, and Mike D'Antoni also left Nash right after Nash's rookie season.  While Nash is expected to get his team to the playoffs, he may find himself on the hot seat if he is unable to lead Durant and the Nets out of the first round in 2023 once again.
Outlook: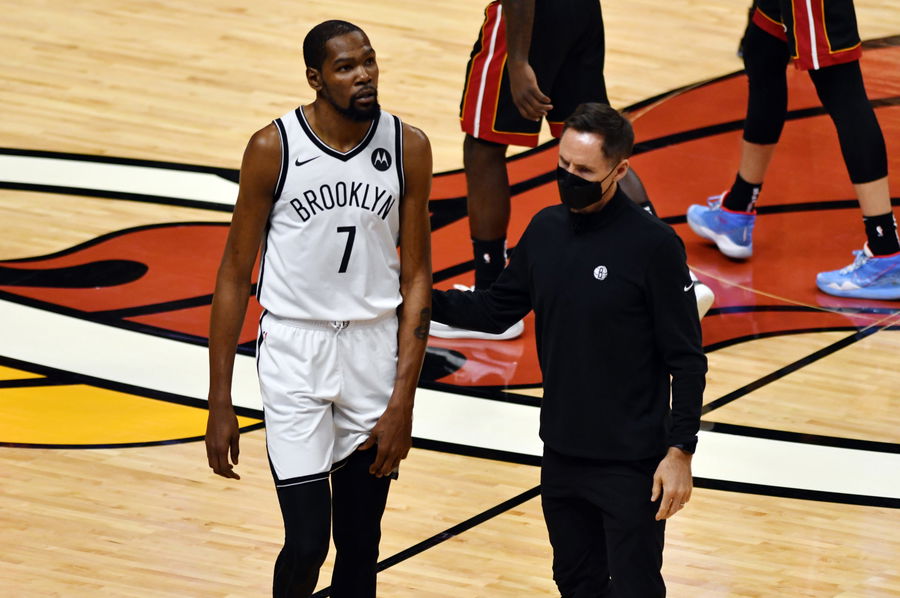 The Brooklyn Nets are a wild card team that could either make a very deep playoff run, or they could just as easily get eliminated early on just as they did last year.  They'll need to eliminate any and all of the distractions to improve and maximize the most of their chances right now, and it's clear that Kevin Durant paired with Ben Simmons and another star player (presumably Kyrie Irving) should give them a very good chance at winning in the postseason.
However, Durant and Kyrie Irving didn't play very well against the Celtics in last year's playoffs, and Ben Simmons has been maligned for his perceived passivity and for his unwillingness to take outside shots.  Head coach Steve Nash will need to do a much better job of coaching and leading his team in the playoffs then he did last year, or they could fall short in the postseason just as they did in 2022.
Projected 2022-23 Win-Loss Record and Finish:
Projected Regular Season Finish: 42-40, 10th in the Western Conference
Expected Playoff Finish: Projected to win both of their play-in tournament games to get into the playoffs as the 8th seed, and projected to lose in the 1st Round to Philadelphia
I went to Basketball-Reference and Spotrac to look up some information for this write-up.  It will be an exciting basketball season this year, and the NBA season will start on October 19th.  Thank you for reading my write-up of the 2023 Brooklyn Nets.