Previewing the 2022-23 New York Knicks
September 19th, 2022
By Alan Lu
The New York Knicks had surprisingly made it to the 2021 playoffs, as head coach Tom Thibodeau was named Coach of the Year, and All-Star forward Julius Randle was named the Most Improved Player that year.  They lost in five games to the Atlanta Hawks in the first round, but it was thought that bigger and better things were supposedly to come for 2022.
Last year though, despite adding Evan Fournier and Kemba Walker in the offseason and getting off to a strong start, the Knicks ended up losing a slew of games, and they missed the playoffs in 2022.  They then traded Kemba away along with Alec Burks and Nerlens Noel to free up cap space, which enabled them to sign star point guard Jalen Brunson away from Dallas, and they also signed Isaiah Hartenstein to be their backup center.  There, they will have Brunson team up with Randle and R.J. Barrett, a scoring wing that also can play the point if necessary.  Whether this will be enough for the Knicks to make it back to the playoffs may not be certain, but it's given Knicks' fans a little more optimism heading into the season.
Star Players:
G Jalen Brunson and F Julius Randle
Jalen Brunson is an agile, skilled playmaking point guard that does a very good job of shooting, scoring, and passing the basketball, and he was able to lead the Dallas Mavericks to a pair of wins in the first round over Utah in absence of Luka Doncic, which enabled them to defeat Utah in their first round series once Doncic got healthy.  Much has been made about Brunson's perhaps exorbitant contract, but he will give their backcourt and team a boost this season.
Julius Randle had a tremendous 2021 season, only to follow it up with a relatively disappointing year.  Still, he's a strong, athletic big man that does a very good job of attacking the hoop to score the basketball, and he is also a good facilitator and rebounder that consistently will put up numbers to help his team on the floor.  He will need to improve his outside shot and defense, but he is an All-Star caliber player when he's playing at top form.
Additions:
G Jalen Brunson and C Isaiah Hartenstein
The Knicks were able to land a major free agent signing in getting Jalen Brunson to join them in the offseason.  Hartenstein had his best season last year, and he is an effective, per-minute, backup big man that will play solid minutes for the Knicks off the bench.
Subtractions:
G-F Alec Burks, C Nerlens Noel, G Kemba Walker, and G Ryan Arcidiacono
The Knicks lost a couple of key rotation players in Burks and Noel, and they also traded away arguably their most disappointing acquisition by packaging Kemba away in a trade with them to Detroit.  Burks is a solid, versatile combo guard that can shoot, pass the ball, and run the point, and he proved to be a reliable role player last year.  Noel struggled with injuries last year, but has proven to be a solid, shot-blocking, rim protecting center when healthy.  
Kemba Walker was in Thibodeau's doghouse after about a month's worth of hot shooting, and intermittently played for them before shuttling back into the doghouse permanently at the end of the season.  Some Knicks' fans would like to forget that they ever acquired Kemba, but that it became disastrous and tumultuous for the both of them is also on Thibodeau for not being able to make it work, as well as the management for not asking him on how to build the roster, as Thibodeau sometimes is known for his stubbornness and rigidity, which could both help and hurt his team depending on the circumstances.
Rookies:
Trevor Keels is a very athletic, strong combo guard that excels at attacking the hoop to score the basketball, and he also thrives as the lead ball handler.  On the other hand, he will need to improve his jump shot and point guard skills, and he will still need to refine his overall game.  He may need to spend most of his time polishing his skills in the G-League this season, but he is a talented player that may have considerable upside for the future.
Expected Rotation:
Projected Starting Lineup:
Key Bench Players:
F-C Obi Toppin
G-F Quentin Grimes
The Rest of the Roster (projected to make the team):
G-F Cam Reddish
F Feron Hunt (Two-Way)
G-F DaQuan Jeffries (Exhibit 10)
G Ryan Arcidiacono (Exhibit 10)
G Trevor Keels (Two-Way)
Others in Camp:
G-F Svi Mykhailiuk (Exhibit 10)
Head Coach: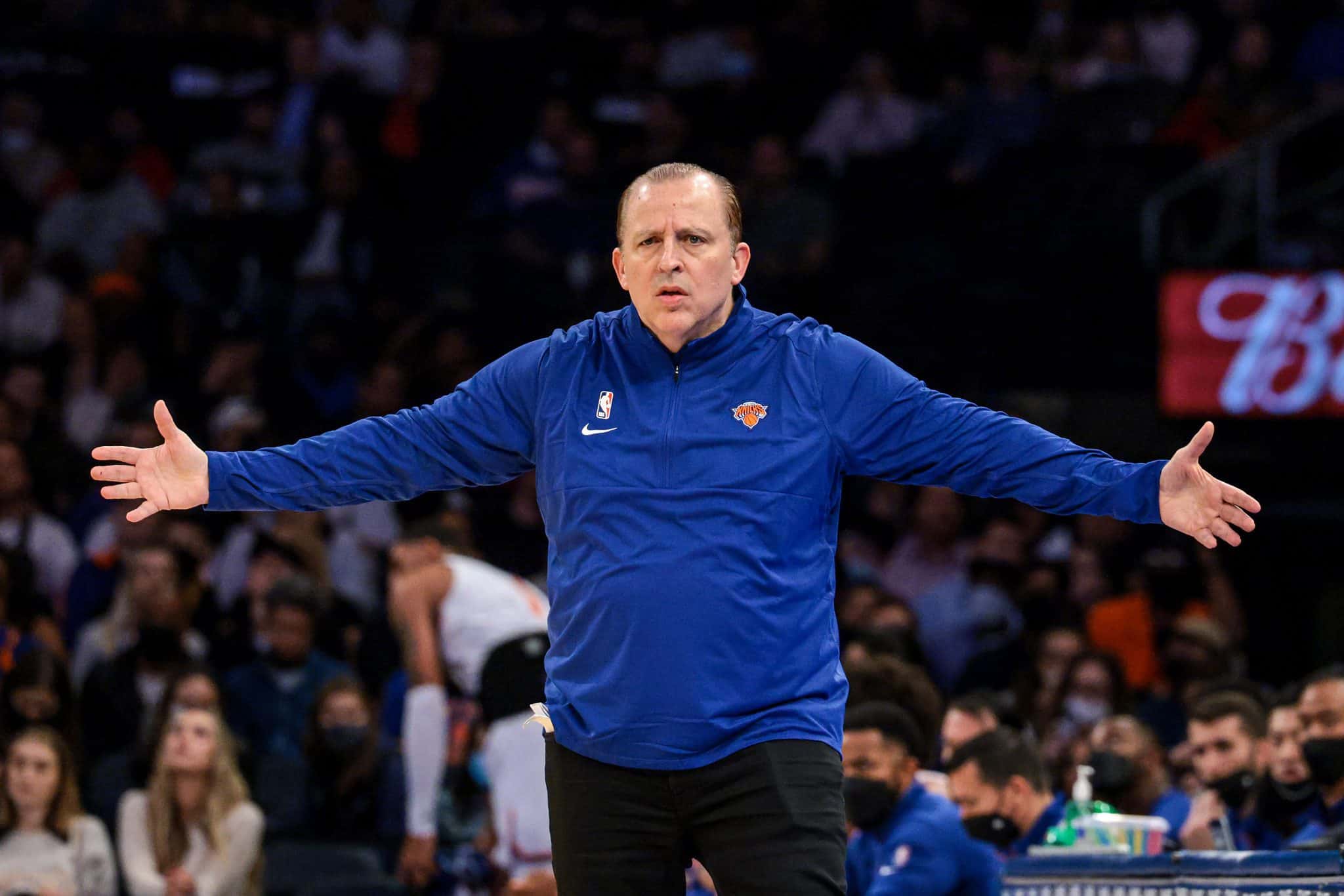 2021-22 (NYK): 37-45, Missed the Playoffs
Career: 430-322, 25-36 in the NBA Playoffs
After having been named Coach of the Year again in 2021 and having led the Knicks to the 2021 playoffs, the Knicks were supposed to build off of that or at least get back to the playoffs last year.  While they still defended well, they struggled considerably on offense as a team, and missed the playoffs in 2022.  Thibodeau was maligned for his team's disappointing season, and that he couldn't find a way to make it work with Kemba or get his team to the playoffs despite giving Randle a massive extension only made things worse.
This year, the Knicks signed Brunson to a lucrative deal in hopes that they can make it to the playoffs, while also giving Thibodeau more talent to work with.  They'll also get a full, healthy season out of Mitchell Robinson, who is a very athletic rim protector, but has somewhat stalled offensively, as his game has not really expanded since his rookie year.  R.J. Barrett has taken over games at times, but he and Randle have struggled with inconsistent play.  The Knicks will lean on their starters that consist of Brunson, Randle, Barrett, Fournier, and Robinson, but another failed playoff bid could lead Thibodeau to be metaphorically on thin ice for next season.
Outlook: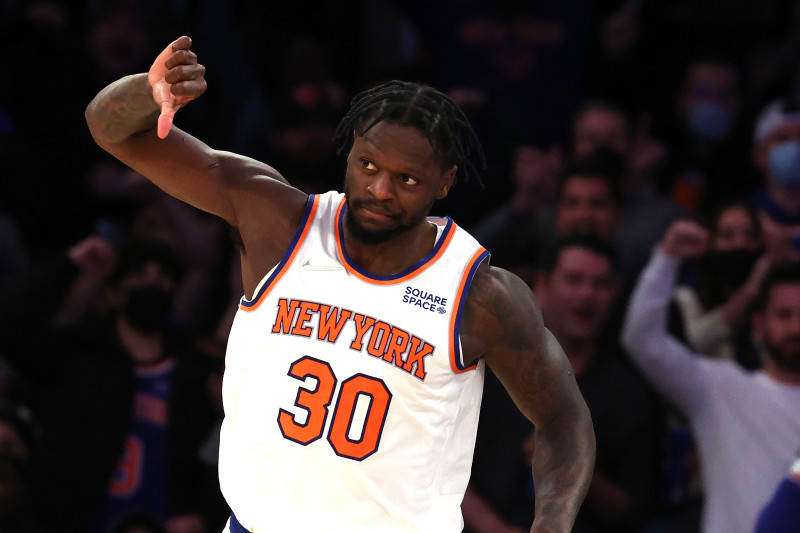 The New York Knicks have a solid set of big men to work with, as they have a lot of size to help their interior, and they also signed Jalen Brunson to give them a talented point guard that can score and distribute to give his teammates the basketball.  Thibodeau hasn't been known to use a deep bench, and he'll likely lean heavily on a set of rotation players for the upcoming season.  There's concern that the Knicks may struggle to adjust their tactics to the modern era and that they may lack the talent or the firepower to make it to the playoffs.  They have a lot of competition out in the East, but the Knicks will look to make a playoff push for the upcoming season.
Projected 2022-23 Win-Loss Record and Finish:
Projected Regular Season Finish: 44-38, 8th in the Eastern Conference
Expected Playoff Finish: Projected to lose both of their play-in tournament games, projected to miss the playoffs
I went to Basketball-Reference and Spotrac to look up some information for this write-up.  It will be an exciting basketball season this year, and the NBA season will start on October 18th.  Thank you for reading my write-up of the 2023 New York Knicks.