Previewing the 2022-23 Dallas Mavericks
September 25th, 2022
By Alan Lu
The Dallas Mavericks had a very good season last year, and superstar point forward Luka Doncic and head coach Jason Kidd were able to lead his team to get to the Western Conference Finals.  There, they faced off against the Golden State Warriors and were able to get a win off of them, but lost to them in 5 games.
In the offseason, they weren't unable to re-sign Jalen Brunson, but they were able to swing a major trade to land Christian Wood.  While they will face stiff competition out in the West, which will make it considerably harder for them to make as far as they did last year, the Mavericks have one of the best players in the game, which could get them back to the playoffs.
Star Players:
G-F Luka Dončić
Luka Doncic is a very skilled, smart point forward that has strong offensive skills, and he is an excellent scorer and playmaker that makes everyone else around him better.  He was able to lead his team to get to the Western Conference Finals, and he could help his team get very far if paired with other stars or high-end complementary players that can fit well around him.
Additions:
F-C Christian Wood, C JaVale McGee, and G Jaden Hardy
The Mavericks swung a major trade to land Christian Wood, and they were able to get an athletic, skilled big man that can score in a variety of ways, rebound, block shots, and provide some interior defense.  They also got a veteran center in JaVale McGee who will help shore up the interior.  Also, they were able to get Jaden Hardy in the draft, who is a very athletic agile scoring guard that can put up points in a hurry, but will need to improve his shot selection in the meantime.
Subtractions:
G Jalen Brunson, C Boban Marjanović, F-C Marquese Chriss, G-F Sterling Brown, and G Trey Burke
The Mavericks made a lot of moves in the offseason, but their biggest loss was not being able to sign Jalen Brunson in the offseason.  Brunson proved to be instrumental in their first-round series win over the Utah Jazz, as he helped them win some games in Doncic's absence, and he is a solid starting point guard that can shoot, score, and run the team.
Rookies:
Hardy is a skilled combo guard that has plenty of upside, but as he will be joining a playoff-caliber team this year, there may not be many minutes for him this season, especially in the early going.
Expected Rotation:
Projected Starting Lineup:
Key Bench Players:
F-C Maxi Kleber
The Rest of the Roster (projected to make the team):
G-F Josh Green
G-F Theo Pinson
G Tyler Dorsey (Two-Way)
G McKinley Wright IV (Exhibit 10)
Others in Camp:
G Tyler Hall (Exhibit 10)
F-C Marcus Bingham Jr. (Exhibit 10)
G-F D.J. Stewart (Exhibit 10)
C Mouhamadou Gueye (Exhibit 10)
Head Coach: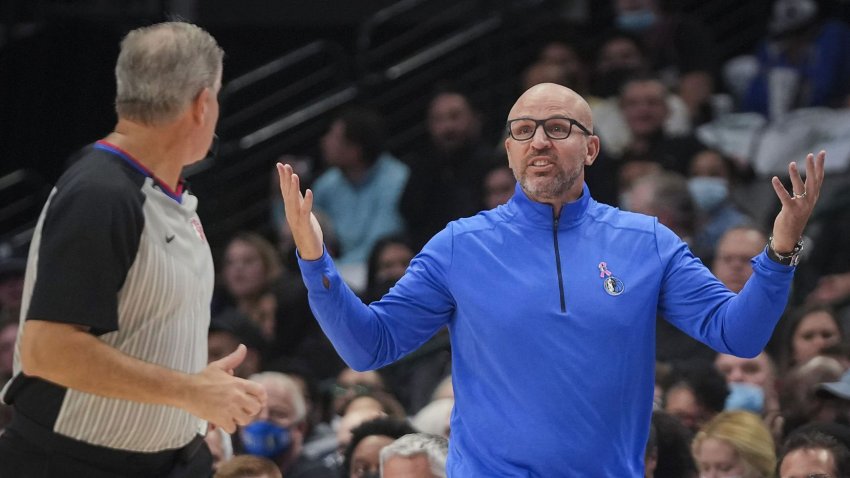 Jason Kidd
2021-22 (DAL): 52-30, 9-9 in the playoffs
Career: 235-220, 18-24 in the NBA Playoffs
Jason Kidd came back rejuvenated and he helped get the Dallas Mavericks to the Western Conference Finals.  He really helped make his team a much more sound defensive team, and they were very effective both Doncic and Brunson out there.  The challenge now will be for his team to get back to the Western Conference Finals, especially with so many good teams out in the West, but the Mavericks are definitely equipped to at least make it back to the playoffs.
Outlook:
The Dallas Mavericks had a very good year last season, and they boast having one of the best players in the NBA in Luka Doncic.  They'll be facing stiff competition out in the West, and lacking a true second star makes it tougher for them to be able to repeat making a deep playoff run once again, although they are hoping that Christian Wood or someone else such as Tim Hardaway Jr. or Spencer Dinwiddie could effectively develop into the second star of their team. Still, they are a cohesive team built around Doncic that is also solid defensively, that could enable them to be very competitive in the playoffs once again.
Projected 2022-23 Win-Loss Record and Finish:
Projected Regular Season Finish: 45-37, 6th in the Western Conference
Expected Playoff Finish: Projected to lose in the 1st Round to Golden State
I went to Basketball-Reference and Spotrac to look up some information for this write-up.  It will be an exciting basketball season this year, and the NBA season will start on October 18th.  Thank you for reading my write-up of the 2023 Dallas Mavericks.