Observations on Borisa Simanic
November 22nd, 2019
by Alan Lu
I decided to take the opportunity to watch Crvena Zvezda's 6-11, Serbian forward, Borisa Simanic play in a Euroleague basketball game against Khimki that took place on Halloween, as I was able to see it with thanks to YouTube via SportBox. Recently, Simanic has been playing very well in Euroleague, which is considered to be arguably the toughest professional basketball league outside of the NBA.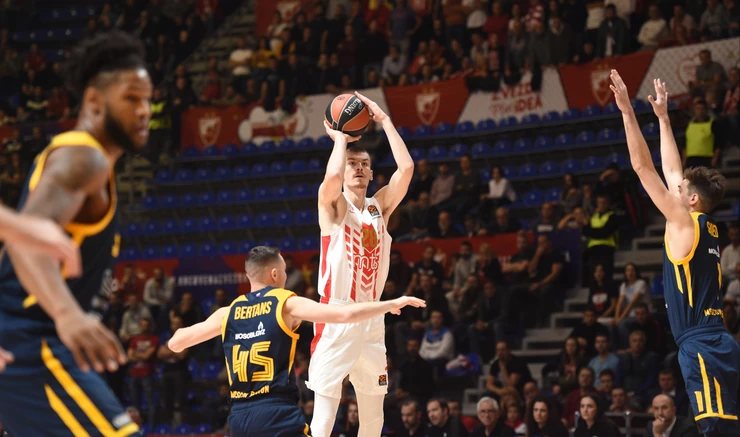 In this game, Borisa Simanic ended up scoring 18 points, as he was the leading scorer in a match that included former NBA players such as Jonas Jerebko, Lorenzo Brown, Charles Jenkins, Sergey Monia, Sergey Karasev, Dairis Bertans, Jeremy Evans, and Alexey Shved. This was all the more an impressive feat, considering that former Cleveland Cavaliers' 2013 1st round pick, Sergey Karasev was held scoreless in just under 18 minutes of play in the same game. I set out to watch Borisa Simanic play in this contest, and here are my thoughts on how he fared, as well as how his game may project to the next level.
Borisa Simanic is a very good shooter that showed a knack for making quick, spot-up threes off the catch to space the floor for his team. He moves fairly well off the ball, and he excelled at making shots off of catch and shoot opportunities. He also can make threes on pick and pop plays, as he is a deceptively quick player that has a fairly compact, repeatable stroke.
He also will set plenty of screens for his teammates, and doing so allowed him to get open in the post, as he was able to get the ball, and he made a power dribble before scoring on a smooth layup around the basket. Simanic will also look to score on off-ball motion plays, though his teammates would not always be able to find him on those plays. He also doesn't really look to handle the ball that much, so he may struggle more to create his own shot or to score in isolated, one-on-one situations.
Plus, he also is an unselfish player that will swing the ball to find the open man to set up scoring chances for his teammates. Simanic will set on and off ball screens, and he will move off the ball on offense. He didn't look to handle the ball that much in this game, but he will generally do a good job of limiting his turnovers when he is on the court.
Though he didn't grab many rebounds in this contest, Simanic was able to leap up to get boards on both ends of the floor. He also will box out his opponents, as he was able to tip a ball off of an opponent on a defensive rebounding attempt to help his team get possession of the basketball. However, he doesn't seem to show great rebounding instincts in this game, as he would either get outmuscled or mistime balls, as he may not always take the correct route when anticipating the miss, which would lead him to allow opponents to get rebounds in his area.
Defensively, he looked to be perhaps above average. For the positives, Simanic would use his length and close out hard on shooters to force them to miss three-point shots, and he also can block shots when defending on the ball due to good timing and positioning. He also will hustle back on defense, and he'll actively rotate to defend on screens. He showed adequate feet to apply ball pressure in the backcourt, and he generally showed fairly good defensive awareness when he was on the court.
However, he also had a tendency to over-rotate, as he would end up biting wildly on pump fakes, which caused his teammate to rotate to foul an opponent once, and it led him to allow an opponent to score on a corner three another time. He rotated to defend a drive late in the game, but he was called for an unsportsmanlike foul as he tried too hard to try to block the shot, but he instead fouled his opponent hard on the play.
In general, Borisa Simanic is a smart, skilled big man that can shoot and score the basketball. Though he may not possess elite physical tools, he does a good job of making shots efficiently, and he would tend to make sound basketball plays when he was on the court. Right now, Simanic may project to be a second round prospect, as he has the skills to thrive as a floor spacing big man in the NBA.