My 2023 NBA Finals Predictions
May 31st, 2023
by Alan Lu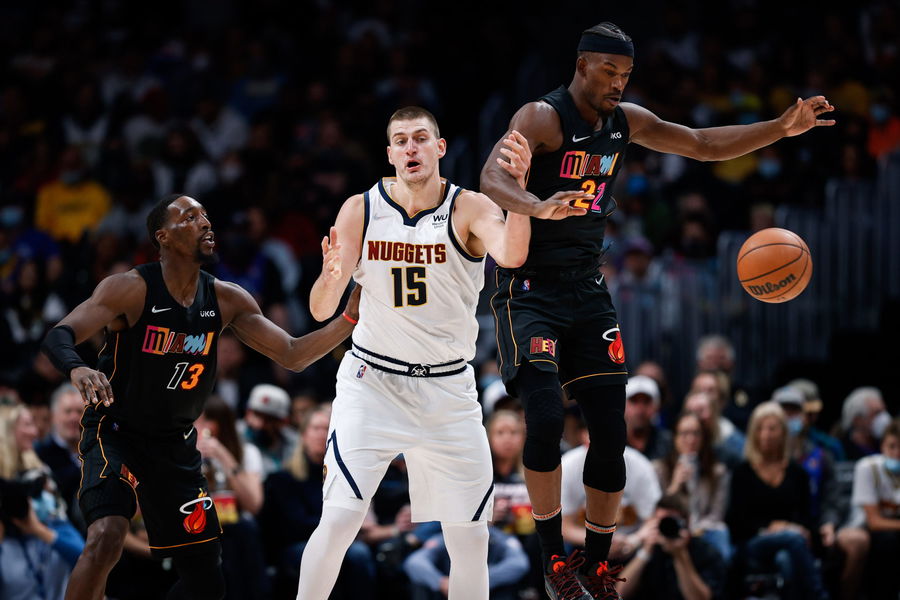 The Denver Nuggets and the Miami Heat will face off against each other in Game 1 of the 2023 NBA Finals on June 1st, 2023.
(Photo: Isaiah J. Downing/USA Today Sports, via Essentially Sports)
In the NBA, times are changing. It's a changing of the old guard and the old way of winning, and the days of LeBron James, Stephen Curry, and Kevin Durant being dominant, reigning supreme, and winning titles in the playoffs are over (or probably over, the 2024 playoffs could end up being a different story). Gone are the days where NBA teams could be lead by one dominant superstar playing in a simplistic offensive system with everyone else merely bending to their will, and in place of that is an era where teams are led by superstars that play in very well-structured, cohesive, team-oriented systems.
It's dawned on me that my conference finals predictions didn't go very well at all. I'll admit, my conference finals predictions really missed the mark. The NBA playoffs have been unpredictable, but I feel like in spite of that, the NBA is trending upwards in the right direction. Sometimes history doesn't repeat itself and we're not getting a Celtics-Lakers' NBA Finals, and that is a good thing. Although that's not good for Boston or Los Angeles, but in observing how these playoff games have turned out, I feel it means that a team that has a well constructed roster that is coached well can go far in the NBA playoffs. That a superstar can't simply just walk over opponents after scoring 50 or more points in a Game 7 of the playoffs in subsequent playoff series means that NBA head coaches are capable of adjusting and making the necessary and crucial tactical adjustments in return.
The Denver Nuggets and the Miami Heat deserve all the credit and our praise for how they've played in the playoffs. Nikola Jokic has shown why he's a two-time MVP, and he's lifted the performances of everyone around him, and they were able to consistently thrash a LeBron-led Los Angeles Lakers' team to sweep them in four consecutive games.
Denver has been getting strong contributions all around from players on their team. Jamal Murray has been incredibly effective as a playmaker and scorer, and he's shown that he can knock down tough shots to consistently provide his team offense in crunch time. Michael Porter Jr. has played at an All-Star level in the playoffs, as he's really shown that he can score and defend at a high level. Bruce Brown has played incredibly well, as he's made outside shots and has played with such a tremendous energy and effort level that has been outmatched. Kentavious Caldwell-Pope has been reliable as a 3 and D player and has proven why the Lakers should've never traded him away in the first place. On top of it, head coach Michael Malone has done a great job of making sure his team is in the right spots defensively, allowing Jokic to operate optimally and getting his players to share the ball and play in a fluid, cohesive offensive system, and he's shown that he's truly been the best coach out in the West.
In the Eastern Conference Finals, the Miami Heat really had their way in the first three games, and while Boston managed to win the next three, Miami was able to win handily in Game 7 to advance to the 2023 NBA Finals. Boston Celtics may have looked to be the better team on paper, but games are played on the court, and the Miami Heat proved to be the best team in the East this year. Jimmy Butler willed his way to win, and their head coach Erik Spoelstra consistently put out very good lineups and made adjustments to help his team get wins over Boston.
Miami has played strong defense, and they've gotten a lot of hustle points from a lot of players on their team. But what has been baffling is Boston's inability to match up to or eek out wins against Miami. Jaylen Brown was supposed to be a Kawhi Leonard-like superstar that could easily play off of Jayson Tatum, but instead, his play was incredibly inconsistent in this year's playoffs. Jayson Tatum had some really good games in the playoffs, but when he rolled his ankle early in Game 7 against Miami, it seemed to doom his team's chances to try to win that pivotal game.
It also seems that Boston doesn't have a true, pass-first, playmaking point guard. Marcus Smart had a tendency to take a lot of questionable shots, and his jump shot still hasn't improved by any stretch of the imagination. Head coach Joe Mazzula at times seemed to be way in over his head, especially with the way that they got blown out in Game 3 and in Game 7. It also doesn't help that Grant Williams' tiff with Jimmy Butler fueled Miami to go on a late Game 2 run to get a comeback win over Boston. Boston managed to play well in games 4-6, and Derrick White's game-winning put back score in Game 6 helped get them to play in Game 7, but Boston just didn't have enough as they had trouble making plays shortly after Tatum rolled his ankle early in that decisive game.
Last year, the Boston Celtics looked like a team that could win a title in the future. Now, it seems as if that could be quite an unlikely possibility for them in the future. They were outclassed and outmaneuvered by a smarter, more cohesive Miami Heat team, and Boston may need to make some key changes to both their personnel in regards to their coaching staff and their roster to get further in the East the next time.
It seems that in this era, it's not enough for NBA teams to have a superstar to win in the playoffs. In this era, it's equally important to have a strong roster led by a smart coach that can make moves and adjustments, and for their team to have a strong, team-oriented system in which everyone on the team buys in. And to me, that is why Denver and Miami have advanced to the NBA Finals.
It's a tough call to make in predicting if Denver or Miami will win the NBA Finals. On one hand, Denver has the best player in the league right now in superstar point center Nikola Jokic, and he's a tremendous playmaker that makes everyone on his team better. On the other, Jimmy Butler has been a magnetic force in the East, and he's absolutely imposed and willed his way to get Miami to win in the East.
My 2023 NBA Finals' Prediction: The Denver Nuggets over the Miami Heat in 7.
Both teams have played great basketball, and both of them earned the right to play in the 2023 NBA Finals. It was a tough call in making this pick, but I felt that Denver has the best player in this series in Nikola Jokic, one who is a two-time MVP, and is a superb passing big man that just makes everyone else around him better. On the other hand, Jimmy Butler has been incredible in the playoffs, and he's dominated in the Eastern Conference side of the bracket by playing really well in pretty much all facets of the game.
The Nuggets seems to be more talented, and they have won their series more impressively. They've defeated a Kevin Durant-Suns team that had Devin Booker (and Chris Paul for a few games) in six games in the second round, and they also swept LeBron's Lakers team and played so well that LeBron looked like he aged significantly in that series. Then again, Miami does have the Heat culture, and they've been really impressive this season. They absolutely willed their way past Giannis' Milwaukee Bucks and Jayson Tatum's Boston Celtics team. They've done a terrific job of finding talent, and they've gotten great production out of their unheralded role players such as Duncan Robinson, Gabe Vincent, and Caleb Martin.
That said, I think picking Denver may be the more sensible pick. As much as the idea that there could be the first 8 seed NBA championship this year, as that remains a possibility and would make for a fun and great narrative, Denver has been the more consistently stronger team this year. Denver entered as the 1st seed in the West, and they've managed to consistently win in both the regular and in the post season. But that Denver closed the door on the Lakers in Game 4 after being up 3-0 in the Western Conference Finals is probably the main reason I'm picking the Nuggets to win the 2023 NBA Finals, although I do think it'll be a close series all the way to the end. We'll see how the NBA Finals will go, and it will be exciting when Denver and Miami will square off against each other in Game 1 on June 1st.
Anyways, those are my 2023 NBA Finals' predictions. Thanks for reading.