More Thoughts on the Second Round of the 2021 NBA Playoffs, and Western Conference Finals Playoff Predictions
June 19th, 2021
By Alan Lu
Welcome back, readers!  It has been a very fun and entertaining week in watching NBA playoff games. The Los Angeles Clippers defeated the Utah Jazz to advance to the Western Conference Finals, the Philadelphia 76ers staved off elimination against the Atlanta Hawks to force a Game 7, and Giannis helped lead the Milwaukee Bucks to an overtime win over Kevin Durant and the Brooklyn Nets to lead the Bucks to the Eastern Conference Finals.
Here are my thoughts on how the 2nd Round is going or concluding in the 2021 NBA Playoffs, as well as some thoughts in previewing the 2021 Western Conference Finals that will take place between the Los Angeles Clippers and the Phoenix Suns.
Thoughts on the Milwaukee Bucks-Brooklyn Nets' Series:
In Game 7 of the Milwaukee Bucks-Brooklyn Nets' series, it was even for most of the way, but even though Brooklyn was at home, it seemed as if Milwaukee had the edge the entire time, as they ended up winning on the road to steal Game 7 and the series.
Both Giannis Antetokounmpo and Kevin Durant played really well, as Giannis scored 40 points for Milwaukee, and Kevin Durant scored 48 points for Brooklyn.  Though both of the superstars carried the way, it seemed as if Durant had to do entirely too much for his team, as he had to do basically everything by himself.
In watching the fourth quarter and in overtime, James Harden down the stretch was more or less a decoy, and though he could still get to the free throw line, he had trouble making shots, and he looked to be a shell of himself due to his lingering hamstring injury.  Blake Griffin was able to hit some shots, but he fouled out in overtime, and Brooklyn really had trouble generating offense after scoring the first two points in OT.
It seemed as if none of the role players wanted to shoot the basketball, and even though Bruce Brown was actually very efficient as a scorer in this game, he rarely shot the ball, so it was as if Milwaukee didn't have to guard him.  Joe Harris didn't seem to want to shoot the ball either, and he ended up missing crucial open shots, especially as he missed an open three late in overtime.
For Milwaukee, not only did Giannis take over for them, but he received help along the way.  Khris Middleton was effective enough to provide some scoring and some all-around skills, and Brook Lopez was very good as a shooter and defender in this game.  He even managed to block Durant's shot in overtime.  This is especially good for both the Bucks and for centers in general, because Lopez's effectiveness down the stretch have proved how valuable centers can be, especially if they make shots, are in the right spots defensively, and play within the team system.
Also, Jrue Holiday played well down the stretch. He started off cold, but he heated up as he was able to make key shots in the fourth quarter, and he and P.J. Tucker played tough enough defense on Durant just to wear him out by the end of overtime.
As for Brooklyn, there was just not nearly enough motion in their offense.  Head coach Steve Nash made some baffling choices down the stretch.  Not only would he often just let Durant go on isolation plays as the Bucks would blitz and collapse on him to force tough misses down the stretch, but Nash also did not call a timeout in overtime, as Durant ended up taking a very tough, off-balanced fadeaway long two that missed completely in overtime in his team's final bid to go for the win.
It's problematic that Nash did not look to run enough screens or cuts, or enough plays to try to open the floor for Durant, but that it was even more problematic that none of the role players seemed to want to shoot the basketball. 
More than a week ago, third-year guard, Bruce Brown was unfairly castigated and maligned after having aggressively and boldly attempted to score on an aggressive drive late in Game 3 in his team's eventual loss to Milwaukee that game.  He has since seen his playing time yo-yo around, as he played as few as 5 minutes in Game 6, and as many as 52 minutes in Game 7.  Even more troublesome was his complete unwillingness to take shots ever after the Game 3 loss, as the effects of public opinion seemed to negatively seep into his game.
In Game 3, Bruce Brown had really excelled at scoring on short rolls, and he was very effective at doing so in the first half.  He had also played terrific defense for most of the game.  The Nets had gotten off to such a bad start in the first quarter, but Brown's defense and scoring on short rolls had helped bring them back.
Brown started to lose his effectiveness on offense in the fourth quarter in Game 3 though, as Milwaukee guarded him much more tightly late in the game.  Brown stayed aggressive and he looked to score, but he was starting to lose his rhythm.  While Brown ended up getting castigated on social media for his eventual missed shot and for not getting the ball to Durant on a crucial play late in the fourth quarter, it should be on head coach Steve Nash to know when his players are starting to struggle more on offense, and Nash should know when to call timeouts to help come up with creative plays and to get the most out of his players.  That Nash has failed to do so in both Games 3 and 7 should be on him, and he should shoulder a sizable load for his team's failures.
Sure, it can be said that the Nets weren't completely healthy, and that part is true, as well as that they ran into a very good and well-balanced Milwaukee Bucks team, but the Brooklyn Nets looked lost late in the fourth quarter and in overtime, save for a couple of impressive shots that Kevin Durant made, but ultimately, Durant and the Nets wore out, and they couldn't muster up any offense for the final 4 1/2 minutes of this game.
Thus, that no one on Brooklyn really came to Bruce Brown's defense may have doomed them later in this series.  In games 4 to 7, Bruce Brown saw inconsistent playing time, and he didn't play nearly as aggressively as he did in Game 3, as his lack of willingness to shoot made him a fairly easy player to guard down the stretch despite being an efficient scorer in Game 7.  It also seemed to affect him defensively, as his lack of aggressiveness in Games 4 to 7 seemed to negatively impact his ability to make plays on and off the ball on the defensive end.
It was very disappointing that Kevin Durant both had to try to carry the team himself in Game 7, as well as the coaching staff's decision to run too many isolation plays, with not enough motion in their offense down the stretch, as well as a lack of timeouts called in overtime, as they ended up going the final 4 ½ minutes without scoring another point in this game.  Sure, Durant is incredibly talented, and he is a tremendous basketball player, but even great players need help.  He was really drained and fatigued in overtime, and he just didn't get any help from his teammates or the coaching staff late in this game.
This game was both a terrific win for the Milwaukee Bucks, and a disappointing loss for the Brooklyn Nets, but it was perhaps a loss for the Nets that I should've seen coming.  The Nets were without superstar point guard Kyrie Irving, who is currently injured, and superstar guard James Harden had been playing poorly on a bad hamstring in his team's last three games.  Jeff Green had pulled a magic rabbit game by scoring 26 points in Game 5, but he reverted and regressed to his mean in his team's final two games, and his play was ultimately disappointing, but perhaps expectedly so down the stretch.
Kudos to Giannis Antetokounmpo and head coach Mike Budenholzer for getting their team, the Milwaukee Bucks to the 2021 Eastern Conference Finals.  They have a good shot at getting to the NBA Finals and at the championship, as they will most likely be a tough team to beat for the rest of the way, through.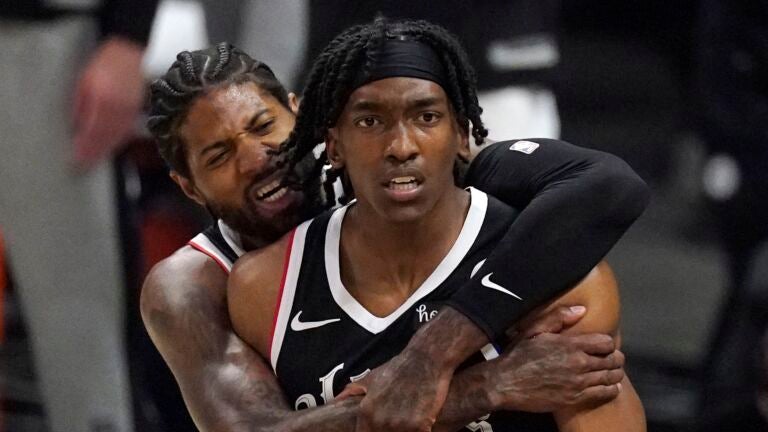 Thoughts on the Los Angeles Clippers-Utah Jazz's Series:
This was a wild comeback win for the Los Angeles Clippers, and they did it without Kawhi Leonard. They received a tremendous, career night from second-year guard, Terance Mann, who scored 39 points, and the Clippers shot the ball really well, as they were coached extremely well by head coach Tyronn Lue to get them the series win over Utah.  Early in the first half though, it didn't seem like it was going to turn out to go their way. Kudos to Terance Mann, by the way. I thought he was really underrated as a draft prospect heading into the 2019 NBA Draft, and it's good to see that he's playing well and that he is coming up big for his team in the playoffs.
In Game 6 of the Clippers-Jazz series, it was close in the first quarter, but the Utah Jazz then got hot in the second quarter due to the hot shooting of Jordan Clarkson and Donovan Mitchell. Clarkson made a bunch of threes, and Donovan Mitchell excelled as a scorer, facilitator, and defender to help his team get a big lead in the second quarter. 
The Utah Jazz also benefitted from the Clippers' decision to go big and play Ivica Zubac in the second quarter, as it allowed Rudy Gobert to be at his most effective, and with him being threatening to the Clippers as the roll man and interior defender, the Jazz were able to really open things up on offense in the second quarter.
In the second half, the Clippers shortened their rotation, as they went to smallball, and they made the decision to stop playing Zubac.  The Clippers' unconventional lineup choices turned out to be a great decision.  The Clippers took advantage of the Jazz being too slow defensively, and they were able to attack Utah's defensive schemes.  Terance Mann, Reggie Jackson, and Pat Beverley really got going, as they made a bunch of threes, with Mann being incredibly effective at making corner threes and as a scorer in transition.
Paul George did a great job as the facilitator and as an off-the-dribble scorer.  Even more important, George has played really well for the Clippers in the playoffs, and he's been clutch in the playoffs this year. He's played very well, and George is playing at an elite level right now. Nic Batum also made some timely shots in Game 7, and he was very effective at making plays on both ends of the floor in this game. 
For Utah, they struggled to create or make shots in the second half of Game 7, and they pretty much folded defensively.  With no traditional center for Gobert to guard, Utah ended up being too slow defensively, and Gobert continually would allow opponents to score on open threes, and when he would attempt to close out, they would also drive past him to score off the dribble.  Gobert looked lost in the second half, as he was stunningly bad on the defensive end, and the Jazz couldn't muster up any sort of consistent offense late in this game.
Terance Mann played a terrific game, and the Clippers really stepped up to get a big Game 6 win for their team.  Head coach Tyronn Lue made key adjustments, and he was able to get the Clippers the series win over the Utah Jazz. 
This was a great series win for the Clippers, but this was incredibly disappointing for the Utah Jazz to go out this way.  With the Utah Jazz getting bounced out of the playoffs earlier than expected, even without the Clippers having Kawhi Leonard, the Jazz will have to wonder what it will take for them to get Mitchell and Gobert to win a title together, if they can at all. 
Otherwise, they may have to explore a trade and consider dealing Gobert for a more skilled offensive player that can play better perimeter defense, which could allow Utah to be quicker and to be a more dynamic offensive team next season.  If they decide to keep both Mitchell and Gobert around next year, they'll have to really get creative to find new ways to help them lead their team to advance further in next year's playoffs.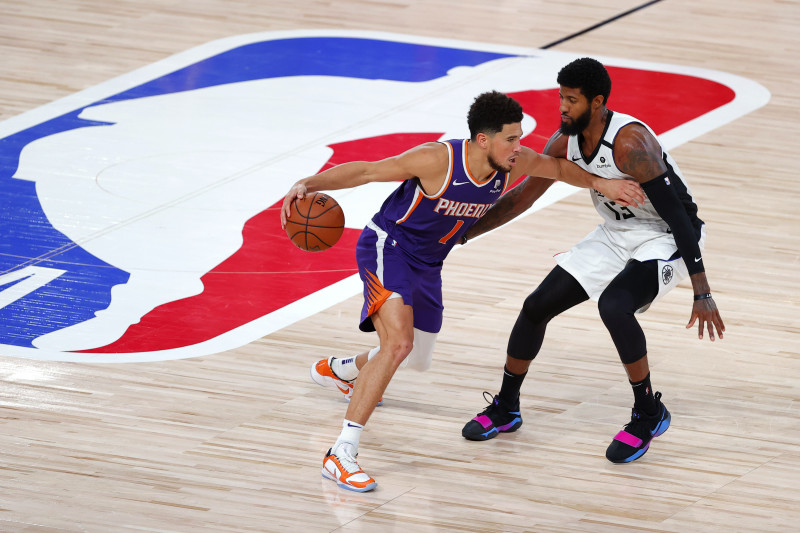 Thoughts on the 2021 Western Conference Finals matchup between the Los Angeles Clippers and the Phoenix Suns:
In the regular season series between the Clippers and the Suns, the Los Angeles Clippers won two of three games in this series.
Paul George was terrific for the Clippers, as he averaged 32 points per game in those three games, and he also shot the lights out in the regular season against the Suns.  The Clippers also was able to get solid scoring out of Rajon Rondo, Nicolas Batum, and Marcus Morris, with other players having shot the ball well in lower volume roles.
Crucially, the Clippers will be without Kawhi Leonard, and it will be a challenge for the Clippers to see if they defeat the Suns in this series.  Terance Mann and Reggie Jackson could be the wildcard, X-factor players, as both of them have performed well in the playoffs, and they could continue to provide shooting and scoring for the Clippers in the postseason.
For the Suns, they'll also be without Chris Paul for at least a few games, as he will miss time and will be held out due to COVID-related reasons.  Paul is the veteran guidance and their team leader that plays the role of the Suns' conductor, and so the Suns will have to rely on other players to get wins in his absence.
Devin Booker has been terrific in the playoffs, and they've got a lot of strong production from their role players.  They have a lot of talent, but it's uncertain to how well they'll respond to playing without Paul against the Clippers. 
Booker and DeAndre Ayton have played very well for them in the regular season, and they've also received solid shooting from Mikal Bridges, Frank Kaminsky, and Cameron Payne.  Mikal Bridges, Torrey Craig, and Jae Crowder are athletic, rangy defenders that the Suns could all use to guard Paul George.  Cameron Johnson is another 3 and D type of role player, but he struggled in the regular season series against the Clippers. Head coach, Monty Williams has coached well all year long, as he was a Coach of the Year candidate this year, and he's coached well ever since the start of the Orlando Bubble last season, as he also helped the Suns go 8-0 to close out the regular season last year.
The Clippers have consistently played well both at home and on the road.  They were 26-10 at home in the regular season, and 4-3 at home in the playoffs.  On the road, they were 21-15 in the regular season, and 4-2 on the road in the playoffs.  The Clippers have only played one game on the road in Leonard's absence in the 2021 playoffs, but they managed to defeat Utah in Game 6 due to George's tremendous, 37-point performance that day.
For the Suns, they have been very strong both at home and on the road.  They were 27-9 at home in the regular season, and 4-1 at home in the playoffs. In away games, the Suns were 24-12 in the regular season, and 4-1 on the road in the postseason.
The Clippers won their lone home game against the Suns by 10 in the regular season, and they were 1-1 against the Suns on the road, as they averaged a point margin of -1.5. Chris Paul may be out for a few games, but Kawhi Leonard is most likely out for the series with a knee injury.
This will be a really tough series to call or to predict, with the Clippers being essentially the lone prominent smallball team left, and they may have the best head coach left in the playoffs, but the Suns have home-court advantage, and they have plenty of shooting, athleticism, and depth on their roster, and they will be bolstered by the arrival of Chris Paul, whenever he gets cleared to play.
Personally, I enjoy watching both teams play, and it'll be tough to predict which team will advance to the NBA Finals, and which team will eventually get eliminated. The Clippers would definitely be the bolder gamble and it would be fun to see a mostly center-less basketball team win, but the Suns might be the safer team to choose in terms of who to pick to win this series.
Prediction: The Phoenix Suns over the Los Angeles Clippers in 7 Games
In the 76ers-Hawks' series, I've been waffling back and forth between who is going to win this series.  Both teams have won 3 games apiece.  Atlanta has been quicker and has shown more offensive firepower from the outside, while Philadelphia has been bigger, they look to be the better defensive team, and they have looked to score more in the paint.
The Hawks have gone further than anyone has imagined, and they are a fun team that has a bright future.  In looking at their playoff splits, they have been quite dependent on Trae Young, as he's averaged over 30 points per game in the second round series, with no one else scoring nearly as much on his team.  On the other hand, the Hawks have 6 players that average scoring in double figures in this series, which is good.
For the 76ers, they've gotten the bulk of their scoring from mainly three players, Joel Embiid, Seth Curry, and Tobias Harris.  Ben Simmons still has put up solid numbers in this second round series, though his terrible free throw shooting is a major source of concern.
The Atlanta Hawks struggled on the road in the regular season, as they won 16 of 36 games in the regular season, but they have fared much better in away games in the postseason, as they are 4-2 on the road in the playoffs.
The Philadelphia 76ers have been very good at home.  They have won 29 of 36 games at home in the regular season, and they have been 4-2 at home in the playoffs this year. The 76ers only have 4 players that have averaged in double figures in the second round series against the Hawks, which is a little more concerning.
It will be a very close call to decide who will win, and neither team has really stood out that much more than the other in this series. Betting on the Atlanta Hawks would be the bolder gamble, and they have a more fun approach and team-oriented play, but the 76ers would likely be the safer pick as to who might win this game and the series.
Prediction: The Philadelphia 76ers win a close one over the Atlanta Hawks in Game 7.
This will be an extremely close call, but I think I'm going to pick the Philadelphia 76ers to win Game 7.  If the 76ers lose this series though, they'll have to think long and hard about what they should do for next season.
In regards to my draft board, maybe it doesn't need nearly as much tweaking as I had previously thought.  After all, centers are still useful, even in today's NBA, and while the Los Angeles Clippers may be the team that still is without an elite center that is still in the 2021 NBA playoffs and still may have a shot to win the title, other teams such as Milwaukee and Philadelphia have All-Star centers, and other teams such as Phoenix and Atlanta also rely on big men to help them get playoff wins in their bid to win the championship this year. 
With Brooklyn now eliminated (although they had some key injuries), small-ball sometimes may not be as effective in playing against traditional lineups, especially if the team playing small-ball doesn't have enough offensive firepower, depth, coaching, or the defensive talent to pull out tough wins in the playoffs. Milwaukee played smartly, tougher, and bigger. They ultimately turned Brooklyn's game against them, as they turned the Nets to be a team to be too dependent on Durant, as where Milwaukee had Giannis, and he had enough help around him to get the Bucks the Game 7 win over Brooklyn.
Thank you for reading.   There will be two games tomorrow, as Game 1 of the Western Conference Finals will be played at 3:30 PM EST between the Phoenix Suns and the Los Angeles Clippers on ABC.  Then, the Philadelphia 76ers will play against the Atlanta Hawks at 8:00 PM EST on TNT.  It has been fun to watch these games, and there will be more NBA playoff games to watch.  Thanks for reading.