First Look At N'Faly Dante
October 18, 2019
by Alan Lu
Recently, Oregon's 6-11 incoming freshman center, N'Faly Dante has been ruled ineligible for the first couple of months of the season because the NCAA had missed the clearance date to make a ruling on his eligibility. Dante has been said to be a potential lottery pick by several analysts, so I set out to watch him play in a full basketball game. Unfortunately, there just isn't a whole lot of game film on Dante, so I decided to watch a game that was played on June 23rd, 2016, as this took place between Spain and Mali in a U17 World Cup basketball match. I was able to see him play in that contest with thanks to YouTube via FIBA. Though this was several years ago, it did present itself as an opportunity to watch him play, and here are my thoughts on how he fared, as well as how his game may translate to the NBA.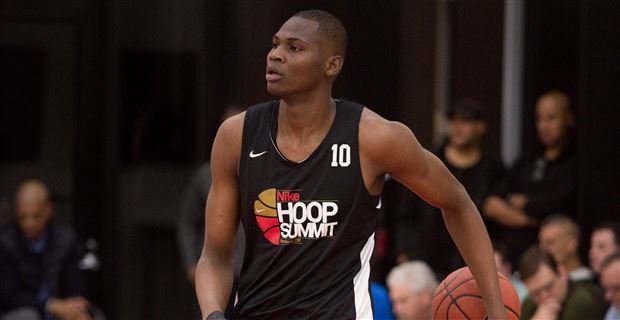 N'Faly Dante is an athletic big man that excelled at scoring on hustle plays. He would run in to score on tip-ins off of offensive rebounds, he would run the floor hard down the court to be a scoring option on the break, and he also would use off-ball movement to find himself open underneath the rim. He is an agile player that has a very good motor, and he could have scored more if his teammates were to look for him more often on offense.
He also may possess adequate low post scoring skills. Dante posted once after getting an offensive rebound, as he backed his man down powerfully to score on a right-handed, turnaround jump hook. His footwork seemed kind of awkward, but he still managed to score around the basket that time. He did miss on a reverse layup after being left open around the basket on a separate occasion, as he tried to be too fancy in trying to score on that occurrence.
However, he didn't show much of a face-up game. He didn't look to take many shots in general, but he also didn't make jumpers outside of the paint area. Dante did use a jab step once prior to hoisting up a mid-range shot, but he ended up shooting an airball that led him to miss completely. He did appear to have good form on his shot, but he did not get anything on his shot, which led the ball to fall well short of the rim.
Dante also set numerous screens on and off the ball for his teammates. Sometimes, he would set hard screens, but other times his screens were not impactful, as an opponent quickly went around to force a turnover from a teammate late in the game. Dante also would throw outlet passes to keep the ball moving. There was one play where he bobbled an entry pass as it landed right back in his teammate's hands, but Dante did not pick up an assist nor committed a turnover in this game. He did not look to put the ball on the floor very often, and he would look to make safe passes to avoid putting himself in turnover-prone situations.
Dante also did a good job of rebounding the basketball. He would frequently leap up to get boards on both ends of the floor. However, he was called for pushing an opponent in the back when going for an offensive board once, which led him to be called for a foul that time, and sometimes he would forget to block out, which would cause him to allow opponents to grab rebounds in his area.
Dante is a very good defender, and defense could be his calling card in the NBA. He is a very long, athletic shot blocker that will make sound rotations in the paint, as he can swat numerous shots off of drives, in the post, and off of cuts to force his opponents to miss a wealth of shots. Dante also will play passing lanes, as he would deflect passes to help his team get steals and deflections. Plus, he will hustle back on defense, and he also managed to quickly fight through a screen when defending his man out on the perimeter once due to possessing fairly good agility and footwork to do so.
However, sometimes he will forget to get back on defense, which would lead his team to commit fouls and allow scores on the break. Other times, he may not communicate switches to his teammates, which can cause him and his team to be late on rotations. There was one play where he was late to rotate to his man out on the perimeter, and he bit on a ball fake, got beat off the dribble, and then committed a foul to give up a score and a free throw around the basket. Another time, he had his hands down when defending a crosscourt pass, as his opponent easily got his pass through to set up a three-point score for his teammate. Dante can tend to have lapses at times on defense, which can lead to defensive breakdowns on the court.
In general, N'Faly Dante is an athletic, high-motor big man that could project to be a rim protector in the NBA. It's unfortunate that he has to sit out at least the first couple of months and maybe more due to the NCAA's negligence in their missing out on the clearance date. Still, Dante is a talented prospect that may project to go in the first round of the 2020 draft, as he could end up being a similar player to former Seattle SuperSonics' player Chris Wilcox in the association.