Assessing Matteo Spagnolo
October 24th, 2021
By Alan Lu
Recently, Vanoli Cremona's 6-4 guard, Matteo Spagnolo has been getting some draft buzz as a prospect for the NBA, and he has been playing fairly well for his team in the Italian League.  I decided to watch him play in a September 26th game against Umana Venezia, with thanks to YouTube via MetropolitanoIT.  Here are my thoughts on how he fared, as well as how his game may translate to the NBA.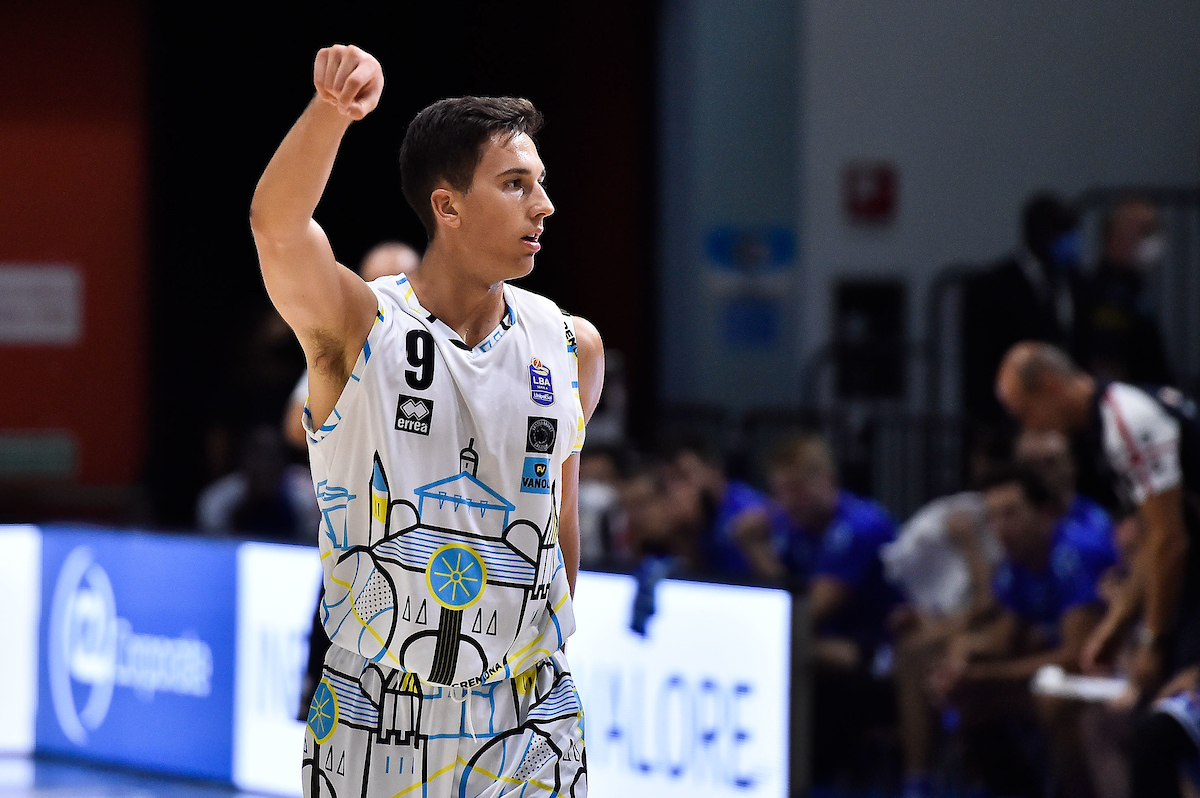 Matteo Spagnolo is an agile, skilled combo guard that has solid offensive skills.  He can ably create his own shot, and he is a good shooter that also has solid court vision.  He can sometimes struggle to make plays when crowded, and he struggled defensively, but he is a talented offensive player that played well for Vanoli Cremona in this game.
Spagnolo did a good job of shooting the basketball.  He is a crafty player that showed a knack for dribbling off screens to make pull-up threes, and he also was able to make one from way out.  He also was able to make a step-back, fadeaway mid-range jumper off of one-leg on the baseline, and he also pulled up to make another mid-range jumper from outside the left elbow.  When given the space to handle the ball, he can handle the ball and creatively find ways to get his shot off to score.  He also showed a knack for drawing fouls to get to the free throw line, and he was able to do so on a tip-in after grabbing an offensive rebound once.  On the downside, he struggled more to make spot-up threes off the catch.
He also displayed adequate playmaking skills in this game.  Spagnolo was able to make some good reads with the ball in his hands, and he was able to throw a long bounce pass to a teammate to set up a score for him on the break.  He also is a creative ball handler that has a good spin move that he will sometimes use to be able to make drive and kick passes to find open shooters.  He can find teammates on the move, especially when he plays patiently.  On the downside, he can struggle to make decisions when facing heavy ball pressure, and it can lead him to throw inaccurate passes that would lead to turnovers. Also, he did a good job of rebounding the basketball.  Spagnolo was active at crashing the glass, and he was able to collect boards on both ends of the floor.  Sometimes he would quickly bring the ball up after getting defensive rebounds.  He also was able to hustle to tip a ball to help his team get an offensive rebound another time.
Defensively, he struggled in this game.  For the positives, Spagnolo would actively fight through screens to stay with opposing ball handlers, and he was active defensively.  Sometimes, he would struggle to stay in front of his opponents, and he would get beat off the dribble by quicker ball handlers.  He also had trouble defending taller, stronger post players when switched out onto them.  He also would have some momentary lapses, and there was one play where he had his hands down when defending a pass that led to his team allowing a score around the basket.
Overall, Matteo Spagnolo is a skilled offensive player that can shoot and pass the basketball.  He can play either backcourt position, and he is currently having a fairly good season in the Italian League.  There were times where he seemed to have the ball in his hands quite a bit, and he was a bit of a ball stopper on offense at times.  He will need to improve his shot selection and his defense.  Currently, he is a second round prospect, and in a favorable scenario, if he continues to hone his game, he could end up being a solid role player similar to Phoenix Suns' guard, Landry Shamet in the NBA.