Assessing James Nnaji Against Milano in a Euroleague Game
November 4th, 2022
By Alan Lu
I decided to take the time to watch Barca's 6-10 center James Nnaji play in a October 28th Euroleague game against Milano with thanks to YouTube via BASKONIA games. He is an athletic, energetic big man that has been getting some draft buzz, and he could be a first round pick in the 2023 draft. He was able to get some extended playing time in one of the toughest professional leagues in the EuroLeague. Here are my thoughts on how he fared in this game.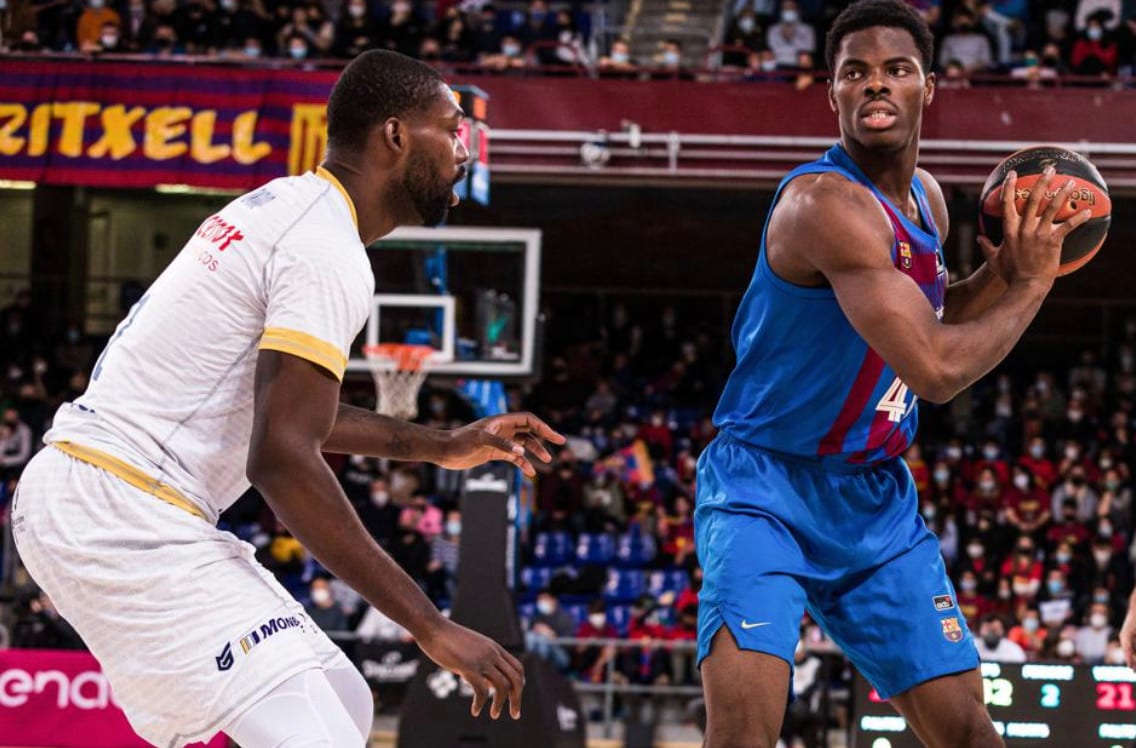 James Nnaji is an athletic, energetic big man that showed solid interior skills on both ends of the floor. He is a solid finisher around the basket, as he can dribble in to score from the post, and he also will look to score on hustle plays. He was able to score on a powerful dunk off of an offensive rebound. He also is a very good athlete, and he nearly scored on a high-flying alley-oop dunk on the break, but he missed the dunk late in this game. Nnaji did a decent job of scoring out of the post. He has a fairly solid dribble game that enables him to take slower players off the dribble to score, but he sometimes can struggle to score in traffic when he would take them from too far away.
On the other hand, he didn't really look to take jumpers from the outside, so he may not have much range on his jump shot. He had some trouble making decisions when pressured with the basketball, but was able to find the open man in this game. On one play though, he pushed off on the offensive end, which led him to commit an offensive foul and a turnover. For the plus side, he will sometimes set screens, and his size and athleticism makes him a threat to score off of rolls to the rim.
Also, Nnaji rebounded the ball well. He is an active rebounder, and is an active, bouncy big man that will come down with numerous boards on both ends of the floor. He also played satisfactory defense. Nnaji did a good job of blocking and challenging shots to help get stops for his team, and he was able to swat a mid-range jumper to a teammate. He has fairly quick feet that enables him to stay in front of his man, and he has very good length that allows him to disrupt his opponents from getting clean looks at the rim. Sometimes though, he would get beat off the dribble, as he would not always stay in front of his man when defending out on the perimeter. On one play, he didn't actively contest a shot, which led him to allow an opponent to score on a jumper.
Overall, James Nnaji is an athletic, energetic big man that played fairly well on both ends of the floor, but it may be a little tough to project his upside, because he didn't play nearly as much as anticipated, and he didn't really look to go outside himself or try anything too fancy. Right now, he currently would be slated to go in the late first to the early second round of the 2023 draft. He is a solid prospect that projects to be a rim protector in the NBA, and he could end up being a similar player to Brooklyn Nets' big man, Nic Claxton in the association.