Analyzing Rokas Jokubaitis in an LKL Basketball Game
February 5th, 2021
By Alan Lu
I decided to take the time to watch Zalgiris' 6-4 Lithuanian point guard, Rokas Jokubaitis play in an LKL basketball game against Juventus that took place on January 31st, as I was able to see this with thanks to YouTube via LKL TV.  He's a skilled playmaker that has been getting some draft buzz lately, and I decided to see him play in another basketball game.  Here are my thoughts on how he fared, as well as how his game may translate to the NBA.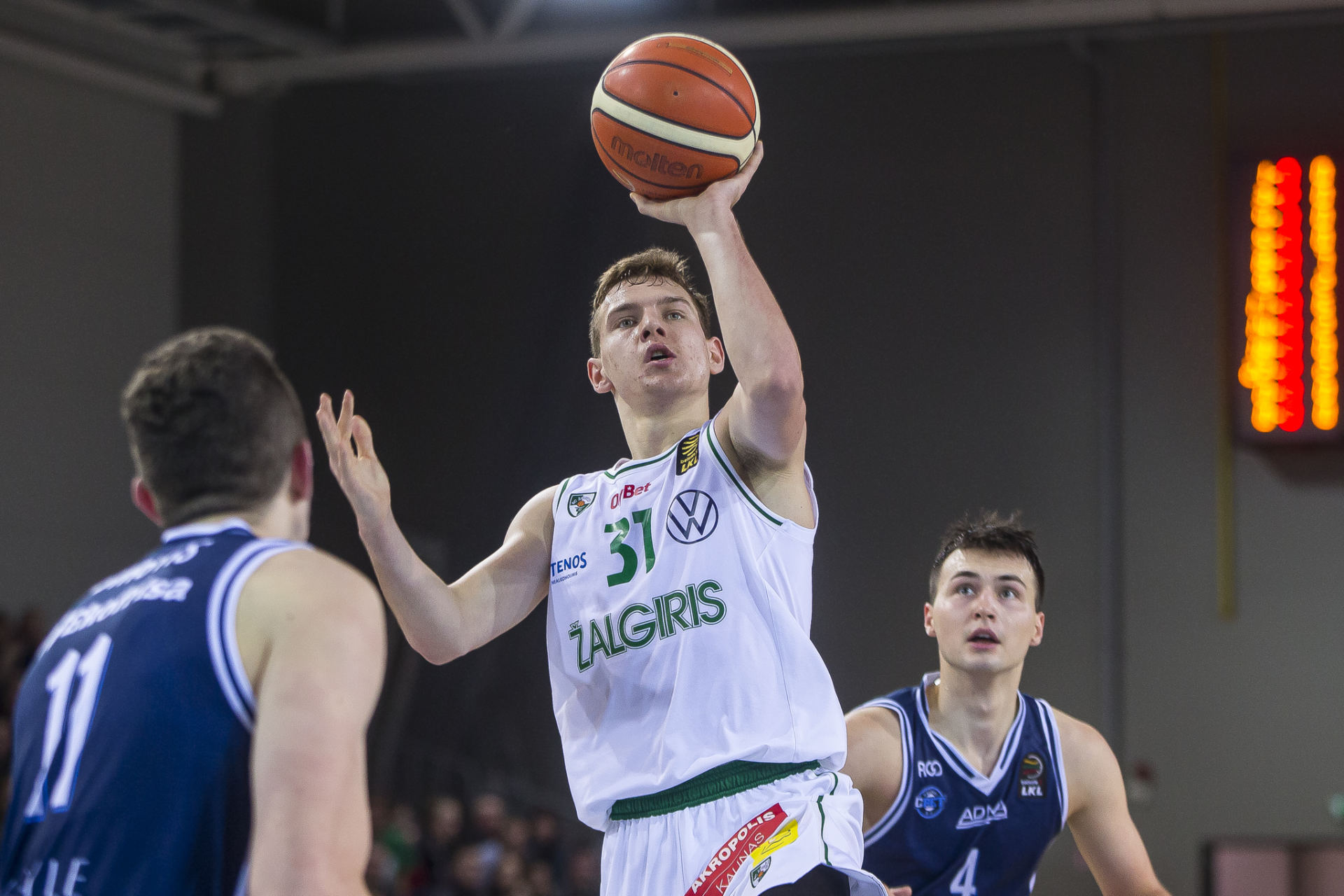 Rokas Jokubaitis had a decent showing in his team's loss to Juventus.  He struggled to consistently make outside shots, but he showed that he can score on creative drives to the hoop, and he is a solid playmaker that can effectively run the team.
He did a fairly good job of scoring off the dribble.  Jokubaitis is a crafty scorer that changes speeds well.  He was able to split a double team when handling the ball off of a pick and roll, and took the ball to the rim to score on a fadeaway jumper, while getting an extra free throw.  He also used a stutter step, hesitation move to score on a crafty drive another time.  He also showed that he can comfortably score on pull-up jumpers from the mid-range, especially from around the right elbow.  Plus, he would go hard to the hoop to draw fouls upon his defenders.  He struggled to make shots down the stretch, as he would sometimes settle for taking contested shots a bit too often.
On the downside, he was unable to make any of his three-point shots in this game.  Jokubaitis shot the three-ball very well last season, but he has not been nearly as good at making long-range jumpers from beyond the arc this year.
Jokubaitis also showed off solid playmaking skills.  He is a skilled playmaker that can quickly push the ball up the court, and he has solid agility that allows him to consistently get into the lane.  He also can throw solid passes off the dribble and in transition, and he has solid court vision to find teammates in stride to set up scores for them.  He did bobble a ball after catching it once, but he was able to compose himself and pass the ball out to a teammate afterwards, and he did not commit a single turnover in this game.
He did not grab many rebounds against Juventus, but Jokubaitis was able to chase down a couple of balls to help his team get a pair of defensive boards.  However, there was one ball where he allowed an opponent to get a rebound in his area, as he didn't really show a great ability to get boards on a consistent basis.
Defensively, he looked to be about average at best.  For the positives, Jokubaitis was able to pounce upon a loose ball that an opposing ball handler lost to get a steal.  He also was able to contest a corner three to force a miss.  Jokubaitis was active defensively, as he would actively fight through screens, and he would also look to actively get his hands up to make it difficult for his opponents to get their passes through.  However, he generally struggled to defend opponents off the dribble, as he would tend to get beat off the dribble, which would lead his team to commit fouls and allow scores.  Another time, he got posted up, and he got beat on a spin move to allow a score to a taller player down low.
Jokubaitis also got some crunch time minutes, as he was on the floor down the stretch in a close game against Juventus.  Jokubaitis seemed to do most of his scoring in the first half, but late in the fourth quarter, he was more of a caretaker and distributor, as he looked to be more of a table setter.  He wasn't very aggressive down the stretch, and he would tend to defer quite often.  He did take two shots late in this game, but he missed on a floater, and on a contested mid-range jumper.  In addition, his inability to defend taller opponents in this game made it difficult for him, combined with that he wasn't attacking the defenses as much as he did earlier.  While it was interesting to see him get minutes late in this game, unfortunately, with how the momentum of the game was going, it was not surprising that his team ended up losing to Juventus by allowing a three-point shot very late in this match.
Overall, Rokas Jokubaitis is an agile, skilled playmaker that can score and effectively run the team at the point.  He'll need to regain the shooting touch that he used to display from beyond the arc, and he will need to improve his on-ball defense.  Right now, he could be an intriguing option for NBA teams to consider in the late first to the second round range of the upcoming draft, and he could end up being a solid role player similar to current Indiana Pacers' point guard, Aaron Holiday in the NBA.
Other Notes:

Zalgiris' 6-6, 2002-born swingman, Mantas Rubstavicius also played in this game.  He didn't play much, but he is a mobile, skilled swingman that can score the basketball. Rubstavicius showed a fairly good ability to score off the dribble.  He drove hard to the hoop, as he used a hesitation move to his left to score on a strong drive in transition while getting an extra free throw once.  He also ran off of a ball screen to get the ball in the corner, and he also used a pump fake and pulled up to make a mid-range jumper from the baseline.  On the downside, he also missed on an open three-point shot in his lone three-point attempt from beyond the arc.
He also is an unselfish player that will make the extra pass to keep the ball moving, and he will also look to move off the ball.  Rubstavicius did not get an assist, but he did not turn the ball over, either. Also, he was able to get a defensive rebound in this game.
Defensively, Rubstavicius looked to be fairly average.  He is an active defender that will apply considerable ball pressure, and he will aggressively defend opponents and fight through screens.  He also stayed with an opponent on a backdoor cut once, as he played solid ball denial defense that time.  However, he struggled to defend opponents off the dribble, which would often cause him to commit fouls and allow scores.  He also got outmuscled when defending in the post another time, which led him to commit a foul on a separate possession.
Overall, Rubstavicius is a fairly athletic, skilled swingman that hasn't gotten much playing time in Lithuania's top league, the LKL, but he is a player that can shoot and score the basketball.  If he can consistently play well against top competition, he could end moving his way up draft boards.  Most likely, he will need to continue to hone his game overseas, but if he can continue to improve as an overall player, he could end up being worth a flyer as a second round, draft and stash pick sometime down the road.