A Riveting Conclusion to the Celtics-Raptors' Series, and Denver's Surprising Game 5 Comeback Win Over The Clippers
September 11th, 2020
by Alan Lu
The second round of this year's NBA playoffs continue to just as compelling as it was in the previous round.  The Boston Celtics edged out the Toronto Raptors to win the right to face off against Miami Heat in the Eastern Conference Finals, and the Denver Nuggets came back down from 16 to defeat the Los Angeles Clippers in Game 5 to stave off elimination.
The Boston Celtics played really well today.  The played terrific defense, Toronto couldn't get any easy shots, and every basket the Raptors made seemed to be a tough one.  Marcus Smart was everywhere on the defensive end, and he made an incredible block on Norman Powell's drive in transition that pretty much sealed the win for Boston.  Jayson Tatum and Kemba Walker were excellent in this game. 
They hit big shots, made key passes, and Daniel Theis also excelled as an interior scorer and defender against Toronto.  I also thought they got good minutes out of rookie forward, Grant Williams, and he played solid defense in this game.  Williams was able to get a key stop on Fred VanVleet, as his contest forced VanVleet to shoot an airball late in this game.  I think Grant Williams has earned his keep in the rotation by providing his team with some solid minutes late in the 4th quarter when Theis was off the floor due to foul trouble. In addition, Boston Celtics' head coach, Brad Stevens really managed the game well, and he made solid substitution choices throughout this game.
This was a tough game for the Toronto Raptors.  They had trouble creating offense consistently, and their star forward Pascal Siakam just could not get going at all in this series.  Boston played very good defense on him, and they crowded him to the point where he could not get any easy looks to score on offense.
Jayson Tatum played an amazing game.  He consistently made one terrific play after another, and he scored 29 points, made four threes, and also collected 12 rebounds and 7 assists in Boston's Game 7 win over Toronto.  According to StatMuse, he is the second-youngest player to post a 25-point, 10-rebound, 5-assist game in a Game 7 in the history of the NBA playoffs, with the youngest to have ever done that being Los Angeles Lakers' legendary superstar guard, Kobe Bryant.
I think it'll be a fun and tough series between the Boston Celtics and the Miami Heat in the Eastern Conference Finals.  Both of the two teams have excellent players that can ably create their own shots and be go-to scorers, and both are very strong defensive teams.  Both Jayson Tatum and Jimmy Butler have played tremendous basketball in the playoffs.  It's tough to pick which team would win, and I think it could go either way.  I'll wait until later in this article to post my prediction.
Let's talk about that Denver Nuggets' come from behind victory over the Los Angeles Clippers in Game 5, as they rallied from a 16-point deficit to win this game.  I really think this may have been one of Denver's finest games of the year, and it was a really good win for them.  Some people were very annoyed with the Clippers' inability to close out to get the victory, perhaps rightfully so, but I think it showed remarkable poise and resilience from the Denver Nuggets to keep battling to get a big win and to stave elimination in order to force a Game 6.  The Clippers still hold the series lead 3-2, but Denver showed that when they are focused, they can be a very tough team to beat.
As it was mentioned in the No Dunks' podcast, the turning point seemed to be the tiff between Denver Nuggets' veteran forward Paul Millsap and Los Angeles Clippers' forward, Marcus Morris, as they were jostling for position in the post and were trading elbows.  Morris had been getting a reputation for being an agitator and had done some really questionable things in the Clippers' previous series against Dallas as he had fouled Luka Doncic on the head really hard last round, so I was well aware that Morris could end up being in one of these tiffs.  I was already weary of Marcus Morris' behavior in the playoffs, and he had gotten himself ejected after a physical altercation with Doncic in a previous round, so it didn't at all surprise me when Morris ended up in the middle of the fray once again, this time with Millsap.
In the aftermath, Morris' confrontation in this game against Denver seemed to awaken Paul Millsap in this game.  When they confronted each other, the Clippers were up 16 late in the 2nd quarter. After that, Millsap went on to really go off on the Clippers by making all kinds of shots in the third quarter.  Nikola Jokic and Jamal Murray did a good job of making shots as they made threes, and both of them passed the ball very well.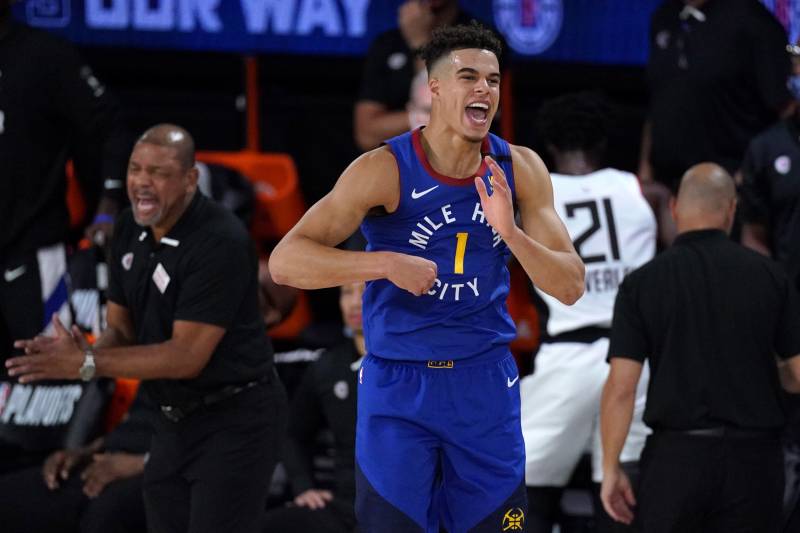 In the fourth quarter, Michael Porter Jr. emerged as a key contributor to Denver's win after having done virtually nothing in the first three quarters.  Prior to this game, he had made some untimely comments where he expressed frustration in the media about not getting enough playing time after Denver's Game 4 loss, and people were anxious to see how he would play today in Game 5.
In the 4th quarter, Michael Porter Jr. came up big.  There's no doubt in my mind that this kid has superstar potential.  He is a tall, athletic forward that can really score the basketball, he's got range and handles, and he can play solid defense when he's focused.   Some of the things he's said in the media have been truly bizarre though, but I feel like he's the wildcard sort of player that has the potential to tip the scales in Denver's favor if he plays as well as he did down the stretch today.
Michael Porter Jr. scored all seven of his points in the final 1 minute, 11 seconds of this game, and he made a big three-point shot to put his team up 5 to help put the game away.  He also made a tremendous block on Ivica Zubac, and he also grabbed a defensive rebound on the next play.
For Clippers' fans, and NBA fans, they had to have been extremely frustrated with the Los Angeles Clippers' inability to close out or finish off the Nuggets.  Kawhi Leonard and Paul George didn't take over the fourth as expected, and Patrick Beverley has not played shutdown defense at all in this series.  In some of the games in these series, he's committed some pretty bad fouls, and I thought the Clippers' offense stalled considerably down the stretch.  The Clippers are still the odds-on favorites to win their second-round series, but the fact that Denver was able to claw back and win Game 5 has really made this a competitive series, much more so than it may have been anticipated earlier today.
Even if the Clippers still end up winning their series against Denver, how they lost in today's game has to be very disconcerting for Clippers' fans, as this game showed Denver's remarkable poise and resilience, but also showed the Clippers' stunning late game collapse in Game 5. The Clippers appear to be showing gears, as they have lost games they probably should have won, and that could be a problematic trend for them, especially since other contending teams such as the Los Angeles Lakers have shown to play stellar basketball in the playoffs, outside of their first games of the series.
Alright, so here is how I have done in predicting teams in the NBA playoffs this year on my website:
7-1 in the 1st round
0-2 so far in the 2nd round (have also predicted LAL and LAC to advance)
I am going to pick the Boston Celtics to edge out the Miami Heat in 7 games.  The Celtics have more shot creators in Tatum, Kemba Walker, and Jaylen Brown, and so it will be tougher for Miami to hide their offensive-minded shooters like Tyler Herro and Duncan Robinson on the defensive end.  In addition, Boston can roll several quality defenders at Jimmy Butler to make it harder on him to score, as they have Smart, Tatum, and Brown at their disposal. Conversely, Miami also has several defenders they can throw out at Tatum as well, as they have Butler, Jae Crowder, and Andre Iguodala. Either way, I expect this series to be a lot closer than Miami's previous series with Milwaukee.
I expect the Eastern Conference Finals to be equally as well coached as it was in the Celtics-Raptors series, and Erik Spoelstra has done a very good job of coaching the Heat so far in the playoffs.  I will say though, I should've picked Miami over Milwaukee in the 2nd round though, and I thought Milwaukee was a very flawed team that seemed like a likely candidate to lose somewhere before the 2020 NBA Finals.
The Los Angeles Lakers will play against the Houston Rockets tomorrow in Game 5 of their second round series. Danuel House was basically booted out of the bubble after breaking protocol, and Houston looked lost in Game 3. The Lakers have been too strong and too good in Games 2 through 4, and the Rockets have not found an answer on how to guard LeBron James or Anthony Davis. From how the series is going, I think the Lakers will win Game 5 to advance to the Western Conference Finals.
The matchup between Boston and Miami will be very fun and exciting to watch.  That's all for now, and thanks for reading.