2022 NBA Power Rankings, version 2: Nearing the Season's End
March 7th, 2022
By Alan Lu
The last time I wrote on where I felt each of the NBA teams stood was around the midway point, but some of things have changed, and some haven't.  Some of the teams have really improved since then, like the Boston Celtics and the Minnesota Timberwolves.  Other teams, such as the Los Angeles Lakers and the Atlanta Hawks have continued to flounder and fluster, and there definitely have been disappointing teams to offset the surprisingly good teams in the NBA this year.  I looked up at team and player statistics at Basketball-Reference to try to get a read on the current situation in the NBA right now. Here is where I feel each of the NBA teams stand as of today. (Also, for those that wanted to know where I had rated teams in the first update that was on January 14th, here is what I wrote back then.)
Miami Heat (43-22) (Previous Rank: 6)
Miami has a deep, versatile team that is well-coached, and they are a sound team on both sides of the ball.  Head coach Erik Spoelstra has done a very good job of coaching and leading his team, and they have a lot of depth from top to bottom.  They have the versatility to switch up their schemes to throw people off and disrupt people's rhythms when they are on defense.  On offense, they have good ball movement that allows everybody to contribute.  Jimmy Butler and Bam Adebayo are star players that have willed their team to get wins.  In addition to having good stars, Tyler Herro could be Sixth Man of the Year, Max Strus could contend for Most Improved Player, and they have a lot of solid role players on the backend of their roster that could help them push to get the title this year.
2. Phoenix Suns (51-13) (Previous Rank: 4)
They have most of their key players back from last year's team, and the Suns just keep on winning and winning in the regular season.  They already are the first team to win 50 games this season, and they could reach 65 wins at the end of the regular season this year.  The Suns are a very good, cohesive team coached by Monty Williams, and they will give it all of their might to help get future Hall of Fame point guard, Chris Paul his first NBA title in his career.
3. Milwaukee Bucks (40-25) (Previous Rank: 1)
The Bucks have nearly all of their key players back, and Giannis is still playing in MVP form.  They have lost more games than expected and their defense has taken a bit of a hit as they lost P.J. Tucker to the Miami Heat free agency, and their previous starting center Brook Lopez is currently out with a back injury.  They did manage to get Serge Ibaka to help them out in the meantime.  Still, the Bucks will ensure that their title defense will be a fierce one come playoff time.
4. Philadelphia 76ers (39-24) (Previous Rank: 10)
The 76ers have gotten fresh legs when they received James Harden in a trade with Brooklyn.  They dealt a disgruntled star point forward (Ben Simmons) away, and they have come back rejuvenated.  They now have a lot of offensive firepower, as Harden is returning to the MVP form that he showed in Houston, and they've paired him up with one of the best centers in the game in Joel Embiid.  The 76ers are still figuring out the back end of their rotation, but they look to be more than ready to put their past two seasons of disappointment behind them, and they look to be prime title contenders this year.
5. Boston Celtics (39-27) (Previous Rank:19)
The Celtics have made quite the turnaround with new head coach Ime Udoka, and they have won 18 of their last 24 games since I last wrote about them.  Jayson Tatum has been dominant right now, and their role players are peaking at the right time.  Jaylen Brown has continued to play well for Boston. The Celtics also have made smart acquisitions to get Derrick White and Daniel Theis during the middle of the season, and they are acquiring the role players they need to play their brand of basketball, such as Al Horford.  They've gone from being a disappointing team to being a secret title contender this season.
6. Golden State Warriors (43-21) (Previous Rank: 3)
The Warriors had a terrific start to the season, and they were able to get Klay back midway through, so they were expected to dominate from there on out.  Not so fast.  They've slowed down, as superstar point guard Stephen Curry has gone through shooting slumps, and Draymond Green is currently injured.  They've struggled to get consistent production out of their role players lately.  There's concern that maybe they started out too fast, but the battle tested, Warriors still have flashed the potential and the gears to contend for the title this season.
7. Memphis Grizzlies (44-22) (Previous Rank: 7)
The Memphis Grizzlies are one of the most exciting teams in the NBA, and superstar point guard Ja Morant is to thank for that.  The tremendously athletic playmaker has been a bundle of excitement with the ball in his hands, as he can really score and make plays on the basketball court.  The Grizzlies also have a solid, talented group of role players that fit well around him.  They're a young team that doesn't have much playoff experience, but they're a very talented team that could make some serious noise and they could go far in the playoffs.
8. Chicago Bulls (39-25) (Previous Rank: 5)
The Chicago Bulls have been playing well, and that has been one of the best, feel-good stories of the year.  DeMar DeRozan has been tremendous for the Bulls, and he, Zach LaVine, and Nikola Vucevic have paired well with each other.  They've rattled off a lot more wins than expected, but they've struggled to win against some of the best teams in the NBA.  They might not be prime title contenders yet, but the Bulls are a good team that are also quite fun to watch.
9. Utah Jazz (40-23) (Previous Rank: 8)
They are a solid defensive team that makes the playoffs time and time again, and they have a solid trio in Donovan Mitchell, Rudy Gobert, and Mike Conley.  They play solid team basketball, and they continually thrive in the regular season.  On the other hand, Utah has dealt with some injuries and they also have continually disappointed in the playoffs.  There's not much to suggest that things will change for the better for them in the future, but Utah is likely to be a fairly good, mid-tier playoff team once again.
10. Dallas Mavericks (39-25) (Previous Rank: 9)
Despite trading away star center Kristaps Porzingis, the Dallas Mavericks are still playing well and they've been racking up wins.  Superstar point forward Luka Doncic has been in top form, and their new additions Spencer Dinwiddie and Davis Bertans have excelled in their roles for the Mavericks.  This might not be enough to address their defensive issues or to get them defeat the toughest Western Conference teams, but the Mavericks are a talented team that always has a fighting chance in the playoffs due to having one of the best players in the league in Luka Doncic.
11. Denver Nuggets (38-26) (Previous Rank: 11)
They've dealt with a litany of injuries, and both Jamal Murray and Michael Porter Jr. have missed many games, but with the reigning MVP Nikola Jokic around, the Nuggets will compete, make the playoffs, and they are also a solid team on both ends of the floor.  They might not have enough offensive firepower or depth, but they are a well-coached team that could be a tough out in the postseason.
12. Cleveland Cavaliers (37-27) (Previous Rank: 13)
The Cavaliers have continued to play well, and they have a good group of core players centered around Darius Garland, Jarrett Allen, and Evan Mobley, the latter whom is the favorite for the Rookie of the Year award.   They have gone against the grain to build a really good defensive team, because they play a super-sized frontline with Mobley, Lauri Markkanen, and Allen, so they can really wall off the paint and they're mobile enough to switch on the perimeter.  They've won a lot more games than expected, and they have been one of the feel good stories of the year.
13. Minnesota Timberwolves (36-29) (Previous Rank: 21)
They are a good offensive team that has won a lot more games than expected.  They've received strong production from Karl-Anthony Towns and Anthony Edwards, and their young players are developing faster than expected.  Head coach Chris Finch is making a case to be the Head Coach of the Year this year. The Timberwolves one of the feel-good stories of the season, and reaching the postseason could be quickly on the horizon for them.
14. Toronto Raptors (34-30) (Previous Rank: 16)
The Raptors have been hit by a string of injuries, but they are a good defensive team that has overachieved, due to good coaching by head coach Nick Nurse, and a solid group of players that have helped them do so.  Fred VanVleet made his first All-Star team, and Pascal Siakam has been playing very well, especially right now.  Scottie Barnes is a contender for the Rookie of the Year award, and he's been a very good, versatile forward that has really helped them this year.  Toronto has won a lot more games than expected, and Nick Nurse has shown why he is one of the best coaches in this league.
15. Los Angeles Clippers (34-32) (Previous Rank: 14)
Despite losing Paul George for the season on top of not being able to have Kawhi Leonard suit up for them, the Clippers have trucked on, and they are a solid defensive team that has remained very competitive out in the West due to strong coaching by Tyronn Lue.  They are a tough, gritty team that will fight and claw their way for wins, and Luke Kennard was able to lead a comeback down from 35 to get their team the win over the Washington Wizards.  The Clippers may be undermanned due to not having their two superstars this year, but that hasn't stopped them from making an admirable playoff push to try to make it to the postseason.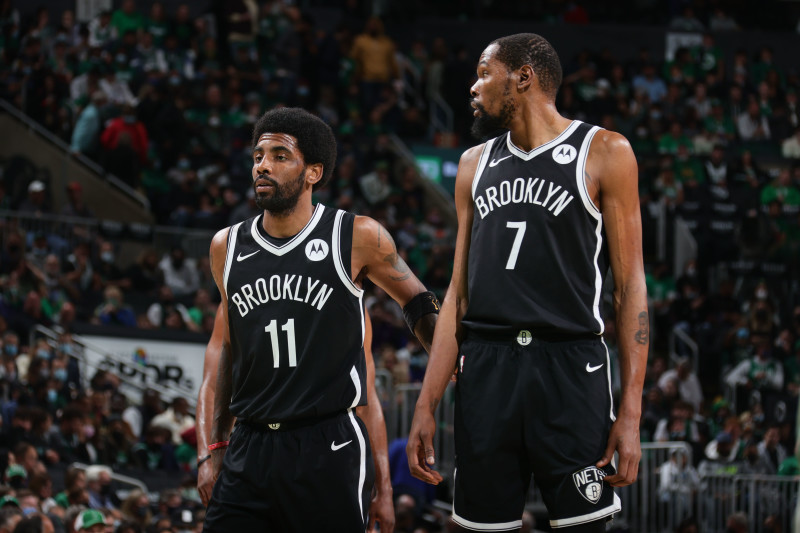 16. Brooklyn Nets (32-33) (Previous Rank: 2)
The Brooklyn Nets have been a source of fascination and frustration over the years.  They are easily one of the most talented teams when healthy, as they have superstars in Kevin Durant and Kyrie Irving, though trading James Harden for a star point forward who hasn't played and may not play anytime soon in Ben Simmons seems to set them back in the short term.  On paper, Kevin Durant paired with any superstar should lead an NBA team far, especially in the postseason.
However, this season it hasn't played that way, and the Nets have been shockingly and maddeningly mediocre this year.  They've had some bad losses, and they've looked out of sync and absolutely listless in some of them.  They've had trouble drumming up scoring from their role players or staying healthy, and they haven't defended well this season.  It's gotten to a point where receiving a title had once seemed imminent, but now the idea of the Nets getting a title seems to be questionable, and even unlikely.  The Nets don't look anywhere like the title contenders they looked on paper, but they're talented enough to surprise people and win a round or two in their attempts to recapture their glory days.
17. Charlotte Hornets (32-33) (Previous Rank: 17)
They have a talented group of players that have played quite well this season.  LaMelo Ball is a very talented, versatile guard that made his first All-Star team, and he is looking to be their franchise player.  They've also had strong seasons out of Miles Bridges, Terry Rozier, Gordon Hayward, and Kelly Oubre.  Head coach James Borrego has done a fairly solid job of leading them to be competitive and in the playoff mix, though they are still a young team that lacks postseason experience.  They've hit some cold spells lately, but the Hornets are very much in the mix for a possible playoff berth this season.
18. Atlanta Hawks (31-32) (Previous Rank: 18)
The Atlanta Hawks have been another fascinating, yet really frustrating team this season.  They were the Cinderella team that made it to the 2021 Eastern Conference Finals as they were able to defeat the New York Knicks and Joel Embiid's Philadelphia 76ers, and superstar point guard Trae Young and head coach Nate McMillan helped make that happen.  They appeared to be the hot, new team on the come up.  They had a lot of solid offensive players, and they really gelled in the playoffs.
This year though, they've really struggled to defend, and the role players have not played nearly as well as they had last season or in the playoffs.  The Hawks have tried shaking up their roster, and they've even traded promising third-year swingman Cam Reddish, but that did nothing to help the Hawks.  Despite having a group of solid role players, the Hawks have struggled defensively, and they haven't won nearly as many games as expected.  We're past the trade deadline now, and the once hot new team on the rise looks like they are plateauing, and it now looks as if their strong 2021 postseason run might have been a fluke that was due to some favorable matchups, a couple of opposing coaches not adjusting, and a string of good luck.
19. Washington Wizards (29-34) (Previous Rank: 15)
The Wizards had slumped hard prior to the trade deadline, and they decided to swing a blockbuster trade to land former All-Star center, Kristaps Porzingis, to pair him up with fellow former All-Star Bradley Beal.  The Wizards are at a point where they've lost so many games that it might be tough for them to make it to the play-in tournament, let alone the postseason, but a healthy Porzingis combined with Beal could make for a really good tandem that could give them the push they need late in the season.
20. Los Angeles Lakers (28-35) (Previous Rank: 12)
As much as Russell Westbrook didn't and doesn't really fit well around the talents of superstar forward LeBron James and star big man Anthony Davis, I didn't think that the Lakers will still have trouble figuring out how to get consistent wins at this stage of the season.  However, Westbrook's lack of shooting and startlingly bad on-ball defense have been troubling, and the Lakers' decision to not make any meaningful moves at the trade deadline was baffling at best, and infuriating at worst.  With all of this, the Lakers' lack of wins has put head coach Frank Vogel and Vice President of Operations Rob Pelinka on the hot seat, as both are at risk to be fired at the end of this season if the Lakers miss the playoffs.
The Lakers have been shockingly bad this season, as they are well under .500, yet they still have a real chance to make the playoffs if they make it to and play well in the play-in tournament.  That the Lakers will likely have to win out in the play-in tournament is a disappointment in itself, but they haven't had the shooting, depth, or chemistry this year.  Anthony Davis has been injured and has been a shell of his former self, and Russell Westbrook has failed to make the adjustments necessary to elevate his game to the next level to help the Lakers get wins.  There may still be time for them to turn around their season, but the Lakers haven't really shown that they can do it this year. As a result, the 2022 Lakers missing the playoffs is a real possibility, but also could potentially be a matter of time.
21. New Orleans Pelicans (27-37) (Previous Rank: 26)
The Pelicans swung a big trade to land C.J. McCollum in what some regarded back then as a desperate attempt to try to make it to the playoffs.  But give them credit, they are winning more games than expected now, and McCollum is playing some of his best basketball.  He's blended in well with former star forward Brandon Ingram and starting center Jonas Valanciunas, and rookie forward Herb Jones has continued to excel as an energetic defensive specialist for his team.
Oft-injured, star forward Zion Williamson hasn't played this season due to having a foot injury, and there's a real chance that he may not play this year, and some feel that he may not want to.  But in the event if he does suit up for the Pelicans this year, the Pelicans could be in position to sneak up on teams in the play-in tournament (if they get there) to potentially snag a postseason berth this year.
22. New York Knicks (26-38) (Previous Rank: 20)
The Knicks also have been a disappointing team, and while they haven't been as maddeningly disappointing as the Lakers, Nets, or Hawks, it is still rather infuriating all the same, because they just haven't been able to reach their full potential.  The Knicks sneaked up on teams last year, but NBA teams are better equipped for them this year, and the Knicks' defense just hasn't been nearly as good this season.  Perhaps their 2021 postseason berth was a fluke, and maybe they were a smoke and mirrors team all along, but either way, the Knicks just haven't been nearly as good as expected this year.   
Former All-Star forward, Julius Randle is having a down season, and the Kemba Walker acquisition turned out to be so bad that the Knicks are willingly sitting Kemba for the rest of the year.  It's obvious that the Knicks' coaching staff and management haven't been on the same page, and this year reflects that for them. On the bright side, R.J. Barrett is starting to emerge as a rising star, and he was able to score 46 points in a loss to Miami recently.  That said, it seems that the honeymoon period between the Knicks' fans and their head coach Tom Thibodeau has been long over, and the Knicks' brass may have to decide if Thibodeau should be brought back next season.
23. San Antonio Spurs (24-40) (Previous Rank: 22)
The Spurs traded Derrick White away in a move to further signify a rebuild, but that said, they actually seemed to have had a better season than anticipated, especially from a developmental perspective.  Dejounte Murray made his first All-Star team, and he's a threat to notch triple-doubles on a consistent basis.  Keldon Johnson is turning a very good season, and he's benefited from his experience on winning the gold for 2020 U.S. Olympic team in Tokyo.  Devin Vassell has quietly had a solid second season.  Rookie guard Josh Primo has had some very good games, and he looks to be further along than expected.  While the Spurs are likely to miss the playoffs, head coach Gregg Popovich has done a very good job of coaching his team and developing his players, and the Spurs look to be in a pretty good shape for the future moving forward.
24. Portland Trail Blazers (25-38) (Previous Rank: 24)
The Blazers have started to begin some of the tear-down process by trading C.J. McCollum, as they decided to do that when it was announced when superstar point guard Damian Lillard would miss the rest of the season due to injury.  That said, head coach Chauncey Billups still has kept his team reasonably competitive, and his team is still within shouting range of making it to the play-in tournament.  Anfernee Simons has played very well this season, and he's taken a step forward in his development.  It remains to be seen in which direction the Blazers will choose to go next year, but for the season, it looks very unlikely about their chances to make the playoffs.
25. Sacramento Kings (24-42) (Previous Rank: 23)
The Kings made a head-scratching trade to deal Tyrese Haliburton to the Indiana Pacers, but they did so to acquire former All-Star center, Domantas Sabonis.  It remains to be seen if it'll pay off, especially since neither Sabonis nor star point guard De'Aaron Fox shoot well from the outside, but there is hope that maybe it could work.  On another note for them, they punted the Marvin Bagley III developmental project, as they traded him to the Detroit Pistons, which marks that they realized that they emphatically made a draft blunder of picking him over Doncic in the 2018 NBA Draft. As of right now, the Kings are building around Fox and Sabonis, but the Kings have been at or near the bottom of numerous years now, and they will miss the postseason once again.
26. Indiana Pacers (22-44) (Previous Rank: 25)
Despite having a very underwhelming season, the Pacers were able to swing a blockbuster trade to land second-year guard, Tyrese Haliburton.  They get a promising, skilled combo guard that does virtually everything well, and he's almost like a carbon copy of a player they already have, which is the reliable star point guard, Malcolm Brogdon, but both have the skill sets to make it work well.  Also, defensive ace Myles Turner finally gets to play the position he wishes to play, which is at center.  The Pacers lost too many games to compete for the play-in tournament, and they've been hit with a lot of injuries as Myles Turner is out, but they have put in the pieces to make a strong run for the playoffs next year.
27. Oklahoma City Thunder (20-44) (Previous Rank: 27)
They have been a rebuilding team, but they have a group of very talented perimeter players that could help shape their future in a very good direction.  They have a rising star guard in the versatile, Shai Gilgeous-Alexander, who does a lot of things well, a promising rookie point forward in Josh Giddey, a tall playmaker that can rack up triple-doubles, and they have a defensive ace in Luguentz Dort, who can shut down the very best players in the NBA.  The Thunder also has a treasure chest of draft picks, so fans should be very excited for their team's future.
28. Detroit Pistons (17-47) (Previous Rank: 29)
Cade Cunningham had a tremendous All-Star weekend, as he was the Rising Stars' game MVP, and he partook in the festivities to help the Rooks get second place in the Team Skills Challenge.  He's also played fairly well this season as a rookie, and while his jump shot has been shaky, he's proved to be a versatile playmaker that can sometimes take over games.  As for the Pistons, they are still in the early stages of trying to figure out how to shape their roster.  They almost traded star forward Jerami Grant, but they decided to keep him.  The Pistons' future may hinge on the success of Cade Cunningham, and they'll need to keep adding pieces moving forward.  So far, it seems the future looks pretty bright for them.
29. Orlando Magic (16-49) (Previous Rank: 30)
The Magic are a young team that is figuring out their roster, and they've received a strong rookie season out of their second, first round pick in rookie forward, Franz Wagner.  Jalen Suggs has played better after returning from injury.  He's defended well and has done a better job of scoring the basketball lately, but still has struggled considerably with his jump shot.  Mo Bamba has been a fairly solid starting center for the Magic this year, Cole Anthony has turned in a solid second season, and Markelle Fultz also has returned from injury.  The Magic are still figuring out their core, but it seems like they have a good group of young players to work with so far.
30. Houston Rockets (16-48) (Previous Rank: 28)
They are one of the worst teams in the NBA, and despite having some talented players, they have really struggled to find chemistry or get wins.  It seems that they are still trying to force the principles from their old regime onto their new roster, but they haven't built cohesiveness or trust from their players.  Christian Wood and Kevin Porter Jr. are two of their most talented players, but they've butted heads and had run-ins with their current coach, Stephen Silas, whom has had a lot of trouble getting wins during his reign in Houston so far.  Rookie guard Jalen Green has been inconsistent this year. He started out strong, as he is an extremely athletic, promising combo guard that can score and do so in bunches, but he's fallen off as of late, and has struggled to shoot or defend right now.  The Rockets may be building around Jalen Green, but they may not have the other pieces in place to optimize their growth as a team, which could be especially concerning for their future.

Well, those are my assessments of each of the 30 NBA teams right now, and it will be interesting to see which NBA teams end up making the 2022 NBA Playoffs.  This was fun for me to evaluate each of their performances up to this point of the season, and it will be interesting to see how this season will play out.  Thanks for reading.