The 2023-24 Milwaukee Bucks' Season Preview
October 1st, 2023
by Alan Lu
The Milwaukee Bucks had won the 2021 NBA championship a couple of years ago, but they've struggled to reach those heights ever since. Since then, they have been bounced out of the playoffs earlier than expected for the past two seasons, as they have dealt with injuries and at times questionable play or coaching in the postseason. As a result, they dismissed longtime head coach Mike Budenholzer and hired Adrian Griffin to be their head coach in an attempt to switch things up. And then, they shook up the NBA world by trading away Jrue Holiday and Grayson Allen to Portland land superstar point guard, Damian Lillard to pair him up with Giannis.
This year, the Bucks will bring back Giannis, Middleton, and Brook Lopez, but they'll need to ensure that they stay healthy in the playoffs. They were able to get some much needed offensive firepower by adding Damian Lillard via trade, and it'll be interesting to see how far Milwaukee will go in 2024.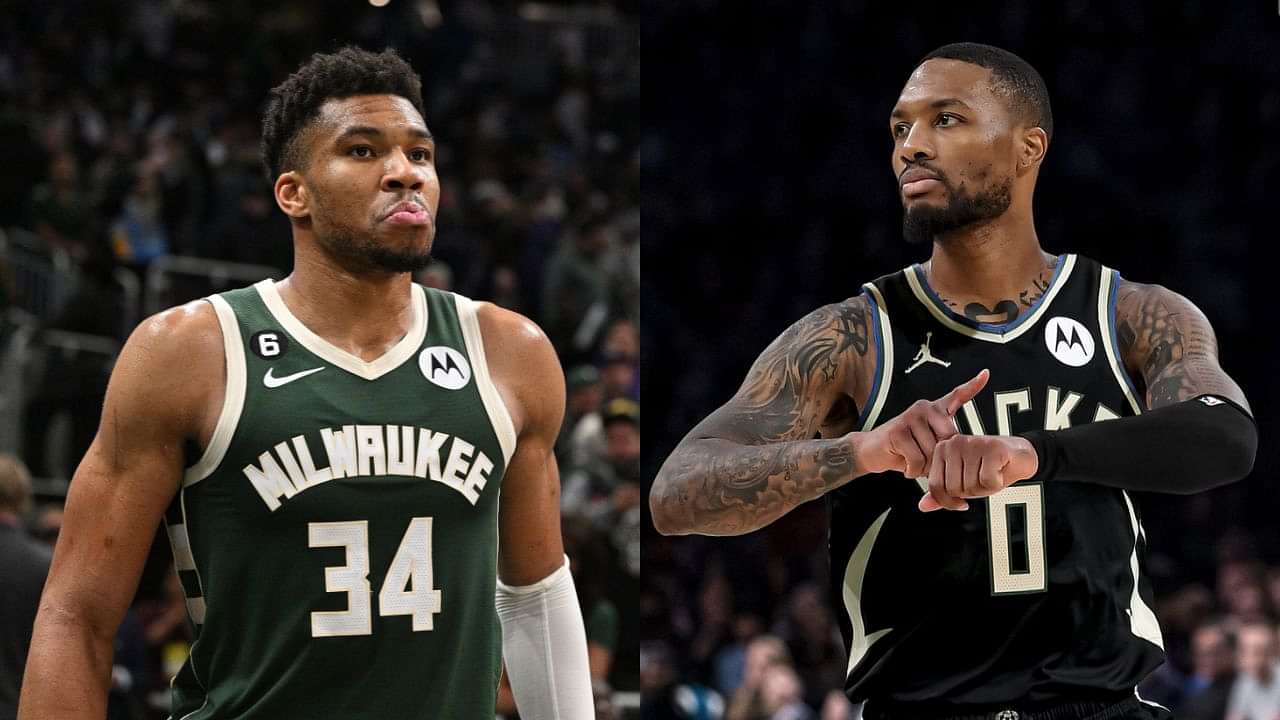 The addition of Damian Lillard will help Milwaukee significantly, and it will help Giannis and Milwaukee be a much more potent offensive team. But will it be enough to get them the title in 2024? Time will tell.
(Photo: USA Today Sports and X (@ESPN), via The SportsRush)
Star Players:
F Giannis Antetokounmpo, G Damian Lillard, F Khris Middleton, and C Brook Lopez
Giannis is a superstar point forward that is a tremendously athletic player that can really score, make plays, and defend on the court. He is one of the best in the game, and he's helped his team win the 2021 NBA title.
Damian Lillard is a tremendously skilled point guard that can really shoot and score the basketball, and he will facilitate to rack up assists in games. He will need to improve his defense, but his strong offensive skills and jump shot will enable him to pair well with Giannis in Milwaukee.
Khris Middleton is a versatile, do-it-all forward that is an extremely effective complementary player when healthy, but he's been injury prone recently, so he'll need to make sure that he can stay healthy.
Brook Lopez is a skilled big man that can stretch the floor and defend, and he was one of the best interior defenders in the league last season.
Additions:
G Damian Lillard, G Malik Beasley, G Cameron Payne, G-F Andre Jackson Jr., C Robin Lopez, F Chris Livingston, G TyTy Washington Jr., and G-F Omari Moore
The Bucks added a slew of players, but the most impactful addition by far is Damian Lillard, whose tremendous offensive skills makes him one of the best players in the league. Another impactful addition could come in the form of Malik Beasley. He is a shot making combo guard that played a pivotal role in the Lakers' playoff run last year, and he will be a key role player for the Bucks this season.
Cameron Payne is an agile, skilled point guard that excels as a knock-down shooter on offense. Jackson is a smart, skilled big point guard whose strong playmaking and defensive skills could allow him to contribute right away, and Chris Livingston is an athletic, high-motor forward that could be a solid player in the future. Robin Lopez is a high-motor center that will compete for minutes as a backup center on this team.
Subtractions:
G Jrue Holiday, G Grayson Allen, F Joe Ingles, G-F Wesley Matthews, G Jevon Carter, G Goran Dragic, and C Meyers Leonard
The Bucks lost a handful of solid players, but the biggest loss by far was Jrue Holiday when they dealt him away to Portland. Jrue Holiday is a very good point guard whose playmaking and defensive skills makes him one of the best at his position right now.
Rookies:
G-F Andre Jackson Jr., F Chris Livingston, and G-F Omari Moore
The Bucks have some talented rookies, but as they are one of the prime contenders this season, it's uncertain if any of them will get much playing time this year. Amongst them, Jackson may be the most likely to get some minutes, and his playmaking skills and plus-level defense could allow him to crack the rotation towards the end of the year.
Expected Rotation: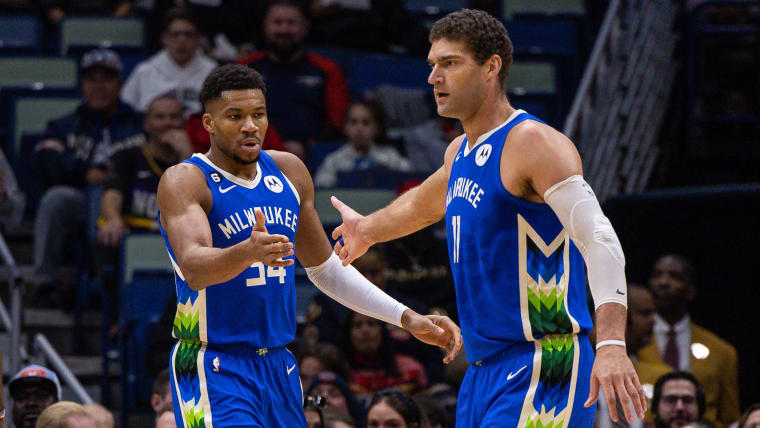 Giannis and Brook Lopez played very well during the regular season last year, and both will lead their team into the 2023-24 NBA season.
(Photo: Stephen Lew/USA Today Sports, via Sports Illustrated)
The Milwaukee Bucks have one of the best starting lineups when healthy. They have a tremendously skilled superstar forward in Giannis, and they also swung a big trade to land Lillard. They also have two very good complementary players in Middleton and Lopez. Lopez has been very solid as a stretch big and interior defender. They've struggled with injuries though, but when healthy, the Bucks are a formidable team in the NBA.
Projected Starting Lineup:
Key Bench Players: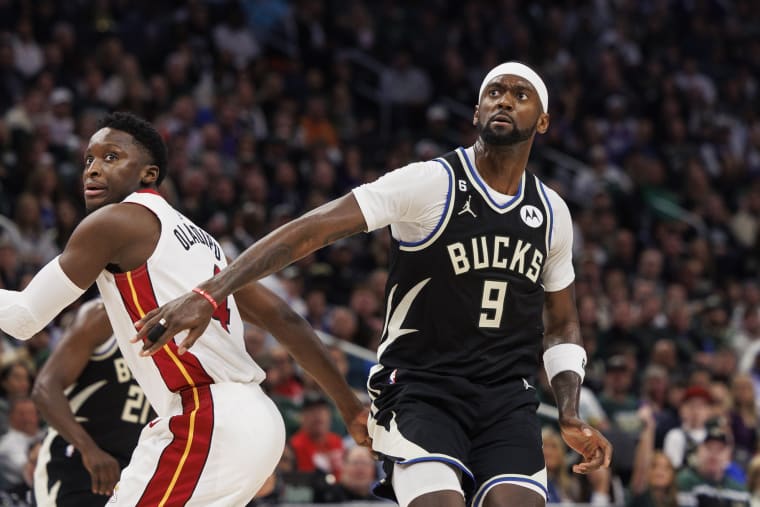 Bobby Portis is the Milwaukee Bucks' best bench player, and he has energized his team in his role for years.
(Photo: Jeff Hanisch/USA Today Sports, via Sports Illustrated)
The Bucks have a solid bench led by Bobby Portis. Portis is a strong, tough big man that can stretch the floor and defend, and they also have a slew of solid veteran role players to round out their cast off the bench. Beauchamp could be due for a breakout season, and he is an athletic, energetic swingman that can score and defend in games.
F-C Bobby Portis
G-F MarJon Beauchamp
The Rest of the Roster:
G Lindell Wigginton (Two-Way)
G TyTy Washington Jr. (Two-Way)
G-F Omari Moore (Two-Way)
Others in Camp:
C Drew Timme (Exhibit 10)
G Jazian Gortman (Exhibit 10)
Players That Were Recently Traded Away To Other Teams:
Jrue Holiday and Grayson Allen were traded away in the Lillard trade, as they were traded to Portland and Phoenix respectively. Here were my grades for them before they were sent in that trade.
Talent wise, the Bucks get an upgrade by getting Lillard in return, but the difference in talent may not be as big as people may expect it to be. Lillard is a tremendously skilled shot creator and playmaker and he will certainly make Milwaukee a much more potent offensive team. Pairing him with Giannis makes it a great offensive fit, which catapults Milwaukee back to being strong title contenders this year. However, Milwaukee will miss Holiday's strong defensive skills and ability to defend either backcourt position, and they'll have to lean on some of their other bench players this season.
Head Coach:
Adrian Griffin will be a rookie head coach in the NBA, but it's unknown as to how far he'll take the Bucks in the 2024 NBA Playoffs.
(Photo: Mike De Sisti/Milwaukee Journal Sentinel)
Adrian Griffin
2022-23 (TOR): 0-0, 0-0 in the playoffs
Coaching Career: 0-0, 0-0 in the NBA Playoffs
Griffin is a former long-time veteran NBA player that made his mark as a defensive player in the league before becoming an assistant coach. He's bounced around numerous teams as an assistant coach before working with the Raptors' staff last year, and he was recently hired to be the Milwaukee Bucks' coach for the upcoming season.
Outlook: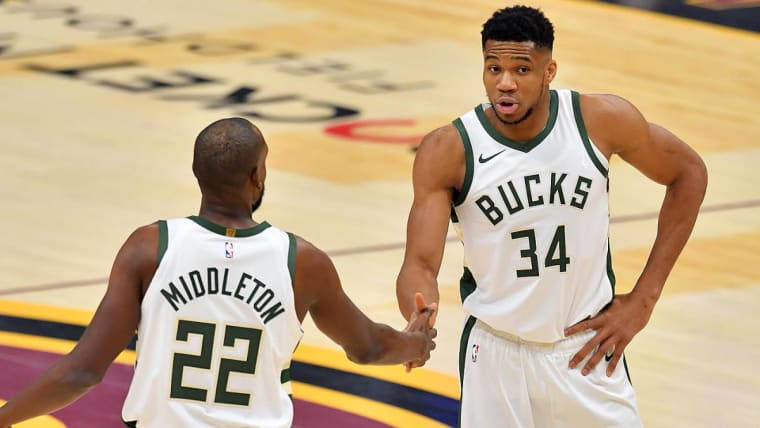 If they can keep their top players healthy, the Milwaukee Bucks will likely make a deep playoff run in 2024.
(Photo: Getty Images, via Sports Illustrated)
In 2021, the Bucks reached the pinnacle by winning the NBA championship that season, but they haven't gone nearly as far in the playoffs since. They've been slowed down by injuries and disappointing playoff runs in the past two seasons, and they ended up firing longtime head coach Mike Budenholzer as a result.
It's uncertain if that move will help them as they will turn to a new and inexperienced head coach, Adrian Griffin, but their management seemed to want a fresh start, and someone that would give them new looks in the playoffs. The biggest move in the offseason was that they traded Holiday and Allen to land Damian Lillard, and it's a move that could potentially put Milwaukee over the top in theory, but Holiday's strong defensive skills could make that trade a tough loss if they can't make back that defense. The Bucks need to stay healthy, and if they can, they could perhaps go all the way to win the title in 2024. In the meantime, it'll be a really close race in the East between Milwaukee and Boston, as that could come down to which team makes it past the finish line.
Projected 2023-24 Finish:
Projected Regular Season Finish: 2nd in the Eastern Conference
Expected Playoff Finish: Projected to lose in the Eastern Conference Finals
2023-24 Preseason NBA Power Ranking: 3
I went to Basketball-Reference and No-Trade Clause to look up some information for this write-up. It will be an exciting basketball season this year, and I'm looking forward to seeing the in-season tournament to see how that will unfold. Anyways, that is my write-up on my preview of the 2023-24 Milwaukee Bucks. Thanks for reading.