The 2023-24 Golden State Warriors' Season Preview
September 26th, 2023
by Alan Lu
A couple of seasons ago, the Golden State Warriors went on a magical run to win the 2022 NBA championship over the Boston Celtics, and they were back on top of the basketball world. But a season later, they had a tumultuous season that started off with an incident that happened before the regular season in a scrimmage game in which Draymond Green ended up punching Jordan Poole. The Warriors later had a series of injuries, and Andrew Wiggins was out due to personal reasons. That aside, they were able to make it to the playoffs to stave off a feisty, Sacramento Kings' team in the first round. However, they didn't get too far, as they ended up losing to LeBron's Lakers in the second round series of the 2023 NBA Playoffs.
In the offseason, the Warriors swung a big trade to land superstar point guard, Chris Paul to make them title contenders once again, but the NBA community may wonder if that will be enough to get the Warriors another title in 2024.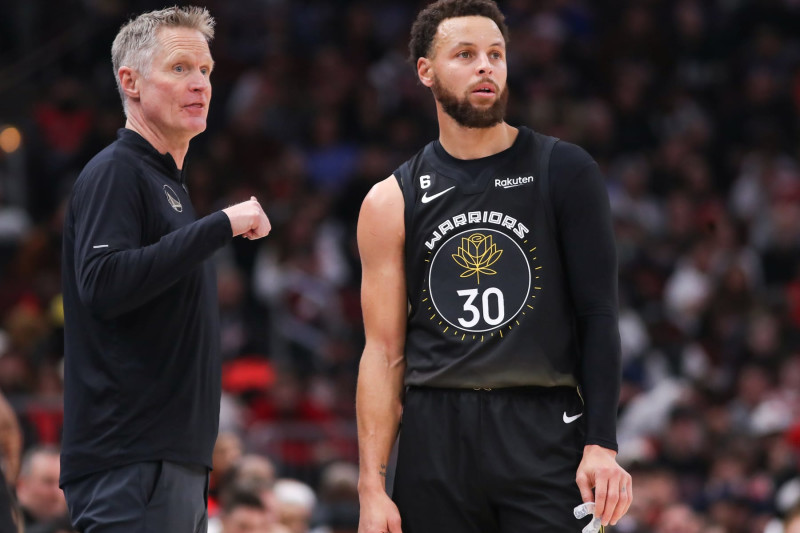 Stephen Curry (on the right) and Steve Kerr (on the left) have led the Golden State Warriors to win four NBA titles together, and they will hope to get another title in 2024.
(Photo: Melissa Tamez/Icon Sportswire via Getty Images, via Bleacher Report)
Star Players:
G Stephen Curry and G Chris Paul
Stephen Curry is a tremendously skilled, sharpshooting point guard that is currently one of the best players in the NBA. He can do it all on offense, and he is a superstar that makes everyone else around him better.
The Warriors also were able to land Chris Paul in a blockbuster trade, and he is a pass-first, table-setting point guard whose outstanding basketball IQ and strong skill set also will likely bolster the Warriors in a big way. He's been injury-prone though, so he will need to find ways to stay healthy, but the Warriors will have a terrific backcourt in the NBA once again.
Additions:
G Chris Paul, F Dario Šarić, G Cory Joseph, G Brandin Podziemski, F-C Trayce Jackson-Davis
Chris Paul is one of the best point guards in the game, and on paper, it sounds like it'll be a fantastic addition. He'll need to get used to his new role to fit with the Warriors' team, and one minor criticism is that the Warriors might be too small in the backcourt, but Paul adds a lot of smarts, skills, and talent to their roster. Saric is a versatile forward that brings them different dimensions on offense, and they also added other skilled players to help their team.
Subtractions:
G Jordan Poole, G-F Donte DiVincenzo, F-C JaMychal Green, G Andre Iguodala, F Patrick Baldwin Jr., G-F Anthony Lamb, and G Ryan Rollins
The Warriors lost a slew of players in the offseason, but the biggest loss was that they dealt away the very talented, but at times inconsistent sharpshooting guard, Jordan Poole in a move to land Chris Paul. The Warriors decided to go all in to win now for this year, but n doing so decided to trade away a potential rising star and someone that was seen as a player that could've been a prominent cornerstone player for their future. They also let a couple of solid role players walk and traded away a couple of other skilled young players that didn't get much playing time. Poole was coming off arguably a down season and the Warriors decided to trade his contract away to another team, but dealing him was probably one of the biggest surprises of the summer.
Rookies:
G Brandin Podziemski, F-C Trayce Jackson-Davis
Both are talented rookies that could get some playing time for the Warriors this year. Podziemski is an agile, skilled combo guard that can shoot and pass the basketball, and Jackson-Davis is an athletic, high-motor big man that can make plays out of the post to help shore up the interior.
While the Warriors were one of a handful of teams that passed on Cam Whitmore, a player that may have a considerably higher ceiling than both of the rookies listed here, Podziemski is a skilled guard that could be a good fit for the Warriors' system, and Jackson-Davis is a polished player that could contribute right away.
Expected Rotation:
Stephen Curry will lead a very talented group of starters for the Golden State Warriors heading into the 2023-24 NBA season.
(Photo: Tom Pennington/Getty Images, via SB Nation's Golden State of Mind)
The Warriors have an experienced, battle-tested starting lineup that is known to be one of the best in the NBA when healthy. Curry and Klay Thompson are the splash brothers that have been two of the league's best for awhile, and Draymond Green is a point forward that is also an outstanding defender. Kevon Looney has excelled in his role, and will bring rim protection to his team. Andrew Wiggins is a wildcard type of player that was really good in the 2022 playoffs, and he is a very athletic forward that can score and is a very good defender. The Warriors have battled with injuries and some of their starters are coming off relatively down seasons, but their group of starters have been known to be very good for quite a while now.
Projected Starting Lineup:
Key Bench Players:
Whether if he starts or comes off the bench, the Warriors' new superstar point guard Chris Paul will be a big addition to their team for the upcoming season.
(Photo: Madeline Kennedy/Bay Area News Group, via The Mercury News)
The Warriors were able to land another superstar point guard in acquiring Chris Paul in a blockbuster trade, but that also meant having to part ways with Jordan Poole. They added Dario Saric and Cory Joseph to help bolster the depth of their roster. Paul is sure to give the Warriors' bench a boost if he does come off the bench, and his tremendous playmaking and strong shot-making abilities will be an asset, but the Warriors will need Kuminga and Moody to take a leap and make the next step to elevate their game for the upcoming season.
G-F Moses Moody
The Rest of the Roster:
F-C Usman Garuba (Two-Way)
G-F Lester Quinones (Two-Way)
Others in Camp:
G Rodney McGruder (Shams' tweet)
C Jayce Johnson (Exhibit 10)
G Kendric Davis (Exhibit 10)
G-F Javan Johnson (Exhibit 10)
Head Coach:
Head coach Steve Kerr has won five NBA titles as a player, and four NBA titles as a head coach, and he hopes to win another title for the Golden State Warriors this season.
(Photo: Ezra Shaw/Getty Images, via Business Insider)
Steve Kerr
2022-23 (GSW): 44-38, 6-7 in the playoffs
Coaching Career: 473-238, 99-41 in the NBA Playoffs, won 4 NBA titles as a head coach
Historically, Steve Kerr is one of the greatest coaches of all-time, and no down season will ever take away from that. He's won 4 NBA titles in his first 9 seasons as a head coach, has overseen great players under his watch, and he's helped Stephen Curry blossom into being one of the greatest players in NBA history. Kerr has put forth a tremendous, nuanced motion offense, and his teams have also defended well, with Draymond Green and Kevon Looney serving as the backbone of the defenses.
However, the Warriors were relatively disappointing last year, as they lost in the second round last year. One possible area of concern is if he can coach up young players and get them to better understand his intricate, but complicated offense, but that could also just have been a personnel issue instead. Another question could be if the Warriors are aging too quickly and showing signs of decline, but regardless, Kerr is a very good coach that could get the most out of his players. On the downside, Team USA's performance and inability to medal at the 2023 FIBA Basketball World Cup will cause some people to doubt him, but historically he's been a very good coach in this league.
Outlook:
The Golden State Warriors are hoping to win another title in 2024.
(Photo: Ezra Shaw/Getty Images, via KRON4)
In 2022, the Golden State Warriors had a magical run to win the NBA championship, but they fell short of that goal last season. Some point to not enough depth, as Otto Porter Jr. and Nemanja Bjelica left in free agency for other teams, and they had let Gary Payton II go in free agency last year before deciding to trade James WIseman to get GPII back, and it could be argued that maybe their younger players might not have been quite ready to step into the elevated roles yet. Others pointed to the mounting tension that was caused from the Draymond Green-Jordan Poole punch incident, which fractured their team chemistry.
Regardless, that was last season, and this is a new season. The Warriors decided to trade Jordan Poole, one year after giving him an extension, and they opted to trade him away in a dealt that landed them Chris Paul. Curry and Paul will give them a new look for their backcourt, and they also have Klay Thompson, who didn't quite play as well last season as anticipated. Andrew Wiggins missed some time due to personal reasons, and he wasn't quite able to match the very good 2021-22 season that helped his team win the championship. If all breaks well, the Warriors could surprise people once again and win an NBA championship. But if they experience setbacks, such as injuries or decline in skills, then the Warriors could end up falling short of that goal and wind up as a solid, upper-mid tier playoff team this season.
Projected 2023-24 Finish:
Projected Regular Season Finish: 3rd in the Western Conference
Expected Playoff Finish: Projected to lose in the Western Conference Finals
2023-24 Preseason NBA Power Ranking: 8
I went to Basketball-Reference and No-Trade Clause to look up some information for this write-up. It will be an exciting basketball season this year, and I'm looking forward to seeing the in-season tournament to see how that will unfold. Anyways, that is my write-up on my preview of the 2023-24 Golden State Warriors. Thanks for reading.