Previewing the 2023-24 San Antonio Spurs
September 4th, 2023
by Alan Lu
The Spurs were able to select Victor Wembanyama with the first pick of the 2023 NBA Draft, and they will have a very exciting rookie big man that could re-energize their historic franchise.
(Photo: Ethan Miller/Getty images, via The Boston Globe)
Last year was a trying season for the Spurs, and they didn't win many games this past season.  On the bright side, they do have legendary head coach, Gregg Popovich, as well as the first overall pick, and they were able to select superstar prospect extraordinaire, 7-4 French center, Victor Wembanyama, a tremendously skilled and athletic big man who had a stellar season in the French League and had led his team to the finals.  
In addition, the Spurs have a solid veteran swingman in Keldon Johnson that was part of team USA's 2020 Gold Medal Olympics team. Devin Vassell is a sharpshooter that can get buckets, and forward Jeremy Sochan had a solid rookie season.
Star Players:
None
While Wembanyama may be the best draft prospect to enter the NBA in a long while, it would probably not be wise to anoint any rookie that hasn't played a game in the NBA yet a star, so temporarily, the Spurs enter the season without a star player.
This section will probably be filled with Wembanyama's name next season, and he's a very skilled player with extraordinary talents, even if his summer league was up and down in Vegas this year. He may be as much of a sure-fire, can't miss prospect that it can get, but sometimes prospects that appear to be a sure thing can miss, so we'll wait and see if he does make the leap to become a star by the time the season ends.
Additions:
F-C Victor Wembanyama, G-F Reggie Bullock, G-F Cedi Osman, G Cameron Payne, and G-F Sidy Cissoko
Wembanyama is a very tall, skilled center that could make an immediate impact in this league. He is a really skilled, athletic big man that can make shots from anywhere on the court, and he is also a very good defender. He had an up and down summer league, but he has the skills to be a superstar in the NBA.
The Spurs added a couple of solid, 3-and-D role players in Reggie Bullock and Cedi Osman. Cameron Payne is a score-first point guard that will help their team off the bench, and Sidy Cissoko is an athletic, point forward that has solid playmaking and defensive skills, but he will need to improve his jump shot and scoring ability for the upcoming season.
Subtractions:
G-F Romeo Langford, F Keita Bates-Diop, and C Gorgui Dieng
Among them, none of them factor to be huge losses for the Spurs. Langford is an athletic wing that had some potential to develop as a scorer and defender, but has never really fulfilled the upside he was suggested to have, and had been relatively disappointing in his NBA career to date. Bates-Diop is a skilled forward that can score off the bench, but is kind of a fringe rotation player.
Among the three, Dieng may be the biggest loss out of them, as he is a shot-blocking center that added a three-point shot, but he's had trouble staying healthy, and has not been able to get many minutes over the years.
Rookies:
F-C Victor Wembanyama and G-F Sidy Cissoko
Wembanyama is the Spurs' prized rookie and franchise player, and he will be the player they will count on in the future. He will likely get a lot of playing time, and he is a strong contender for the Rookie of the Year award for the 2024 season.
Sidy Cissoko's playmaking and defensive skills could enable him to get minutes, but his lack of elite shooting or scoring skills could make it difficult for him to get playing time early on. Still, he is a young, athletic forward that could project to be a solid rotation player over time, and he could end up getting some playing time as the season progresses.
Expected Rotation: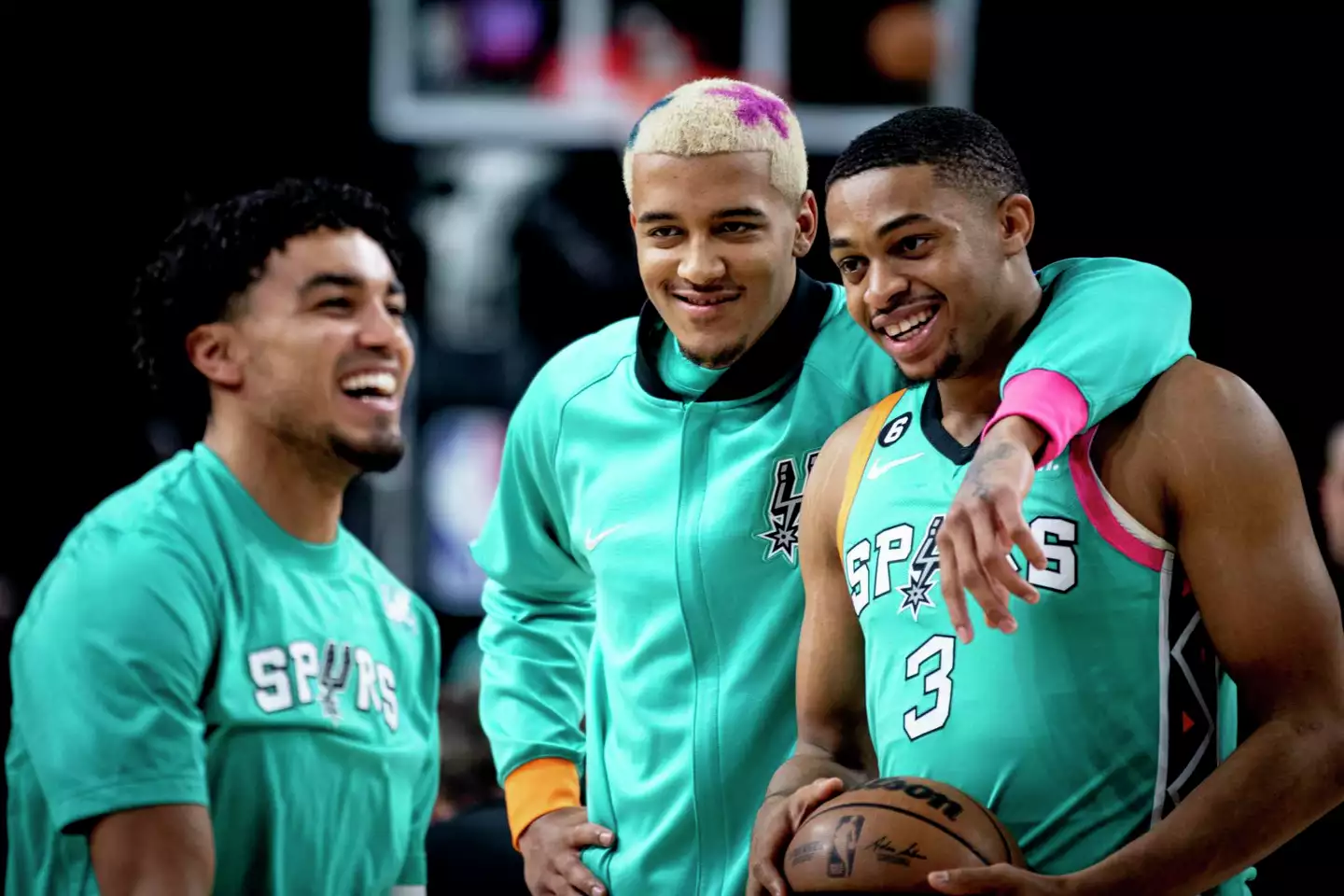 Jeremy Sochan (middle) and Keldon Johnson (right) are two players that will play key, pivotal roles on the Spurs' team this season.
(Photo: Reginald Thomas II/San Antonio Spurs, via mySA)
Projected Starting Lineup:
Victor Wembanyama is a tremendously talented big man that can do a lot of things on the court, but could experience early growing pains in the league due to entering the league as a rookie. Zach Collins could start at center to ease some of the burden and take some of the pounding away from him. Jeremy Sochan is an athletic, energetic combo forward that has solid defensive skills and plays with a lot of grit, energy, and toughness. Keldon Johnson is a solid player that can score and defend, and he's a reliable veteran that can play a lot of games and shoulder the scoring load. Tre Jones is a pass-first point guard that can reliably run the team, and he will also play scrappy defense.
Key Bench Players:
Devin Vassell is an agile, sharpshooting swingman that could be a valuable role player for the Spurs this season.
(Photo: Matt Krohn/USA Today Sports, via SB Nation's Pounding the Rock)
The Spurs gave made steps to improve the depth of their roster, and their bench looks better than it did last year. Vassell is an athletic, skilled swingman that can shoot and score the basketball. Bullock and Osman are proven vets that can reliably contribute as 3-and-D wing guys off the bench. Payne and Graham are solid backup point guards that can pack a scoring punch when they step in the game. They may not have eite bench players, but Vassell is a solid role player that could be due for a breakout season.
G-F Reggie Bullock
The Rest of the Roster:
The Spurs have some talented players that might not crack the rotation. Doug McDermott is a sharpshooter and is a proven marksman that can help off the bench. Charles Bassey had a significantly better sophomore season, and he's an athletic rim protector that can anchor the paint. Malaki Branham is a skilled combo guard that has shown some shot making ability in his rookie season, and the Spurs have a group of young players that could contribute solid minutes when they are given some time to play.
F Dominick Barlow (Two-Way)
G-F Sidy Cissoko
G Sir'Jabari Rice (Two-Way)
Others in Camp:
The Spurs have a logjam as they currently have 18 standard contracts on their roster, which means they will have to cut at least three players by the time the regular season opens. They will have a tough decision on their hands, because this decision could likely involve second round rookie swingman Sidy Cissoko, third-year center Sandro Mamukelashvili, who started a few games and saw increased playing time last year, journeyman big man Khem Birch, and second-year forward Julian Champagnie, who played surprisingly well as a rookie last year.
In addition, second-year guard Blake Wesley didn't have a great rookie season, as he made just 32% from the field and had more field goal attempts than points, but he is a very athletic player whose scoring, playmaking, and defensive potential combined with having been a recent first round pick could make him a likely bet to stay on the roster. Cissoko impressed some people with his strong defensive play over the summer, but the decision to sign him to a standard contract rather than a two-way contract despite the logjam may raise some eyebrows, especially since three players will need to be cut if no further trades are made prior to the start of the regular season.
C Charles Bediako (Exhibit 10)
G-F Seth Millner (Exhibit 10)
Head Coach:
Gregg Popovich is one of the best coaches of all-time, and the Spurs' coaching legend will get the opportunity to coach Victor Wembanyama this year.
(Photo: LM Otero/Associated Press, via KFAE)
Gregg Popovich
2022-23 (SAS): 22-60, Missed the Playoffs
Coaching Career: 1366-761, 170-114 in the NBA Playoffs, 5 NBA titles
Gregg Popovich is one of the greatest coaches of all-time, and he's led the Spurs to win five NBA championships. He'll get the opportunity to coach Victor Wembanyama, and their team is in good hands with them on board.
Their team is still young and very inexperienced, so he has his work cut out for him, but Popovich will look to get the most out of his players, and will keep his team fresh and competitive for the upcoming season.
Outlook:
The San Antonio Spurs will have their first season with Gregg Popovich and Victor Wembanyama together, and while that bodes well for their future, they are still a very young and inexperienced team that may have their hands full in the very competitive, Western Conference this season.
(Photo: Carolyn Kaster/Associated Press, via KGNS)
The San Antonio Spurs were really lucky to land the first overall pick, which enabled them to get the player they want in the draft, 7-4 French center Victor Wembanyama, that allowed them to pair him with their Hall of Fame coach, Gregg Popovich. It still gets harder though, because they still will have to compete in a very competitive NBA and Western Conference, and as they were among the worst teams in the league last year, they will have to prove themselves to move up the ladder.
The Spurs might struggle again this year, but they will probably be more competitive than some of the worst teams fared in previous seasons. They may struggle this season, but they'll gain a valuable amount of experience and wisdom that should help them in the future.
Projected 2023-24 Finish:
Projected Regular Season Finish: 15th in the Western Conference
Expected Playoff Finish: Projected to miss the playoffs
2023-24 Preseason NBA Power Ranking: 30
I went to Basketball-Reference, Spotrac, and No-Trade Clause to look up some information for this write-up. It will be an exciting basketball season this year, and I'm looking forward to seeing the in-season tournament to see how that will unfold. Anyways, that is my write-up on my preview of the 2023-24 [NBA Team]. Thanks for reading.