Thoughts on the Miami Heat's Eastern Conference Finals Series Win, And My 2020 NBA Finals Prediction
September 27th, 2020
by Alan Lu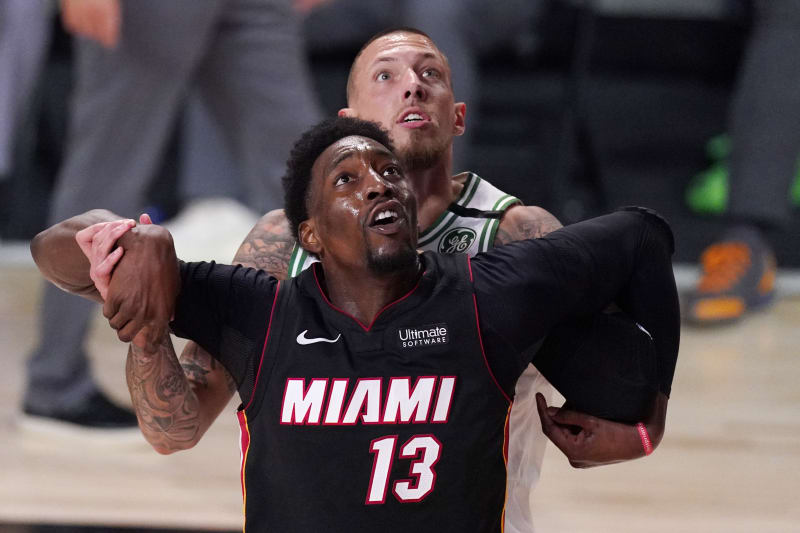 The Miami Heat will be joining the Los Angeles Lakers in going to the 2020 NBA Finals.  They have been well-coached as head coach Erik Spoelstra has done a tremendous job in leading his team in this year's playoffs, and the Heat were able to exceed expectations with every step of the way to be the best team in the East this year.
In Game 6, Miami got off to a really good start, as Andre Iguodala did a tremendous job of knocking down three-point shots, and he made sure to knock down jumpers whenever his opponents gave him the time and space to do so.  Bam Adebayo showed off very good ball handling skills, as he would attack the basket to get scores and assists off the dribble, which made it tough for opponents to guard him.
Miami rolled their coverage towards Jayson Tatum early to prevent him from getting going, and Tatum again struggled with Miami's zone defense look.  He didn't score until midway through the second quarter.  Once he scored, he picked it up and started to be more effective on offense.
It seemed as if the tide had turned, as Boston appeared to regain momentum when Jaylen Brown had a steal and scored on a breakaway dunk late in the game.  He almost injured his knee when Jimmy Butler was indecisive in thinking to contest the shot or not on the break.  This gave Boston a brief rally, as they got a couple of stops and were able to extend their lead in the fourth quarter.
However, Brad Stevens reinserted Daniel Theis in the game, but then Bam Adebayo took advantage of him by driving hard to the rim to close the gap.  Boston struggled to knock down jumpers, and they couldn't get any easy driving lanes.  Miami kept making shots down the stretch, and Boston continually struggled with his Miami's zone defense look by forcing quick, contested jumpers from the perimeter. Ultimately, Miami was able to run away with the win to get to the NBA Finals.  I guess it seems that Boston was not ready to compete with Miami as anticipated, and they were not able to force a 7th game in this series, but hats off to the Miami Heat for a well-played series.
Meanwhile, here is how I've done in predicting the NBA playoffs on my website.
In the first round, I went 7-1 in picking teams.
In the second round, I went 1-3.
In the conference finals, I went 1-1.
Right now, I am 9-5 in making series picks in the 2020 NBA playoffs.  I started off fast, but picking against Miami has continuously been the wrong move with every step of the way.  Betting on a 5-seed to make it to the NBA Finals just did not sound to be a very conventional thing to do, and the very thought of it seems to defy logic. The idea of a team having the best record in the regular season and having a reigning MVP that would win his second in a row in Giannis Antetokounmpo should have made the Milwaukee Bucks almost surely destined to reach the NBA Finals. Yet it didn't play out that way, and Milwaukee fell very short of those high expectations. It turns out that the Miami Heat, who has been the gritty underdog team, actually has been a silent juggernaut team that turned out to be the strongest team out in the East.
Now, I'm about to make my 2020 NBA Finals' prediction, and I have two teams to choose from. Also, the NBA Finals will be LeBron and his new team, the Los Angeles Lakers, versus his old team and old head coach, the Miami Heat and head coach Erik Spoelstra.
The Los Angeles Lakers look to have a considerable edge in terms of superstar talent, as they have 2 of the best players in the game in LeBron James and Anthony Davis.  When they are on their game, they are unstoppable, as LeBron is a force that can barrel his way to score and get assists at will, and Anthony Davis is a tremendous defender who is a game-changer on that end of the floor, and he also is a versatile scorer that can make shots from all over the floor.  That said, Jimmy Butler and Bam Adebayo are solid players themselves, as Jimmy Butler is a tough, two-way player that is a complete player.   He is an aggressive scorer that can make big shots, and he is a very good defender that can lock down his man.  Jimmy Butler plays with a gritty, blue-collar determination to the point where he just wills his teams to win, much like LeBron. Bam Adebayo is proving to be one of the best, unheralded superstars in the game, as he's played tremendous defense, and has solid playmaking skills that has allowed him to dominate as a scorer and facilitator on the floor. Make no mistake though, Jimmy Butler and Bam Adebayo are elite players, and they may be two of the most underrated superstars in the NBA. 
Amongst the other starters, I feel that Miami would get the edge.  Miami's point guard Goran Dragic is a skilled playmaker that can knock down shots and get assists for his team.  They also have Jae Crowder, who can spot up to knock down threes, and is a solid defender that can guard multiple positions.  Duncan Robinson is a sharpshooter that cannot be left open by defenders at all, as he can absolutely knock down threes when given any sliver of time and space to get his shot off.  Meanwhile, Danny Green is a veteran who has been a staple of the 3 and D role, but at times has been too streaky with his jump shot this year, but Rajon Rondo has excelled in the playoffs by showing his clutch playmaking and defensive skills, and he's made timely shots.  JaVale McGee is an athletic big man who can provide his team with some solid interior play.
The coaching edge I feel, goes to Miami.  Head coach Erik Spoelstra is a proven winner that has won two titles with the Heat, and he has made fabulous adjustments and his willingness to mix up man and zone defense looks has confused opponents to the point where it can utterly halt the flow of their opponents' offense.  He's also gotten to most out of each one of his players in his rotation, and Spoelstra is a really good coach who may be like the Popovich for the new generation. For the Lakers, Frank Vogel hasn't seemed to have been tested too much as they haven't lost many games in the playoffs, but he's shown the ability to make small adjustments and lineup changes to swing the advantage back in his team's favor.
The bench edge, in my opinion, also goes to Miami.  They shortened it in this series against Boston, but anytime you can bring a lethal sharpshooter like Tyler Herro off the bench, that can really add fuel for a team's offense.  They can always call on guys like Kelly Olynyk, Kendrick Nunn, Derrick Jones Jr., and Meyers Leonard, and veteran guard Andre Iguodala was instrumental in helping get Miami the Game 6 win due to his superb shooting and solid defensive skills.  The Lakers' bench has Alex Caruso, Kyle Kuzma, and Dwight Howard as their primary players that contribute amongst the non-starters.  They may not provide the scoring punch that Miami can bring, but they bring toughness and defensive skills, and Kuzma's ability to score could potentially be a difference maker in this series. Dwight Howard has excelled as a finisher and interior defender for his team, and his shot-blocking prowess has made it difficult for opponents to get easy scores in the paint.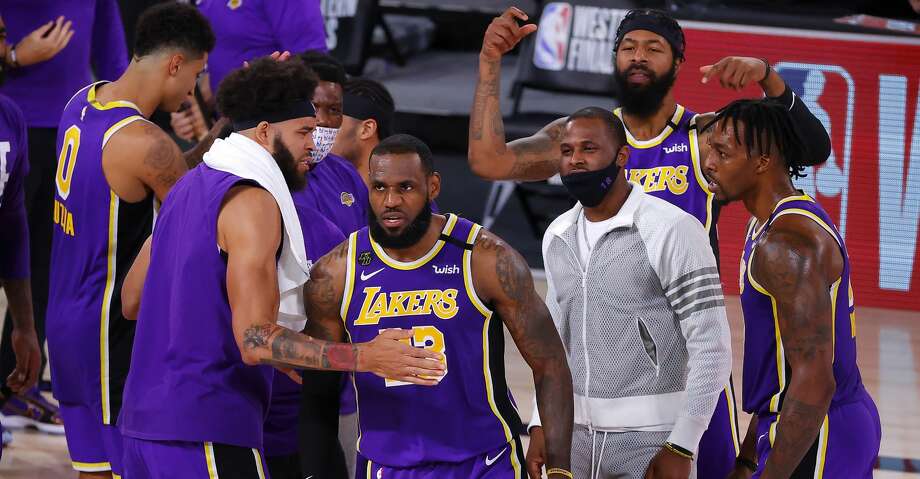 I think I'll pick the Los Angeles Lakers in 7.  As much as Miami is a well-coached and balanced team that has depth up and down their roster, which makes for a very compelling argument to pick the Heat.  However, I would find it very tough for me to pick against LeBron James and Anthony Davis, and so I will pick the Lakers as my pick to win the 2020 title.
LeBron is a legendary, once-in-a-generation type of basketball player, and his thorough dominance in the fourth quarter of Game 5 against the Denver Nuggets reminds people why he's considered to be one of the greatest of all-time, and perhaps the greatest player of this current generation.  That said, I think it'll still be a tough and hard-fought series, and I think it'll go to at least 6 games at a minimum.
Anyways, those are my thoughts for now, and thanks for reading.