The Indiana Pacers' 2023-24 Season Preview
September 11th, 2023
by Alan Lu
The Indiana Pacers appeared competitive at times last season, but ran out of gas in the second half of the season. In the process, they had a terrific season out of All-Star guard, Tyrese Haliburton. This year, they made the upgrade to get Bruce Brown, whose strong defensive skills and championship pedigree will really add to their team. They also have a very solid starting center in Myles Turner as well as a handful of talented, young players. With the roster they have built, they are hoping that they will be enough to land them at least a play-in tournament spot this season.
Tyrese Haliburton is an All-Star guard that had a terrific season last year, and he will lead the Indiana Pacers for the upcoming 2023-24 NBA season.
(Photo: Michael Hickey/Getty Images, via Fansided's 8 Points, 9 Seconds)
Star Players:
G Tyrese Haliburton and C Myles Turner
Tyrese Haliburton is a very skilled guard that was able to make his first All-Star team last year. He can really shoot, score, and pass the basketball, and he has a great feel for the game. Myles Turner is a strong, athletic center that can really block shots, and he also can space the floor on offense.
Additions:
F Obi Toppin, F Jarace Walker, G-F Ben Sheppard, G Isaiah Wong, and C Oscar Tshiebwe
The Pacers were able to get Obi Toppin, as well as a slew of rookies for the upcoming season. Toppin is an athletic, high-motor big man that can finish plays above the rim and space the floor.
Subtractions:
F Oshae Brissett, G-F Chris Duarte, G George Hill, and F James Johnson
The Indiana Pacers lost a slew of role players, but all of them could be replaced by similar players, and the Pacers may not have had any huge losses in the offseason.
Rookies:
F Jarace Walker, G-F Ben Sheppard, G Isaiah Wong, and C Oscar Tshiebwe
Amongst the rookies, Jarace Walker may be the most ready and likely to contribute, as he is a strong, athletic forward that has very good defensive skills and has a versatile skill set. Ben Sheppard is an agile, skilled swingman that could project well into a 3 and D role, and Isaiah Wong is an athletic, skilled guard that can score the basketball and also can run the point. Oscar Tshiebwe is a strong, physical big man that was extremely productive at the collegiate level, but he will need to prove that his game can translate to the NBA level.
Expected Rotation:
Bruce Brown and Myles Turner will be teammates on the 2023-24 Indiana Pacers for the upcoming NBA season.
(Photo: Frank Franklin II/The Associated Press, via The Dallas Morning News)
The Pacers' starting lineup is a young, exciting outfit led by Tyrese Haliburton, and they will be bolstered by the presence of Bruce Brown. However, they may not quite have the talent or the defensive versatility to compete with the top teams in the East this season.
Projected Starting Lineup:
Key Bench Players:
Bennedict Mathurin is a very athletic, skilled swingman that can start or come off the bench, and he is a valuable role player for the Pacers to have on their team.
(Photo: Darron Cummings/The Associated Press, via Bally Sports)
The Pacers have an interesting group of young players, but their bench is still largely unproven. They may have their moments, but may not be consistent for a full 82 games.
G-F Jordan Nwora
The Rest of the Roster:
F-C Jalen Smith
G-F Aaron Nesmith
G-F Ben Sheppard
G Isaiah Wong (Two-Way)
C Oscar Tshiebwe (Two-Way)
F Kendall Brown (Two-Way)
Others in Camp:
G Darius McGhee (Exhibit 10)
Head Coach: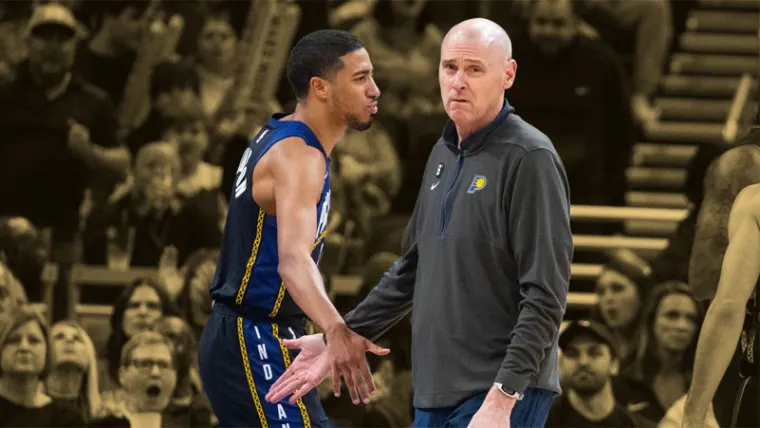 After having a not so good 2022 season a couple of years ago, Carlisle had a respectable 2023 season, and he and the Pacers are looking to build off that for the new year.
(Photo: Trevor Ruszkowski/USA Today Sports, via Basketball Network)
Rick Carlisle
2022-23 (IND): 35-47, missed the playoffs
Career: 896-793, 63-70 in the NBA Playoffs, won 1 NBA title with the Dallas Mavericks
He is most known for winning the championship with the 2011 Dallas Mavericks. He has a high pedigree with a lot of regular season wins throughout his career. However, as of late, he's not always been able to fully maximize all of his talent to play to their fullest capabilities. He's been on kind of a postseason drought lately, so he may have something to prove this season.
Outlook:
The Indiana Pacers will be competitive this season, but could fall just short of a playoff spot in 2024.
(Photo: Dylan Buell/Getty Images, via Fansided's 8 Points, 9 Seconds)
They'll likely be competitive and entertaining, but will probably fall short of a playoff bid this season. At best, they might sneak in and get a back-end play-in tournament spot, but they may not have enough offensive firepower on their roster, and they are unlikely to make the playoffs in 2024.
Projected 2023-24 Finish:
Projected Regular Season Finish: 11th in the Eastern Conference
Expected Playoff Finish: Projected to miss the playoffs
2023-24 Preseason NBA Power Ranking: 23
I went to Basketball-Reference and No-Trade Clause to look up some information for this write-up. It will be an exciting basketball season this year, and I'm looking forward to seeing the in-season tournament to see how that will unfold. Anyways, that is my write-up on my preview of the 2023-24 Indiana Pacers. Thanks for reading.